Sunset Park RV's 1st Owner Rally Lights Up Shipshewana – RVBusiness – Breaking RV Industry News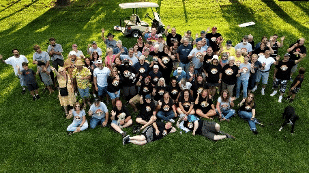 SHIPSHEWANA, Ind. — Sunset Park RV, a leading manufacturer of small, lightweight RVs, along with the company's Brand Ambassadors, En Route with Chuck and Cherie, hosted its highly anticipated First Annual Owner Rally in the picturesque town of Shipshewana, Ind., according to a release.
Enthusiastic campers from across the nation, stretching from Coast to Coast, Canada to Florida, met to celebrate their shared love for outdoor adventures and the RV lifestyle in a Sunset Park RV.
The event, held amidst the rustic charm of Shipshewana, witnessed an impressive turnout of Sunset Park enthusiasts, all ready to immerse themselves in an action-packed weekend of camaraderie and fun. Set against the backdrop of starlit nights and scenic landscapes at the Shipshewana North Park Amish Log Cabin Lodging & Campground, the First Annual Owner Rally promised a blend of entertainment, relaxation, and the chance to connect with fellow outdoor enthusiasts.
Event Highlights
Bonfires, Food, and Music – Attendees enjoyed the crackling warmth of bonfires as they shared stories, laughter, and marshmallow roasting sessions under the clear night sky. The atmosphere was charged with energy and excitement, with campers forging new friendships and reminiscing about past camping adventures. The Lonesome Drifters added some rhythm to the event, serenading attendees. Their foot-tapping melodies resonated with the spirit of the event. And not to be forgotten, delicious homemade recipes were shared among the campers at the pot-luck meal.
Giveaways – Attendees were in for a treat as Sunset Park and Chuck and Cherie showered them with exciting giveaways. From camping gear essentials to exclusive merchandise, lucky participants walked away with memories and prizes that will keep the spirit of the rally alive long after it concluded. Gifts included custom cornhole boards, awnings, pet campers, and even multiple local gifts donated by the attendees. The drawing was capped off with the grand prize of a HAOQI Electric Bike and accessories, valued at over $3,000.
Camper Customization – For those seeking to personalize their campers, the production team was on hand to offer expert advice and assistance. Whether it was touching up seals or upgrading amenities, attendees had the opportunity to transform their campers into truly personalized havens for future adventures.
Testimonials – "The Sunset Park Owner Rally was an absolute blast! It was heartwarming to meet fellow campers who share the same passion for the outdoors. The music, the bonfires, and the chance to fine-tune our camper with the help of experts made this event truly exceptional." – Jen George, San Diego, CA, SUNRAY 139 Sport.
"I couldn't be more thrilled with how perfect this event turned out to be," says VP of Sales and Marketing, Bob Fish. "It's truly humbling to see people coming together and enjoying themselves in a Sunset Park RV. Our team has poured their passion into creating these RVs, and witnessing the joy they bring to our customers reaffirms why we do what we do. We take pride in being a part of these unforgettable moments and look forward to continuing to provide experiences that bring smiles to the faces of those who choose Sunset Park RV."
Sunset Park RV is a leading manufacturer of small, lightweight RVs. The privately owned company's products are known for their innovative designs, solid construction, and affordable prices. Sunset Park RV is headquartered in Shipshewana, Ind.
For more information on Sunset Park, its dealer partners, or the full line of small, light weight trailers, please visit www.sunsettrailers.com. If you are interested in becoming a dealer, please send an email to Damon@sunsettrailers.com.
Source: https://rvbusiness.com/sunset-park-rvs-1st-owner-rally-lights-up-shipshewana/