Renogy Launches REGO Smart Solar for Off-Grid Living 


ONTARIO, Calif. – Renogy, an industry leader in off-grid and mobile energy, today announced in a press relesser that its flagship smart solar system REGO is now widely available and capable of delivering even more power and control for off-grid living.
The latest advances in REGO are powered by its new monitoring and control system, Renogy ONE CORE, which provides powerful new capabilities such as enhanced Bluetooth connectivity and automated RV self-leveling. Now off-grid enthusiasts can enjoy enhanced power, comfort and control from the industry's easiest to install smart energy system, the release stated.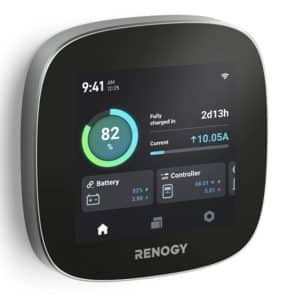 The new REGO system will be featured May 19-21 at Overland Expo in Flagstaff, Ariz. Live demonstrations will show why REGO is the preferred choice for DIY'ers and professional installers alike. It's simply the most capable, easy to install, off-grid smart solar energy system. Expo attendees will be the first to see Renogy's state-of-art demo van in action. The custom Mercedes Sprinter van is designed with a custom interior to showcase just how easy it is to install and operate a REGO system.
"Our goal is to make off-grid travel accessible to everyone," said Renogy CEO Yi Li. "That's why REGO solar energy systems are designed to be easy to install and take the guesswork out of generating your own power. REGO delivers plenty of reliable power for lights and devices when off-grid and can be easily installed even by first timers."
Why is REGO the best off-grid smart solar system for both DIY'ers and professional installers?
More Power — The REGO LIFEP04 battery has 400 AH capacity with a greater than 3800 cycle life. It's fast charging, light weight and compact, and can be charged by solar, shore power or the vehicle's engine. REGO can be switched between charging modes with just the flip of a switch and offers bi-directional charging that keeps the starter battery charged even when off-grid. It delivers unmatched power with the highest output 12V inverter on the market with 3000W of continuous output power.
Easy Installation – REGO is simple to install with fully integrated components that work together seamlessly and safely. REGO components are truly plug-and-play with Anderson connectors that snap together without tools, significantly reducing installation time.
Smart Monitoring and Control – REGO is Bluetooth enabled and can be controlled with the Renogy DC Home smartphone app. The DC Home app provides real time monitoring of charge levels around the clock. And when paired with Renogy ONE Core, you also can monitor and control inverters, charge controllers, connected devices and on-board energy usage from anywhere. Only Renogy ONE Core provides automated vehicle self-leveling for the ultimate in off-grid comfort.
"REGO is my go-to solar energy system when I'm building out an adventure vehicle," said Dan Grec of The Road Chose Me. "It saves hours on installations, and I have the confidence of knowing that I have a system that's powerful, safe and reliable for the most extreme overland adventures."
Individual components for the REGO system are now available to purchase. For more information, please visit: https://www.renogy.com/rego/
Source: https://rvbusiness.com/renogy-launches-rego-smart-solar-for-off-grid-living/