Munro Unveils All-Electric Pick-Up at U.K. Trade Show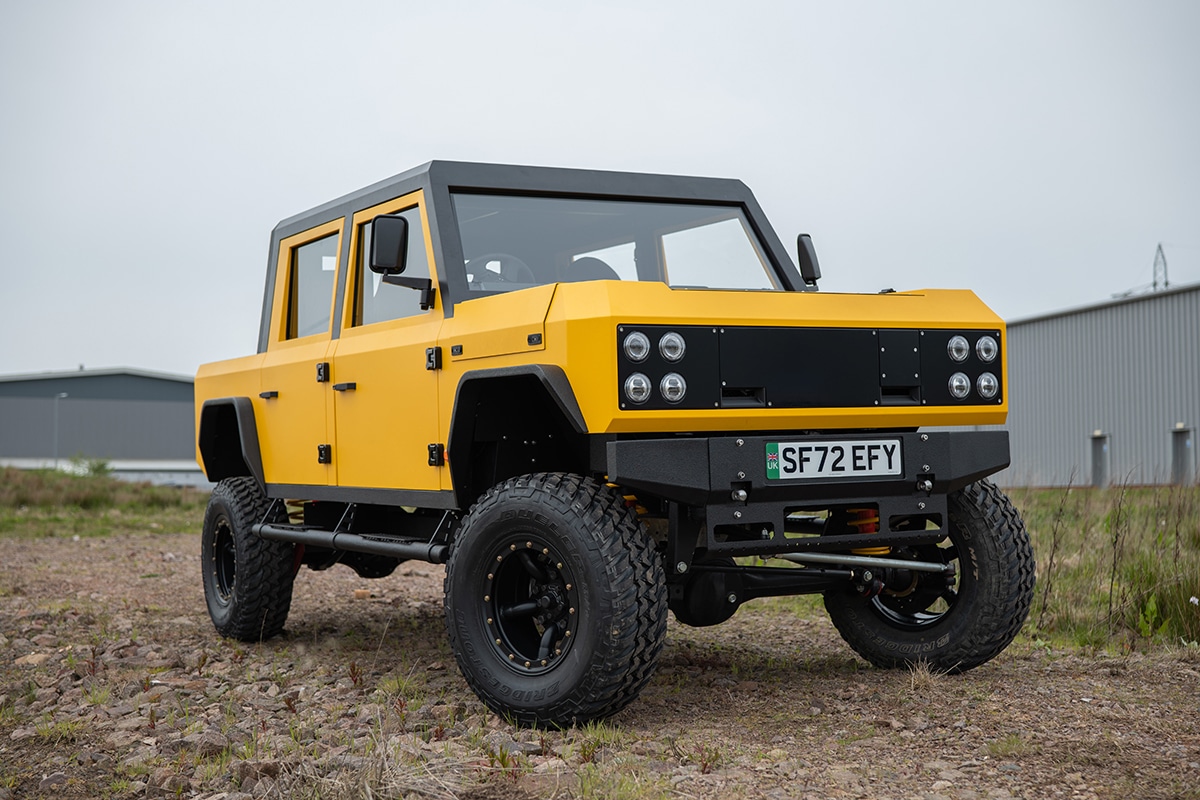 GLASGOW, U.K. – Munro Vehicles, a manufacturer of all-electric 4x4s, and Scotland's only volume production car company has revealed its second model, the Mk_1 Pickup, today through May 21 at Fully Charged Live North, according to a press release from the company.
"The ultra-capable, ultra-utilitarian pick-up follows swiftly in the wheel tracks of the Munro MK_1 Truck launched last December," the release stated. "The MK_1 Pick-Up signifies the next milestone of Munro's strategic mission to fulfil significant global market demand. Like the Munro MK­_1 Truck, the MK_1 Pick-Up's unique abilities enable customers operating in challenging sectors such as mining, construction, utilities, agriculture, and defence to meet imminent decarbonisation targets without compromising on performance."
"Priced from £49,995 Ex VAT with deliveries commencing later this year, we have already secured more than 200 orders for the MK_1 Pick-Up, three of which have come from FTSE 100 companies and ten from FTSE 250 companies" confirmed Munro CEO and Co-Founder Russell Peterson. "With a full two-year order book for both the MK_1 Pick-Up and the MK_1 Truck, Munro is having to expedite its search for larger premises to meet customer demand."
Unveiled in 'Performance' guise in striking Munro yellow paint finish, the Munro MK_1 Pick-Up creates an purposeful visual presence. As with all models and variants of the Munro MK_1 range, the new pick-up combines the rugged reliability and easy repairability of a full-time 4×4 mechanical drivetrain to provide uncompromising ability in all weathers and all terrains, with a state-of-the-art electric powertrain to ensure no tailpipe emissions are left in the vehicle's wake.
The spacious, easy-to-load rear bed of the Munro MK_1 Pick-Up accommodates a 1050kg Euro Pallet payload, while the Performance model has a 3,500kg maximum braked towing capacity for effortless haulage of any cargo from farm implements and livestock to construction and disaster relief equipment.
Producing a prodigious peak power output of 375 / 280kw combined with instantly available 700Mn / 516ft-lb of torque, the Munro MK_1 Pick-Up dispenses the sprint to 60mph in a mere 4.9 seconds. A 220KW electric motor and a choice of Utility and Rangevariants are also offered.
Replenishing the 82.4kWh battery from 15 to 80% can be swiftly undertaken using a 100kW DC charger in just 36 minutes. With a fully charged battery, the MK_1 has a range of more than 190 miles, enabling it to operate off-road for up to 16 hours on a single battery charge.
Designed, engineered, and built in Britain, the Munro is the first light vehicle to enter production in Scotland in more than four decades.
"We launched Munro to fill the significant gap in the market for an electric-powered, four-wheel-drive, utilitarian workhorse. Our vehicles are designed and engineered without compromise from clean sheet principles unimpeded by any existing architecture. The result is a rugged construction created for decades of service delivering ultimate, go-anywhere, off-road ability," continues Peterson.
"The levels of positive feedback we have experienced from media and customers who have test driven the MK_1 Truck has been unprecedented and the response to the new MK_1 Pick-Up has been equally positive. This, and the 200 plus pre-orders we have taken across both the truck and Pick-Up models, gives us great confidence that the vehicles Munro has created are precisely what the market wants and needs and that we can play a key role in assisting those operating in challenging environments such as mining, construction, utilities, agriculture, and defence to meet imminent decarbonisation targets.
"This represents a significant global market opportunity and one which, with our financial partners, we are poised to fully exploit as we take the next strategic step and move towards the pre-production prototype stage."
Source: https://rvbusiness.com/munro-unveils-all-electric-pick-up-at-u-k-trade-show/