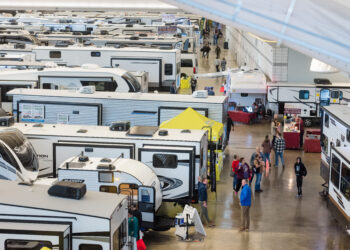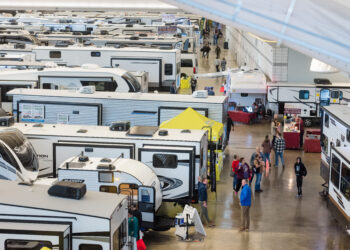 Called "the longest-running indoor RV show in the country" — it's been a mainstay since 1968 — the recently concluded (Jan. 7-15) Pittsburgh RV Show at the David L. Lawrence Convention Center is projected to surpass 30,000 in attendance, posting a new record for the nine-day event. The show featured RVs of every class from 15 dealers while more than 80 RV oriented equipment suppliers and vendors took sales booths selling goods ranging from luxury RV resort destinations to campfire cookware and accessories.
"Boy do we have a crowd today," said Randy Giancola, show promoter, when RVBusiness spoke with him the Saturday before the show closed. "So far the attendance has been fantastic with the exception of last Sunday when we had a Steelers game. Our online ticket sales have exploded over the last four days exceeding last year."
Giancola reported that RV enthusiasts are showing up to this year's show ready to purchase an RV.
"The dealers I'm talking to are selling RVs," he stated. "Our accessory and food vendors are happy selling their wares. There is a lot of sales buzz in the building and I think it's going to bode well for a great camping season in the Pittsburgh area. Talking to the dealers, sales are very brisk today. They are writing orders and seeing good credit as all signs point upwards."
Giancola added that, to date (Saturday) the event had exceeded 2022 show attendance numbers — and he expected a record showing as the weather hasn't been a factor this year. "The weather has been fantastic, bringing people out in Western Pa. attributing to our great attendance."
Dealers, he noted, also were very optimistic and were writing orders for every class of RV.
The 2023 show — called "nine acres of RV paradise" — was sponsored by Forest River, Coachmen RV and Dollar Bank.
Source: https://rvbusiness.com/pittsburgh-rv-show-attendance-projected-to-top-30000/