FTC Proposal Among RVDA's Advocacy Priorities for 2023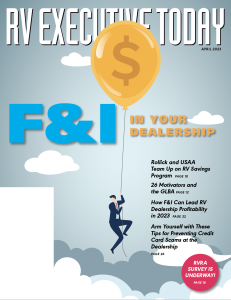 EDITOR'S NOTE: The following column by Phil Ingrassia, president of the RV Dealers Association (RVDA), originally was published in the April 2023 issue of RV Executive Today, It is reprinted with permission.
RVDA and its allies are working on several legislative priorities in 2023 that will impact RV dealers. Staff has developed talking points for members and dealer leaders on the RVDA Boards of Directors and Delegates that they can use when interacting with elected representatives on some of the "hot button" issues facing the RV industry. Here are some highlights:
Federal Trade Commission (FTC) Motor Vehicle Trade Regulation Rule
RVDA has strong concerns with the FTC's proposed rule covering aspects of motor vehicle pricing, advertising, and related disclosures. The proposed rule would add unnecessary compliance burdens to RV dealers, which would ultimately increase costs to consumers.
Congress is now involved with this issue. A bipartisan group of 47 members of the U.S. Senate and House of Representatives called on FTC Chair Lina Khan to withdraw the controversial proposed rule. In a letter, the members express concern that the commission's process has been "inadequate and increases the risk that a final rule may create harmful, unintended consequences for both consumers and small businesses."
Reintroduction of Travel Trailer and Camper Tax Parity Act
RVDA and RVIA support reintroduction of the bipartisan Travel Trailer and Camper Tax Parity Act (2021-22 Session H.R. 3552) to fix a provision in the tax code so all types of RVs, including travel trailers, are treated equally.
One provision in the tax code is putting certain RVs at a disadvantage by not allowing floorplan interest deduction for campers/trailers. This commonsense bill would fix that by restoring tax parity so all types of RVs – including travel trailers and campers – are treated equally. This correction fixes an oversight that was made when Congress enacted the Tax Cuts and Jobs Act in 2017.
Stopping Catalytic Converter Theft – PART Act
RVDA strongly supports H.R. 621/S. 154, the "Preventing Auto Recycling Theft Act" (PART Act). By making catalytic converter theft a federal criminal offense and ensuring each converter can be easily tracked, this bipartisan legislation would provide law enforcement officers with the tools and resources they need to crack down on these crimes.
America's Outdoor Recreation Act
The Outdoor Recreation Roundtable (ORR) – which includes RVDA – supports the America's Outdoor Recreation Act (AORA) S.183, which was reintroduced in the 118th Congress with strong bipartisan support. ORR urges swift approval of this bill so that many more Americans can enjoy outdoor spaces and their associated benefits to health and wellness. This legislation would implement policy changes and encourage private investment in public land infrastructure.
Use of '529' Savings Accounts for Skills Training, Certification
Senators Mike Braun (R-IN) and Amy Klobuchar (D-MN) and Reps. Rob Wittman (R-VA) and Abigail Spanberger (D-VA) have reintroduced the Freedom to Invest in Tomorrow's Workforce Act, bipartisan legislation to allow Americans to use "529" education savings accounts for skills training, credentialing, and certification programs.
Current law only permits workers and families to use "529" accounts to pay for college, university, and vocational school expenses, but the American Society of Association Executives (ASAE) and the Professional Certification Coalition have long championed the Freedom to Invest in Tomorrow's Workforce Act as a way for workers to pay for voluntary professional certification, related training, and credentials offered by associations such as RVDA, RVIA, and others.
RVDA will keep members updated on these and other issues. Please let the staff know if you are meeting with Congressional representatives in your district and state, and we can provide you with complete information on these and other legislative priorities.
Thanks for your support!
Source: https://rvbusiness.com/ftc-proposal-among-rvdas-advocacy-priorities-for-2023/