ROUTE 66 RV Network Adds 10 Dealerships to Membership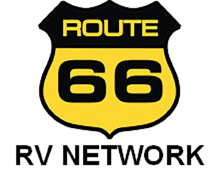 OVERLAND PARK, Kan. – ROUTE 66 RV Network, the largest network of independent RV dealers in North America, continues to expand its footprint across the RV industry with the addition of 10 new dealerships to the network. By joining, these dealers have committed to the shared vision as upheld by the network to create a great RV experience for customers through the highest level of integrity, customer service and after-sale support:
A Great Outdoor RV Center, Cumby, TX

75433

Mekkelsen RV, East Montpelier, VT

05651

Ron Hoover RV – Lubbock Slaton, TX

7963

A Great Outdoor RV Center, Kemp, TX

75143

Pierce RV, Billings, MT 59106
Seacoast RV's, Saco, ME 04072
Clear Creek RV's, Abilene, TX

79601

Pierce RV, Great Falls, MT 59405
Gibs RV Superstore, Coos Bay, OR

97420

Rocky Ridge RV Van Buren, Van Buren, AR 72956 (coming soon)
Supporting RV travelers and dealerships for nearly 20 years, ROUTE 66 RV Network strives for continual growth, welcoming new dealer members through direct referral by an existing network dealer and inquiries from independent dealerships looking to provide a higher level of customer care and benefit from the network's partnerships, programs and services.
"New dealers are referred to ROUTE 66 RV Network for membership. We look for high degrees of customer service and integrity in their respective markets. Each of these dealers has demonstrated the highest marks of character," said Connor Francis, co-director of ROUTE 66 RV Network. "The strength of ROUTE 66 RV Network relies on the strength of our member dealers. We are happy to welcome these dealers as they commit to serving our RV consumer body."
For a look at all dealership locations under the ROUTE 66 / RV Care alliance, visit www.route66rv.com.
About ROUTE 66 RV Network
Founded in 2004, ROUTE 66 RV Network has grown to be the largest network of independent RV dealers in North America. Members of the network have the opportunity to not only participate in 50+ unique network programs, but also promise their customers that, "Wherever the road takes you…you can count on us!" For more information visit www.route66rv.com or email Cooper Merrill, cooper@route66rv.com.
Source: https://rvbusiness.com/route-66-rv-network-adds-10-dealerships-to-membership/