7 Peaks In the Adirondacks Worth Bagging

7 Peaks In the Adirondacks Worth Bagging
The Adirondack Park is a massive state park encompassing six million acres in northern New York. There are over one hundred peaks in the Adirondack Mountains, and forty-six of them over 4,000 feet. While backcountry hardcores come to the region to bag those iconic 4,000-footers, the park has numerous hikes for all ability levels. Here are seven of the best worth bagging
1. Lyon Mountain
Location: Chazy Lake
Total Distance: 6.4 miles
Difficulty: Moderate
Why Go: Lyon Mountain a well-kept secret. Uncrowded, and unlike most trails in the park which are old, direct and eroded, the route up Lyon Mountain ascends at a reasonable rate. The fire tower on its summit affords a breathtaking 360-degree view, including Mont Royale in Quebec.
Need to Know: This hike is dog-friendly but not the fire tower, which is tall and disorienting to pets. Bring water for both you and Rover. There's no reliable water by the trail.
2. Great Range Loop
Location: St. Huberts (Ausable Club)
Total Distance: 14.3 miles
Difficulty: Experts only
Why Go: In this loop, you'll bag four 4,000-footers—Gothics, Armstrong, Upper Wolfjaw and Lower Wolfjaw Mountains – collectively called The Great Range. Extraordinary in every way, you'll also trek along the East Branch Ausable River, past gorgeous waterfalls and across the most famous ridge in the High Peaks Region.
Need to Know: Trailhead parking is free but reservations in advance at hikeamr.org are required. No dogs. By mid-fall, expect ice on the north side of each peak.
3. Mount Colvin
Location: St. Huberts (Ausable Club)
Total Distance: 14.5 miles
Difficulty: Experts only
Why Go: This hike gives you everything Adirondack—fantastic waterfalls, a gorge, a river, a brook, a lake (beside it and the view from above it), and multiple rock lookouts. You also get a fantastic close-up view of the iconic Great Range, more than once. This hike wows you at every turn.
Need to Know: The start is on Adirondack Mountain Reserve lands, aka the Ausable Club. Parking is free, but reservations are required in advance at hikeamr.org. No pets.
4. Catamount Mountain
Location: Wilmington
Total Distance: 5.4 miles
Difficulty: Strenuous
Why Go: Catamount is unparalleled for its lengths of treeless slab and views of nearby Whiteface Mountain and Vermont's Mount Mansfield and Camel's Hump across Lake Champlain.
Need to Know: Head up only if you love climbing up lots of rock "chimneys". One extended crack is particularly tricky.
5. Hurricane Mountain
Location: Keene
Total Distance: 6.8 miles
Difficulty: Strenuous
Why go: Whether you climb the historic fire tower or keep your hiking boots on the bedrock, the view from atop Hurricane Mountain is a jaw-dropper that includes Lake Champlain and the high spine of Vermont's Green Mountains as well as many of the Adirondacks iconic 4,000-footers.
Need to know: Save this hike for a clear day. If a storm approaches, get off the tower and go below the tree line as quickly as possible.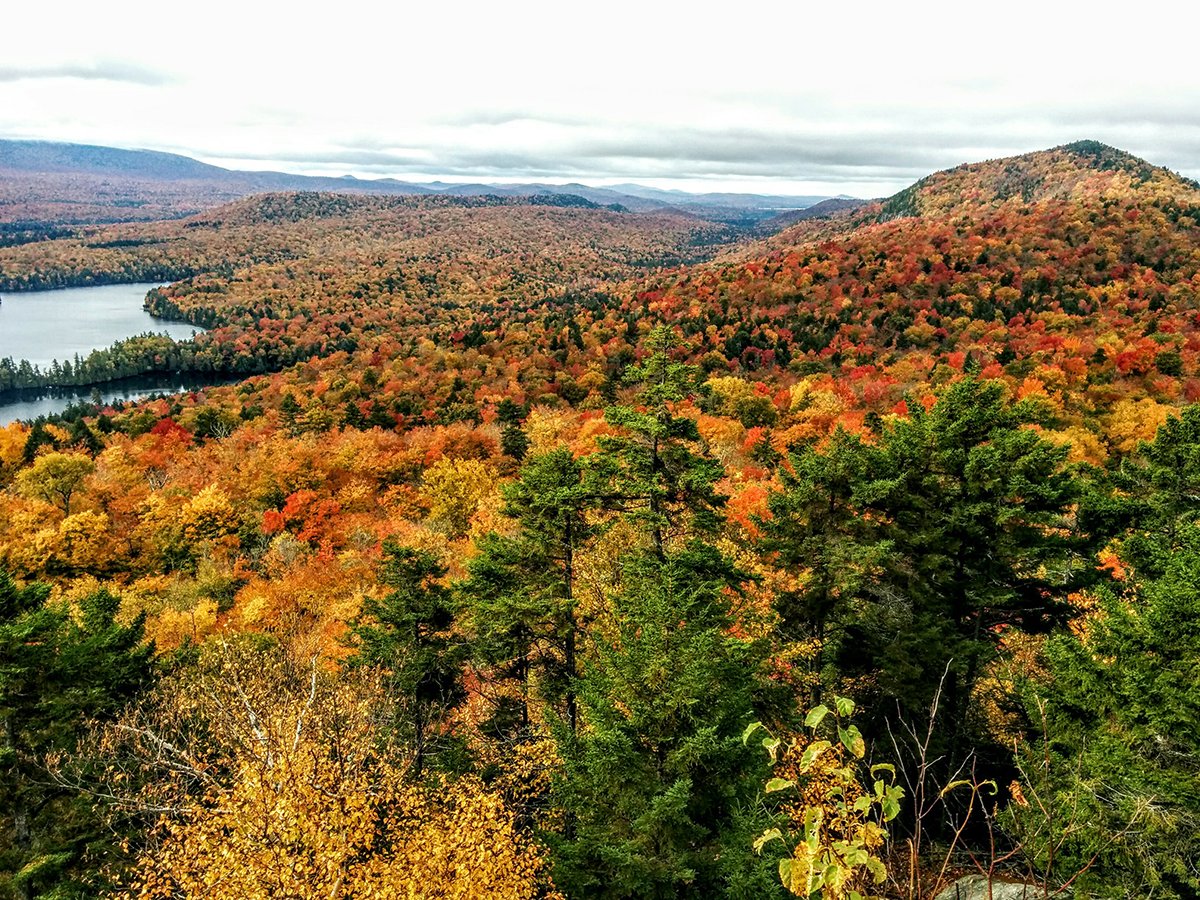 6. Castle Rock Mountain
Location: Blue Mountain Lake
Total Distance: 3.7 miles
Difficulty: Moderate
Why Go: This small peak rewards in a number of huge ways. Perfect for families and new hikers, you'll weave through a labyrinth of massive boulders deposited when the last ice age receded, then pass a natural echo chamber and a cave en route to a glorious cliff top view of Blue Mountain Lake and the central Adirondack Park.
Need to Know: Save this one for a dry day. The rocks and clifftop can be slick if wet. Dogs should be on-leash.
7. Moxham Mountain
Location: Minerva
Total Distance: 5.2 miles
Difficulty: Moderate
Why Go: The trail up Moxham Mountain, which opened to the public in 2012, is new by Adirondack standards. This hike gets five stars from trailhead to summit. It takes you through an airy hardwood forest, then across numerous open ledges to an expansive panorama that includes Gore Mountain, the Hudson River and much of the Central Adirondack Park.Need to Know: This is a dog-friendly trail, but dogs should be on-leash.