Review: Is The SweatTent The Most Epic Backyard Accessory of 2023?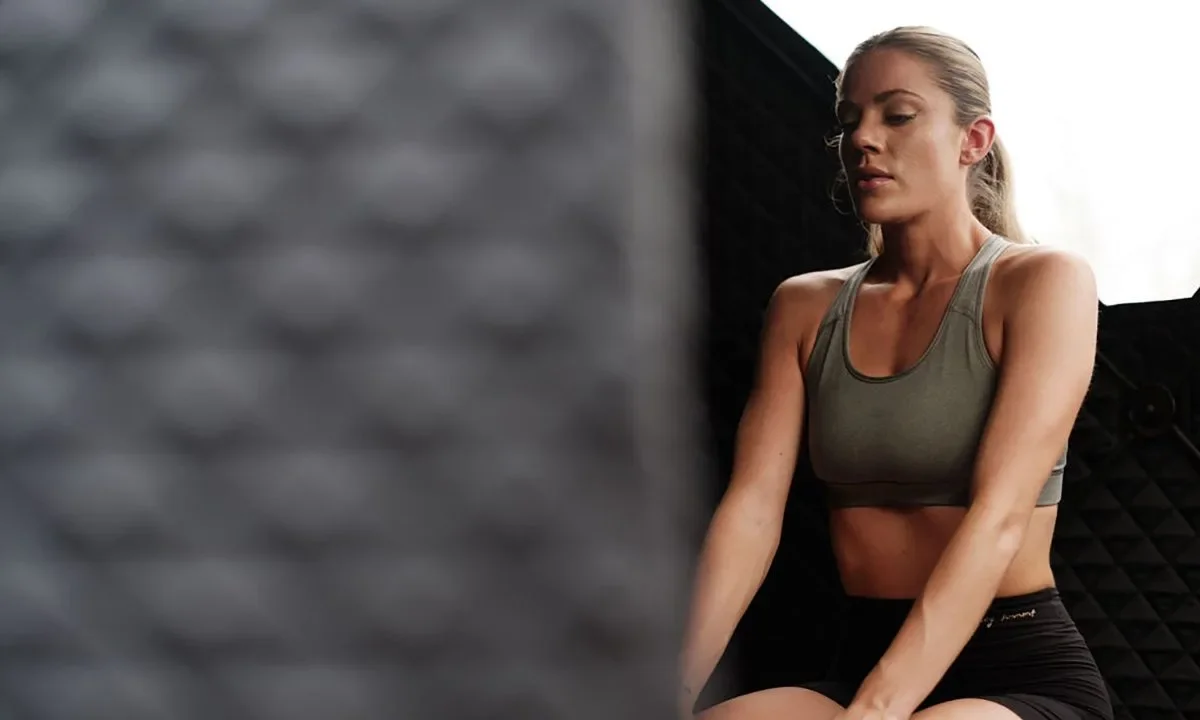 Review: Is The SweatTent The Most Epic Backyard Accessory of 2023?
If ever there was a life-changing backyard luxury that also happens to be portable, it is, without a doubt, the SweatTent. This brand-new collapsible sauna is exactly what it sounds like: a tent that is also a sauna, which you can put in your backyard or set up at your campsite and make all of your friends very, very jealous, and very, very interested in hanging out with you all the time.
Review of the SweatTent Portable Sauna
Here's where I should note my biases: I may or may not be something of a sauna addict. This obsession started a few years ago when I visited Sweden for the first time. I spontaneously joined some friends-of-friends-of-a-friend for a cross-country ski trip (as all good travel stories go), and our remote cabin was outfitted with a sauna. We took turns pouring out enough sweat to fill a small lake and diving into deep piles of snow to cool off.
Standard locker room gym saunas have nothing on this experience.
Since then, I've sought out saunas everywhere I go—including in the backcountry (Sweden really does have it all). But until recently, the idea of having one in my own home was a pipe dream. I live in London, and while I'm lucky to live in a part of the city where many people have access to small backyard gardens, I'm not exactly in a position to drop several grand on building a sauna. The SweatTent, however, is a brand-new innovation that requires little more than 36 square feet of outdoor space.
How to Assemble the SweatTent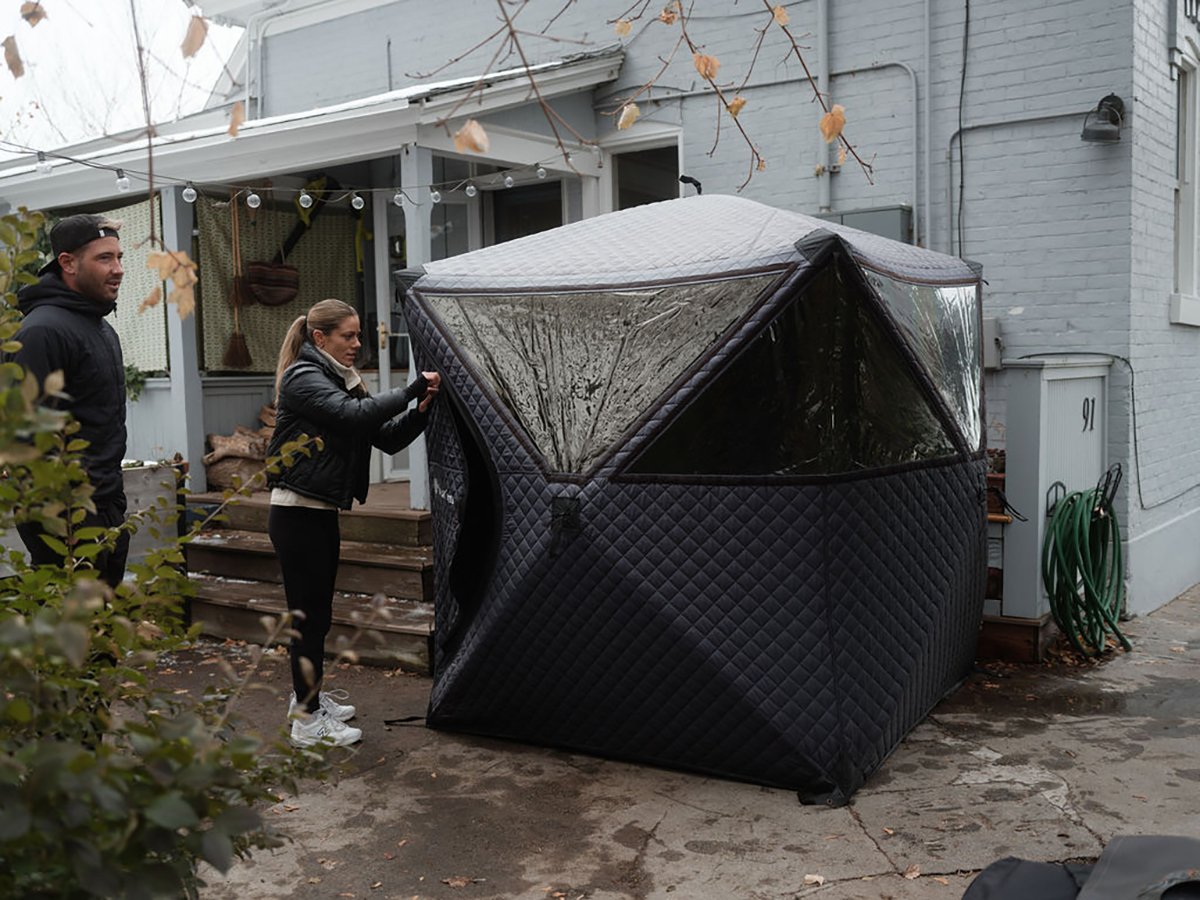 Setting up the SweatTent does not require any tools, permanent fixtures, or even really much heavy lifting. It arrived in four boxes: the tent, the woodstove, a set of sauna-safe rocks, and a box of accessories including a thermometer, heat-safe mittens, and fire poker. SweatTent sells benches ($199) and buckets and ladles ($49) as add-ons.
The tent weighs about 30 lbs and the stove weighs about 50 lbs. Setting up the tent takes just a few minutes, at most—the tent's supports are built-in and unfold easily. Clicking everything into place may take a bit of force the first time around, but overall it's an easy process. Before you use the sauna for the first time, you should prime the woodstove by lighting it outside of the tent, so that any chemicals from manufacturing burn off and you don't inhale them in an enclosed space. You'll need to do a small amount of assembly on the woodstove and rocks box, which sits on top, but the kit comes with a screwdriver, so you won't need any special tools. The kit comes with stakes and guy lines so you can secure it to the ground.
When it's packed up, the tent and stove are small enough to fit in a car. While I haven't taken it camping yet, I certainly hope to in the future.
How to Use the SweatTent
Once the SweatTent is assembled, it can reach temperatures of up to 200 degrees Fahrenheit if you really stoke the fire. So far, the hottest temperature I've achieved is about 160 to 170 degrees—which is quite enough for me. You'll want to have plenty of firewood on hand, because getting it that hot, and keeping that hot, requires a bit of attention. But once you get it going, it's impressive how well it works. The product is essentially a floorless, insulated tent, and yet it can maintain super-hot temperatures even when it's pouring rain outside. In very heavy rain, you may notice a small amount of leakage around the roof seams, but in light to medium rain this isn't an issue. I emailed SweatTent to ask about this, and they said they're working on a waterproof tarp so the tent can be used even in stormy conditions.
SweatTent doesn't come with a floor, which I think has both pros and cons. On the positive side, this makes the product lighter and less bulky, so it's ultimately more portable. Plus, you don't really want sweat puddles collecting on a waterproof floor anyway. On the negative side, it means you'll have a dirt or grass floor if you set up the tent in your backyard or out on a camping trip. At home, you may choose to solve this by setting up the tent on a deck or patio, or putting down a tile or unvarnished wood floor. On the road, portable flooring solutions can be a bit more tricky.
The SweatTent is 7 feet tall when assembled, so it's roomy enough even for very tall people to comfortably stand inside. You can comfortably fit three people on a bench, and there's a bit of extra space to have someone sitting on the floor.
Overall Review: 9/10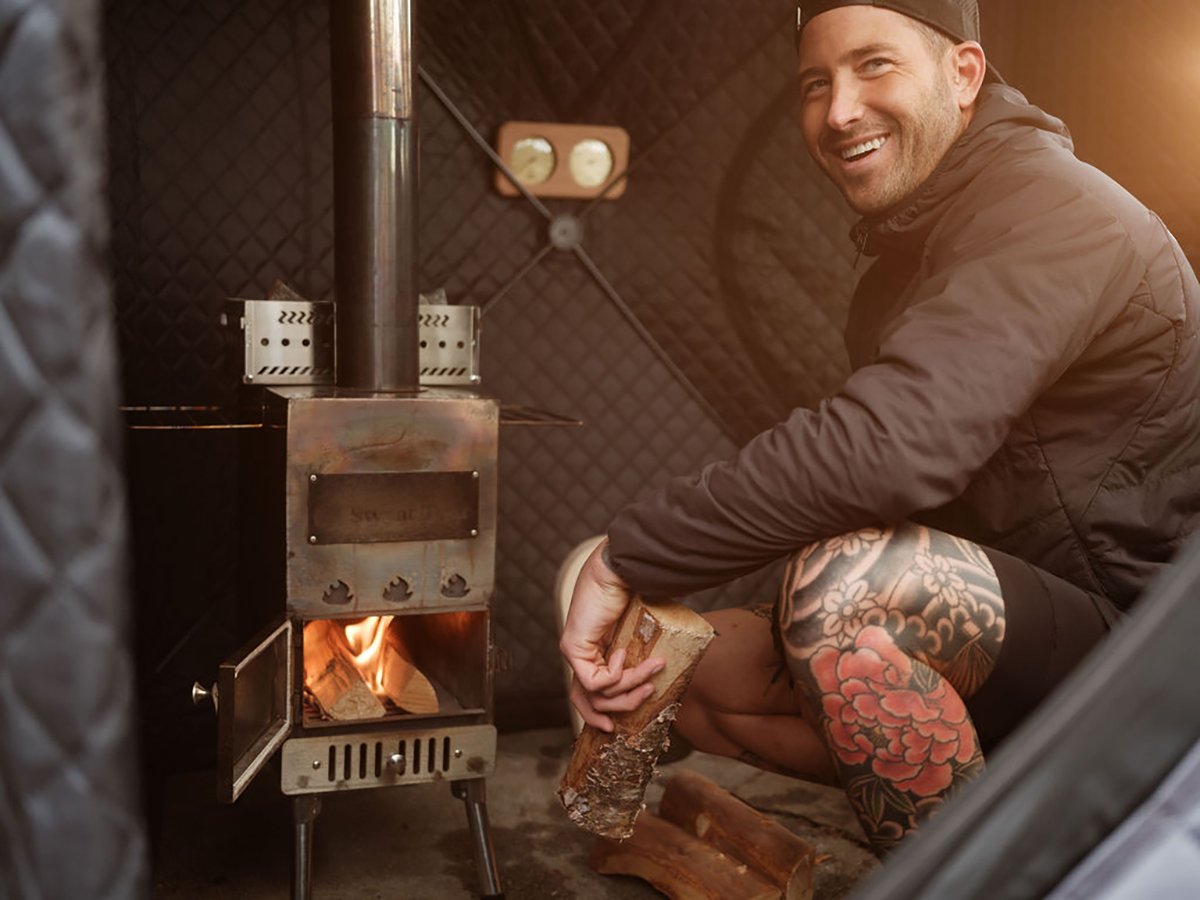 For the cost, ease of setup, and lack of risking your security deposit by installing a wood-burning sauna at your rental house, I can't imagine you can find an easier backyard sauna experience for a lower cost. I've used the SweatTent several days per week since getting it, and I have really enjoyed it. Overall, I—and the friends who have come by to help me with some serious product testing—rate it a 9 out of 10. Having a waterproof tarp to protect from heavy rain would be a bonus, but otherwise there's very little to complain about. Now, if you'll excuse me, I'm off to go sweat.
Cost: $1,499 full-price, and is currently discounted to $1,199. Outdoors.com readers save an additional $100 with code "Out of Office".