7 New Products for your Camping Adventures

Dometic CCF-T, Ford Center Console Refrigerator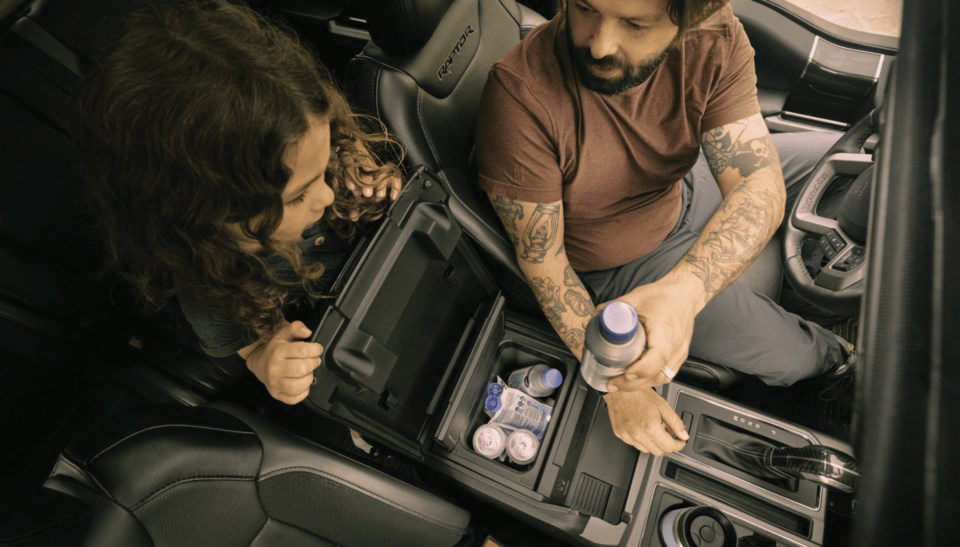 The innovative Dometic CCF-T Center Console Refrigerator seamlessly integrates into your center console to offer you the ability to add an integrated refrigerator to your Ford F-150 (2015-2020), Ford Super Duty (2017 & Newer) or Ford Expedition (2018 & Newer). Now you can bring more of the food and drinks you love, wherever you go with the CCF-T compressor-based center console refrigerator.
The unit has an integrated power supply that can be wired into the existing 12V power system in the truck. The automotive approved compressor is quiet and energy efficient.
The Dometic CCF-T has an integrated dual USB charging port and an integrated LED light. Other Dometic models are available for GM pickups.
For more information, please visit https://www.dometic.com/en-us/outdoor/coolers/center-console-refrigerators
---
Curt TruTrack Weight Distribution Hitches with Sway Control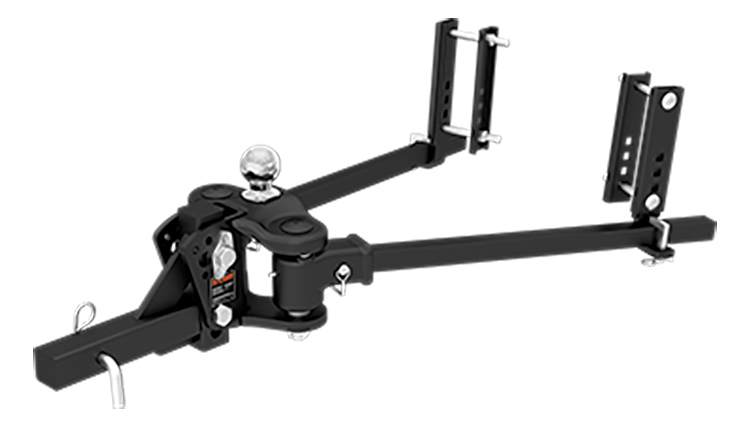 The Curt TruTrack
weight distribution hitch with sway control combines the functions of weight distribution and sway control into one. It actively levels and keeps the trailer aligned with the tow vehicle for a safer, smoother ride. The TruTrack
hitch uses powerful spring bars to level the tow vehicle and trailer, while integrating two-position or four-position sway control to ensure a smooth ride.
Available through your local RV dealership. For additional information, please visit https://www.curtmfg.com/trutrack 
---
RV Safe Gas

 

Detecting

 
Alarms
The RV Safe alarm utilizes the latest technology to quickly and accurately alert occupants of the presence of deadly carbon monoxide and propane gas. In the event that a leak is detected, the alarm activates with a four beep pattern with a flashing red LED for CO gas, or a continuous beeping with a solid red LED for Propane gas. If both gases are present, the alarm will indicate propane as it requires more immediate action.
The RV Safe alarm meets or exceeds all UL2034 requirements for carbon monoxide alarms in recreational vehicles, and features a sleek and modern low-profile design.
For more information, please visit your local RV dealer, or surf to: https://rvsafealarm.com/product/rvalarm/
---
Mercury New Electric Outboard Engine
Brunswick Corp. has developed a new electric motor!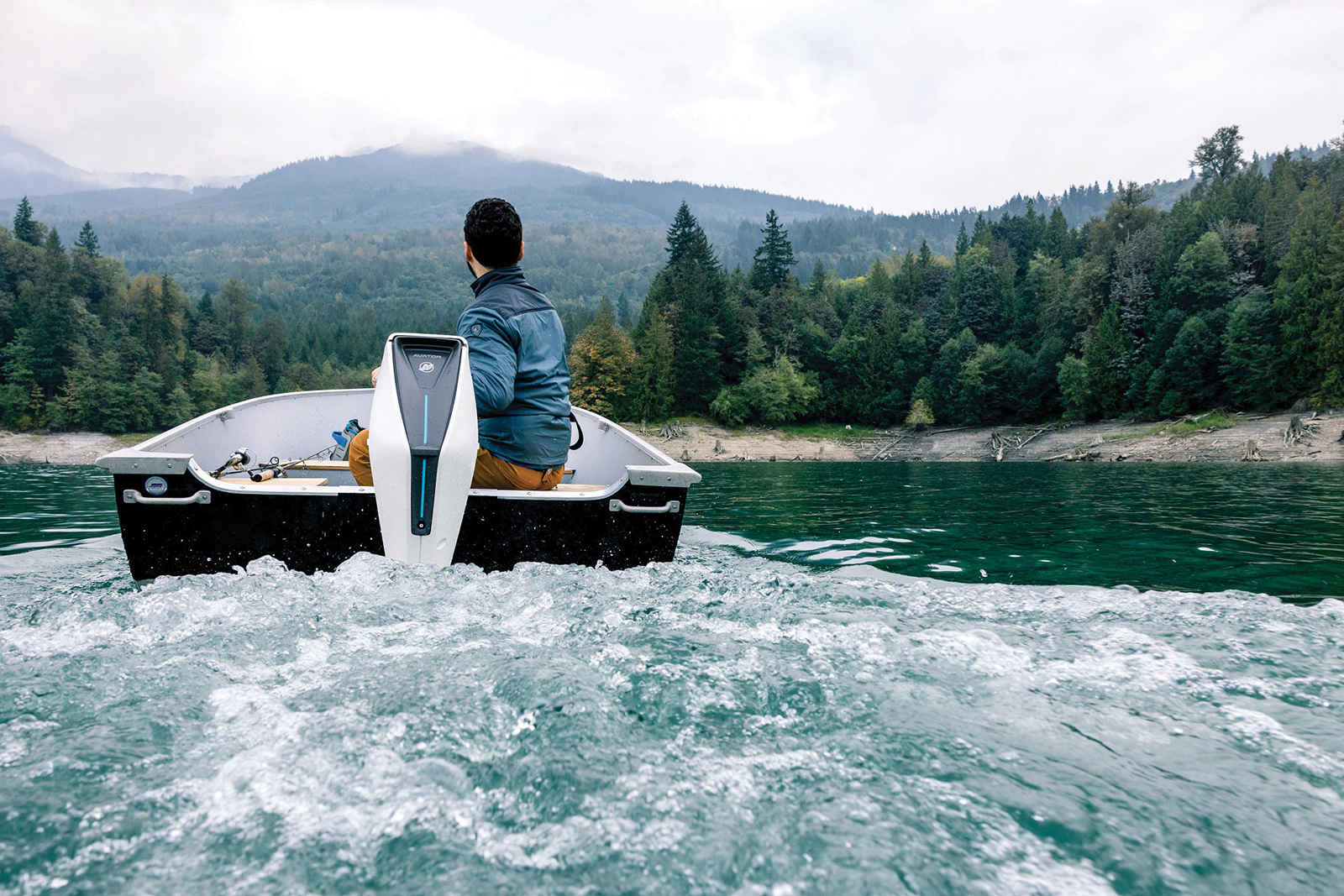 The Avator 48-volt outboard motor is the first of its kind from Mercury to be sold to consumers. 
Mercury designed the Avator to mount with ease, be very portable, and start with just the push of a button. The Avator is equipped with advanced technologies to monitor your battery level and range so you can explore the waters with confidence and ease. Perhaps one of the biggest benefits of an electric motor is how quiet they can be, allowing you to fully embrace your surroundings. The new engines are made partially from recycled materials and of course have no exhaust or emissions. The battery can be charged by standard household outlets and buyers also have the option to purchase a faster charger for convenience. This outboard also features a full-colour display and can connect to your phone via the Mercury Marine App.
For more information, please visit www.mercurymarine.com
---
Air Lift 1000 Kit for

 
2021 – 2023 Ford F150 Raptor 4WD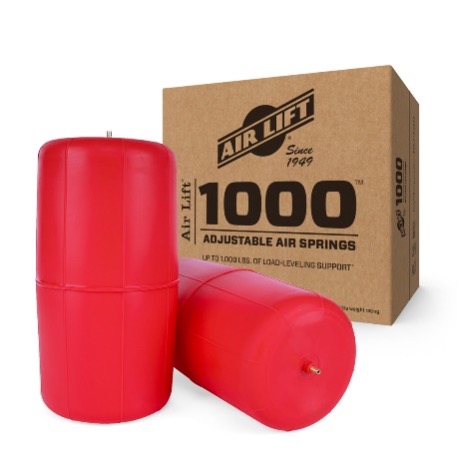 Aftermarket air suspension specialist, Air Lift Company, has engineered their debut product – the Air Lift 1000
– to now fit the 2021-2023 Ford F-150 Raptor 4WD (PN 60865).
By working with the vehicle's existing suspension, Air Lift 1000 helps with vehicle squat, poor headlight aim, unresponsive steering, trailer sway, body roll, and bottoming out. By properly leveling the load, squat is eliminated, braking is improved, and the vehicle is returned to a level and stable state, allowing users to tow and haul safely and comfortably.
"It's becoming more common that newer vehicles are coming from the factory with softer, more comfortable coil spring suspension, which has its ups and downs," said Cody Wolgamott, product marketing manager at Air Lift. "While this type of suspension generally rides better than say a leaf spring suspension, it's more prone to squat while loaded down due to the softer nature of it. Our product can prevent the vehicle from squatting while maintaining a comfortable ride." 
The Air Lift 1000 system is air adjustable from 5 to 35 PSI, allowing them to be calibrated to the weight of the load. Whether the vehicle is loaded or unloaded, the volume of the air springs will improve the overall ride quality.
Installation requires no drilling or special tools. Also included is an easy-to-follow, fully-illustrated instruction manual for easy installation. In addition, Air Lift offers wired or wireless on-board air compressor systems for convenient inflation and deflation of the air springs. 
All Air Lift air springs are backed by an industry-exclusive Lifetime Warranty covering the entire contents of the air spring kit. The company also ensures satisfaction with a 60-day money-back guarantee on load support air springs and on-board compressor systems.
For more information visit http://www.airliftcompany.com or call (517) 999-2121.
---
Ganter Clean Air
Here's the Key to a DUST FREE RV!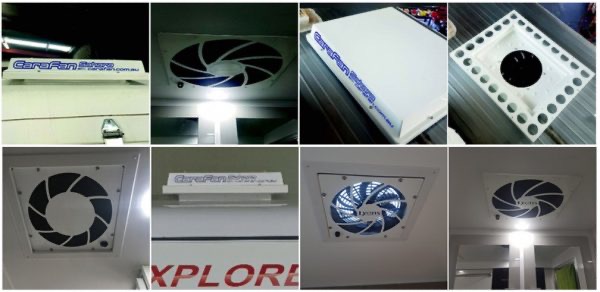 RV Lifestyle Magazine had the opportunity to chat with Diane Emery, VP of Ganter CleanAir Solutions, a Canadian company based in Dawson City, Yukon, who are the Canadian and USA distributors of the Australian caravan pressurizer – Carafan Sahara CP700.
We asked Diane to describe how Ganter CleanAir became the Canadian distributors for this unique RV product.
"While visiting Australia in 2021, we were looking for a solution for keeping dust out of our mechanics truck while travelling in the Yukon, Canada, and we came across the Carafan Saraha CP700. We were so excited at finding a solution to our Dust problem. We did some research and found that there was nothing like this in Canada, so we ordered one straight away.
Jonathan has lived and worked as a Heavy Duty Mechanic in the Yukon mining areas for over 40 years, and he understands the problems with dust. We knew that if we had a travelling dust problem, then many of our fellow travellers would also, and asked the team at Lyons Airconditioning if we could become the distributors in Canada and the USA".
Together, using Jonathan's mechanical experience with the technology and Diane's 30 years experience in finance and business development, they have formed the perfect team to distribute the Carafan Sahara CP700 across Canada and the USA.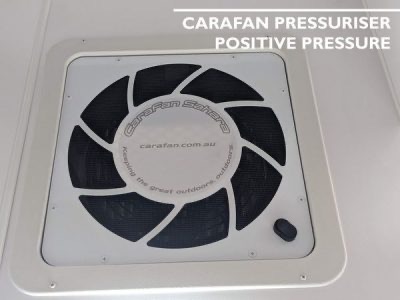 It is easily installed into the existing 14" x 14" skylight vent on the roof of an RV, so there is no need to cut new holes in the vehicle.  The Carafan Sahara was designed by caravan enthusiasts, for installation in all types of RVs. With a low profile external structure, the Carafan Sahara will not be knocked off while travelling in rugged terrain. The unit is designed with strong aluminum components to ensure that no damage could occur to the RV.
The Carafan Sahara allows you to arrive at your destination without the need to clean the dust from the inside of your RV. This saves the expense of cleaning products, reduces allergies bought on by dust, protects your RV and personal equipment from dust, and allows you to arrive relaxed and ready to enjoy your stay.
The Carafan Sahara has now become a staple addition to a large majority of the RVs built by the Australian caravan industry, with a large percentage of the major caravan builders now offering the Carafan Sahara as an option.
For more information on this unique product, please visit the website at https://gantercleanair.com/ and the Australian website at https://carafan.com.au/ to check out the multitude of reviews, videos, blogs, and forums showing how well the Carafan Sahara works.
---
Roadmaster Introduces New Spare Tire Carrier for 2.5" Receivers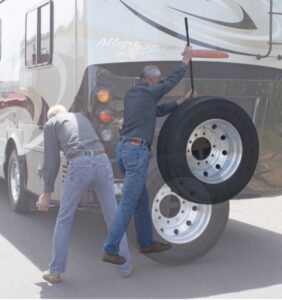 Today's motorhomes offer a wide range of amenities and thoughtful details – but one thing they often don't come equipped with is a spare tire, or even the means to carry one. 
Not carrying a spare can lead to higher costs and more time being stranded if you get a flat. A local shop may not have the right size in stock, or worse yet, there are no tire stores within 100 miles. 
Roadmaster's Spare Tire Carrier is an easy solution that lets you carry your own high-quality spare and wheel wherever you go. The new 195250-S is specifically designed to fit larger 2.5" receivers. The Spare Tire Carrier mounts in the existing hitch receiver on the RV AND accepts wheel sizes from 16-24.5 inches. 
To unload the spare, simply extend the leverage handle, pull the auto-latch mechanism, and pivot the spare safely and easily to the ground. Rated up to 10,000 pounds (400 pounds tongue weight), the Spare Tire Carrier also incorporates a 2-inch receiver so you can safely tow a dinghy vehicle as well. 
The 195250-S is the newest member of the family.  The most popular Spare Tire Carrier (part #195225-S) is for motorhomes with 2" receivers. Vehicles that use smaller spares, such as vans, trucks and SUVs can use the little brother (part #195125) for 2" receivers. MSRP: $928 US.
For more information, please visit www.roadmasterinc.com 
Source: https://www.rvlifemag.com/7-new-products-for-your-camping-adventures/?utm_source=rss&utm_medium=rss&utm_campaign=7-new-products-for-your-camping-adventures