Top 3 Slow Cookers For Travel And Camping: A Guide For Gourmet Adventurers | Campfire Magazine

When you're surrounded by the beauty of nature, why settle for less than spectacular meals? Whether you're trekking through the mountains or setting up camp by a serene lake, the right slow cooker can elevate your outdoor dining experience. In this post, we're diving into the top three slow cookers perfect for travel and camping, making sure your next adventure is deliciously unforgettable.
Imagine slow-cooking a delicious beef and veg stew while you trek through nature, returning to a ready-to-eat meal that's been simmering to perfection without any electricity or fuel. Sounds like a camping dream, doesn't it?
Well lets dive straight in to my favourite 3!
First on our list is the innovative and environmentally friendly Wonderbag. This no-electric slow cooker is not just a boon for campers but a gift to the planet.
Features:
Eco-Friendly: Requires no electricity, fuel, or battery. It uses heat retention technology to cook and keep food warm for up to 12 hours.

Versatility: Doubles as a cooler, keeping your perishables cold when you're out exploring.

Portable: Lightweight and easy to pack, making it ideal for any travel or camping situation.

Social Impact: Each purchase contributes to Wonderbag's mission to support families in need globally.
Why It's Perfect for Camping:The Wonderbag takes outdoor cooking back to basics while keeping it sophisticated. Prepare your meal, bring it to a boil, and let the bag do the rest as you enjoy your day. Return to a perfectly slow-cooked, warm meal.
Read our FULL REVIEW HERE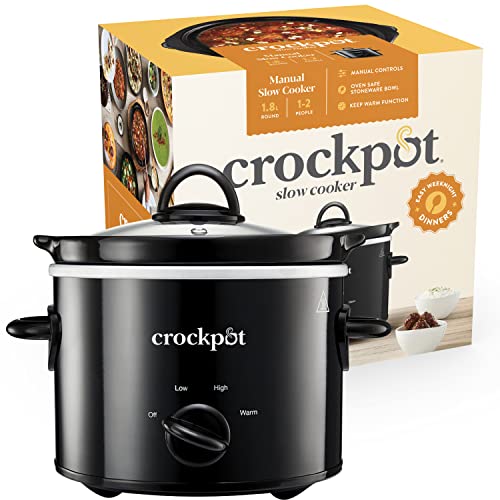 Discover the perfect culinary companion for your campervan adventures – our Compact Crockpot Slow Cooker! Designed with the roaming chef in mind, this small yet mighty slow cooker is the ideal size for couples or solo travelers. It's specifically tailored to fit the cozy confines of a campervan, ensuring that delicious meals are just a plug away.
Features:
Ideal Size for Two: Perfectly proportioned to whip up hearty meals enough for two people, making it a must-have for couples or small families on the go.

Space-Saving Design: Its compact form factor easily fits into the limited space of a campervan, ensuring that it doesn't take up much room.

Ease of Cleaning: Even if you accidentally burn your chili or stew (which we have in our crock pot a few times), worry not! The inner pot is designed for easy cleaning, ensuring it comes up fine after every use.

Electric-Powered: Simply plug it into your campervan's electric outlet, and you're all set to cook delicious, slow-cooked meals.

Simple Operation: With intuitive settings, this slow cooker is a breeze to operate, even for those who are new to the slow cooking game.
Whether you're parked by a serene lake or nestled in a mountain hideaway, our Compact Crockpot Slow Cooker turns your campervan into a mobile gourmet kitchen. Enjoy the journey and the meal!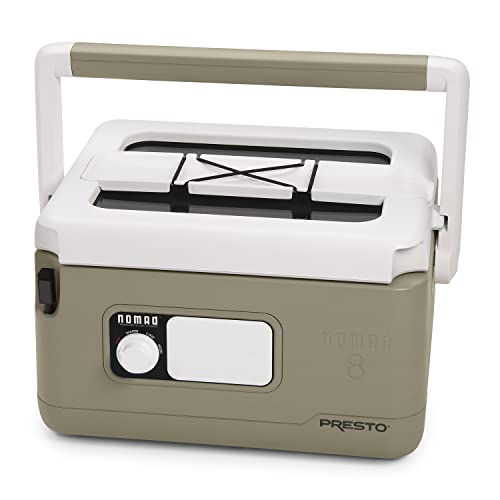 Set off on your journey with the Presto Portable Slow Cooker, a must-have for any traveler who cherishes the comfort of a home-cooked meal. With over 2000+ 5-star reviews on Amazon, this cooker isn't just a kitchen appliance; it's a dependable travel companion.
Features:
The Slow Cooker That Cooks and Goes: Ideal for slow cooking a variety of foods and then taking them on the road.

Convenient Swing-up Handle: The easy-to-use handle makes carrying a breeze, perfect for on-the-go adventures.

Spill-Proof Transport: A locking lid ensures your meal stays secure and spill-free during transit.

Sturdy and Safe Design: Its rugged, wide-profile, "picnic cooler-style" build with cool-touch housing is designed to prevent tip-overs while traveling.

Generous 8 Qt Capacity with Viewing Window: Ample space for cooking large meals, accompanied by a viewing window to check on your dish's progress.

Easy to Clean: Both the cover and pot are removable, simplifying the cleaning process.

Variable Temperature Settings: Choose from high, low, and keep warm settings to suit your cooking needs.

Built-in Cord Storage: Keeps the cord neatly tucked away when not in use.

Removable Utensil Holder: Doubles as a convenient spoon rest. Also includes a whiteboard and marker for labeling or notes.
Whether you're road-tripping, camping, or heading to a potluck, the Presto Portable Slow Cooker ensures your favourite dishes arrive just as delicious as when they left the kitchen. Easy to use, clean, and carry – it's the perfect companion for any culinary adventure.
Source: https://campfiremag.co.uk/top-3-slow-cookers-for-travel/