This Pair of Thru-Hikers Founded Two Gear Companies from a Shipping Container on the Continental Divide Trail
Hikers on the Continental Divide Trail (CDT) northbound cover 600-700 miles through New Mexico then cross the border into Colorado. From there, you're most likely to catch a ride back into New Mexico, stopping into the town of Chama. Chama is the last chance for most CDT hikers to adjust their gear setup from desert to alpine as they head into Colorado's South San Juans. This makes it a vital spot for a resupply. After hiking the CDT in 2021 and seeing dozens of hikers forced to stay in Chama for weeks, waiting for the snow to melt in the mountains, Mitch "Tumbles" Collins and Jonathan "Janis Joplin" Thomas saw an opportunity. They founded two gear companies working in tandem from one CDT storefront, Tumble On Outfitters.
Shipping Container Inspiration
There are other, similar setups on America's national scenic trails. Triple Crown Outfitters at Kennedy Meadows, mile 700 of the Pacific Crest Trail (PCT), fills a similar niche. They have a well-established shop, allowing hikers to pick up what they need for the Sierra Nevada going north. As Tumbles hiked the CDT in 2021, he stopped into High Divide Outfitters at Stemple Pass near Lincoln, Montana. Dave's setup there is a thru-hiker's paradise. He has all sorts of niche, high-quality, ultralight gear in his shipping container. He has snacks, a picnic table, tubs of water in which to clean your socks, everything.
Gear Companies Harness the CDT Hiker Bubble
Tumbles left Stemple Pass pondering that business model. He had another moment at a yurt in Montana when reading through a logbook. He opened it up and saw that every CDT hiker who signed from 2013-2015 all fit on one page. In 2021, there were 15 pages of hikers who signed. It was clear how much the community was growing. A friend of his made a TikTok video on a CDT road walk, earning 18 million views. In 2009, there were only 600 people on the PCT. Now, after their "Wild" moment, they have 4,000+ hikers a year. While the CDT may not have the same boom, thru-hiking continues to grow in popularity, just like the CDT.
Thru-hikers are a small, self-contained economy on the move. It's clear on the PCT and the Appalachian Trail (AT). You can see hostels, shuttle services, and more spring up to service hikers. As the gateway from New Mexico desert to Colorado's mountains, Chama was the perfect spot for a couple gear companies on the CDT.
Getting Started
In May 2022, Tumbles and Janis were on the phone, looking at land for sale in potential trail towns. Janis found a plot of land in Chama next to the post office. He sent it to Tumbles, who was already looking at it. They were able to negotiate the price, since it had been on the market for a while and was essentially a vacant lot. As a joint venture with the help of a loan, they bought the land. Next, they made plans to get the shipping container out there.
Stocking the Shop
What do thru-hikers always need? Socks, fuel canisters, backpacking meals, snacks, tape, and replacement sporks. As a thru-hiker, Tumbles knew what he needed to pick up. In 2021, Janis had caught a ride all the way up to Pagosa Springs to replace his socks, and even picked up extras for his trail family, which were much-needed. It was clear that Chama was a bit of a gear desert, so Tumbles and Janis, having looked for these things themselves, knew there would be a market.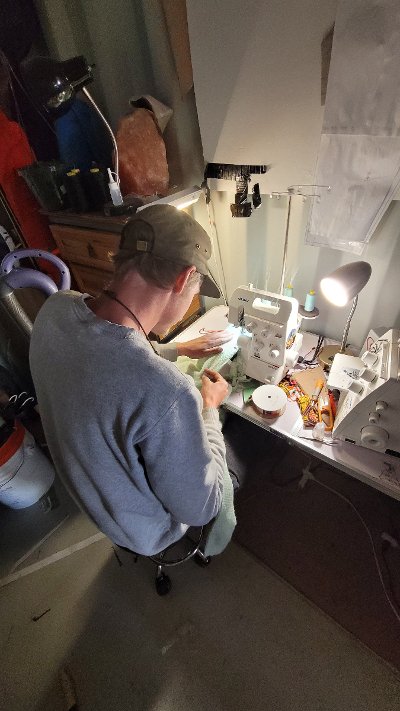 The Fleece
Another vital item for this point in the trail: a decent mid layer for added warmth in the mountains. Thinking about this, and considering ways he could set his shop apart from the rest, Tumbles invested in a sewing machine, several rolls of Polartec microgrid fleece, and began making fleece sweatshirts. He started in 2022, still at home in New Hampshire, and began crafting as many quality fleeces as possible. He sourced the lightest, warmest material he could and the bright colors thru-hikers love. His sewing machine became a place he could sit, switch on a podcast, and consider the best ways to approach this new business venture. He began creating his own line of clothing for his own gear company on his beloved CDT.
The Packs
Janis Joplin, at the same time, was starting his own business: The Exotic Pack Company. As a fellow thru-hiker and an ultrarunner, Janis had already experimented in making his own ultralight packs in the past. He invested in a sewing machine of his own and the latest material for high-quality packs. He also uses vibrant, psychedelic colors and patterns. His flagship product is the "FKP" or "Fastest Known Pack," a nod to the "Fastest Known Times" that Janis has set through the states of both Oregon and Washington on the PCT. He's already fulfilling orders, and one of his packs has already been used to hike the Pacific Northwest Trail.
The Gear Companies' First CDT Season
In May, Tumbles packed up his car and a small trailer that he'd live in for the season, then drove down from New Hampshire. Janis, after a year or so being a camera operator for a news channel in New Orleans, his hometown, bought a van and made his way too. As the season swung into full gear, Tumbles and Janis were living a lot like the thru-hikers that would soon come through. They had shelter, but no running water yet. It was a fairly spartan lifestyle, to the point where when hikers would arrive and rent a motel room, Tumbles and Janis would get excited about potentially using the hiker's shower too.
NOBO Season
One hiker, relatively early to arrive, was a German woman with a homemade pack of her own. It was falling apart on her, though, and she was fairly miserable. Janis was able to replace her straps for her. They found themselves doing more repairs than they'd expected, something the CDT community always needs, already grateful for these grassroots gear companies.
Two hikers, Maker and Cook, were having a small cookout at a nearby hotel and invited the thru-hikers in town, along with Janis and Tumbles. After finding out Maker makes websites, Tumbles brokered a deal: They would trade a fleece for a website. Maker and Cook would each leave with a fleece, once on the way north, and again driving back south.
There are few places where word of mouth is more effective than on America's Triple Crown, and the CDT is no exception. They had hoped it would happen this way, but then it actually did. They shuttled hikers to and from Cumbres Pass and would sometimes come back to find 5-6 hikers just sitting out front, hanging. "Oh, this is what we wanted," thought Tumbles. Hikers would walk into their shipping container and say, "Oh, this is the coolest gear store I've ever been to."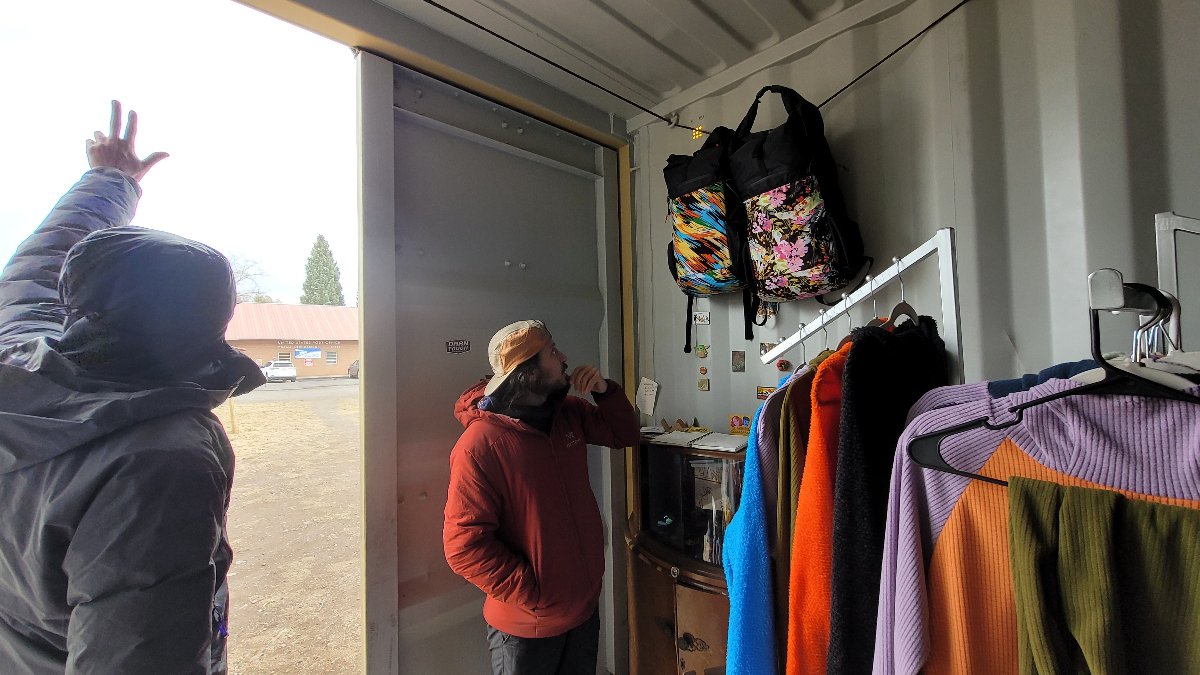 They sold a lot of fleece, a lot of fuel, socks, and ice axes. The Continental Divide Trail Coalition came by and wrote them up. They got listed on FarOut, the default method of navigation and communication for thru-hikers, which means pretty much every CDT hiker will see their gear company. If the hardest part is getting started, they passed that test with flying colors.
SOBO Season
Come late August and onwards, the NOBOs (northbound hikers) are gone and the SOBOs (southbound hikers) will start trickling through. Having hiked about 75% of the trail already, SOBOs tend to have all the gear they need, but they will still stop into Tumble On Outfitters for some community and some smaller items. With less to do, Tumbles and Janis set about improving their infrastructure for the next year. The biggest item there was digging a massive trench for their water line.
While I was visiting Tumble On Outfitters, Hippie, one of the last SOBOs of the season came through. It was early November by that point. He had spent the last 500 miles or so walking through snow, and he was excited to get back to the desert where he only really had to worry about cold nights. He and Tumbles chatted for a while, and Hippie revealed that he's actually a co-owner of a hostel on the Appalachian Trail. They connected about entrepreneurship on trail, and how important it is to maintain a welcoming atmosphere to reflect the culture of America's long trails and try to give back.
Looking Toward Next Season
Hippie and Tumbles, as they chatted, really got to the heart of why a place like Tumble On Outfitters matters to the CDT community. It's an organic place, sprung up from trail culture, there to serve thru-hikers, not a boring, polished storefront. It's a shipping container filled with hiking gear on what was previously an abandoned plot of land. It reflects the CDT, the loneliest trail of the Triple Crown, as it grows slowly and steadily, still waiting for its "boom." For CDT hikers, walking up to a storefront like this feels like coming home.