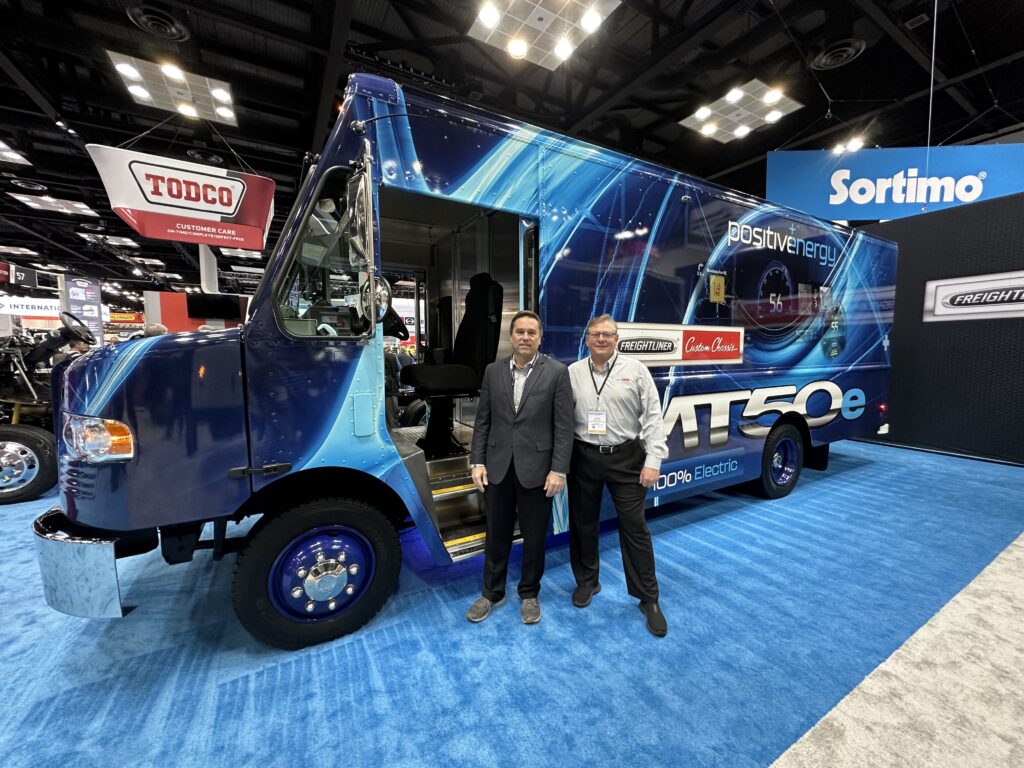 [embedded content]
INDIANAPOLIS – As the show floor opened Wednesday (Feb. 8) for the National Truck Equipment Association's "Work Truck Week," the Indiana Convention Center was loaded with gleaming examples of the finest products the work truck industry has to offer.
No strangers to the truck world, several suppliers well known in the RV sector were also on hand to showcase their latest and greatest including ASA Electronics, CURT, Dometic, Dragonfly Energy, Eberspaecher, Freightliner Custom Chassis Corp., Gen-Y, Genesis Products, Horizon Global, Lightning eMotors, Mercedes-Benz USA, Meyer Distributing, Trim-Lok, Volta Power Systems, Webasto and Xantrex, among others.
Clearly, one of the main thrusts of this year's show was electrification, as more than a dozen companies displayed last-mile delivery EVs.
For its part, Freightliner Custom Chassis Corporation (FCCC), Gaffney, S.C., was displaying its all-new, all-electric MT50e commercial-grade walk-in van chassis, said spokesman Kevin Erb. The new MT50e merges FCCC's prowess in the chassis world with Burlingame, Calif.-based Proterra, a leading electric vehicle technology manufacturer.
And, while there are plenty of new kids on the block bringing EVs to market in the EV truck world, Erb said, FCCC "has the ecosystem in place to design, develop and build it to scale," adding that the new chassis has been very popular. The MT50e also will offer FCCC driver enhancement and safety staples such as Drive-Tech and Opti-View.
From an RV perspective, EVs "are sort of the white whale. It's sort of the next big thing in the RV space," Erb said, while conceding that range anxiety must be addressed before builders can move forward in any meaningful way.
"What FCCC won't do – can't do – is sacrifice anything like our quality, power, durability or anything that comes on a luxury Class A diesel, simply to get an EV platform," he said. "So FCCC will do that if and when they don't have to make any sacrifices. … The big question is, 'How do you get there?'"
Bryan Henke, FCCC's manager of product marketing, said the fixed-route, last-mile market makes sense in the EV space because vehicles can be charged in the evening after each day's deliveries.
"If you think about the RV market, and you want to expand EV products, I think right you have to think differently – change RVers habits slightly," he said.
For example, Henke imagined having a fleet of EV B-vans and charging stations available near national parks. RVers could fly in, rent the B-van, travel through the parks and then camp in the van overnight as it is charging.
"In that fixed environment, I think that would be really cool," he said. "The only problem is the infrastructure. I get it, but I feel something like that is much more attainable than people treating this like an internal combustion engine."
If consumers interested in RVing treat EVs like fossil-fuel-powered vehicles, expectations are not going to be met, he said.
"Even for weekenders. People don't want to camp 30 or 40 miles from home," he said. "This is where the expectation needs to change."
Scott Flom, sales and marketing manager for Genesis Products, said that while the RV market has slowed, "Genesis is a very diversified company. We're not only in RV. We're in wood products, kitchen and bathroom, as well as the secondary automotive industry. That's why we're here at the Work Truck Show."
Secondary automotive includes products like the company's "Welfit" vehicle liners – premium liners that protect the looks and function of work vehicles – which were on display at the show.
"This is a product line that we took to market about four years ago to diversify our product line outside of RV," Flom said. "And we sell it through distribution, but we also sell it direct to the end user. So, this is an end-use product that is nice to have in our product line."
At the LCI Industries (Lippert) subsidiary CURT's booth, Sean Sousley, Lippert product/new business development manager, said that while RV business has declined, non-RV markets are doing well.
"Those markets are still continuing to grow, and we continue to basically just re-invent ourselves, make new products, get out there and grab more market share," he said. "With the size of our company and all the different divisions, we're using all of our resources to grow our other markets in addition to still growing the RV – more penetration in each."
Mitul Chandrani, marketing manager at Xantrex Technologies Inc., said there is considerable overlap for his firm's products between the work truck and RV sectors.
He spoke about Zero RPM, an idle mitigation solution for work trucks which also is adaptable and desirable in the RV world.
"Let's say a work truck is out on the job and there are two people, one inside the truck and the other working outside with his tools and equipment," Chandrani said. "He can do so without the engine on. And the person inside can have HVAC running through battery. So, with engine off, both can do their work without exhaust."
The technology bodes well for campsite as well, he said.
"It's a huge focus for us," he said. "It eliminates the need for a generator on site."
Tom Moore, sales manager, was staffing the Horizon Global booth at the show, just three weeks after the company was acquired by First Brands Group LLC.
"Mainly here, we're promoting the Bull Dog name for our jacks and our couplers," he said. "Also, Reese is heavy duty, so we like to bring the Reese name, too."
It's an exciting time for Trim-Lok, as a recent expansion tripled the company's manufacturing capacity in the Elkhart, Ind., market, said Jeff Thomas, east region sales manager.
"We're based in Buena Park, Calif., but we've planted a flag in Elkhart, Ind., in terms of manufacturing," he said. "It's helped us not only in the RV market but with all of our East Coast customers."
Trim-Lok produces customized rubber edge trim and moldings.
Source: https://rvbusiness.com/rv-industry-well-represented-at-indys-work-truck-week-23/