Patrick, Shyft Group Both to Release Q1 Reports April 27


ELKHART, Ind. – Patrick Industries Inc. (NASDAQ: PATK) announced that it will release its first quarter 2023 financial results before the market opens on April 27.
Patrick Industries will host a conference call at 10 a.m. on April 27 Eastern Time to discuss results and other business matters.
Participation in the question-and-answer session of the call will be limited to institutional investors and analysts.
The dial-in number for the live conference call is 866-682-6100. Interested parties are invited to listen to a live webcast of the call on Patrick's website at www.patrickind.com under "For Investors." A replay of the conference call will also be available via the company's investor relations website.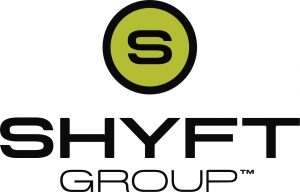 In a separate release, The Shyft Group, Inc. (NASDAQ: SHYF), the parent company of Spartan RV Chassis and a North American leader in specialty vehicle manufacturing, assembly, and upfit for ecommerce-driven parcel delivery, said it, too, will announce its first quarter 2023 results prior to the market opening on Thursday, April 27.
A conference call and webcast will begin at 10 a.m. ET to discuss its financial results with analysts and institutional investors.
Teleconference and webcast access:
A listen-only presentation, supporting materials, and replay of the presentation will be available at:
www.theshyftgroup.com/investor-relations/webcasts
The conference call can be accessed by telephone with the conference ID provided below:
Dial-In Number: 844-868-8845 (Domestic) or 412-317-6591 (International)
Conference ID: 10176292
Source: https://rvbusiness.com/patrick-shyft-group-both-to-release-q1-reports-april-27/