nuCamp Brings Back 'New, Bigger and Better' Cirrus 920 – RVBusiness – Breaking RV Industry News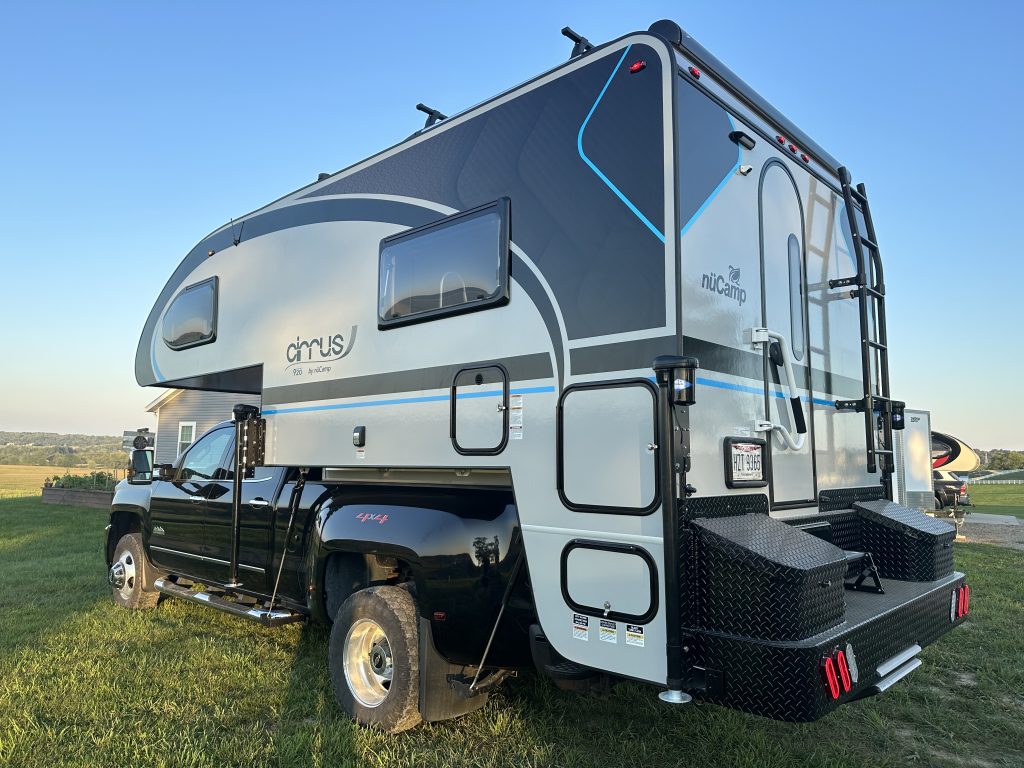 SUGARCREEK, Ohio – After a long hiatus, nuCamp officials are thrilled to announce the highly anticipated return of the Cirrus 920 truck camper. This model is back and better than ever, redefining the RV industry's standards of hard-side, non-slide truck campers. With a host of new features and innovations, the Cirrus 920 is set to captivate adventure seekers and camping enthusiasts alike, according to the company release
Powered by lithium batteries and solar reserves, the Cirrus 920 allows adventurers to go completely off the grid. With the option to use an LP tank or generator and the DC-to-DC charging capabilities, campers can confidently embark on their journeys without limitations.
"We're beyond excited to unveil the Cirrus 920 Prototype at Hershey this year — it's been a long-awaited for and highly anticipated product. Our customers will enjoy the technological advances, luxurious touches, and beautiful aesthetic – all in our newest model, which happens to be our largest offering yet," shared Scott Hubble, CEO. "The 920 is the result of industry and customer feedback coupled with strategic vendor partnerships, and a future-forward vision. We spared no expense creating this exceptional masterpiece," Hubble concluded.
Exciting new features include the large full dry bath providing ultimate convenience with its porcelain toilet and skylight. Premium cabinetry with soft-close cabinetry exudes elegance and sophistication. The luxury vinyl flooring adds a touch of style, while the composite walkable roof ensures easy access to the top of the unit.
The 920 has a 10″ wider footprint than its predecessor and thus, offers more living space and storage than ever before. Equipped with two large wardrobes, a shoe drawer, a sliding spice rack, under-dinette storage, and larger cabinets on each side of the bed, the Cirrus 920 ensures every item has a dedicated place.
The 920 has the nuCamp signature heating system, the Alde Hydronic Heating and Endless Hot Water System, plus a rooftop AC unit, which provide comfort and convenience regardless of the weather. Its 4-season capabilities enable campers to experience the great outdoors in any climatic condition.
nuCamp is excited to showcase the Cirrus 920 Truck Camper at the Hershey RV Show, Sept. 13-17. This is an opportunity for RV enthusiasts to witness the future of truck campers firsthand and experience the quality and craftsmanship that nuCamp is known for.
Visit nucamprv.com for more information.
About nuCamp
nuCamp manufactures the highest quality teardrop trailers, teardrop campers, and truck campers available on the American market. Our recreational vehicle and trailer products are the results of extensive research and development, customer feedback, and the fusion of technology and old-world craftsmanship. The dedicated craftsmen and women who work at the nuCamp facility in Sugarcreek, Ohio, are committed to the principles of simplistic design, high-quality fabrication, and fanatical customer support. nuCamp is the world's largest manufacturer of teardrop trailers.
Source: https://rvbusiness.com/nucamp-brings-back-new-bigger-and-better-cirrus-920/