NeXus RV Named Elkhart Chamber Business of the Year

While there seems to be little to tie northern Indiana to the traditionally warm-weather camping lifestyle during the colder months, the RV-building heart of Elkhart County tends to remain a hub of activity as RV dealers submit sales orders — taken during the winter show season — for spring and even summer delivery. For NeXus RV, this winter has been busier than normal.
For starters, the Elkhart-based OEM introduced its latest Super C, the Verrado, last fall that, said company co-founder and CEO Claude Donati, has been "very well received" by its dealer body and customers. Then, in early March, NeXus RV was honored by the Greater Elkhart Chamber of Commerce as its 2022 Business of the Year.
"We had no idea this would happen," said Donati of the local honor. "NeXus RV was named as 'Business of the Month' back in May 2022, but we didn't know it went even further than that." In January, the Chamber invited all 12 Business of the Month winners — which ranged from insurance companies and banks to Lakota Trailers, said to be "America's No. 1 best-selling horse trailer" — to give a 15-minute presentation of their companies, then all were invited to a luncheon May 1 at the Lerner Theater in downtown Elkhart.
"There were a number of awards presented, from Woman of the Year to Non-Profit Business of the Year," said Donati. "The top category — Business of the Year — was held until the last, and NeXus won it."
The award, added company co-founder and President David Middleton, was reflective of not only NeXus RV's impact on the county — it's grown from 15 employees at its founding in 2010 to more than 300 today, while enlarging its footprint to more than 400,000 square feet of manufacturing space across three plants — as well as its contributions to the local community.
"We're heavily involved with the YWCA here," he said. "It has a branch called Safe Haven Shelter, which provides protection and assistance to anyone fleeing from domestic violence. We as a company committed a lot of 'elbow grease' to the project, with about 100 employees spending three days upgrading everything from flooring to landscaping."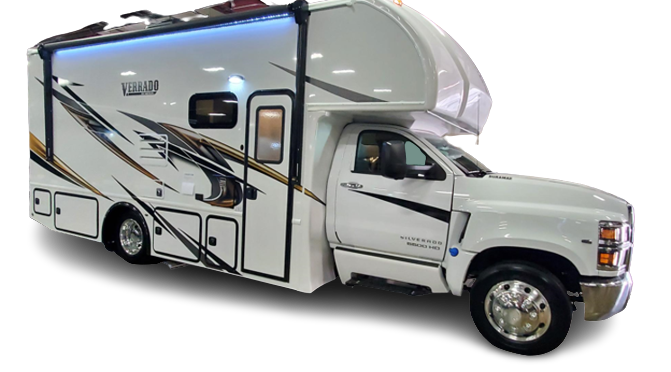 The Verrado, meanwhile, joins a company lineup dedicated solely to Class C and Super C motorhomes. Unlike the company's other Super C brands — the Wraith, Ghost Triumph SC and Rebel 4×4, which are all built on International chassis — the new Verrado is built on a Chevrolet 5500 LT Silverado Series 19,500-pound GVWR chassis.
Powered by a 350-horsepower Duramax diesel coupled with an Allison 6-speed automatic transmission, the Verrado is available in three floorplans: the 28S (29 feet, 1 inch), 30S (30 feet, 6 inches) and 32S (32 feet, 1 inch). All feature a 15,000-pound towing capacity, NeXus RV's steel-cage construction, seamless gelcoat fiberglass sidewalls, front cap and seamless wraparound fiberglass roof and heated and enclosed holding tanks. Other features include a 6.0Kw Onan AC generator, paired deep-cycle coach batteries, 13,500BTU ducted roof A/C, 12-volt refrigerator, onboard water filtration system and a choice of either Frost or Linen décor tones.
All for a Super C motorhome that, said Donati, lands to a dealer for about $35,000 less than a comparable Super C from any other manufacturer.
"We saw by early fall of last year that the market was slowing down, while the prices were going up" he said. "We felt we needed to do something to break the inflationary problems." Cognizant of the Chevrolet's "super aggressive" pricing on its 4 x 2 chassis with the Duramax and Allison, it provided NeXus with "the opportunity to go the other way with pricing." The lower price point, he added, "Was perfect for the market conditions."
The NeXus Verrado, noted Donati, is the first Super C built on General Motors-branded underpinnings since 2006.
"For all those loyal GM buyers that own Yukons and Cadillacs and GM and Chevy trucks, this is a natural powertrain," he said. "So the powertrain's better, it tows more, the lengths are right — and it has our proven construction."
The Verrado, Donati said, is expected to dramatically add to a company that enjoyed a record year in 2022 in both shipments and profit. "Our best months were September, October and November," he noted, adding that NeXus has had "two or three incredible years. Our financial partner, the Lerman family out of South Bend (Ind.), runs about a $2 billion organization, so we're in a great position, not only with their support but by what we've accomplished over the past few years."
Source: https://rvbusiness.com/nexus-rv-named-business-of-the-year-verrado-gains-traction/