EDITOR'S NOTE: The following is a News & Insights report from the RV Industry Association.

FAIRFAX, Va. – In 2013, a mid-level bureaucrat at the U.S. Department of Housing and Urban Development (HUD) took it upon herself to classify RVs as "housing units," subjecting RV to onerous HUD regulations. This classification was anathema to the RV industry.
Jay Landers, then Senior Director of Government Affairs, and his team immediately launched a counteroffensive. Initially, the campaign was to educate, not only HUD officials, but also members of the U.S. House and Senate and their staffs about the real and significant differences between RVs and housing, making sure everyone recognized that RVs are "vehicles." Conducting meetings and briefings, Jay and his colleagues, with the help of members, doggedly persisted under two Administrations, up to and including a meeting between industry CEOs and then-Secretary of HUD Ben Carson in 2018.
Simultaneously, at the grassroots level, Jay and team organized a massive letter-writing campaign, mobilizing tens of thousands of RV owners and industry members to urge their congressional representatives to support the RV Industry Association's position on a procedural vote. After five hard-fought years, they prevailed, finally convincing the HUD General Counsel's office that RVs were temporary, seasonal vehicles, a product HUD does not regulate.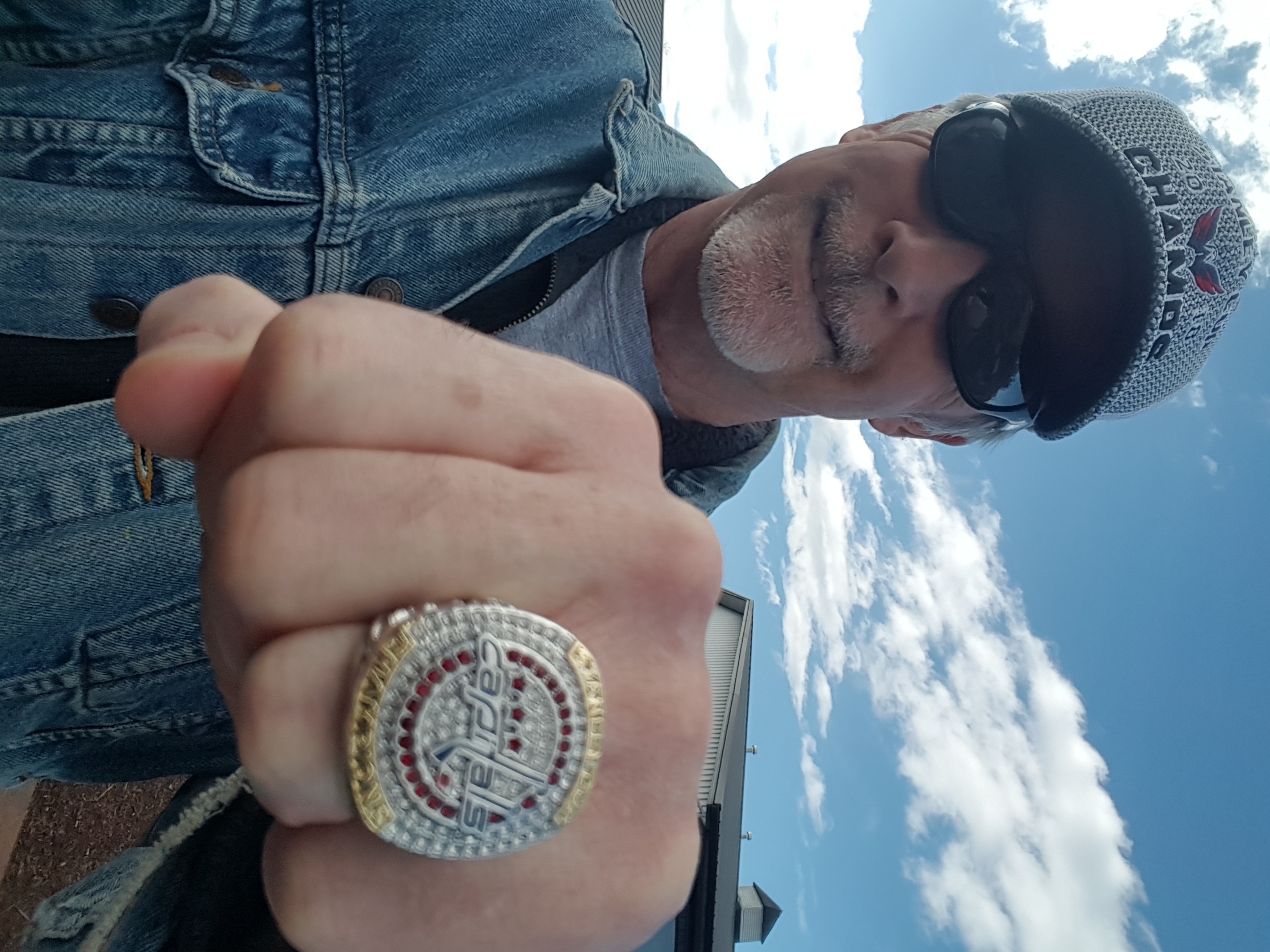 "This was one of our bigger federal accomplishments and today, there is federal language that makes it clear that RVs are vehicles, not considered housing, and thankfully, many states have codified this," explains Jay, over coffee at a Starbucks near his suburban Washington home. He works mostly remotely these days– so his decidedly casual work attire includes a Nationals baseball cap. That's his favorite team, the Massachusetts native says with a grin, after the Red Sox and every other professional team whose name starts with "Boston or New England."
The victory at HUD was not surprising to Bob Schmitt, the RV Industry Association's Vice President and General Counsel, who has worked with Jay for 25 years or "since we both had abundant brown hair."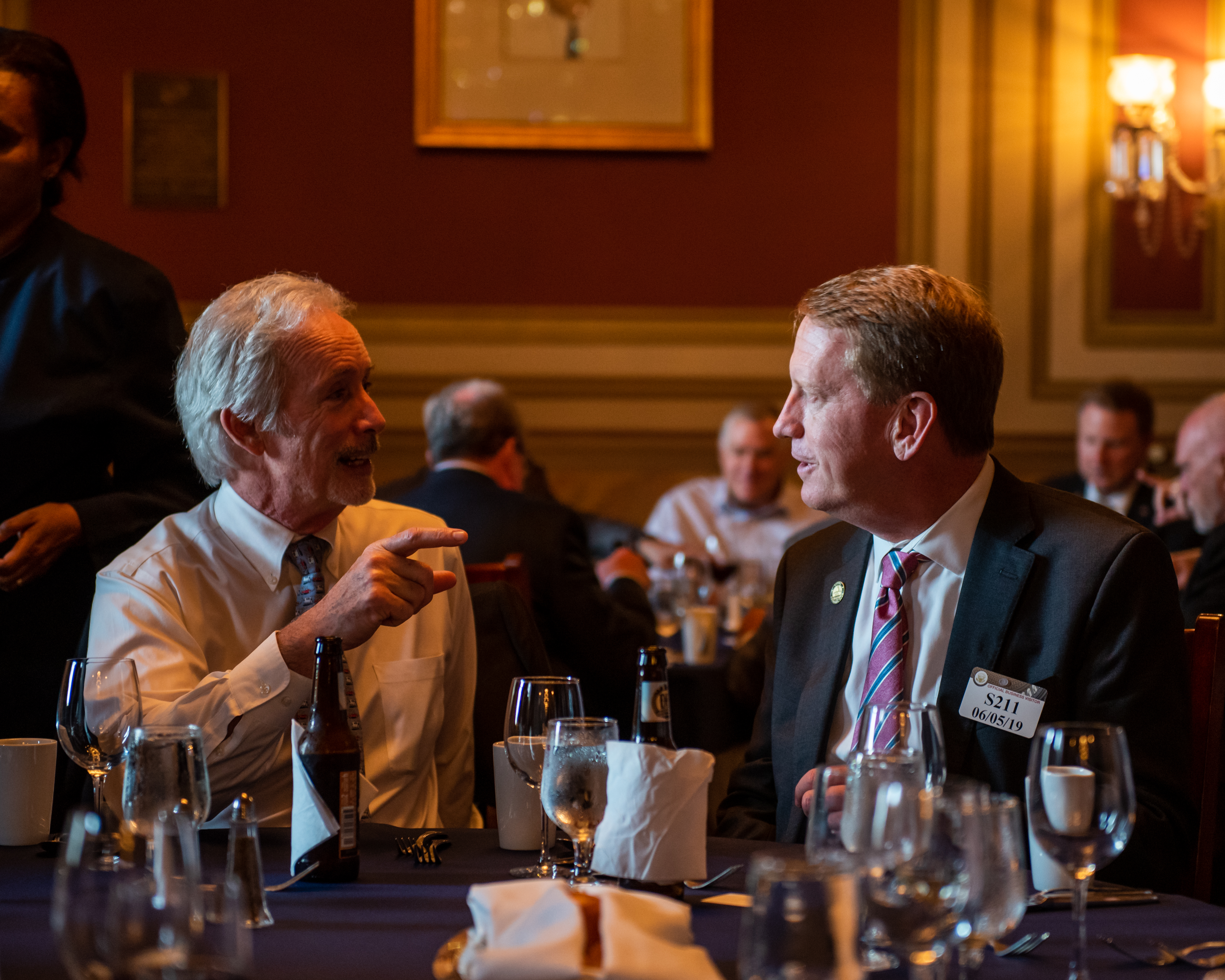 "That's Jay. He's smart, analytical, and perceptive when it comes to legislation and the mechanics of the political system. He has the perfect complement of skills for his profession: a finely honed gift of gab and a friendly, upbeat attitude that helps him to be a persuasive advocate and a pleasure to talk to."
For 32 years, Jay, now the Vice President of RV Industry Association's Government Affairs Department, has deployed this blend of aptitude and attitude to championing the industry's legislative and regulatory efforts. But this past fall, in advance of his upcoming 68th birthday, he announced plans to retire in March.
The response to this news within the industry can be summed up by Keystone SVP and General Counsel Dave Thomas, who says, "The RV Industry Association may be able to replace Jay, but it won't be able to duplicate him. He's one of a kind!"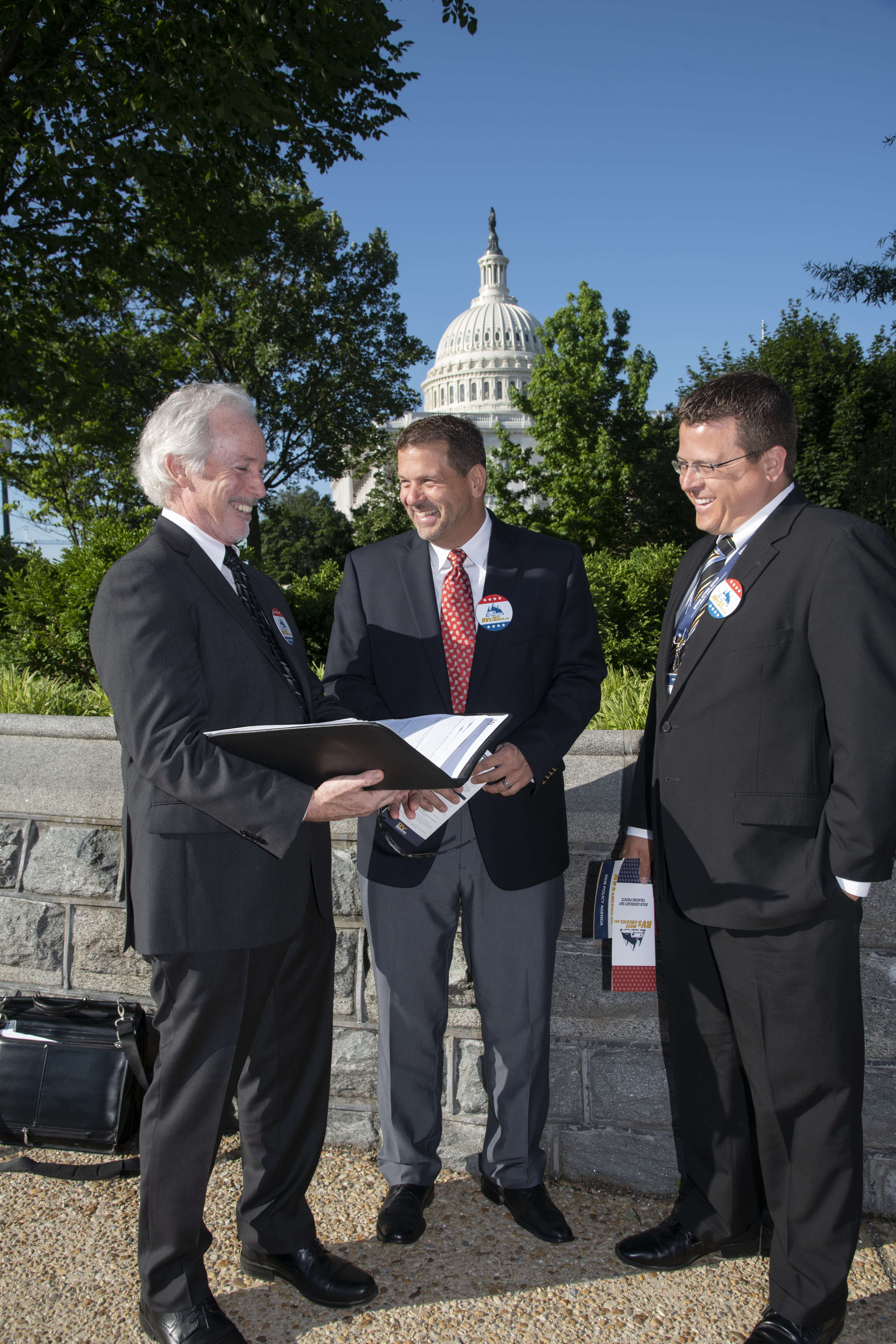 Indeed, tales of Jay's storied career in the hallowed halls and backrooms of state legislatures and on Capitol Hill abound, and each are infused with examples of his "warmth," "quick wit," "kindness," and "joyfulness." But the personality trait that he himself credits for his success is his ability to remain cool in the face of adversity.
He recalls the time a state senator began screaming at him during a legislative hearing. Jay suspected the man was misinformed about a deal he'd worked out with the auto dealers, so he followed him into his Senate office and calmly explained the situation. "Now, years later, we're golf buddies and I just helped his son get a job."
Jay laughs at the memory as he takes another sip of his coffee, then pulls a single type-written sheet of paper from the pocket of his leather jacket. "I tried to think of some highlights from my years in the RV industry – so this is sort of my 'Top Ten' list," he says, silently skimming over the list. It's clear that it has been a challenge for him to confine the list to just ten highlights and now, sharing it out loud seems to conflict with what others have described as his "humble nature."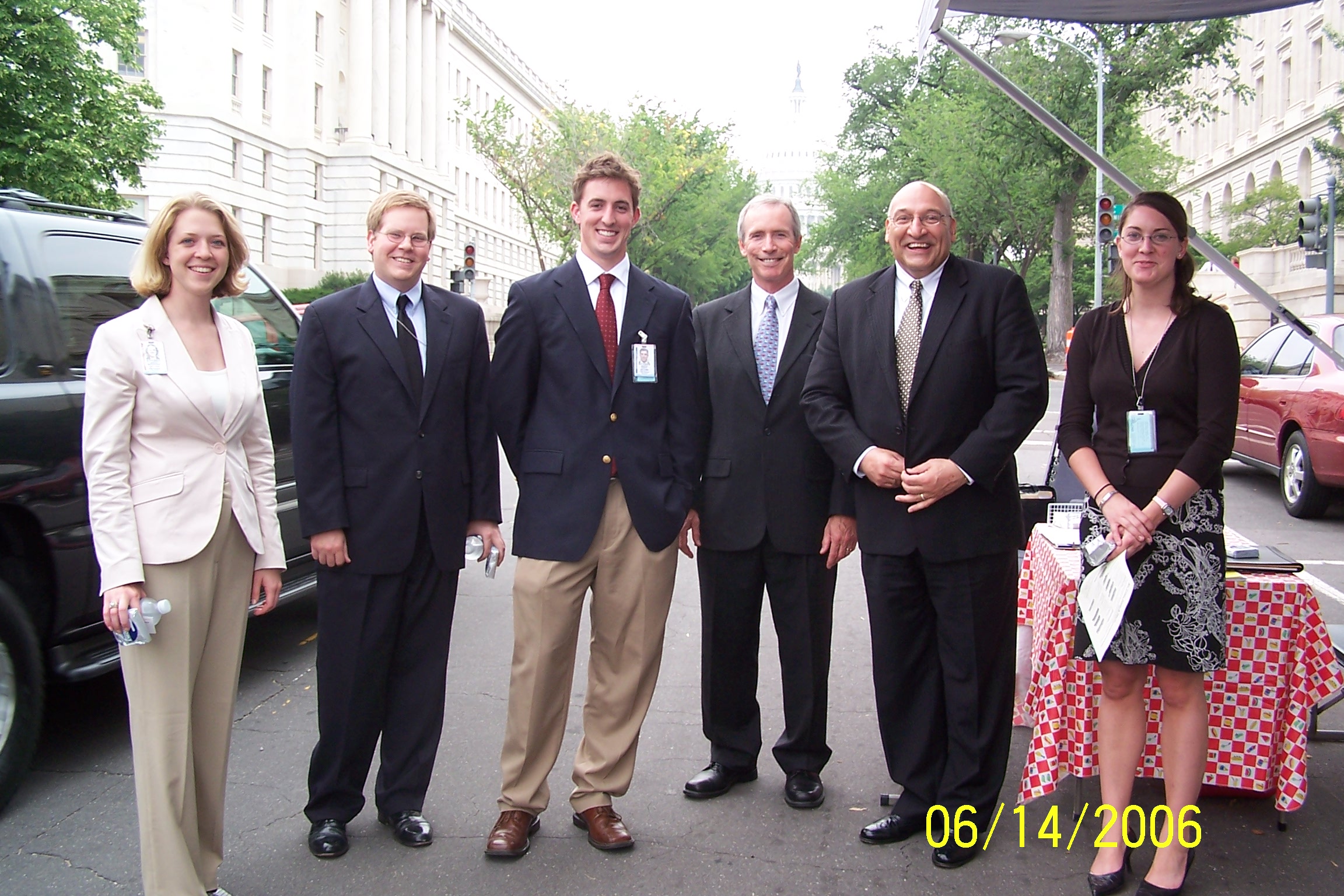 So, he attempts to skip the specifics and just give a wrap-up. "We've been wildly successful over the past three decades on state issues and now on federal ones," he says of his six-member team that will soon be led by incoming vice president, Jason Rano. The government affairs team, he explains, serves as the sole legislative representative of the entire RV industry in all 50 states and the federal government.
"We feel a great responsibility to be successful," he says, noting that in most other industries, the larger companies have their own lobbyists and government affairs departments.
From a legislative and regulatory perspective, the RV industry, he says, is often overlooked or misunderstood. "We are lumped in with regulations designed for the auto, truck, bus, and housing industries, so the challenge has been to work quietly, yet effectively, to carve out exemptions. Our strategy has been to work collaboratively with other industries when it serves us, but to try to remain under the radar."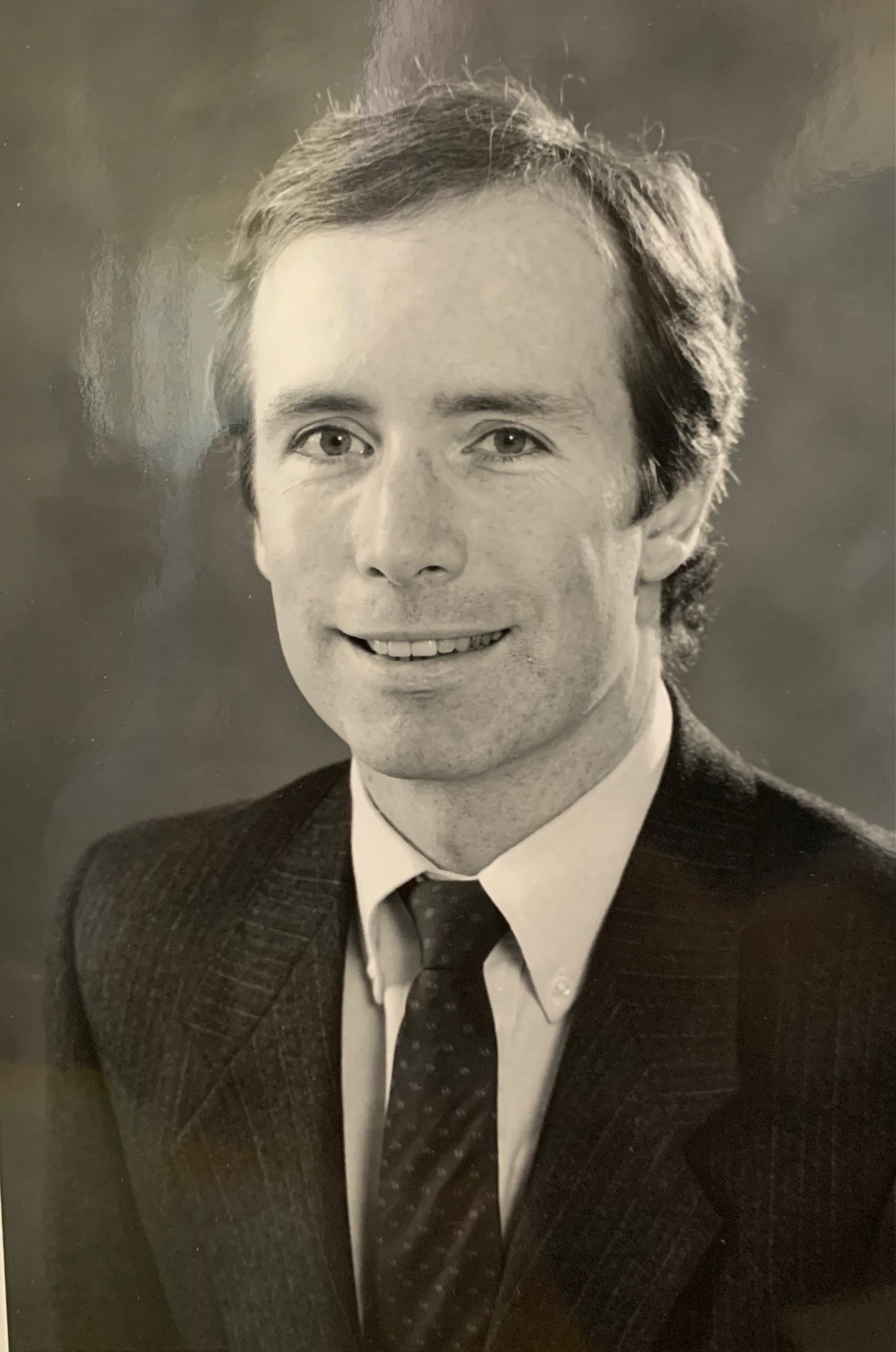 His "Top Ten" list disappears back into his pocket when asked how he came to represent the RV industry in the first place. As atypical beams of winter sunlight illuminate the atypically quiet Starbucks, Jay leans back and happily recounts his circuitous route. He first came to Washington in 1982 after earning an undergraduate degree in Political Science from the University of Massachusetts and a graduate degree in International Relations from Syracuse University. His father had been an attorney and he toyed with going to law school. "But I now think that might have been a detriment to building relationships in this industry – I'm just a 'regular guy'," he says with a laugh.
Following a stint with the New England House Congressional Caucus and a public affairs position at MCI, he took a government relations job with Joseph E. Seagram & Sons, where he occasionally found himself working alongside tobacco and firearms companies in the states where he lobbied against raising the state excise taxes or "sin taxes," as they were known. After a few years of "black hat" work, Jay, then 36, was relieved to join the RV Industry Association where he could wear a "white hat," working with RV manufacturers and suppliers predominantly on franchise and lemon law issues. "It's a lot more fun to talk about taking your family on a vacation trip and building life-long memories than excise taxes."
One of his early colleagues and friends at the RV Industry Association was Vice President of Membership & Research Bill Baker, with whom he has worked for over 30 years. "Jay takes his job very seriously while not taking himself too seriously at all…ever," says Baker. "He understands the issues and the processes, but his ability to be genuine, to be himself, to connect and relate to people– from workers on the RV plant lines, to young congressional staffers, to Governors and Senators — is what drives his success."
"Access is everything," says Jay, the RV industry's ultimate insider, about those connections. After three decades, he can call any RV manufacturer or supplier, CEO or president, general counsel, general manager, state legislator, or member of the American Association of Motor Vehicle Administrators and they will either take his call or call him right back. He's also "on a first name basis" with several members of Congress or their Chiefs of Staff and most of the state DMV administrators, he says with a grin that suggests friendship more than pride.
Over the years and many differences of opinion, Jay has also gotten to know the heads of state auto dealer associations. Many were his same age in the early 1990s and he'd play basketball and tennis with them at their conferences.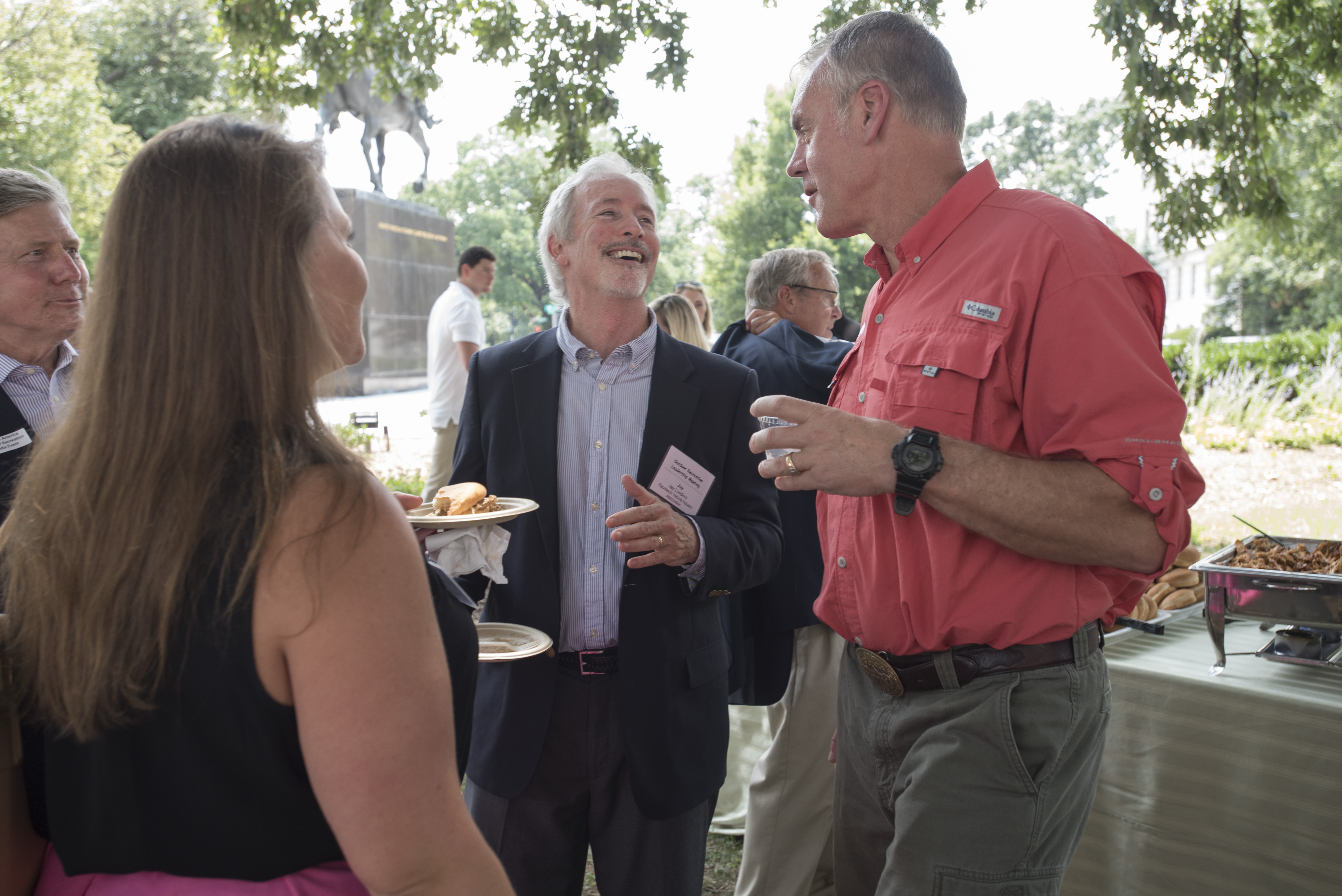 "These relationships made it easier for me to call them and say, 'Your bill is killing me,' and then to ask for a provision exempting RVs," he explains. "Sometimes we'd argue it out in meetings and sometimes even in the legislature, yet regardless of who won – and we did win most of the time – we'd have dinner or drinks with them afterwards."
"Though we work well with auto manufacturers and auto dealer associations, we are not like them. The car industry spends a lot of money, on state and federal legislative issues, and are constantly fighting with each other," he adds, noting that in the state legislatures, the auto dealers and their well-funded PACs generally put them among the topmost influential industries. "So, we don't want to get sideways with them or likewise, with any elected officials or their staffs!"
For his first 20 years at the RV Industry Association, Jay worked solely on state legislative issues, predominantly franchise issues, earning the nickname "Godfather of RV-Specific Franchise."
"It's a complicated area," he says, describing the manufacturer-dealer relationships as being based, not always on laws, but more on 'sales agreements.' While early on the leadership directive was, 'we have to win on all issues – all the time,' Jay and his then-boss Dianne Farrell strove to work with all parties, which he credits for helping to resolve many issues.
This included creating a model RV-specific franchise law, which the government affairs department began working on in the late 90s. A more formal model franchise law, one that is now mutually agreed upon by the RV Industry Association and the RV Dealers Association, was only completed a few years ago.
"I feel a real sense of accomplishment at having been a part of creating an RV-specific franchise law that is acceptable to manufacturers, suppliers, and dealers that will soon be adopted in multiple states going forward," Jay says. "When legislators see both sides agreeing, they're generally good with supporting the legislation."
"In fact," he adds, feigning incredulity. "They sometimes ask auto manufacturers and dealers, 'why can't you be more like the RV industry?'"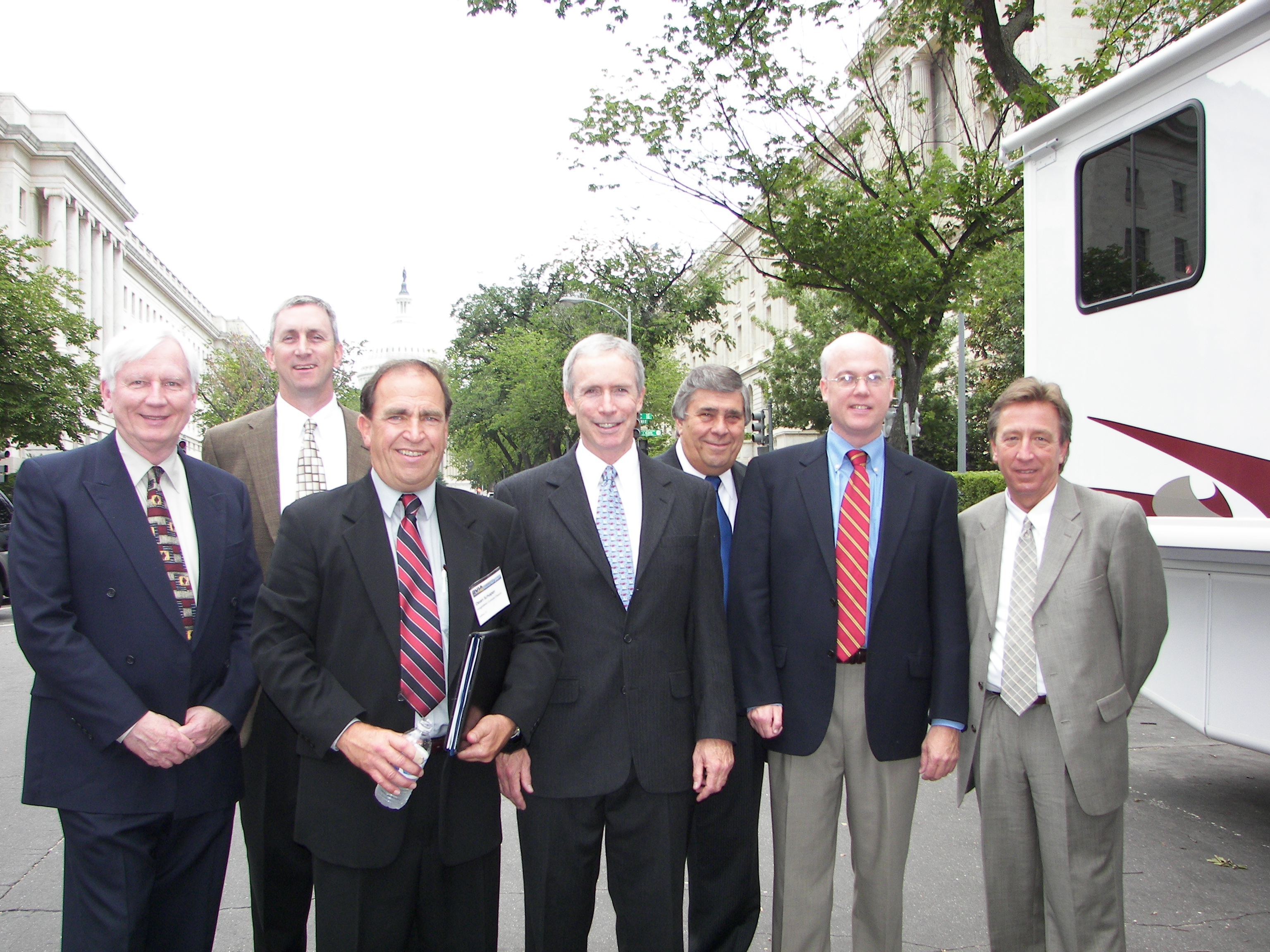 While the wheels of legislative and regulatory change are known to move glacially, Jay and his team saw other major victories during his tenure, too. In the early 2000s, they began work to expand "Uniformity of RV Dimensions" statutes that originally limited RVs to a maximum length of 40 feet long and 96 inches wide. Units in excess of these lengths and widths would require drivers to get a special or commercial driver's license. It took years of working with individual state DMVs and state legislatures to expand length and width dimensions just for RVs, but today, 48 states allow RVs up to 45 feet long and 102 inches wide to be driven by anyone with essentially a car driver's license.
This work was typical of the man whom Keystone's Thomas calls "Professor Landers."
"His advice and counsel are always spot on, and he leads with such great confidence that at times it has driven me nuts," says Thomas.
"Jay has navigated through some of the toughest challenges our Industry has faced," says Jerry McCarthy, Grand Design's VP of Service Operations. "An eternal optimist, Jay has always found a way to bring the industry together and to reach consensus on the most logical position we should take on complicated issues."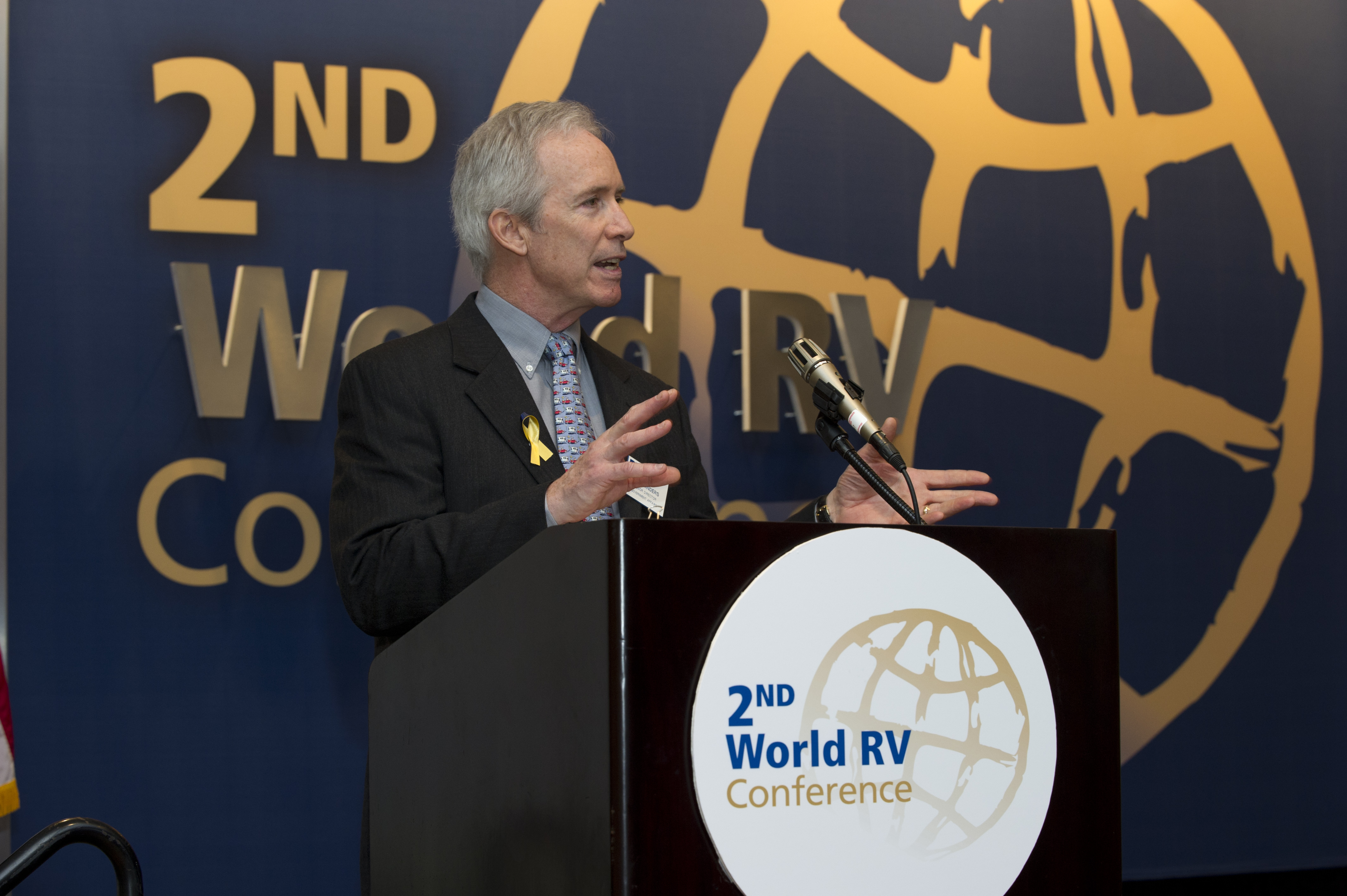 Jay took on complicated issues on a worldwide scale in 2013 when he chaired, organized, and hosted the second World RV Conference in Tampa. This was the realization of his graduate-school ambitions to work in international relations, he says, leaning forward excitedly as he recalls the fun that he and staff throughout the RV Industry Association had over the 18 months it took to prepare for the conference.
"This was a big stretch for me organizationally and time-wise – I still had to do my day job in Government Affairs – but it came off virtually without a hitch. It was a real challenge and a great introduction for most of us at the RV Industry Association to the international RV industry."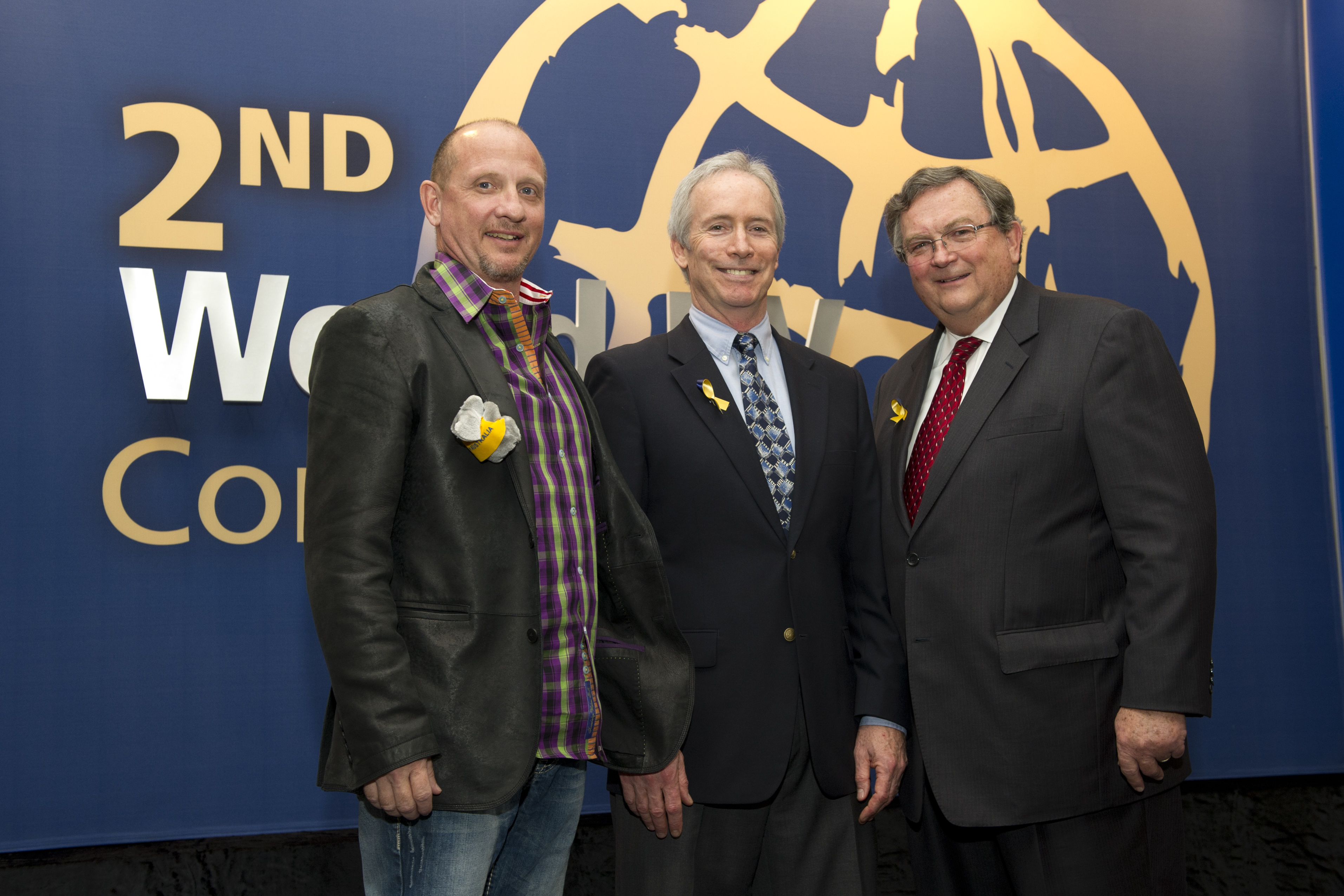 Representatives from 25 countries attended the conference that year, sharing news about industry developments in the US, Australia, Japan, China, South Africa, and Europe, and even touring a local Tampa RV dealership.
Two year later, on the heels of Frank Hugelmeyer becoming president and CEO of the RV Industry Association, the decision was made for the Government Affairs team to focus more on federal relations. Jay was excited and immediately set about getting to know Members of Congress and their personal staffs, as well as key committee staffs. He created a dedicated federal affairs team and they began developing relationships with the right congressional committees, the Commerce and Interior Departments, the US Trade Representative's office, the National Park Service, and other federal agencies.
"It was a big jump in our scope of responsibility, and we had to master things like tariffs in order to make filings with the U.S. Trade Office," says Jay, whose team has since spent much time petitioning for relief or exemptions from tariffs imposed by the Obama, Trump, and Biden Administrations. While not a registered lobbyist himself, Jay oversees both staff and contract lobbyists, and it is evident that he is immensely proud of the team.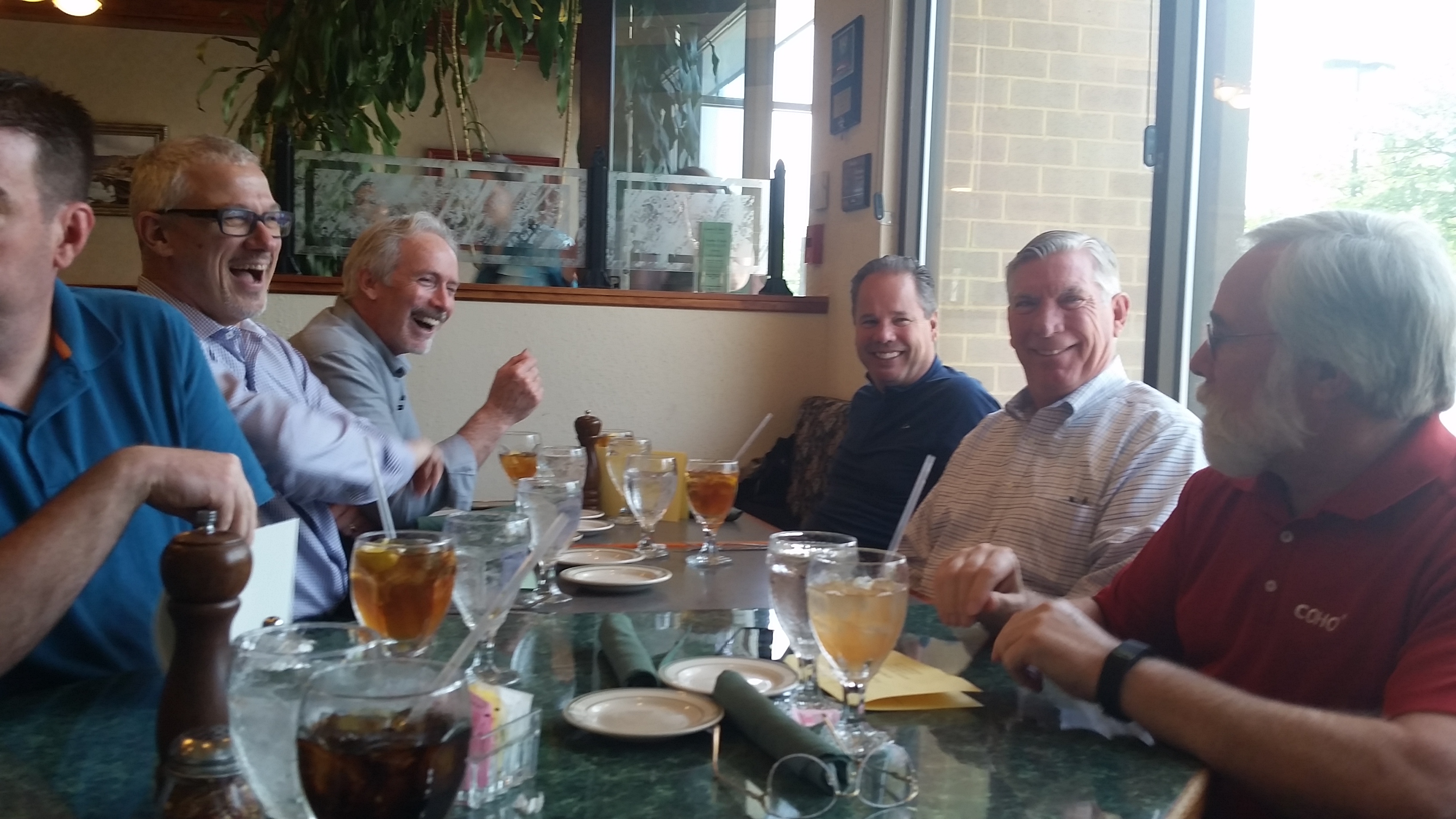 When urged to dish about particularly contentious legislators and battles, Jay invariably pivots to memories of the good times and good people who have made his work for the industry a pleasure. His eyes twinkle as he remembers the annual Louisville RV Show – a networking heaven for him each year — and "the incredible dinners, wild supplier parties at Churchill Downs, and the night clubs up on Bardstown Road until way too late in the morning."
Then there was his 2014 trip to Dusseldorf for "the biggest RV show in the world! And Australia for another World RV Conference." And he takes particular pride in growing the annual fly-ins to Washington when he gets to escort "the RV Industry Association member advocates – including many C-Suites" around Capitol Hill and introduce them to Members of Congress and staff.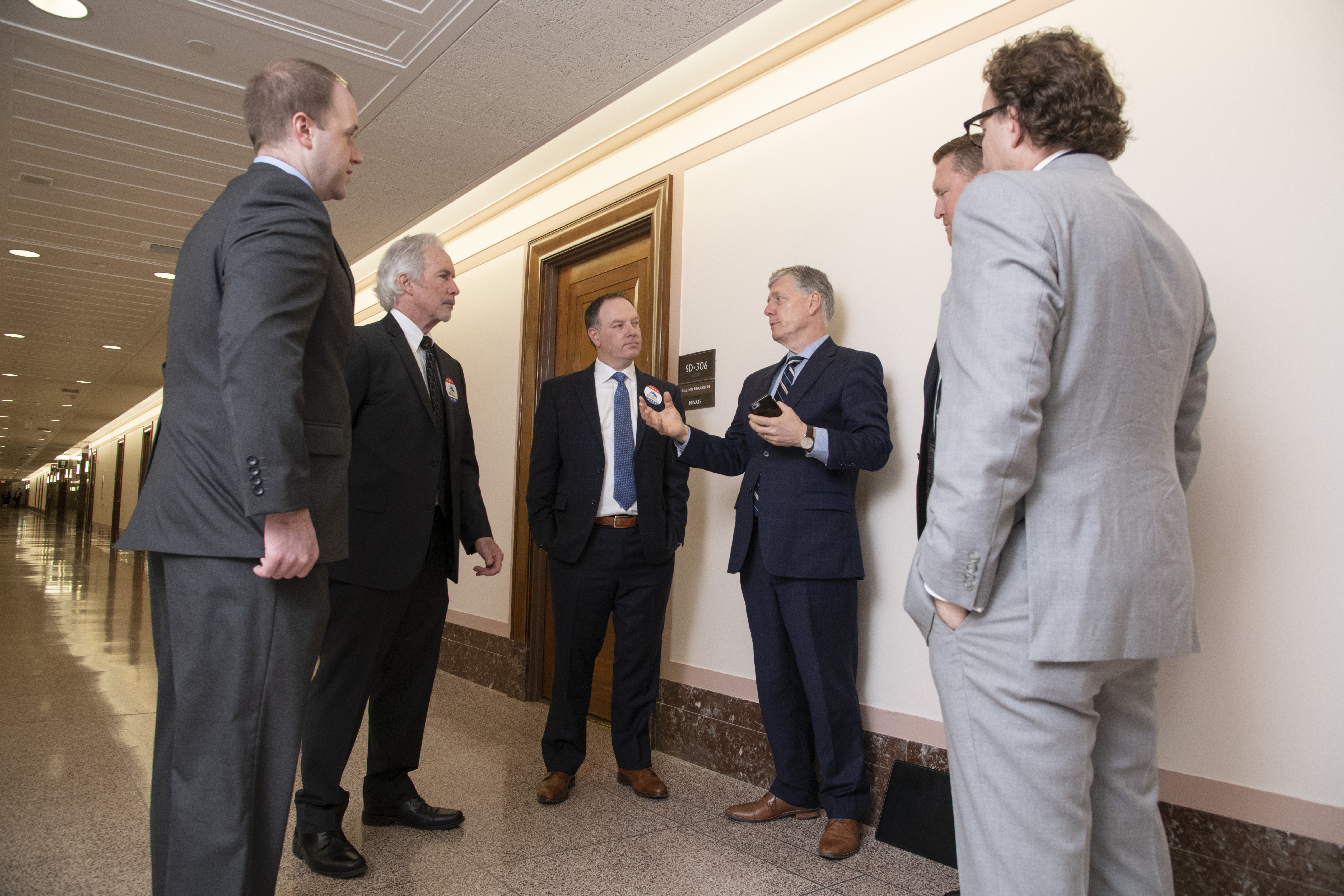 "Year in, year out, Jay leads us through the RVs Move America Week in Washington DC and the very-involved Advocacy Day meetings," says Thomas. "And, he makes them exciting and fun!"
These appear to have been some of the items Jay has memorized from his "Top Ten" list, but now, setting down his empty coffee cup, he unfolds the page again and smooths it out on the table. "Ah, bucket list," he says, pointing to one of the entries. In 2017, the opportunity to scratch one off came during a hearing of the Digital Commerce and Consumer Protection Subcommittee of the House Energy and Commerce Committee: to testify before Congress.
"It was really nerve-wracking, even though I had completely prepared," he recalls of the five-minute testimony. "Fortunately, there was an even more nervous young skateboarder on the panel testifying just before me and as he stumbled through his testimony with a bone-dry mouth and too-frequent hesitations, I knew I was gonna kill it. Also, I'd given a Congressman friend from Indiana a softball question to ask me, so I hit that out of the ballpark!"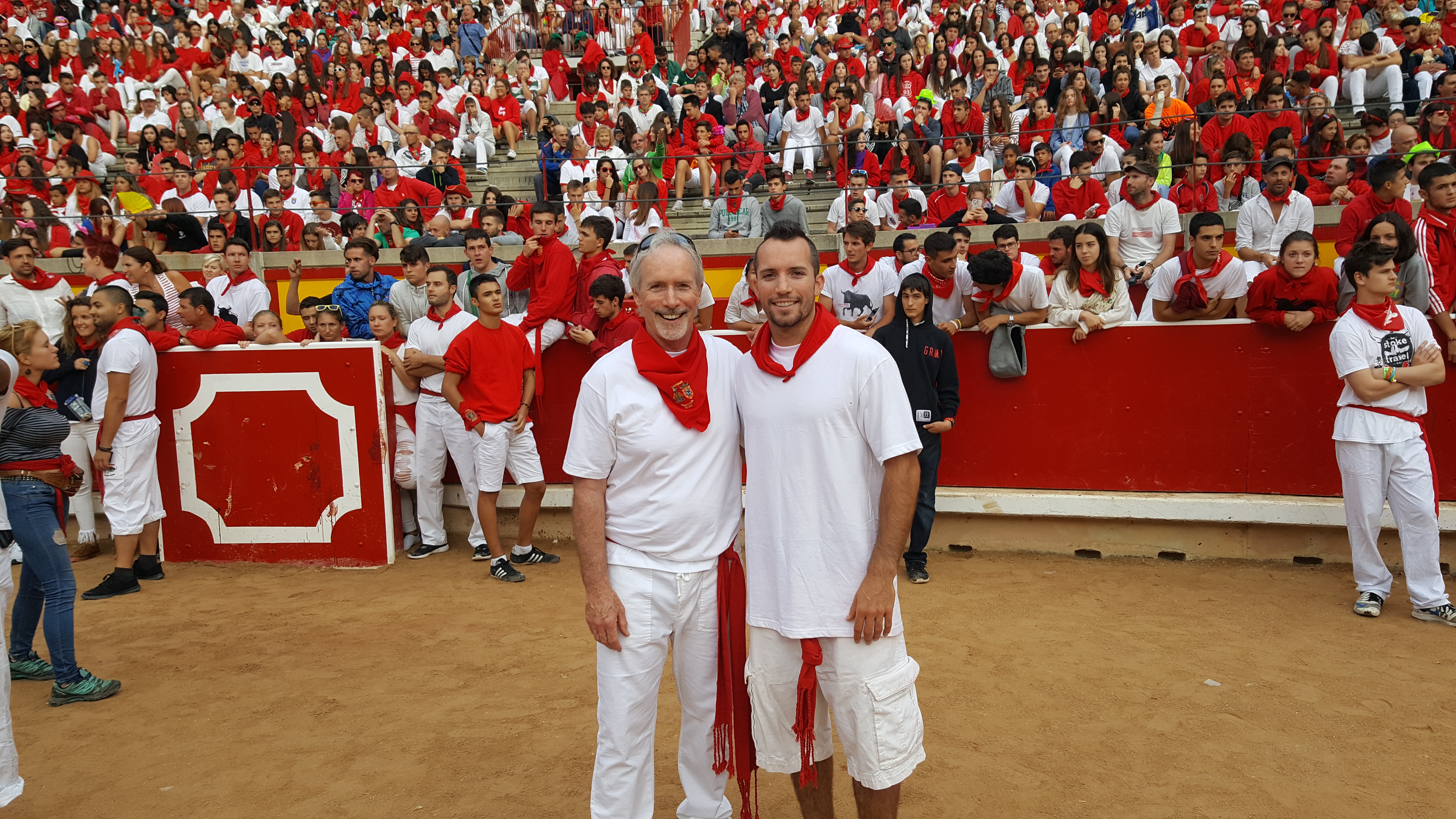 (In a later conversation, Jay shared another nerve-wracking item from his personal bucket list: running with the bulls with his son in 2017 in Pamplona, Spain. "That was just about the best trip of my life!" he said.)
Eventually, many of the federal issues the Government Affairs team faced required more political muscle than the RV Industry Association could muster on its own. So, in 2016, Jay and his team began working with consultants on a series of white papers outlining the need for collaboration among outdoor industry associations. Along with the marine and motorcycle associations, the RV Industry Association co-founded the Outdoor Recreation Roundtable (ORR) and was its biggest contributor for the first four years. Today, the Roundtable has 36 trade associations as members, representing nearly 500 outdoor recreation companies, that work together " . . . to educate decision makers and the public on balanced policies that conserve public lands and waterways and enhance the nation's outdoor infrastructure."
One of the Outdoor Recreation Roundtable's early successes was to convince the US Department of Commerce's Bureau of Economic Analysis to publish a yearly outdoor recreation economic impact study to measure the amount of dollars and jobs generated by the industries.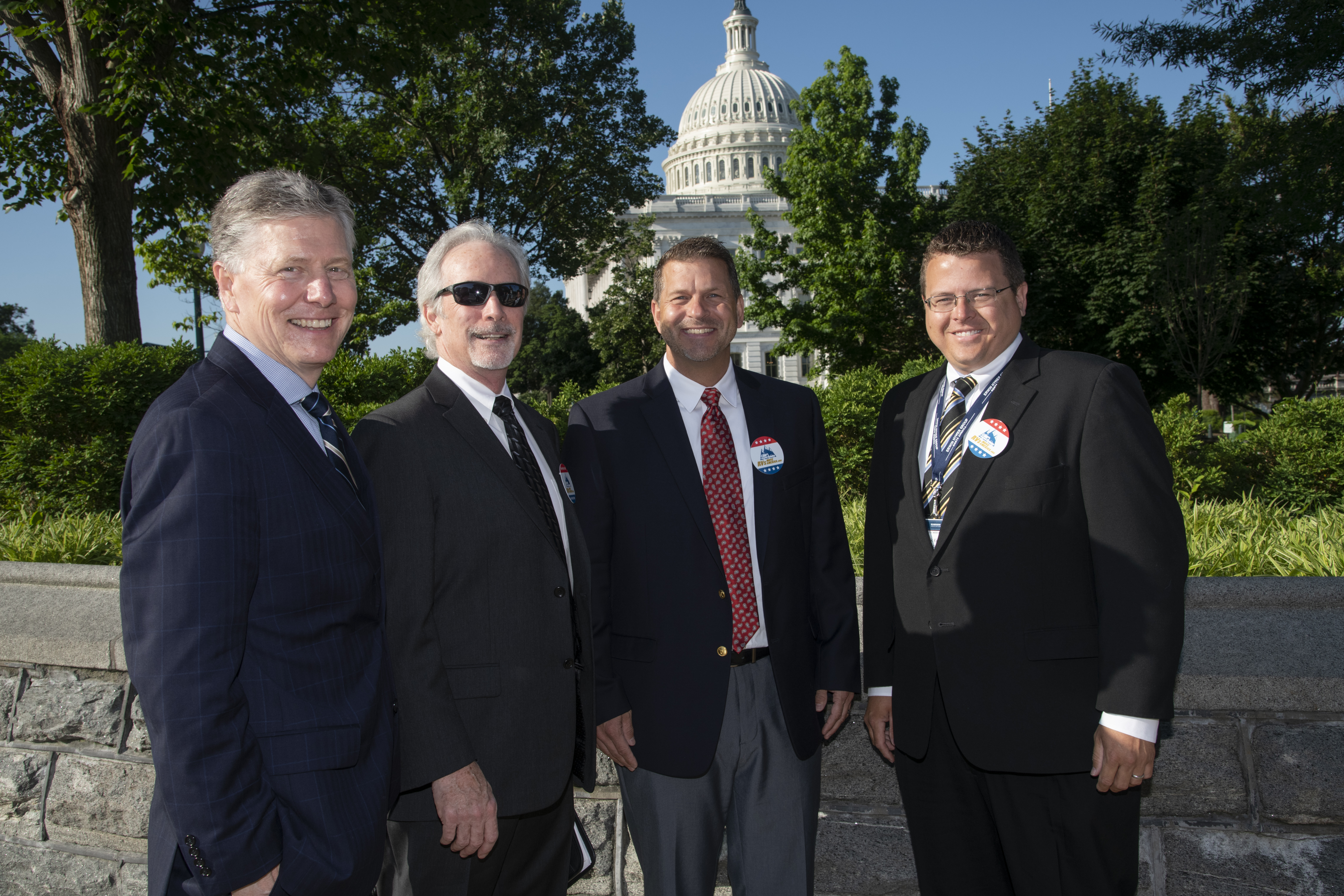 "This report has opened a huge number of doors for us federally," says Jay, citing the organizations' improved access to decision-makers at the National Park Service, Bureau of Land Management, U.S. Fish and Wildlife Service, and National Forest Service. The Outdoor Recreation Roundtable has also been active at the state level, where 18 states have now established an Office of Outdoor Recreation.
"Jay has been a quiet but critical driving force in leading a coalition-building effort that has seen the entire outdoor recreation industry pull their influence together for ever-greater impact," says Schmitt.
McCarthy agrees and credits Jay's communications skills. "He always demonstrates extreme patience and listens intently to everyone's viewpoint, carefully considering all opinions, ideas, and recommendations. Then he thoughtfully crafts our position after considering all he has absorbed."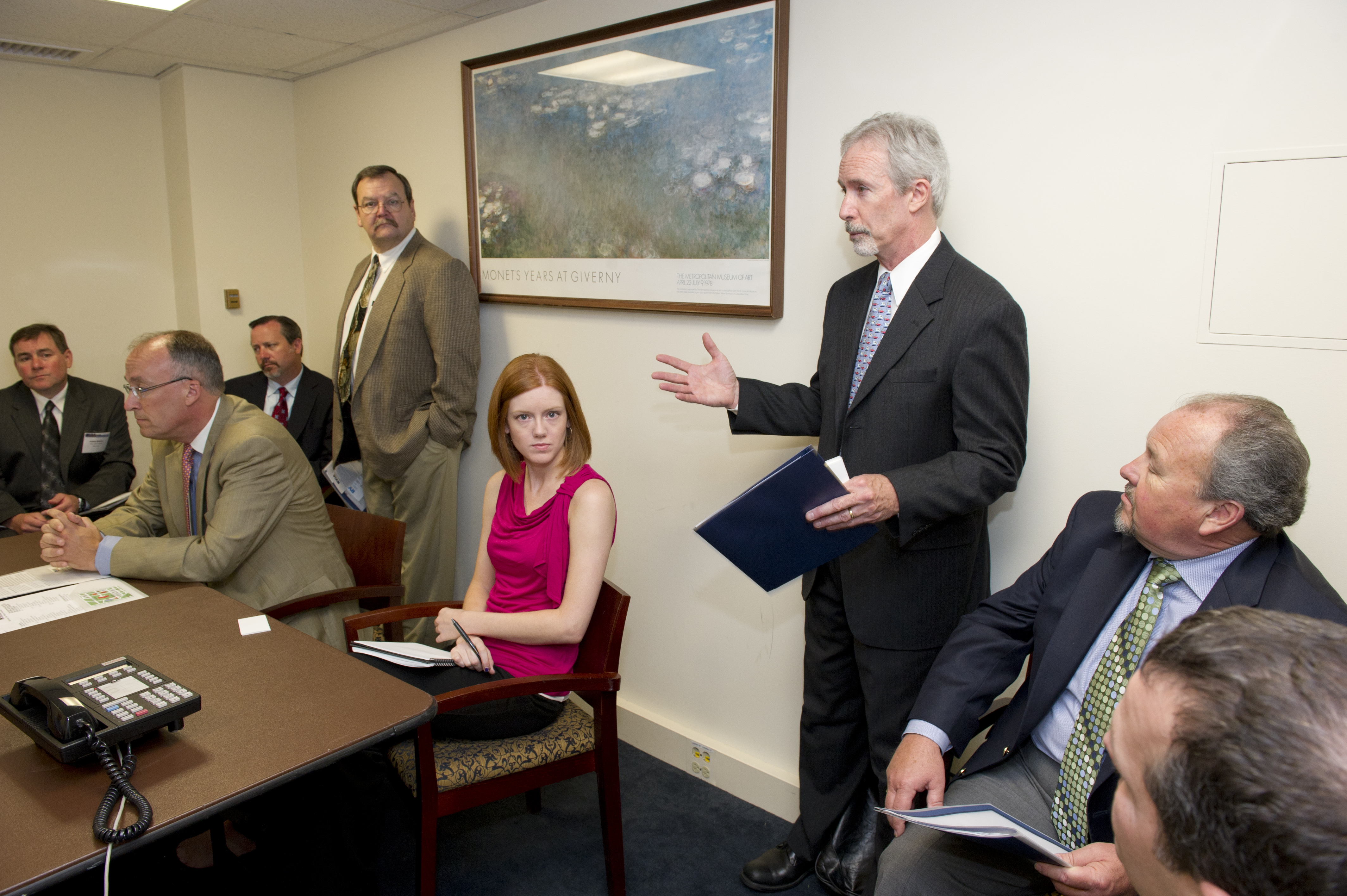 In 2020, Jay, who still serves on the Outdoor Recreation Roundtable's Executive Committee and Board of Directors, and others worked tirelessly to win passage of the Great American Outdoors Act. Again, he turned the Government Affairs team loose to generate grassroots support, mobilizing the entire RV industry and its customers to call and send tens of thousands of letters to Members of Congress. By this time, the RV Industry Association had established a Senate and House RV Caucus, so Jay and his team were able to call on congressional members who support the RV industry to get through procedural votes before a final passage vote on the Hill.
"The Great American Outdoor Act was a huge success, and we had our fingerprints all over it," he says with one of his biggest smiles yet.
It's this ready smile (or "contagious smile" as some describe it) and Jay's genuine concern for others that stand out in the often callous and calculating world of politics. But according to McCarthy, "Jay always takes the time to ask about family and how you are doing personally, demonstrating his kind spirit and caring soul."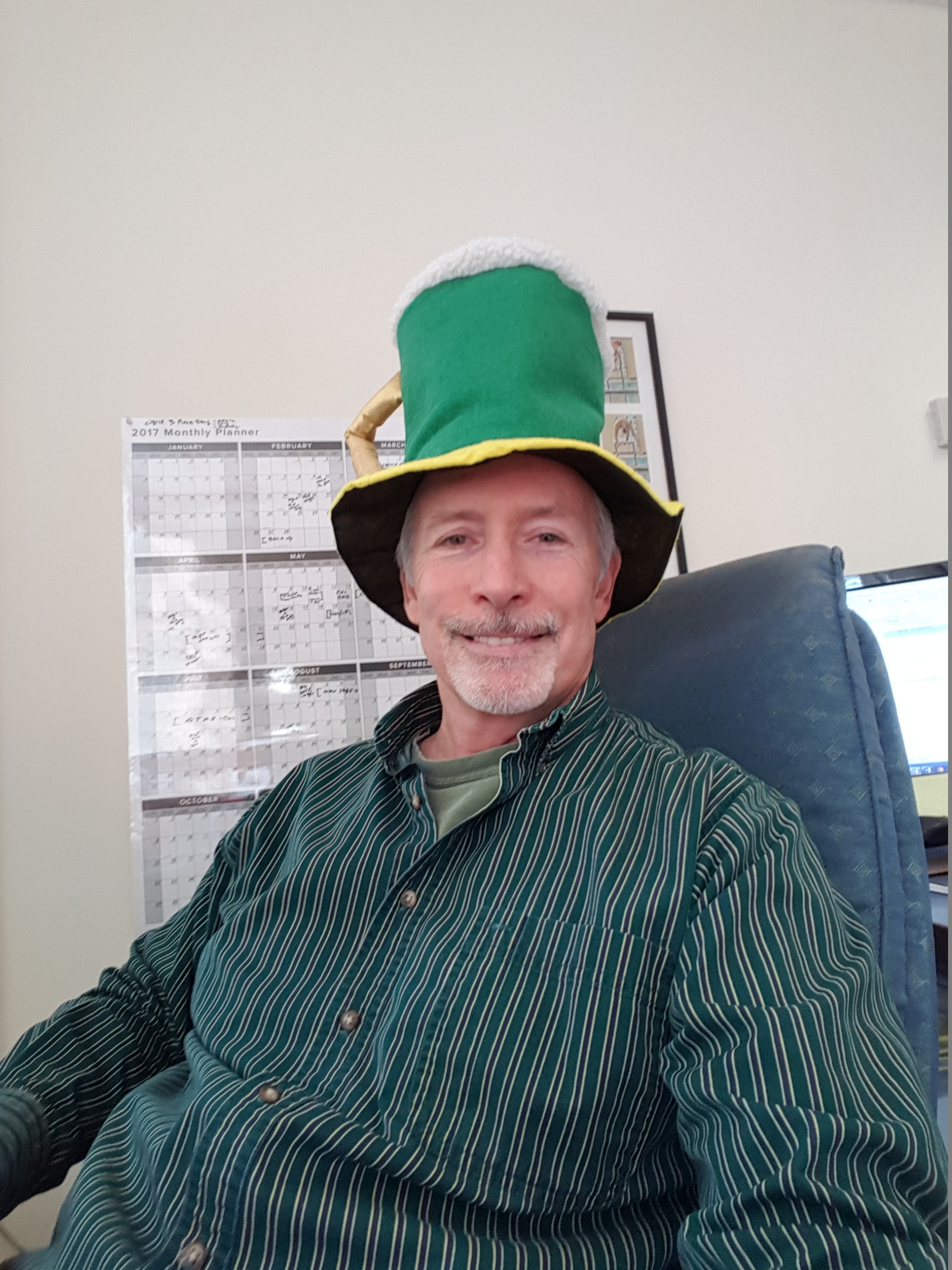 Working remotely over the past three years has been challenging for the consummate people-person who has always strived to bring "a little levity" to daily association life. "It's harder to inject humor on Zoom calls," he says, a small frown making a rare appearance on his face.
Jay sighs then checks his watch surreptitiously. His resting-smile-face returns but his attention and formidable energy seem to be shifting ever so slightly. He glances one last time at his list, and satisfied that he's covered all ten items, slides it across the table in a gesture of helpfulness.
The future, he knows, will be filled with both state and federal government challenges, ranging from getting relief from China tariffs to convincing all 50 states to add pull-through electric vehicle charging stations to their EV infrastructure plans.
But Jay is confident that he's leaving the Government Affairs department better than when he arrived, something RV Industry Association President & CEO Craig Kirby emphatically agrees with.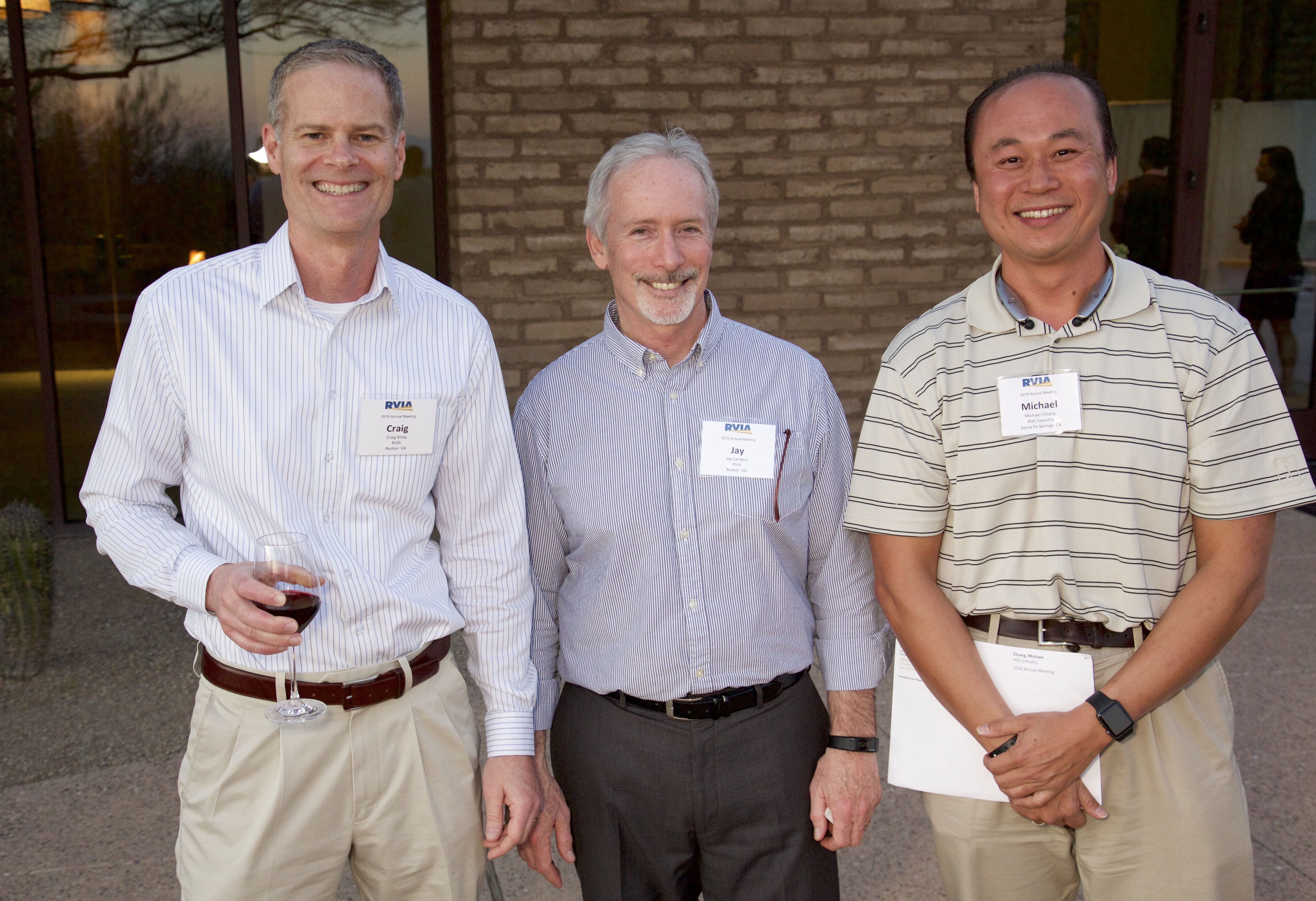 "Jay's genuine friendly and positive demeanor combined with his strategic talents make him an excellent lobbyist. People can relate to Jay. He has also earned the respect of legislators, regulators, and other organizations because of his innate ability to find and communicate win/win scenarios for all involved. As a result, the Government Affairs department under Jay's leadership has not only protected the RV industry (which is part of the Association's overall mission) but also helped it reach new heights. Jay has left his mark on the RV industry, and we are very grateful for it," concludes Kirby.
"Jay has done an excellent job of guiding, developing, and preparing his team to continue providing a high level of quality government affairs services to the industry," adds Schmitt.
"It's a great time for me to step aside. The RV Industry Association has a handful of bright, energetic, and aggressive government affairs professionals who are capable of mastering complex intellectual challenges," Jay says. "And there's a promising coalition of emerging leaders who are being educated to take over."
But what does the future hold for Jay? He considers the question only briefly as the wattage of his smile seems to intensify with excitement.
"I still have the energy to continue, but I want to redirect that energy, while I still have it, towards having more fun and personal time," he says, beaming.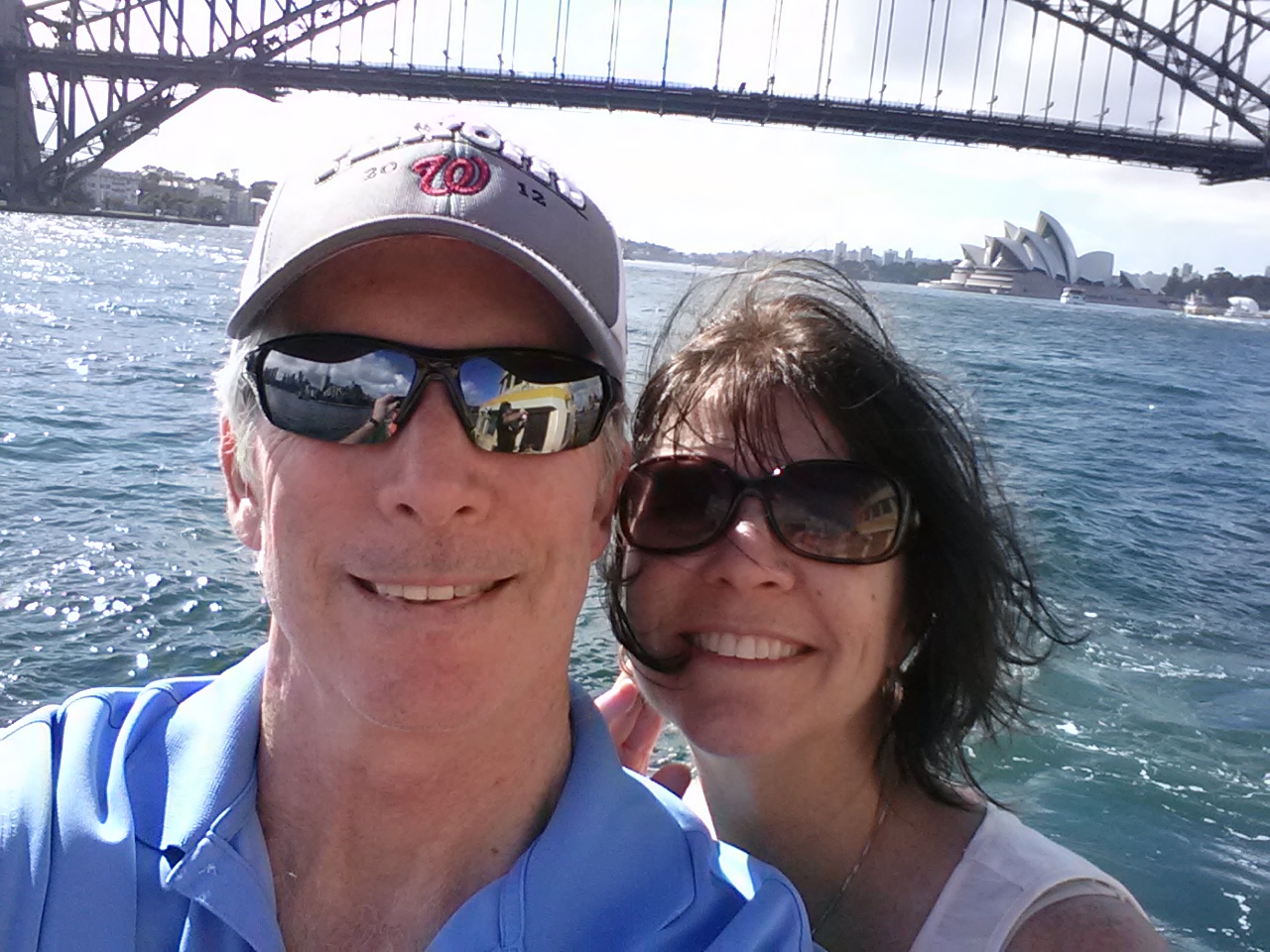 This includes possibly getting a Class B RV to visit his son and grandchildren in Austin, his daughter in San Diego and another daughter in Seattle. Jay and his wife of 36 years, Teresa, are looking forward to travelling both domestically and abroad (the beaches in Mexico are among his favorites), to completing DYI projects around their home, and to building a bar and gazebo at their daughter's Seattle home. They've already booked a two-week cruise to the southern Caribbean and South America and he's hoping to visit a college buddy in Bangkok.
While this may already seem like a busy retirement to most, Jay also plans to strip down and rebuild his two motorcycles (although he admits to not knowing how); to maybe taking up pickleball; to mountain biking on local trails; and to tooling around in his 2005 two-seater, hard-top convertible Mercedes.
He can clearly continue rhapsodizing about the exciting possibilities the future holds, but knowing he's expected on another Zoom call shortly, Jay rises and gathers his phone and keys from the table. How to sum up 32 years? "I've been blessed in many ways," he says. "My family, a supportive wife, and good bosses in almost every job – particularly at the RV Industry Association." Flashing one last smile, he gets ready to leave. "Another day, another Zoom call – gonna finish strong!"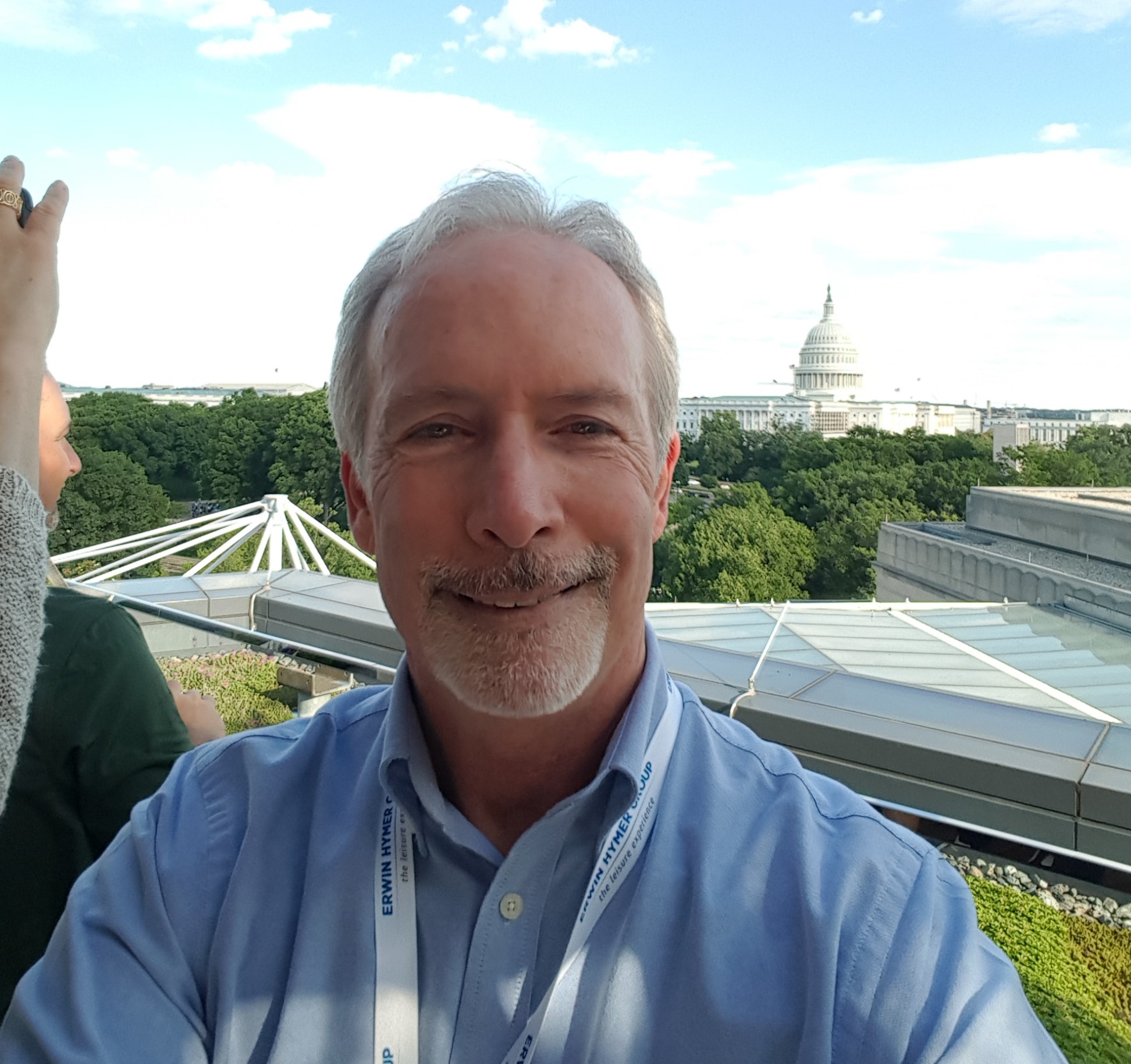 Source: https://rvbusiness.com/rvia-recognizes-accomplishments-of-retiring-jay-landers/