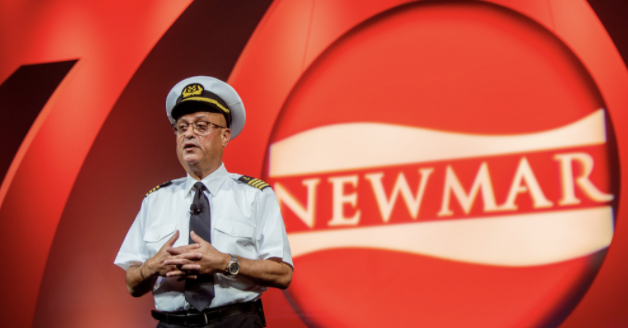 Newmar Vice President of Sales & Marketing John Sammut, who last week announced his retirement after 26 years in the RV industry, said he really has no definite plans of what he'll do once he walks out of his office door for good on May 26.
"I don't know that I have any concrete plans," he told RVBusiness. "I've got four and a half months of work to complete here at Newmar. We've got our biggest event on our calendar coming up the last week of April in Colorado Springs at the Broadmoor Hotel and Convention Center. I really want to focus on that.
"My timing of May 26 is going into Memorial Day Weekend, so I think I'm going to take the summer, and just kind of go ahead and contemplate what my next steps might be," he continued. "For sure, want to take more time to visit my grandchildren and my two sons and spend time with my wife, Janet. But beyond that, I really don't have any concrete plans.
"I might dust off the golf clubs and golf once in a while with my good friend Jay Kinney, who retired before me a year ago this past January. Jay and I are still in touch with one another, and may have to visit each other at the IHOP over a cup of coffee once a week and maybe get out on the golf course this summer," Sammut added.
Sammut joined Newmar in 2004 as director of sales after holding leadership roles at Fleetwood RV. He was promoted to VP of sales and marketing in 2006.
Prior to working for Fleetwood RV, Sammut worked for his uncle's car dealership in the Denver area and, later, for Volkswagen of America and then eventually Kia Motors America.
"I remember working in a dealership when I was 22 years of age in Tucson, Arizona, and when Datsun was still called Datsun, and I remember the first pickup trucks coming off the car hauler, the transport hauler with Nissan on the tailgate instead of Datsun. But I'm definitely aging myself now," he said.
What follows is the rest of our conversation with Sammut.
RVBusiness: What will be some of your biggest memories from your career?
Sammut: Oh, certainly the people I've interacted with – first off, internally here at Newmar for 19 years. The fellow members of the executive management team, which has been a pretty consistent leadership team, and we've worked together for a very long time through some real tough challenges as well as through some real successes.
And I will always and forever remember all the hard work that we put in together to build what was a good company, when I got here, into an even better company. Perhaps even a great company over the last 19 years.
And it wasn't all me. It was many, many hundreds of other people that have made this company what it is today. A company that stands for quality, a company that stands for service support, a company that stands for innovation. But no one individual is responsible for that. It really is a group effort. It starts with leadership, but if you don't have the right team put together to execute the strategy and the plans created by leadership, then you're nowhere. But we've been blessed with a lot of really, really great people here.
And then, externally, other industry people. The ONAN and Freightliner fishing trips to Alaska that have always been pleasurable. Also, the hosted golf outings, with the most recent one by Jeff Hirsch before the Hall of Fame event last August.
There's just a camaraderie within this industry. The fact that we are fierce competitors, but when we get together in a less formal setting we have this camaraderie that is so ingrained in this industry. That is something I'll always remember.
RVB: It's safe to assume you've made some good friends with Newmar's dealer partners as well?
Sammut: Oh, wow! Yeah! A lot of dealers – and I'm afraid at mentioning any specific ones. I would be omitting other ones.
But the friendships and partnerships with the dealers, whether it's seeing them at our dealer meeting, which is always a very upbeat and a very relationship-focused event. Some of the dealer trips we've hosted at Newmar to places like South Africa, China, Hong Kong, Switzerland, and when we're there all together it's getting to know their spouses and their families. My wife is personal friends with many of the dealer's wives, and they interact on Facebook and social media and text each other quite often. So yeah, a lot of strong bonds, strong friendships that I hope and pray will last after I'm done here at Newmar.
RVB: Take us back to the 2008-09 Recession, and how you and a few other Newmar execs went on a road trip to visit with dealers.
Sammut: We started visiting dealers just to reassure them that Newmar was going to be there for them after the recession.
We continued to pay our warranty claims. We've stood up to all our obligations with not only our dealers, but our financial institutions, but then even took it a step further, when Dick and Candy Parks, Matt and Pam Miller, Mahlon and his wife Irene, and myself and my wife, hit the road in four motorhomes in October of 2010.
As a matter of fact, we left on my 50th birthday.
It was dark outside and every employee in the plant came out to see us off, and we ventured on to a 5,800-mile journey. We visited somewhere in the neighborhood of 25 to 30 dealers, both Newmar and non Newmar dealers along the way. And to see the dealers piggyback onto that and invite their customers to come and greet us as we pulled into their dealerships, it was really quite an event at a time that was very difficult for the industry and for our company.
RVB: That must have been quite an experience.
Sammut: We did that again in 2009 and 2010, so three straight years where we caravanned in four of our products – and, I'm sure, displayed them and showed them off – and we moved just about every night.
We got to learn a lot about the product through those adventures for sure. You set up and break down a motorhome every day and go on to your next destination, 500 miles down the road, and you get to know your product really well. But you get to know your dealers and your customers even better.
I can't tell you how many customers and dealers in my travels who will mention exactly what you asked about: those Newmar motorhome trips that four of the members of the leadership took for those three years. People still remember that very, very fondly.
RVB: You've given Newmar almost five months' notice before you officially retire on May 26. Why was that important to you?
Sammut: Well, it was important to me because we're at a critical point in our annual calendar in terms of developing our pre-production units for 2024 and showing them to our dealers for the very first time in Colorado Springs the last week of April.
And then I tacked on a few extra weeks just to finish up scheduling our 2023 model year production and smoothly making the transition to scheduling the first of the 2024 model year orders, which we will, I trust and hope will get in Colorado Springs from our dealers.
So, if you know anything about me, if I'm going to do something, I'm going to do it right. I think it was only fair to give them the time to come up with a succession plan for my position, but also gives me a chance, in one setting, to see all of the Newmar dealers at one time before I walk out the door. To me, that was of the utmost importance. I wanted to be able to see all of our dealer partners one more time in Colorado Springs.
RVB: Lastly, we're curious what your thoughts are when reflecting on the RV industry in general over your 26-year career.
Sammut: Oh, I think the product has come a long way in the 26 years. You look at some of the innovations and advancements – and not just in the motor business, but in the towable business. There's the Class B van market recently with their huge growth.
I also think with the work of RVIA and RVDA, and the advancements being made in improving parts procurement, customer service support – although there's still a lot of work to do in those areas.
A lot of good work is being done by the industry leaders and by individual companies, but there's a lot of groundwork still to go. I mean, if we're held to a similar standard as the auto industry by our consumers – and we are today and will be in the future – we have a lot of ground to make up in terms of initial product quality, service support, parts delivery.
We've seen a lot in our 26 years, and there's a lot more work to do going forward. But that'll be for the next generation and the generation after that to complete.
Source: https://rvbusiness.com/newmars-john-sammut-reflects-on-pending-retirement/