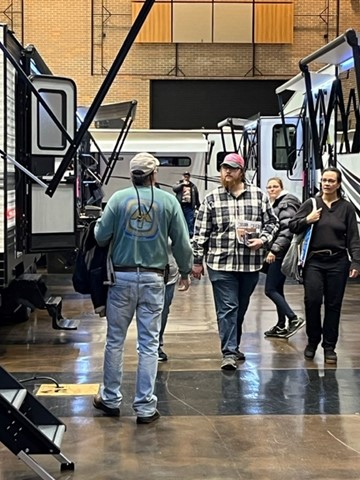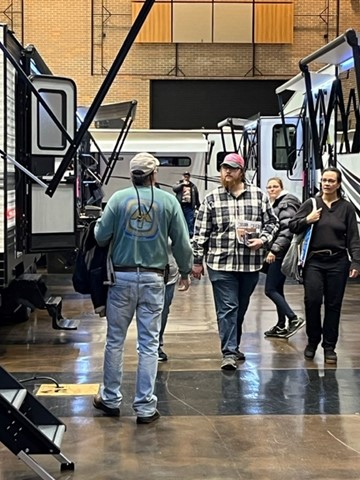 Was the 48th Annual Valley RV & Camping Show, which took place Thursday through Sunday, Jan. 12-15, at the Century Center in downtown South Bend, Ind., a reflection of what the industry is seeing throughout the marketplace right now?
That's the question we were asking ourselves yesterday (Sunday, Jan. 15) when we attended the Valley show, a popular, mid-size retail venue managed by the Indianapolis-based Indiana Manufactured Housing Association-Recreation Vehicle Industry Association (IMHA-RVIC).
And the short answer, from all we could gather, is that the Valley Show probably was quite emblematic of the rest of the North American RV marketplace
And that's pretty good news.
Indeed, there does appear to be a consistently strong retail beat as we've heard from show exhibitors in Cleveland and elsewhere. Foot traffic was reportedly strong at the Ohio RV SuperShow, Jan. 4-8 at the I-X Center in Cleveland, and, to a certain extent, elsewhere. And that, of course, is an encouraging turn of events, given the headlines we're seeing nationally right now regarding the general economy and the RV sector in particular.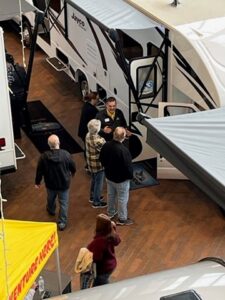 "Yes, there's definitely a pulse to the industry," said Matt Rose, director of recreational vehicles for IMHARVIC, who didn't have final attendance figures when we spoke with him on the floor of the show. "Enthusiasm remains high. My dealers at the show were happy with the traffic and the sales, although we started off a little soft on Thursday. But we made up for it on Friday and Saturday and, overall, our numbers are up appreciably. We're all cautiously optimistic going into this year."
As a matter of fact, Rose said the Valley Show drew the biggest crowd he'd seen in years at the outset of Sunday's noon opening and, he said, it was steady all afternoon.
Again, the bottom line, he told RVBusiness, is that there's definitely a pulse right now at retail, and that's the elixir that can perhaps do more than anything else to offset the high inventory issues that have faced the industry in the wake of the crazy and unpredictable pandemic era – even though interest levels in many cases are exceeding actual sales. "Enthusiasm was high," said Rose. "Traffic was good. Sales were decent, but not record-setting. What I'm hearing from the dealers is that the sales are there, but they're working for them this year."
Source: https://rvbusiness.com/imha-rvics-valley-show-sheds-light-on-national-trends/