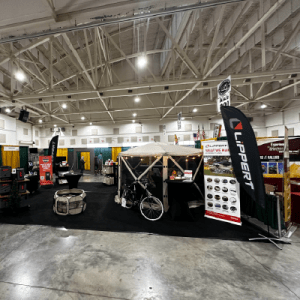 ELKHART, Ind. — Lippert Components, Inc. (Lippert), a supplier of a broad array of highly engineered components for OEMs in the recreation and transportation product markets, announced today (March 15) its attendance at FMCA's 106th International Convention and RV Expo, from March 15-18 at Georgia National Fairgrounds and Agricenter in Perry, Ga.
In an effort to expand their presence at industry-related events in 2023, the Customer Experience team at Lippert is excited to represent the RV industry with this unique opportunity to engage with motorized consumers. At booths 313, 315, 317, 412, 414 and 416, the team will showcase innovative products and accessories while providing insight on the Lippert brand.
Joining this convention allows Lippert to meet new outdoor enthusiasts while showcasing its lineup of RV lifestyle products and exhibiting new brands.
"We are beyond excited to be exhibiting at the FMCA Rally for the first time," said Jessica Roberts, Director of Customer Experience and Events. "This is an excellent opportunity to showcase how the Lippert family of brands, like CURT, Furrion and Girard, can enhance the outdoor lifestyle."
Source: https://rvbusiness.com/lippert-attends-fmca-106th-annual-convention-rv-expo/