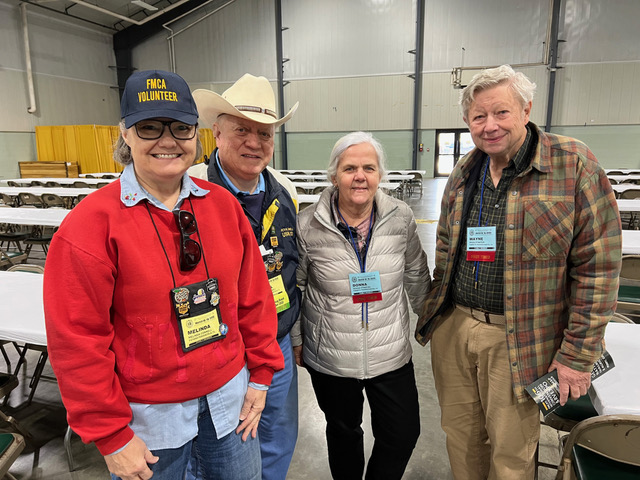 The day before the official opening of the Family Motor Coach Association's (FMCA) 106th convention – which starts today and runs through Sunday, March 18, at the Georgia National Fairgrounds & Agricenter in Perry, Ga. – and the buildings and parking lots that make up the fairgrounds were already buzzing.
FMCA volunteers and staff members were corralling the estimated 1,800-2,000 RVs that were coming into park to spend four days as part of virtual neighborhoods around the grounds, while participants were already attending newcomer meetings and learning about the organization.
With over 140 workshops and seminars, new RVs of all configurations on display, plus a host of vendors and service providers, there are a lot of logical reasons to attend an FMCA convention. But, to a person, everyone RVBusiness spoke with as the event was just getting underway said that fellowship and meeting others who participate in the RV lifestyle was the best reason to be here.
That doesn't preclude the seminars as confirmed by coordinator Barb Feiler.
"I've had an extreme amount of interest in this show – the seminars are full and we have a waiting list," said Feiler.
Workshops and seminars include tech-oriented presentations, brand-specific and hands-on workshops and everything from personal safety to crafting. In attendance are big name companies like Cummins and B&W Hitches, to name a few.
"It's a big puzzle getting it all to work," Feller acknowledged.
Among the attendees were first-timers Donna and Wayne Stanton, who came from Fredericksburg, Va.
"I was surprised at the number of craft classes – I'm definitely taking advantage of that," exclaimed Donna.
"Who knew you could take genealogy classes at an RV rally?" asked Wayne.
Indeed, as Feiler indicated, "I've got a nice ladies' program."
In fact, there are programs designed to appeal to a variety of groups and interests.
Melinda and Royal Connel noted that, "Of all the conventions this has the best layout and offerings." They have been to three of the FMCA's conventions in Georgia with Melinda being one of the craft instructors.
Speaking with the volunteers at the gate, several were surprised by the number of first-time attendees. "We've got a lot of new folks coming through," said one.
"We have a lot of people coming in on passes and a lot of people coming in to look at RVs," said Rhett Porter, president of the FMCA.
Attending the FMCA
Opportunities to attend range from those who just get day passes for workshops or to look at the new RVs on hand, to members who bring their RVs and camp for the duration of the event. Indeed, neighborhoods spring up around the fairgrounds with some attendees arriving with groups of like-minded fellow RVers. Some are here with the same brand of RV, some come with groups who share interests.
To promote camaraderie this convention has a new "Friendship Center," which is an area set aside with games, tables and a social media photo booth. The Friendship Center was well utilized during the first day with many of the tables being occupied.
Rhett Porter concluded that, "There's a lot of seminars, a lot of presentations and great entertainment."
Multiple options are available for those who wish to attend the FMCA convention. As noted, RV owners are invited to bring their vehicle and stay on-site to enjoy all the activities. The gate registration price for that is $270 and also grants RV owners who are new to FMCA a one-year FMCA membership. (An additional fee is charged for electric.)
For those who want to view only the RV Expo portion of the event, single-day admission is $10 per person or $25 for a family of three or more; children 12 and under are admitted free with an accompanying adult. Individuals with an active military ID are admitted free as well. The day pass for Wednesday, March 15, also will be good for Thursday, March 16.
Those who would like to take in the exhibits and also attend seminars and entertainment may purchase a Daily Passport, which is available for $50 per person per day.
RV Expo hours will be Wednesday, March 15, from 1-5 p.m.; Thursday and Friday, March 16 and 17, from 9 a.m. to 5 p.m.; and Saturday, March 18, from 9 a.m. to 3 p.m. Hours for purchasing Public Gate or Daily Passport tickets will be from 8 a.m. to 4 p.m., Wednesday, March 15, through Friday, March 17; and 8 a.m. to 3 p.m. on Saturday, March 18.
Free public parking will be available at the North Gate of the Georgia National Fairgrounds & Agricenter off Larry Walker Parkway. Follow the signs to Lot F.
For more information or to register, visit www.fmca.com/fmca-perry-2023-learn-more.
FMCA is the world's largest not-for-profit association for recreation vehicle (RV) owners. The organization maintains its national headquarters in Cincinnati, Ohio, and currently has nearly 125,000 active members. FMCA offers its members a number of benefits, including a subscription to its monthly magazine, Family RVing; a medical emergency and travel assistance program valued at $200 per family; a tire purchasing program; group rates on a roadside assistance program, RV and auto insurance, and health insurance; discounted rates for RV tours and caravans; and discounts on a mobile internet access plan. Perhaps the most important benefit of FMCA membership is the camaraderie and friendships that develop among people enjoying the common interest of RV travel.
The organization can be reached at (513) 474-3622 or (800) 543-3622 and on the web at FMCA.com.
Tony Barthel and his wide Peggy are veterans of the RV industry and use that experience to create StressLess Camping, a podcast, website and resource for new and experienced RVers and campers alike to learn more, spend less and turn every adventure into a StressLess Camping experience.
Source: https://rvbusiness.com/theres-a-buzz-in-the-air-as-fmca-rally-gets-underway/