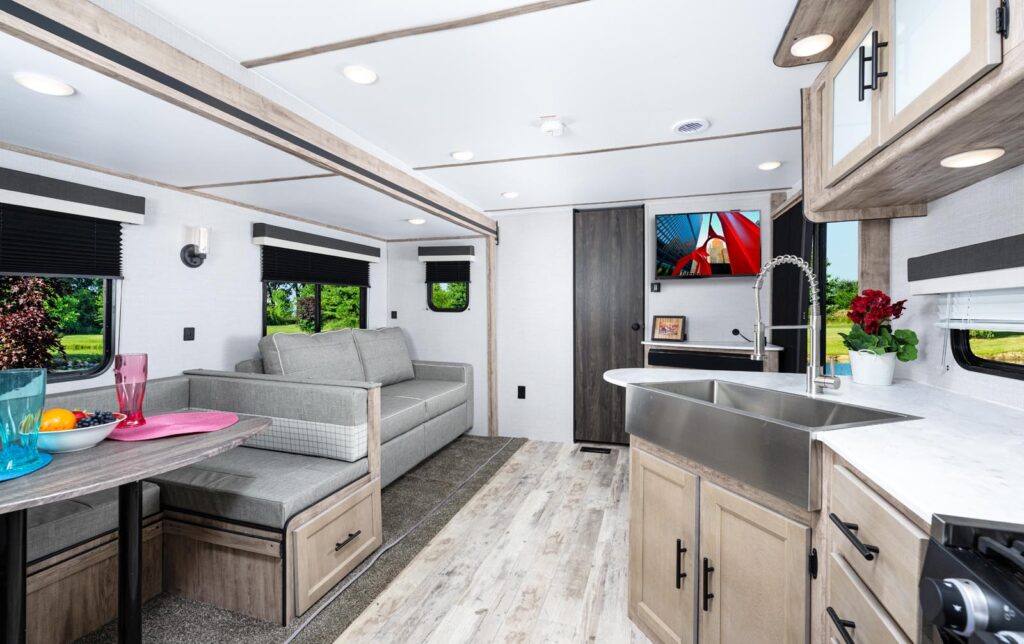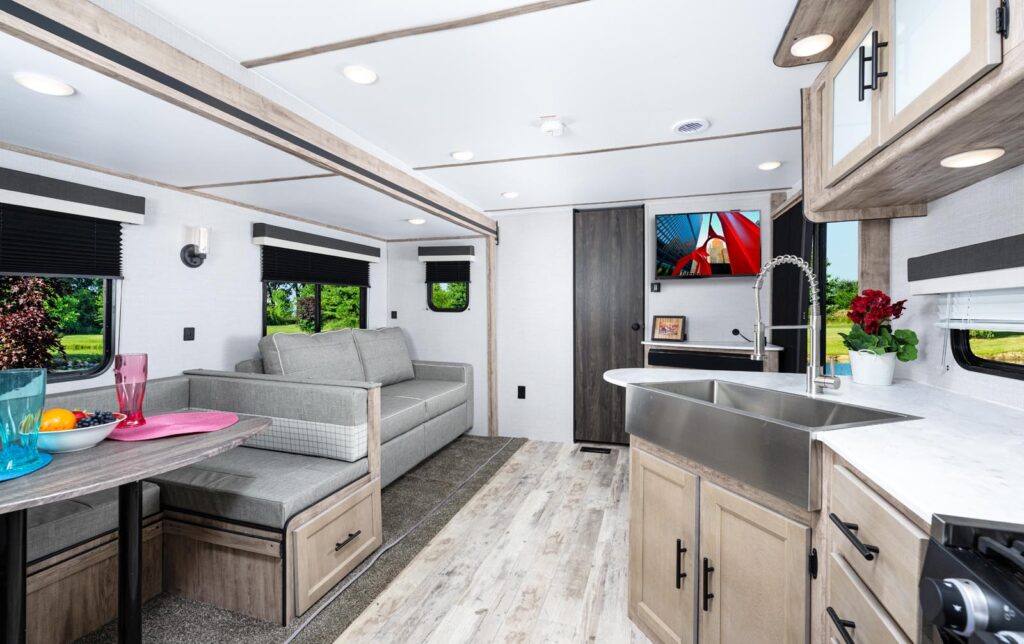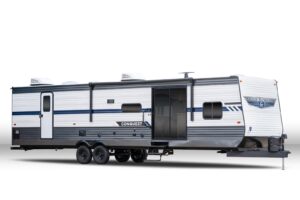 NAPPANEE, Ind. – In an ongoing celebration of notable Gulf Stream Coach floorplans as part of the company's 40th Anniversary year, the spotlight has been trained on the Model 36FRSG, part of the Gulf Stream Coach Supreme Series of value-oriented aluminum-sided travel trailers.
The heightened attention in the 36FRSG is also coming from Gulf Stream Coach dealers who are reporting strong interest and sales at 2023 retail RV shows, according to a release. This spacious travel trailer offers family-size living space, season-size storage, a banquet-size kitchen, a king-size bed in the master, a double-width sliding glass entry door, and sleeping accommodations for eight or more people, all at a family-friendly price.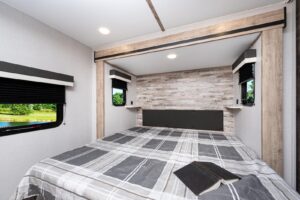 At just under 40 feet, the 36FRSG is a true "home-away-from-home" that offers all the comforts and luxuries that don't fit into smaller floor plans, and is truly "vacation-worthy." For example, the rear master bedroom includes a wall-sized vanity and a slide-out for true walk-around floor space. With two doors, the bath can be open to all or be part of a private master suite, complete with a wardrobe large enough for an optional washer & dryer.
A deep double slide-out frees up floor space in the family living area while accommodating a booth dinette and convertible sofa. The kitchen counter is large enough to accommodate a snack station and a pair of kitchen stools. Kitchen storage abounds, both above and below the workspace, and there is a stand-alone pantry filling the wall next to the dinette.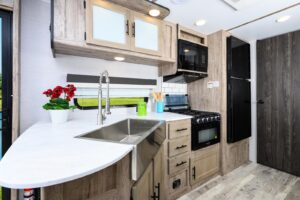 While all of this would fill the needs of many campers, the 36FRSG offers much more. Behind a residential-style panel door at the front end of the main living space is a second bedroom with a convertible game table/workspace, connections for a TV/video monitor, a large closet, two windows, individual reading lights, and sleeping accommodations for up to four people.
Campers exploring the 36FRSG at recent RV Shows noted that the front room provides comfort and privacy for guests, while parents quickly realized that their youngsters can be safely sheltered in the 36FRSG, yet remain far enough away from the master bedroom that both generations can relax and and enjoy camping without interfering with each other.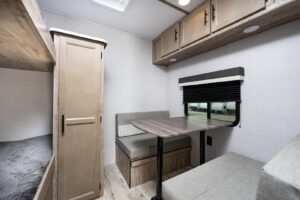 Highlighting the 36FRSG in the Gulf Stream Coach Anniversary Year showcases unique construction methods and materials refined over many decades, and a part of scores of other Gulf Stream Coach models, including:
A 1/4" x 4" solid steel plate spanning the width of the double slide-out header to provide dimensional stability and strength
Steel "Hurricane Straps" that attach roof and floor joists to wall supports to create a strong, resilient "uni-body" structure.
Thick layers of fiberglass floor, wall and ceiling insulation glued in place to reduce settling
A seamless synthetic rubber roof with a 12-year limited warranty
Handcrafted cabinetry with wood stiles, doors, and drawers
These and a long list of other materials and construction techniques have made Gulf Stream Coach the RV industry's leading independent manufacturer, and the favorite of camping families for four decades.
Source: https://rvbusiness.com/gulf-streams-36frsg-features-family-size-camping-fun/