Fantasy RV Tours Raises Over $100,000 for Make-A-Wish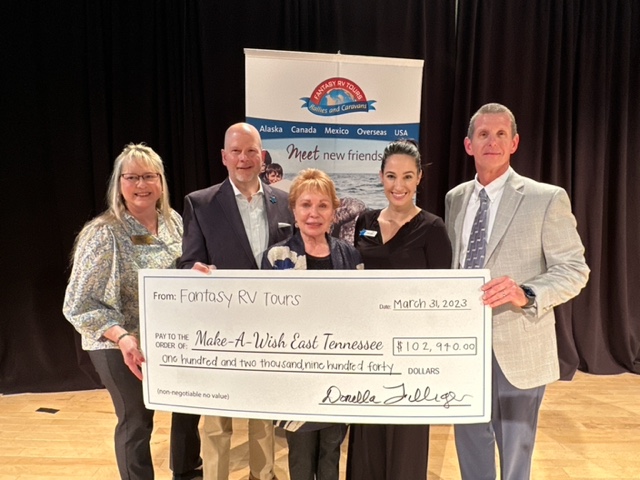 LAS VEGAS – Fantasy RV Tours, the world's leading provider of guided RV caravans and rallies, announced raising over $100,000 for the Make-A-Wish Foundation at their 2023 Annual Homecoming Rally.
The-event was held from March 27 to April 1 in Sevierville, Tenn., where Fantasy RV Tours' guests gathered to reconnect with each other, welcome new travelers, meet the company's WagonMasters and office staff, and enjoy a week of fun and camaraderie.
This year's event featured a variety of activities, including a tour of the Great Smoky Mountains, dinner shows, travelogue seminars, fireside chats with WagonMasters, social events, and more. One of the highlights of the week was a live charity auction, featuring wrapped mystery boxes with a gag gift "clue" on top. Although they did not know what was in each box, Fantasy guests had fun bidding and imagining what their prize might be, all while raising funds for Make-A-Wish East Tennessee.
During the two-hour charity auction, Fantasy customers raised $51,470 and several bids were matched by Fantasy RV Tours and its Founder & CEO, Nel Filliger, bringing the grand total to $102,940. The funds will go directly to Make-A-Wish East Tennessee, an organization that grants the wishes of children with critical illnesses.
"We are thrilled to have raised so much money for a cause that is near and dear to my heart," said Filliger. "Make-A-Wish is the company's designated charity and our guests come to this event ready to donate money."
Filliger has a strong personal connection to Make-A-Wish. Her 16-year-old grandson, Dylan Prunty, passed away on July 31 after suffering from a rare genetic disorder. He spent most of his life in the Children's Hospital in Los Angeles where he underwent many surgeries and dealt with immense, chronic pain.
Over the years, he became an expert at building intricate LEGO sets that helped him deal with the severe pain. His wish was to visit Legoland and ride a train, which was arranged and granted by The LEGO Corporate Group and Make-A-Wish back in 2014. Dylan not only got to enjoy a dream weekend at Legoland, but he also got to work with LEGO Master Builders to design a replica of the Children's Hospital and returned home via train ride with his family.
"Make-A-Wish uses the money to make wishes come true, just like they did with Dylan," said Nel. "They organize everything – some wishes are more complex than others but Make-A-Wish captures the heartfelt wish of each child."
Fantasy RV Tours held its first Mystery Auction in 2015 and has since raised over $350,000 for local Make-A-Wish chapters. The auction continues to grow each year and the 2023 fundraiser was by far the most successful. "When a child's wish comes true, it not only brings them joy but gives them strength to overcome their obstacles," said Nel. "We're just so overwhelmed by the generosity of our Fantasy family."
This year's Fantasy Rally donation will make 10 children's wishes come true, according to Garrett Wagley, President & CEO of Make-A-Wish East Tennessee, as each wish averages about $10,000 in costs.
"We are confident that receiving a wish is a part of the child's medical treatment, and it gives somebody hope to look out on the horizon. The wishes have an ongoing impact," he says. "It impacts the child, their siblings, parents, and the whole community that gets to be uplifted and inspired by the wish. Fantasy RV Tours has made a tremendous impact on the Make-A-Wish East Tennessee chapter, and we couldn't thank them enough."
About Fantasy RV Tours FANTASY RV TOURS is among the world's most distinctive RV tour companies, providing sought-after RV vacations to 60 destinations throughout the USA, Canada, South Africa, Australia, New Zealand, and other worldwide locations. With over 40 years in the RV industry, Fantasy has taken more than 75,000 RVers on trips, and is the global leader in escorted RV travel. Visit the website: fantasyrvtours.com.
Source: https://rvbusiness.com/fantasy-rv-tours-raises-over-100000-for-make-a-wish/