EclipseFest23 Will Be a 'Cosmic Campout Like No Other' – RVBusiness – Breaking RV Industry News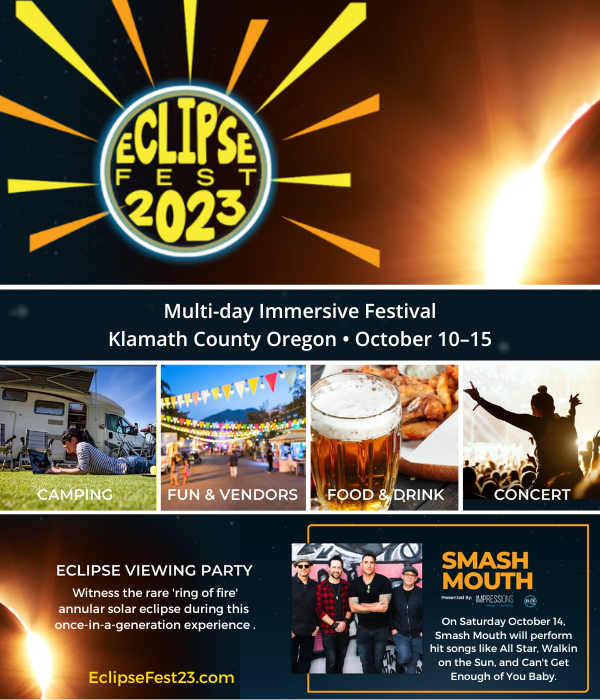 EclipseFest23 Lights Up Oregon with RV Giants, a Solar Showstopper, and… Smash Mouth?
Harvest Hosts, Battle Born Batteries and Open Roads come on board as sponsors of EclipseFest23, where thousands of RVers will converge, camp, and eclipse-watch.
KLAMATH COUNTY, Ore. – Imagine combining the exhilarating allure of a total solar eclipse with the beats of a nostalgic '90s band! This October, near the pristine Crater Lake National Park, thousands of RV and camping enthusiasts will be rolling into EclipseFest23 for an event that promises to be out of this world — and popular RV and camping companies are signing up to be part of the action.
From Oct. 10-15, this electrifying experience will transform a 175-acre field in Klamath County into the ultimate camping playground. And it's not just any celestial event: it's the mesmerizing annular solar eclipse, taking center stage on Oct. 14. With nearly 4.5 minutes of optimal viewing, attendees will be among the privileged few to witness Oregon's final significant eclipse for a generation. Following this, the iconic pop band Smash Mouth will have attendees rocking the night away.
"The future's looking brighter, with top RV brands Harvest Hosts, Battle Born Batteries and Open Roads joining us to ensure this festival hits all the high notes," said Sara Irvine, EclipseFest23's visionary organizer. "Together with our ticketing partner and campground sponsor, Spot2Nite, we're setting the stage for a phenomenal, once-in-a-lifetime experience."
Joel Holland, CEO of Harvest Hosts, echoed this enthusiasm, "Harvest Hosts is all about unique experiences; what could be more unique than jamming to Smash Mouth during an epic eclipse?," he said. "We are excited to sponsor EclipseFest23 and help bring more unique experiences to outdoors-lovers."
RV and tent dry-camping spaces are available in the heart of the action at the 175-acre field, and can be reserved for Oct. 10–15, starting at $160. Restrooms, wash stations and a honeywagon service will be available on-site. And, while RV campers can use generators, RV enthusiasts will really appreciate the festival's appeal for off-grid experiences.
Tyler Bourns, chief marketing officer of Battle Born Batteries, was likewise effusive about the upcoming event. "Battle Born Batteries is dedicated to powering lifestyles and adventures off the grid. We're thrilled to be part of EclipseFest23, where many RVers use our lithium-ion batteries to enjoy a fun, generator-free camping experience for this year's annular solar eclipse."
Other partners, including the Open Roads discount fuel card, are on board, ensuring that campers reap the benefits of both the cosmos and cost savings. RV author and blogger Julie Bennett of RVLove.com – one of several RV influencers attending the event – raved, "Our Open Roads discount fuel card has saved us a fortune. Their support of EclipseFest23 is a testament to their commitment to the RV community."
For those eager to hop on the caravan, Early Bird All-Festival Passes, priced at just $120, offer a gateway three days of vendors, culinary delights, eclipse viewing and, of course, that Smash Mouth concert. For other companies looking to illuminate their brand under the Oregon sky, there are still slots available for dealers and camping-related businesses to showcase their products.
Don't miss this cosmic convergence of camping, music, and astronomical wonder. For tickets, or to explore sponsorship opportunities, reach out to Julie Bennett at hello@rvlove.com or visit www.EclipseFest23.com.
Source: https://rvbusiness.com/eclipsefest23-will-be-a-cosmic-campout-like-no-other/