Cozy Upgrades: Rugs to Make the Outdoors Feel More Like Home

When it comes to creating a temporary shelter in the great outdoors, comfort is not always your top priority, but maybe it should be one of your priorities We've rounded up gear to make your kitchen and shower more home-like, and here are some more tips to make your home away from home feel inviting, maybe even cozy. One of the easiest ways to make your camp setup feel cozier is to add a functional or even decorative rug.
This post contains affiliate links. Outdoors.com may earn a commission when you make a purchase through these links. Thank you for your support.
Around Camp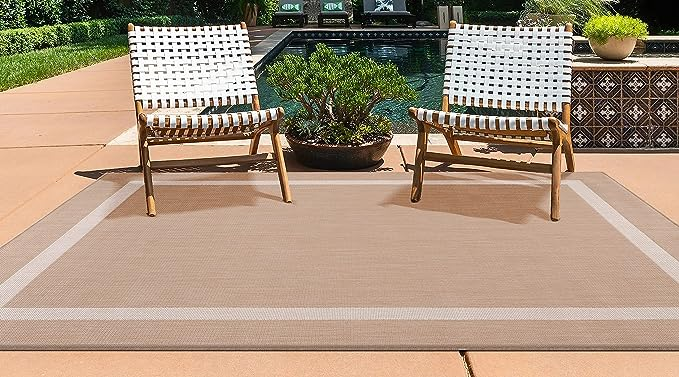 Similar to a tarp, adding a rug will put some space between your gear and the cold, hard earth. Unlike a tarp, though, the rug will probably be a little thicker, softer, and it won't make that horrible crackling noise that plastic tarps make when you walk across them. A sturdy, outdoor area rug like this Lena rug will help make your night of tent camping much more comfortable. Combine one of these with a sleeping pad, and you may never want to sleep in anywhere else but outdoors.
Walmart's Mainstay Tropical print rug is great for extending your living space and adds a little personality to the campsite, which isn't a requirement but is a nice touch. Use the rug as a space to play games, eat your meals picnic-style, or whatever else you do while hanging out outside your tent.
If you're looking to get in a little bit of you-time when you're camping, pick up a traveling yoga rug to add some yoga or stretching to your morning routine. And knowing it's made from 100% recycled saris, you can feel good about making the purchase.
When it comes to camping near the beach—or anywhere with sand—invest in a sand-free rug or blanket. The weaving style will make it easy for sand to fall right through, so you aren't finding sand all over your car and permanent residence for the next three to six months.
Back at Home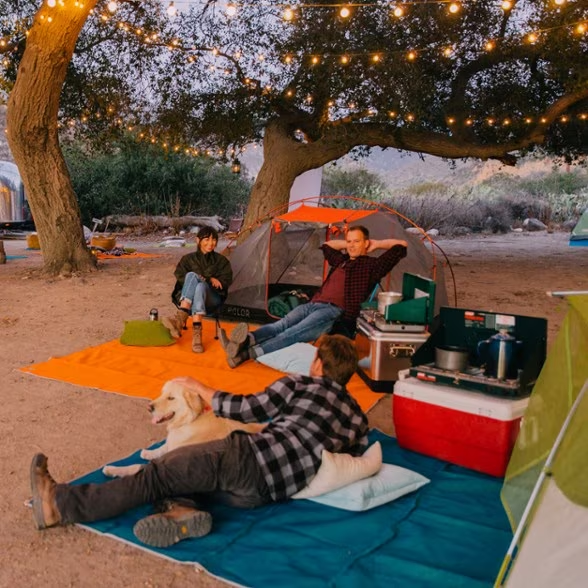 If you're not a big camper, but you're looking to upgrade the outdoor spaces around your home, rugs are still a great option for you. Adding a rug to your patio or deck is a great way to protect your feet from hot stone or wood.
This Better Homes & Gardens Rug is a great rug for the outdoors, but it can be used inside as well. It's made from durable, weather-resistant fabric that can be vacuumed or swept to keep it clean. If you have young kids or are having young kids over, you might want to invest in a good rug or blanket to put on the grass. This will give them their own space to play, and it'll be easy for them to keep track of their toys while you keep track of them.
After spending time in your slice of the great outdoors, you'll be coming inside—and sometimes that means tracking in mud. Invest in a doormat for you, the kids, and any four-legged critters you might have to wipe their feet and paws on.
Whether you're packing up the van for a weekend away or staying home (but not staying in), a nice outdoor rug can make your space as welcoming and functional as possible.