Column: Growing Old at Burning Man Festival … or Not! – RVBusiness – Breaking RV Industry News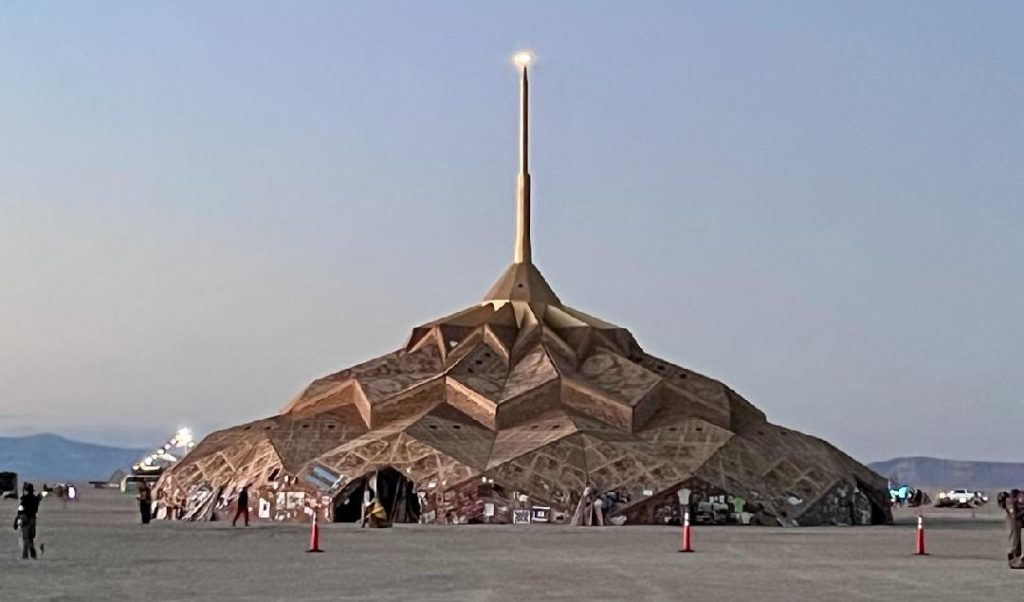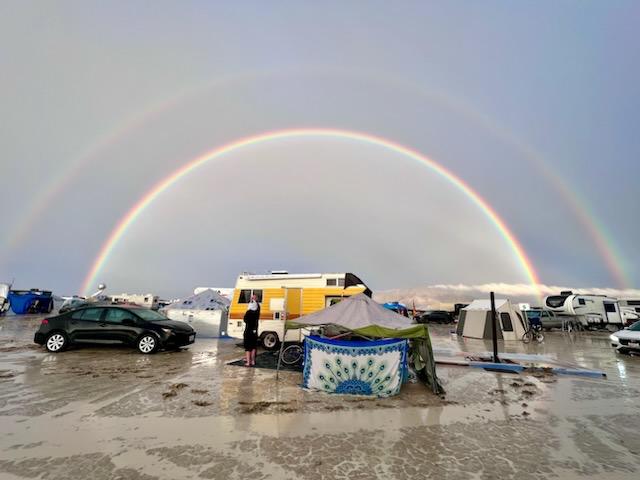 EDITOR'S NOTE: The following column was written by Sue Bray, a regular contributor to Woodall's Campground Magazine, a sister publication to RVBusiness. Bray used to work with the Good Sam Club and is a member of the RV/MH Hall of Fame.
What's a 72-year old grandmother doing weathering the storms, the dust, the wind and many other assorted elements at the 2023 Burning Man Festival? Having the time of her life, that's what!
Meet the indomitable Marty Siegel – a first-time "Burner" (aka "virgin Burner") at the 2023 Burning Man event held in the Nevada desert this September. Not the typical 30-something year old Burners, Marty and her two friends (also senior citizens, but multi-year veterans of the event) set off towing a 24 foot rented Jayco trailer, along with an extra vehicle, arriving in the early hours of the morning at what could be loosely classified as the world's largest instant campground.
There, they were met by the Burning Man Security team, who physically inspected all of their vehicles, including entering the trailer, just to make sure no extra illicit nonregistered Burners might be sneaking into the festivities. Next were the Greeters, where Marty, as a Virgin Burner, was invited to make a "Dust Angel" before proceeding to their campsite.
Why were they there? "The artwork," says Marty. "I've wanted to go for about 12 years. Friends had told me about it and I'd seen photos and videos of the art from previous years. I wanted to experience it myself."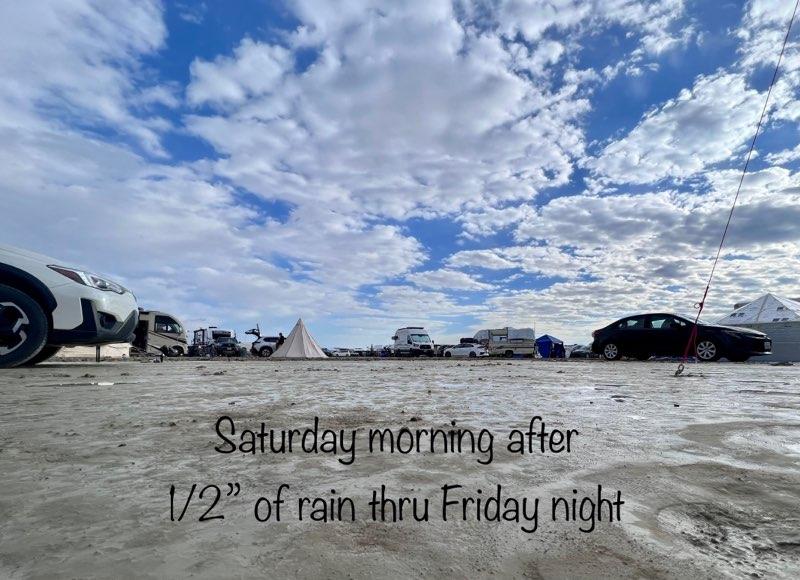 Burning Man started in 1986 when Larry Harvey and Jerry James decided that they would celebrate summer solstice by building an 8-foot wooden figure of a man and take it to a beach near San Francisco and set it on fire. They did so, and a crowd gathered. The next year, they built a bigger man and drew a larger crowd. By 1988, they were building a 40-foot man and distributing flyers, posters and T-shirts advertising their event to try and attract more people. Unfortunately, they also attracted local law enforcement, and when that year's man didn't completely burn, they had to cut him in half and throw him in a pile to finish him off.
There were more hiccups the following year. The man broke as he was being installed on the beach and was burned in a semi-erect position. Park police again showed up, demanding to know who was in charge of the show. Then in 1990, the Golden Gate Park Police became aware of the plans for yet another annual burn and refused to allow it to take place due to fire hazards to the surrounding hills. They reached a compromise – the group could erect the man but could not burn him. The crowd which arrived to celebrate the burn turned into an unhappy mob and the man had to be lowered and dismantled.
Organizers realized they could no longer hold the event in San Francisco and decided to transport their man to the remote Black Rock Desert, a Bureau of Land Management (BLM) dry lake bed, outside of Gerlach, Nevada. That September, they erected the Burning Man in the emptiness of the desert. 90 people watched him burn and were asked to contribute $15 each to offset the costs of the move to Nevada.
Today, 33 years later, the annual Burning Man Festival attracts more than 70,000 people, all of whom must be totally self-sufficient, living for nine days in a variety of RVs, tents, yurts and assorted vehicles in what has affectionately been named Black Rock City. Camping is somewhat organized – a grid of roads is laid out, and arrivals are directed to camp areas where they claim their own campsite on a first-come, first served basis. There are also hundreds of organized group camps set up at the site which guests can join ahead of time with reserved parking. Some are special interest theme camps, where Burners volunteer to share knowledge or resources. Others might be regional camps consisting of people from certain areas. Regardless, there is plenty of room for everybody.
In Marty's case, her group chose a site and set up their trailer, truck and extra car in a square, with pop up tents in the middle. Imagine her surprise the first morning as they were setting up the tents – "The door of the RV next to us opened, and out walked a tall statuesque young woman with a cup of coffee, tattooed from her neck to her toes, totally nude!" says Marty. The fun was just beginning.
Part of the fun of being a Burner is dressing (or not dressing!) the part. Elaborate and outlandish costumes are encouraged, and participants do their best to live up to that directive. At night, people are asked to deck themselves with lights so that they can be seen in the desert darkness. In 2023, the theme was Animalia, and the Man himself was surrounded by 350 art displays – many of them slow moving art cars, amazing contraptions which lit up, played music and flew or danced around the site, providing sensory overload to anyone they came in contact with.
Along with the Man, there is a Temple, and this year's was constructed of beautifully carved latticed wood. It was a quiet place where Burners could go inside and reflect on people or relationships they had lost, let go of sorrow, or say goodbye to bad experiences. Often they might build a small shrine there. At the end of the festival, the Temple is burned along with the Man so that those sorrows too disappear.
The typical way to get around Burning Man is via bicycle, and those too are wildly decorated and lit up at night. Organizers allow E-bikes but place a 5 mph speed limit on them. No motorized vehicles are allowed on the grounds other than the art cars.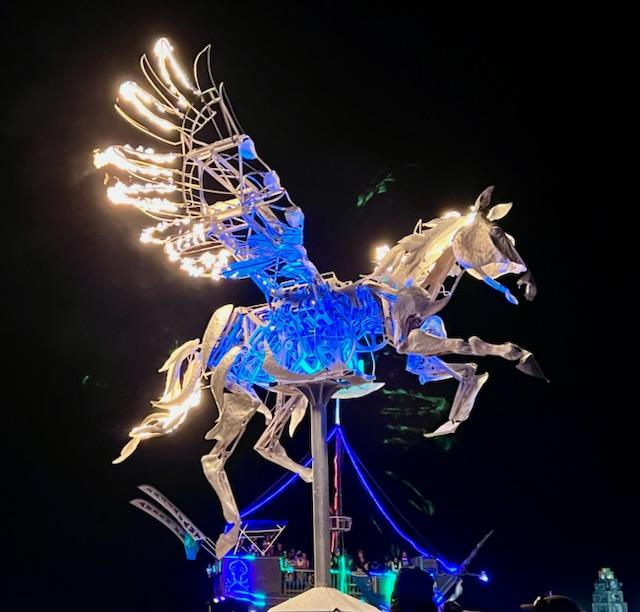 So what was Marty's typical day at Burning Man? "I'd get up in the morning have my coffee, and watch people, many of whom were young people just coming home from the previous night's party while others were starting out," she says. "Then we would carefully select our designer haute couture costume for the day and decide what to do from the program. I'd get on my bike and ride off to see what was happening on the streets and in the camps. That takes all day! It's every possible thing – free coffee, yoga, dance moves, free waffles, listening to music, resting for a while. Then I'd ride out to the Playa, the central area where the art installations are. I could spend all day there. After that, we'd have dinner and then the music would really crank up. You would hear music everywhere. I'd head for the music venues and go dancing – sometimes by myself, sometimes with a partner I didn't know, sometimes with many partners I didn't know. I broke my record one night and stayed out until 2 am."
And then the rain came. The alkaline clay lakebed had already been saturated by Hurricane Hilary prior to the event, but the heavy rains on Friday night turned it into heavy clay-like mud, making it difficult to walk or bike through. Burners were told to shelter in place and no vehicles were allowed to leave the grounds. Those who had to walk found that creating home-made boots out of garbage bags were the only way to get around. Bikes and vehicles were sinking into the mud. Fortunately, Marty and crew had plenty of food, water and the shelter of their RV and were able to flag down a honey wagon to pump out their holding tank in exchange for $95 and a handsome tip they were grateful to pay. They remained onsite for the two extra days to see the final burn and safely exited once the roads were dry
While Marty's group had the benefit of waiting out the storms and mud luxuriating in their rig, not all the Burners were so comfortable, and many decided to leave, causing hours long traffic jams and horrendous muddy conditions as they exited. In prior years, their mantra, "Leave no trace" had been followed – the Festival does not provide trash receptacles and Burners are expected to carry out their garbage with them as they leave. As a way to preserve the surrounding desert environment and also to raise money, the neighboring Paiute Indian tribe accepts trash from departing Burners for $10/bundle. However, this year, due to the mud, rain and difficulty exiting, unfortunately some vehicles, campsites, clothing, sleeping bags and garbage were left behind. Following the event, volunteer Burners could be found cleaning up after others had left so that the Festival could hopefully pass the BLM's post-event inspection.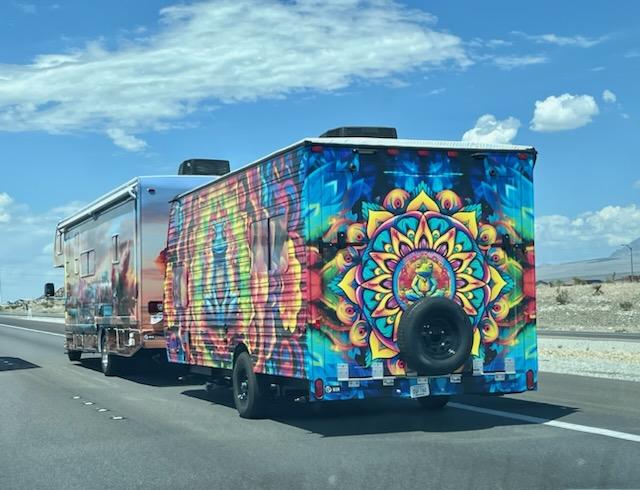 Burning Man is not an inexpensive vacation. To be assured of a ticket, it's $1500 for the full nine days. Other tickets are in the $500 price range, but are put in a lottery system so there are no guarantees to get a spot. Some of the money from the more expensive tickets is used to subsidize tickets for those who cannot afford to pay.
Even without this year's unexpected rainstorm, attending Burning Man requires a great deal of preparation. Marty was fortunate to attend with two experienced Burner veterans who knew how to prepare. They covered the floor and furnishings of their trailer completely to keep as much dust and mud out of it as possible. They brought an extra generator, and it turned out they needed it. They had plenty of food and water and wound up feeding their neighbors after the rainstorm.
And Burning Man isn't for everyone. There are those who just leave after a couple of days. And there are those who go back year after year.
What about Marty? Would she go again? "I'm already planning on it," she says. "Why do we have to be so judgmental of other people? I've never seen anything or imagined anything like this. I roller skated. I hula hooped. I danced all night. For me, this was adult fun."
The 10 Principles of Burning Man
Radical Inclusion
Anyone may be a part of Burning Man. We welcome and respect the stranger. No prerequisites exist for participation in our community.
Gifting
Burning Man is devoted to acts of gift giving. The value of a gift is unconditional. Gifting does not contemplate a return or an exchange for something of equal value.
Decommodification
In order to preserve the spirit of gifting, our community seeks to create social environments that are unmediated by commercial sponsorships, transactions, or advertising. We stand ready to protect our culture from such exploitation. We resist the substitution of consumption for participatory experience.
Radical Self-reliance
Burning Man encourages the individual to discover, exercise and rely on their inner resources.
Radical Self-expression
Radical self-expression arises from the unique gifts of the individual. No one other than the individual or a collaborating group can determine its content. It is offered as a gift to others. In this spirit, the giver should respect the rights and liberties of the recipient.
Communal Effort
Our community values creative cooperation and collaboration. We strive to produce, promote and protect social networks, public spaces, works of art, and methods of communication that support such interaction.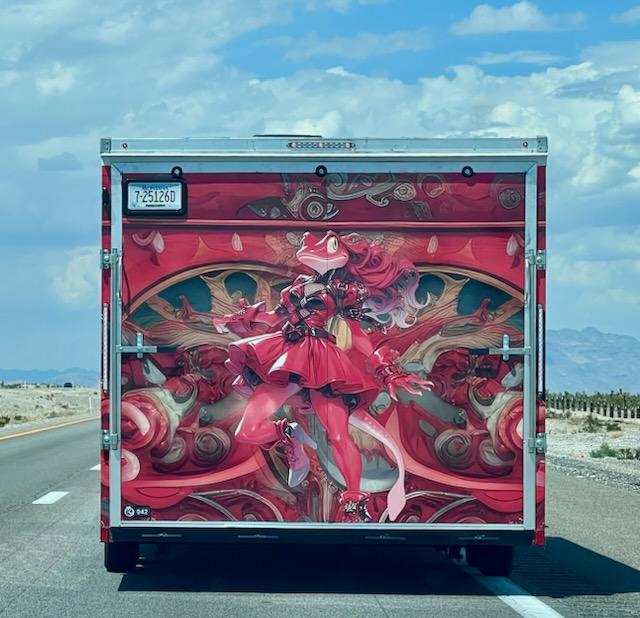 Civic Responsibility
We value civil society. Community members who organize events should assume responsibility for public welfare and endeavor to communicate civic responsibilities to participants. They must also assume responsibility for conducting events in accordance with local, state and federal laws.
Leaving No Trace
Our community respects the environment. We are committed to leaving no physical trace of our activities wherever we gather. We clean up after ourselves and endeavor, whenever possible, to leave such places in a better state than when we found them.
Participation
Our community is committed to a radically participatory ethic. We believe that transformative change, whether in the individual or in society, can occur only through the medium of deeply personal participation. We achieve being through doing. Everyone is invited to work. Everyone is invited to play. We make the world real through actions that open the heart.
Immediacy
Immediate experience is, in many ways, the most important touchstone of value in our culture. We seek to overcome barriers that stand between us and a recognition of our inner selves, the reality of those around us, participation in society, and contact with a natural world exceeding human powers. No idea can substitute for this experience.
"Life should not be a journey to the grave with the intention of arriving safely in a pretty and well preserved body, but rather to skid in broadside in a cloud of smoke, thoroughly used up, totally worn out, and loudly proclaiming 'Wow! What a Ride!'" – Hunter S. Thompson
Source: https://rvbusiness.com/column-growing-old-at-burning-man-festival-or-not/