Caravan Review: Atlantic Endeavour 18ft 6in Bunk Van
A caravan's layout is just as important as its build quality, or the features that come standard. I was reminded of how clever a layout can be in April when I hitched up the Atlantic Endeavour. Aside from being a fairly easy van to tow, weighing 2160kg, with an unladen ball weight of 205kg, it offers more spacious living quarters than its 18ft 6in external body length suggests. This is particularly noteworthy when you consider the van contains a split bathroom and rear bunks.
The Atlantic Endeavour is available in an impressive 17 different sizes and layouts, one of which includes an offside slide-out.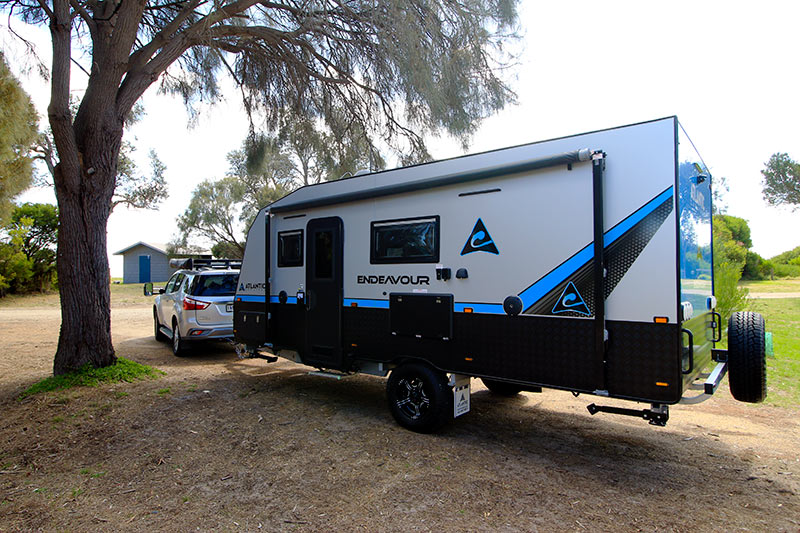 Our van was one of the smaller rigs in the range, though not as small as the 13ft 10in van that's available! But make no mistake, it might be a sub-19ft van, yet on the inside it really does pack a punch.
INSIDE THE ATLANTIC ENDEAVOUR
In my line of work, I see a lot of new caravans. However, the layout inside the 18ft 6in Atlantic Endeavour stood out. It starts with the east-wed bed in the nose of the van; this configuration sets the stage for a bathroom that's split across both sides of the van, with a Thetford cassette toilet and washbasin on the offside, and a shower cubicle on the nearside, and the two bunks stretched across the width of the van. Each bunk has its own separate locker at the head of the bed, not to mention a reading light with integrated USB charging point.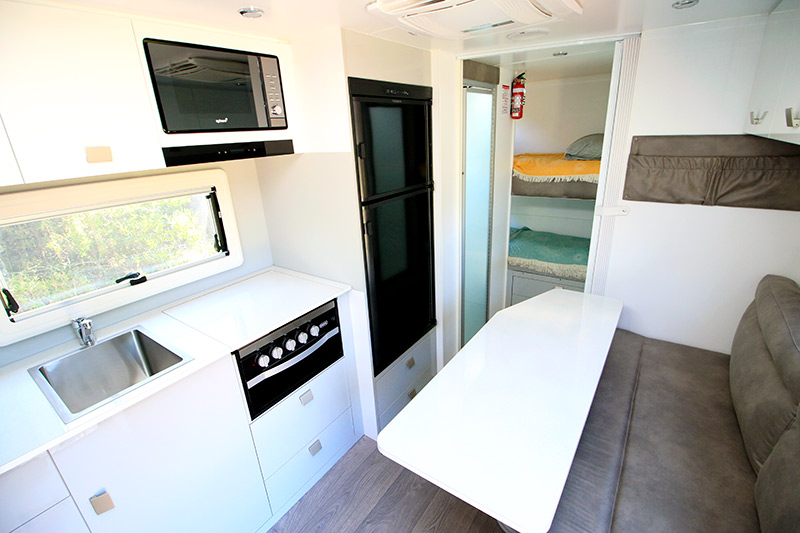 Access to the bathroom and bunks gets a little tight, due to the position of the dinette table; however, Atlantic has wisely cut the relevant section of the table on an angle to facilitate better access. Both the bathroom and the bunks can be sectioned off thanks to the inclusion of a concertina screen.
You'd be forgiven for assuming this van's kitchen lacked bench space. Not the case. In fact, there's a decent amount of it at the leading edge of the bench, with room left over for a stainless steel sink and four-burner cooktop with griller. A microwave is mounted into the cabinetry above, while a three-way 184L fridge-freezer is secured between the kitchen and bathroom.
While the kitchen isn't lacking in storage options, it's worth pointing out that the lower cupboard adjoining the front bed is home to the hot water service. 
The dinette has the expected 12V and 240V points; however, I'd consider relocating them to the leg space so as to get your laptop and other charging cables out of the way.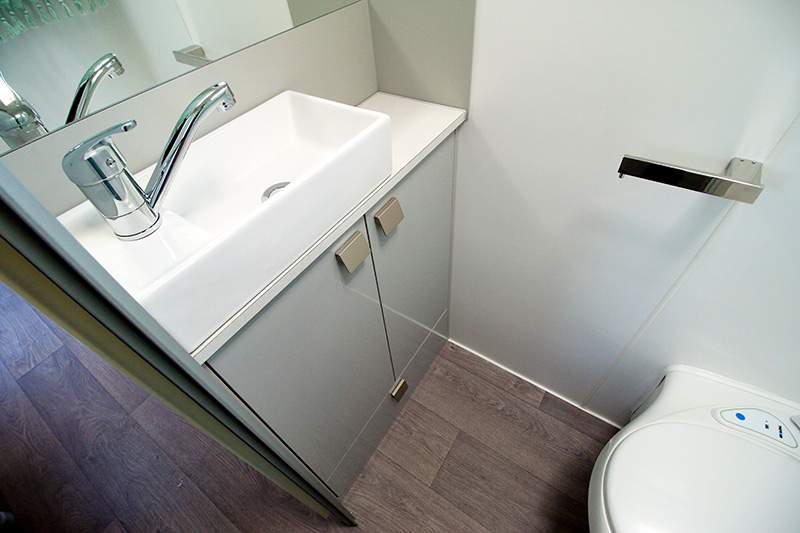 Speaking of this bed, there's only one wardrobe, given the east-west configuration of the bed. But I quite liked the storage space beneath the mattress. The mattress base doesn't lift on gas struts, so it is a little fiddly to lift it up, but the space beneath is well organised. Only about half of this space, though, can be used for internally-accessible storage, as the other half is given over to the tunnel boot.
As standard, the Endeavour comes with a single 100Ah lead-acid deep-cycle battery along with a BMPRO battery management system and a single 170W solar panel, so there's scope to upgrade later on if you need to. Our van, however, was equipped with a dual battery setup, with an Anderson plug nearby, allowing the owner to plug in a portable solar panel. The water supply, meanwhile, is comprised of dual 95L tanks, which was on par with what I was expecting.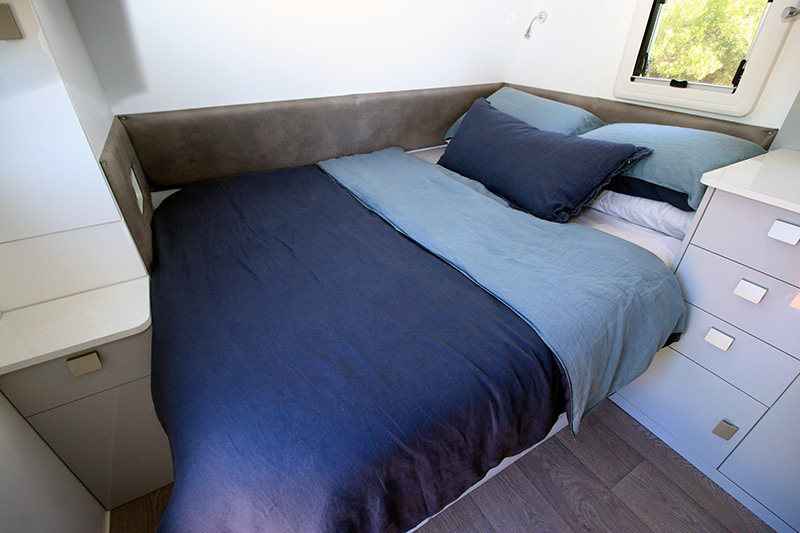 We've only scratched the surface here. Other features include a reverse-cycle air-conditioner, a 24in flatscreen TV, combined DVD/stereo system with speakers inside and out, a digital TV antenna and more.
The interior, in case it's not clear, really appealed to me and, if you have kids and don't want to tow a 20ft-plus caravan, it's worth a good look.
OUTSIDE LIVING
Our Atlantic Endeavour was built atop a 6in SupaGal chassis with a 6in drawbar. It used independent trailing arm coil suspension, 15in wheels and 10in electric brakes. Our van was not a hardcore offroader, but some national park work should be well within its wheelhouse. I noted that the PVC plumbing beneath was wrapped in a material similar to aggie pipe, which should give it the pipes some protection and prove to be easy to replace when necessary.
The van is framed in meranti timber and clad with composite aluminium, while the floor is 12mm ply, with a waterproof membrane applied underneath. Personally, I loved the contrasting blue aluminium at the rear.
Now, the storage box (which incorporates jerry can holders) mounted to the A-frame is rather 'slimline' in nature, but there's enough space in there for some camp chairs. A couple of 9kg gas cylinders sit forward of the box. I wouldn't mind a stoneguard here, though the position of the jockey wheel might make that difficult. There's yet more storage in the form of a gal-lined tunnel boot.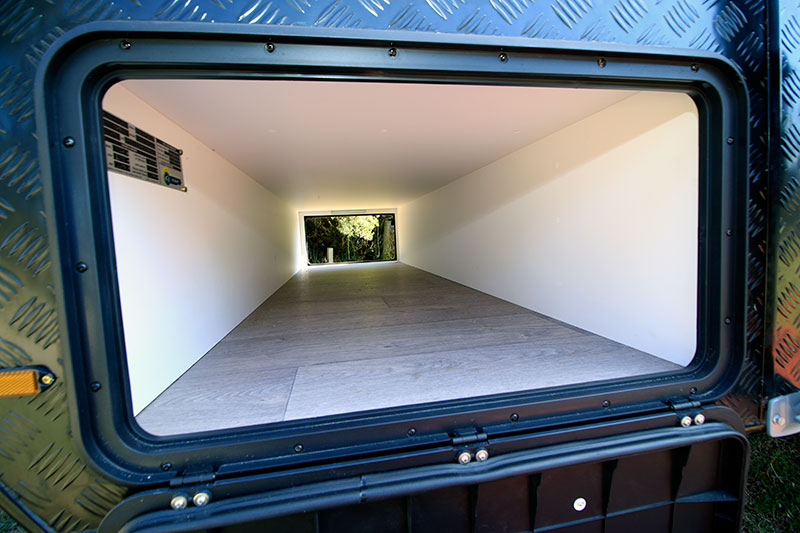 The nearside is equipped with a roll-out awning, a couple of LED awning lights, two speakers, and a 240V and 12V outlet. Near the tunnel boot hatch, the manufacturer has fitted a traditional gas bayonet, in case you wanted to later fit a slide-out barbecue tray in the boot, or just setup a portable barbie nearby. A reversing camera is standard, too, as is a DO35 coupling, 12-pin plug and LED light bars front and rear.
I wouldn't call the exterior sparse. Sure, it's not the most extensively equipped van on the outside, but it covers all of the essential bases. There's no reason why you, your partner and your kids wouldn't be very comfortable.
GORV'S VERDICT
The Atlantic Endeavour is proof that a well-considered layout can mitigate the need for a huge tandem-axle caravan. Further, it doesn't struggle for payload capacity, either. With its ATM of 2800kg, there's a 640kg allowance for your water, gas, gear and wine.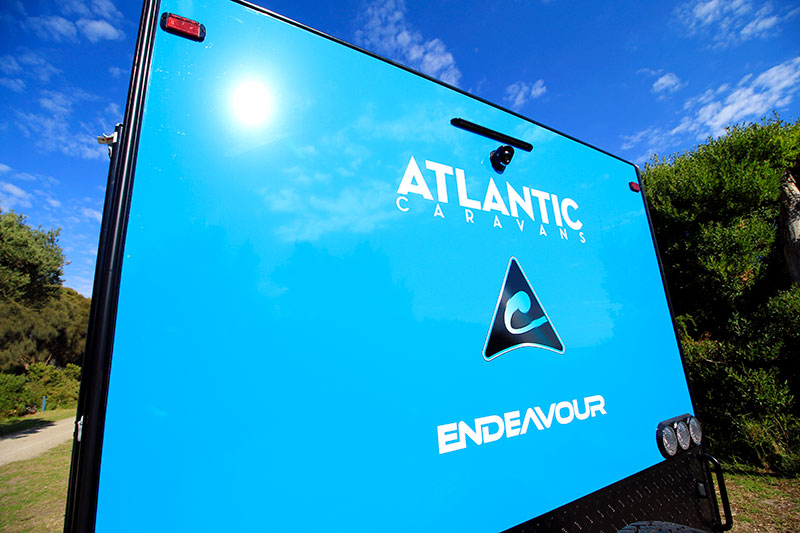 It would particularly appeal to young families with a mid-size 4WD. My MU-X had no difficulty hauling this van along the highway – there's no need to invest in a Land Cruiser here. In a number of ways, this is quite a clever van, with a layout that really hits the mark. Take a look.
THE SCORE
FIT AND FINISH –

LAYOUT –

INNOVATION –

HITS & MISSES
The post Caravan Review: Atlantic Endeavour 18ft 6in Bunk Van appeared first on GoRV.
Source: https://www.gorv.com.au/caravan-review-atlantic-endeavour-18ft-6in-bunk-van/