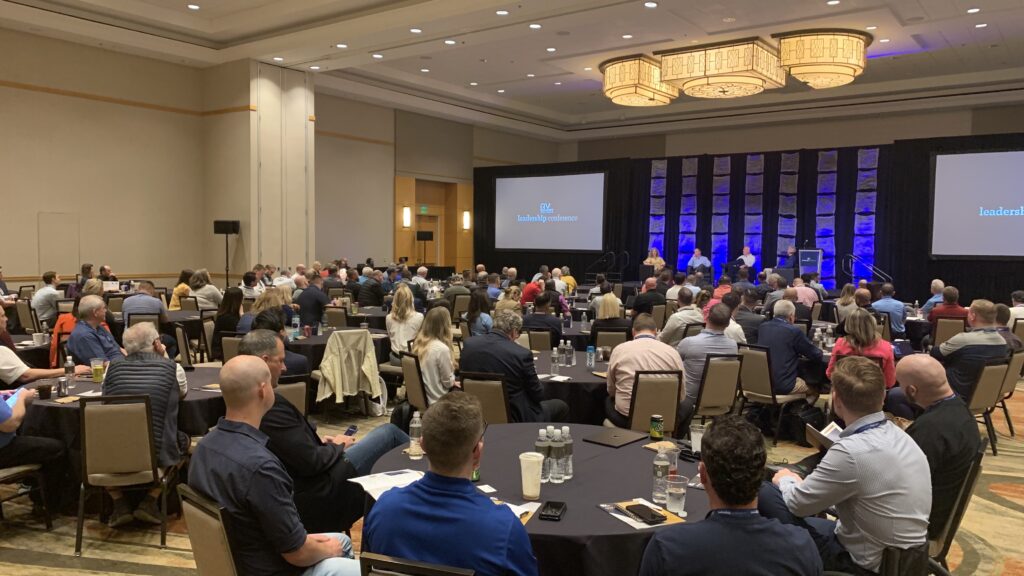 PHOENIX, Ariz. – A Leadership Panel – featuring Debbie Brunoforte of Little Dealer, Little Prices, a Campers Inn company, as well as Mike Happe of Winnebago Industries Inc. and Bob Martin of THOR Industries Inc. – highlighted the first full day of the RV Industry Association (RVIA) Leadership Conference, which concludes today today (March 17) at the JW Marriott Phoenix Desert Ridge Resort & Spa.
Hosted by the Emerging Leaders Coalition (ELC), the conference features several leadership-focused seminars as well as networking, recreational and philanthropic activities. Thursday's seminars also included a keynote presentation by Sterling Hawkins on having a "No Matter What Personal Growth Mindset" and "The Path to Purchase Journey" by Bill Baker, RVIA VP of membership and research, and Steve Schmith, Acxiom Automotive director of industry strategy.
The final seminar of the day was another panel discussion, this one composed of Michilah Grimes, Lippert director of corporate and community impact; Matt Veurink, Veurinks' RV Center sales manager; Anthony Wollschlager, Airxcel group president; and Ashley Bontrager, Ember Recreational Vehicles president and CEO.
Click here for coverage on the ELC panel discussion.
What follows is an edited account of the Leadership Panel discussion, which was moderated by RVIA President Craig Kirby.
Kirby: Debbie, you've been involved in many different aspects of the industry. So, what have you learned from those experiences that have made you a better leader?
Brunoforte: I would highly recommend this to anyone in the room, and anyone who ever asked me about this, I suggest to them please get involved, please volunteer in the industry. When I was first asked to do it in the early days to help out here and help out there, you do it because you're asked, you love the industry in which you work, and if you could help them somehow then you do so. And that's the reason that you do it. However, after getting involved in it, you find that there's so many personal benefits, as well.
Kirby: Mike, how would you define your leadership style? And are there examples of leaders that you've taken inspiration from to develop your style?
Happe: I had the opportunity, before my life at Winnebago Industries, to work for a couple "level five" leaders. But they came at their roles completely differently. They were both very humble and tremendous servant leaders. But one was very much driven by people, and taking care immensely of his team and his people. And the other one had the performance edge. I mean, accountability was one of his favorite words. And you learned quite quickly to deliver results underneath the performance leader.
My style is a blend of both of those. I worry sometimes if you put the pendulum sort of near either end of that spectrum – being too focused on people and you might not be able to always deliver the results. And being too focused on performance, and you might not always be able to keep the right team in place.
Kirby: Bob, are there any leadership qualities you've incorporated into your leadership style from your time on the Purdue football team?
Martin: When I played for Purdue, it was what they called the lean years – the late 80s, early 90s, and we didn't go to a bowl. I learned how to lose, and do it calmly and gracefully.
But there are things that I definitely learned. Just being a college athlete is very unique, trying to go to school while you have football practice, and you just have to manage part of your life.
I've had coaches who were great coaches, mentors – who really wanted to help me grow. And I had some who were really hard, and all they did was yell. I found for me, personally, I hated it. So, when I went to work for a company, I asked them what kind of a manager he was. It was a question that kind of took him off balance. He was like, "What do you mean?" And I said, "Well, are you a coach, mentor, or do you yell to get things, what you want done?"
I very much look at my companies as teams. I'm a coach. We're highly decentralized. It's hard for me to get too involved in any one company. So, it's like a group of teams, really, is how I look at it, with great coaches that lead them. And I guess I'm maybe part of the lead that just helps guide everybody.
Kirby: Debbie, how do you approach hiring and team building? And what qualities do you look for in potential hires?
Brunoforte: There's so many answers to that, you could go really deep. But on a very high level, when I'm hiring someone I basically look for two things. One is do they have the capability of delivering the results that we need. And two, which I think is equally important, – perhaps more important – is are they a culture fit with our organization.
And as far as the culture fit, I've always viewed it through the lens of it's a little bit like dating. You can have two really good people, but they're just not good together. There's no right or wrong. It's just not a match between the two of them.
Kirby: How do you ensure that they align with the company's values and vision?
Brunoforte: It's up to us to maintain the culture in our organization. I'm sure that we've all had cases where we felt like the culture's been derailed. How do you bring it back? It's something that we have to work on every day. You have to talk about it all of the time. Your core values like continuous improvement, teamwork, integrity and sustainability. You have to talk about it in everyday normal conversations. And then be quick to do something if you see that it's getting derailed.
Kirby: Mike, from a leadership standpoint, what challenges did you face coming from a different industry, and how did you overcome them?
Happe: How do I put this respectfully? This is a tough industry to come in as an outsider, especially with the geographic concentration in our company.
But I would say, coming in from the outside, there was significant resistance from within the company about change at the beginning. It's like what Winston Churchill once said, "There's nothing wrong with change so long as it is in the right direction."
That change management journey is a skill that I think as leaders we have to have. Because it starts with a vision, a purpose, and a mission of what we're trying to achieve.
I'm a huge fan blending experienced industry talent with really good talent from the outside that also has been successful in their own industries or careers prior to this outdoor recreational space. And at Winnebago Industries, we try to blend those, and hope that one plus one equals more than two.
Kirby: You obviously were successful in the change management, but what do you think was the real key in getting people to buy in?
Happe: Well, I'm a big believer that success creates more success. So, you have to come in and create a climate where people are empowered to help you achieve that goal. And then you have to have small wins. I mean, you just can't go from zero to 100 miles an hour overnight.
Kirby: Bob, so how do you create a company culture that fosters innovation, creativity, and a sense of community among your employees?
Martin: To Mike's point, I think there's so much that we can learn. Ten years ago, our presidents were fierce competitors. And I was explaining to somebody, 10-12 years ago I was president of Keystone, and I didn't really care about the others. They were separate companies; I didn't deal with them.
But, over the years, we've brought the four groups more together. We have presidents' meetings where they talk with each other. One of the examples was the Open House. We didn't all get along. I mean, the first open house was really only Thor Motor Coach, and Keystone. We blocked out Dutchmen, Heartland, we told them no. And it was one of the first things that Ron (Fenech, THOR Industries president at the time) said, "Next year, we need, everybody has to go together."
I've seen the benefit from that. I was one of the ones pushing back, saying no. But I watch these dealers come to the Open House now, they love the fact they can get so much done in one big display, rather than having 30 different displays fragmented throughout Elkhart County. And our people have seen the value of that, as well. And, for me, it was refreshing.
Kirby: Debbie, what is one piece of advice you would give to aspiring leaders today?
Brunoforte: There are so many things. This is emerging leaders, so to you emerging leaders and really to everyone, expand the boundaries of your comfort zone. So while you're keeping your goals in focus, some of the courage and the confidence to go for it expand the limits of your comfort zone. Push yourself. You can do it.
Kirby: Mike, how do you make sure you're continuing to learn and to keep up as the world seems to be changing so quickly?
Happe: I would say first source of learning has to be the team that I'm a part of at Winnebago Industries. I mean, I have to be taught about all of these different topics. I'm not the sustainability expert at our company. I'm not the electrification expert at our company. I'm not the advanced manufacturing expert at our company. So, I have to be very receptive and open-minded. And hopefully, most of the times I am. Maybe, at times I'm not.
Source: https://rvbusiness.com/brunoforte-happe-martin-panel-highlights-rvia-confab/