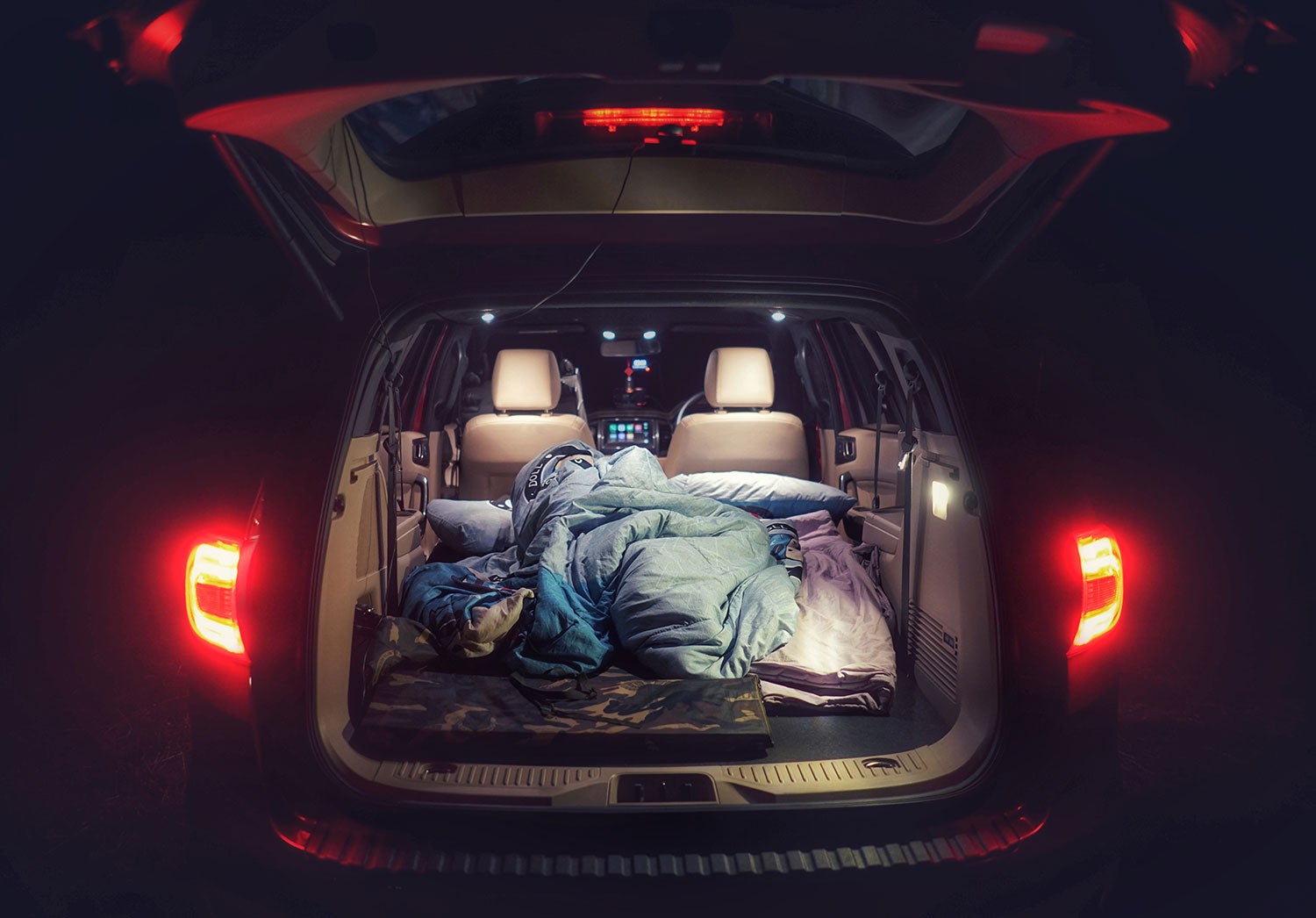 Experienced winter car campers share how sleeping in your car can be surprisingly comfortable. Winter car camping doesn't have to be miserable!
---
Car camping generally refers to the practice of driving to a campground and setting up a tent. It's called car camping because you have access to your car and you don't have to carry everything you need in a backpack. But what about actually sleeping in your car?
With proper insight and planning, sleeping in your car while camping can be a great way to get outside and wake up at the trailhead, the crag, or the slopes — even in the winter months. You don't have to worry about a tent, a tarp, or snow and wind. Campers can get cozy in the woods with the added protection and convenience of their vehicle — it's a win-win!
Top Tips for Sleeping in Your Car
The Dyrt campers prompted a helpful discussion in our Facebook Campfire group with lots of tips for sleeping in your car during the winter. We've included their insight below, along with some of our own.
(Are you part of The Facebook Campfire yet? There are great conversations going on over there — join us!)
1. Don't Underestimate Your Bedding
"We winter camp in Indiana. Just have a good sleeping bag rated for winter temps and be sure to have an insulating sleeping pad under you." — The Dyrt camper Dwayne Caldwell
There's a reason this is tip #1. Bedding is a basic. But too many people overlook the basics when sleeping in their car. A car can protect you from the wind and snow, but it can still get as cold as a tent in the middle of the night. And because cold air is passing through on all sides of the car, it's especially important to insulate your sleeping situation. A warm-rated sleeping bag can make all the difference.
Remember, you don't have to obsess over size and weight when you're sleeping in your car. If you can fit it, bring it! (Within reason, of course.) We recommend packing a minimum of a 0º sleeping bag along with secondary layers in case of extreme cold. If you have the headspace, why not bring a thick sleeping pad or blow-up air mattress, too? Go for it and make sleeping in your car just as comfortable as sleeping in your bed.
2. One Wool Blanket Goes a Long Way
Ever hear the phrase, "Cotton kills"? Cotton traps moisture and can freeze, making it a potentially dangerous material to be wearing or sleeping under in the cold. Wool, on the other hand, is a natural insulator. Sleeping on top of a wool blanket can protect you from cold coming up from the floor, and wearing wool is, of course, a great way to stay cozy. To avoid the itch, we recommend also adding merino wool long underwear to your packing list.
For even more warmth, go for the wool sandwich: Lay one beneath your sleeping bag and drape on top. We're getting all warm and cozy just thinking about it.
3. Add Cheap, Quick Insulation With Sunshades
"Some good advice from skiers who overnight in their vehicles for early starts was reflective insulation. You can cut it to size — in addition to your insulated mattress and sleeping bag, it helps maintain heat." — The Dyrt camper Shelly S.
Experienced vanlifers and road trippers all swear by a windshield sunshade. It's a reflective, insulating material that's sold to fit your windows. It's also called Reflectix.
Sunshades help keep the early morning light from waking you up at the crack of down, so you can sleep in your car until as late as you desire.
Not only does it block the sun, it also insulates from the cold. You can buy sheets of Reflectix and cut them to the size of your windows for all-around protection from the sun and the cold, creating a darker and warmer refuge for winter car camping.
Bonus: If you don't want people to know that you're sleeping in your car, covering your windows with sunshades or Reflectix makes you a more secretive car camper.
---
The Dyrt PRO ensures easy trip planning and helps you deal with last-minute cancellations. With the upgraded version of The Dyrt app, you can access campgrounds, maps, and photos for offline use during outdoor adventures.
---
4. Re-Use Boiled Water for Heat
Fill water bottles with hot water, wrap them in a towel, and stick them in your sleeping bag to keep it toasty. Just boil some extra water at dinner time to create your own safe source of sleeping bag heat. Although it probably won't stay warm all night, the hot-water-in-a-bottle method will help you fall asleep warm, which makes it easier for your body to stay warm throughout the night.
5. Be EXTREMELY CAREFUL if you use a propane powered heater
"Mr Heater! You can screw onto classic camping stove propane tank or for longer burn time, bring your grill's propane tank. We have a monitor in the van to detect any leaks." –The Dyrt camper Roxzanne F.
A propane heater like the Little Buddy Heater can be used to heat small spaces like a car. But propane heaters remove oxygen from the air as they run; you absolutely MUST crack a window if you're running one in your car. The Little Buddy comes with an Oxygen Depletion Sensor with automatic shut-off, but it's still best practice to only use the heater before you fall asleep.
We really can't stress this enough: sleeping in your car with a propane heater is potentially very dangerous. So maybe just stick to the hot water bottle method.
6. Resist the Temptation to Use Your Car's Lights
Don't rely on the lights in your car to see. Keeping them on can drain the battery. Instead, bring a lantern, hang a headlamp, or string up some twinkle lights for extra cozy #campvibes. It's helpful to have one designated place in your car where you always store your headlamp.
If you're on a winter road trip, you're likely to find yourself in need of extra light when getting settled and preparing to sleep in your car, especially when the sun is dropping by late afternoon. A headlamp is endlessly convenient.
7. Moisture is Coming; Crack a Window
It might seem counterintuitive to open a window with all that cold air out there. But moisture will collect in your car otherwise. A tiny crack will keep the moisture out, and keep you warmer.
8. Call Ahead or Call a Friend
"Check to see what facilities the park has open. Up in Maine, they close a lot of the buildings." –The Dyrt camper Julie S.
If you're staying at a designated park and/or campground, call ahead to make sure there are openings or that the grounds are even open. When established campgrounds are closed, you can always park on U.S. Forest Service roads, as long as you aren't blocking traffic. If you don't have Forest roads nearby, always have a backup: a friend's driveway or a Walmart parking lot are solid backups.
One of the biggest perks about sleeping in your car is that you're pretty self-contained. But one thing you definitely can't fit in your car is a bathroom. Be prepared for campground facilities to be closed during the winter months. Bring your own toilet paper for unstaffed campgrounds and rest stops. If you're going to be parking on forest service roads and potentially pooping in the woods, it's imperative that you understand the best practices of Leave No Trace.
9. New? Test it Out First
If you're sleeping in your car during the winter for the first time, don't venture deep into the backcountry. Instead, do a test run close to home, or close to civilization that offers cheap lodging options, should you decide to bail in the middle of the night.
Please remember to exercise your own judgement and caution when pursuing activities like sleeping in your car — especially in inclement weather. Use of any advice offered on the internet is done at your own risk.
---
Shameless plug:
The Dyrt is a FREE app solving the pain of finding campsites online. Like Yelp for camping, you can find the perfect campsite for you with photos and reviews from real campers across the country. And if you write reviews, you can WIN free outdoor gear all summer long.
The post 9 Tips That Make Sleeping in Your Car Way Less Miserable appeared first on The Dyrt Magazine.
Source: https://thedyrt.com/magazine/lifestyle/winter-campers-expert-advice-sleep-car/