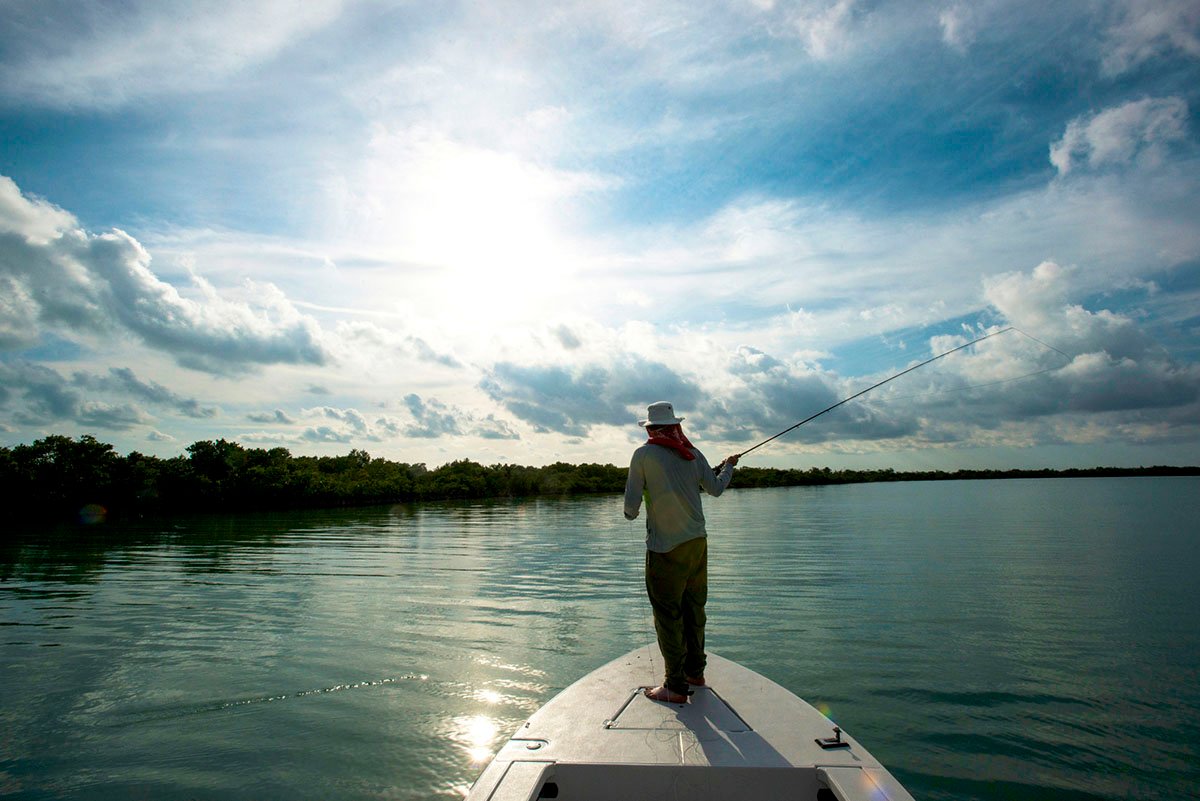 Florida is known for its stunning beaches, theme parks, and diverse wildlife; however not many are aware of the excellent fly fishing opportunities this state has to offer. With pristine rivers, lakes, and streams, Florida is a fly fisherman's paradise with some of the best fishing spots in the country. Though, with so many campsites to choose from, it can be difficult to know where to begin. And that's why we have compiled a list of the top campgrounds in Florida that offer the best fly fishing.
1. Blue Springs State Park
Orange City, FL
As you enter Blue Springs State Park campgrounds, the burst of energy is palpable. The lush and beautifully maintained grounds exude pure joy and adventure. The campsites are spacious, and the amenities are top-notch. The modern bathhouses are clean, tidy, and provide a comforting haven for you to freshen up after a long day. The picnic pavilions and grills are the perfect settings for spending a relaxing day with family and friends.
The highlight of the Blue Springs State Park is undoubtedly the fly fishing. The fly fishing mecca is overflowing with a variety of fish including bluegill, largemouth bass, and channel catfish just waiting for you to hook them. Whether you're a pro or a novice, the blue water beckons you to come and immerse yourself in the excitement of catching fish.
They say that fishing is not just about catching the fish; it's also about the peace and tranquility of the experience. The soothing atmosphere in the Blue Springs State Park will make you feel at peace, and nothing else will matter for the moment except the moment when you feel the tug of a fish on your line.
Pack your bags and head to the Blue Springs state Park campgrounds to embark on your next adventure.
$24+ per night depending on accommodations, please view the complete fee schedule for individual breakdowns.
2. Grayton Beach State Park
Santa Rosa Beach, FL
Grayton Beach State Park is located on the Gulf of Mexico in the Florida Panhandle and is an absolute paradise for outdoor enthusiasts. With its white sandy beaches and crystal-clear waters, you'll feel like you're in a tropical oasis. The park offers plenty of opportunities for fly fishing with its beautiful coastal dune lakes and tributaries. These water systems are home to a variety of fish species such as redfish, spotted seatrout, and flounder. You can even catch largemouth bass in the lakes.
The park has 59 campsites for you to park your RV, tent or rent a cabin. From primitive camping to RV spots with electric and water hookups, there's an option to suit every camper's needs. The campsites are spacious, and the park is very well-maintained making your camping experience unforgettable.
You will have everything you need at these campgrounds, from clean restrooms and showers to picnic tables and fire pits, this park has it all. To top it off, there is a camp store on-site where you can stock up on all your camping essentials.
Santa Rosa Beach, FL 32459
3. Rainbow Springs State Park
Dunnellon, FL
Nestled in the heart of Florida, the Rainbow Springs State Park is a popular destination for fly fishing enthusiasts that will leave you in awe. With crystal clear teal blue waters, a variety of fish species, and a serene natural ambiance, this park is simply perfection. The park boasts a variety of aqualife including large freshwater bass, bluegill, and redbreast sunfish, making it an ideal destination for any fisherman seeking a challenge. With a year-round fly fishing season, you can cast your line and reel in some fantastic catches any time of the year. Not only is the park a great location for flying fishing, but it also has some unique features that make it stand out. The park's Rainbow River is a first-magnitude spring with a constant flow of 400 million gallons per day. The water temperatures remain at 720 F which is a dream for fly fishing.
If you are looking to make a weekend of it, Rainbow Springs State Park has over 50 campsites available. Whether you prefer roughing it in a tent or glamping in an RV, there are plenty of options for everyone. The campsites offer various amenities, from fire rings and picnic tables to electric hookups and hot showers.
That's not all, you can explore the park further, where you will find several activities right at your fingertips. Take a swim in the beautiful Rainbow River, rent a kayak or paddleboard and glide along the clear waters, or hike on one of their scenic nature trails that run through the forest.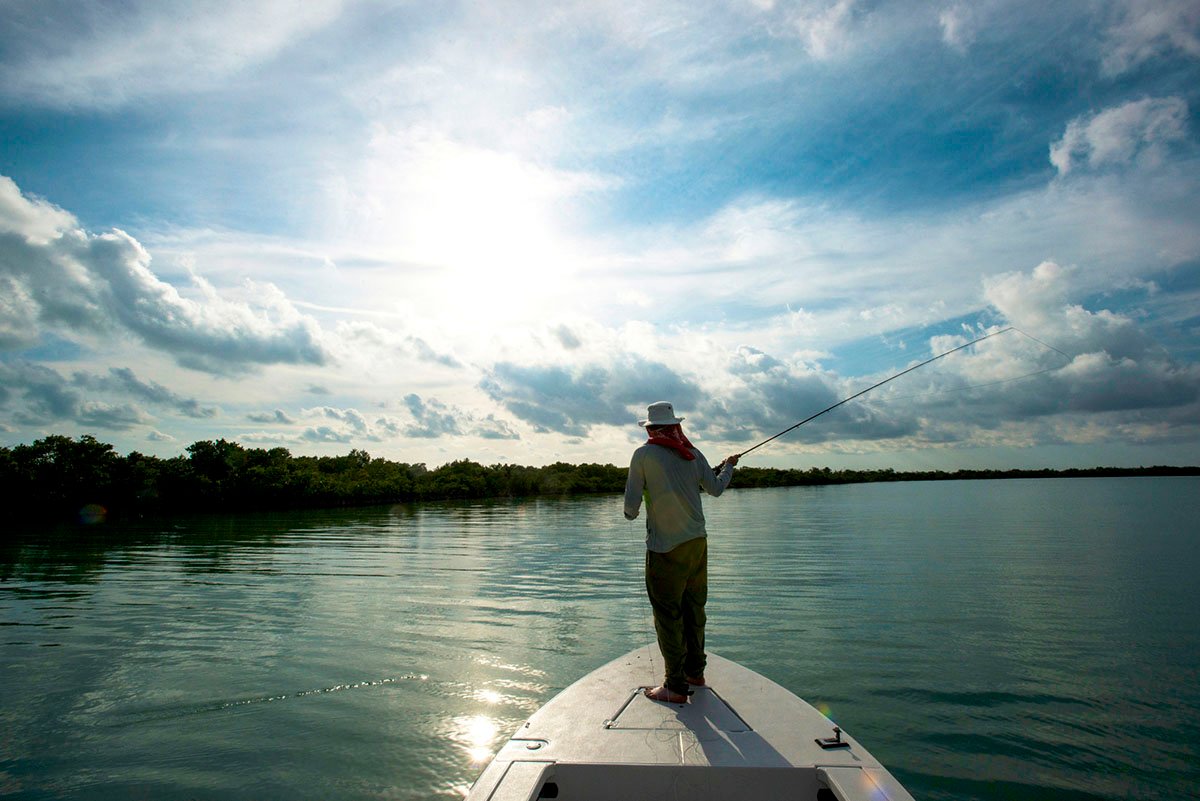 4. O'Leno State Park
High Springs, FL
Tucked away in the heart of lush, verdant woodlands, O'Leno State Park is calm and restful. The park's breathtaking natural landscape provides the ideal setting for an memorable fishing experience. With its sparkling waters, towering trees, and abundant wildlife, O'Leno State Park is beauty personified. The park's Santa Fe River provides an ideal habitat for various fish species, including largemouth bass, crappie,bream, and catfish. This river is characterized by high water quality; which creates an optimal environment for fish populations and allows them to thrive. O'Leno offers a variety of fishing locations, including riverbanks, sandbars, and shallow wading areas, providing diverse fishing opportunities for fly fishermen.
This tranquil oasis offers over 61 spacious campsites, each surrounded by trees which provides privacy and seclusion. O'Leno has an array of camping options, ranging from RV sites to simple tents. At night, huddle around a cozy campfire and watch the stars. The park also has modern amenities such as hot showers and laundry facilities, making your stay comfortable and convenient. For those seeking a more luxurious experience, deluxe cabin rentals are available with all the comforts of home. The campgrounds are pet-friendly, and there are a variety of family-friendly activities, such as hiking, fishing, kayaking, cooling off in the natural springs or taking a swim in the nearby Santa Fe River. There is no doubt why O'Leno State Park is one of Florida's hidden gems.
5. John Pennekamp Coral Reef State Park
Key Largo, FL
Another one of Florida's hidden gems, John Pennekamp Coral Reef State Park is a stunning paradise tucked away in Key Largo. The park has an abundance of marine life, from colorful tropical fish to elusive bonefish and even massive tarpon. The park is known for its crystal clear turquoise waters teeming with aquatic treasures. The unique setting of a coral reef state park has an unparalleled experience for fishermen. Imagine standing waist-deep in the water, surrounded by vibrant coral and exotic sea creatures while you cast out your line, it will truly leave you breathless. If you're a beginner to the sport, don't fret – John Pennekamp offers guided fly fishing tours with experienced captains who will take you to the best spots and provide all the gear you need. With the park's various ecosystems there's something for everyone, from easy to catch snapper to challenging bonefish.
John Pennekamp has something to offer beyond just fishing. Take a break from the water and hike through the rich trails of the park, catch glimpses of wildlife like raccoons, and iguanas, snorkel, kayak, paddleboard, or simply bask in the warm sunshine on the white sandy beaches.
After a full day, set up camp in the park's charming campsites, and listen to the gentle waves lull you to sleep under the stars. The park has 47 full-facility campsites that can accommodate tents and RVs up to 40 feet long. Each site comes equipped with water, electricity, and picnic tables. Reviewers rave about the clean facilities and friendly staff, making John Pennekamp a top pick for nature lovers and fly fishing connoisseurs.
John Pennekamp Coral Reef State Park
6. Anastasia State Park
St. Augustine, FL
Anastasia State Park is situated on the Atlantic coast, in the heart of Florida's scenic coastline and offers some of the best fly fishing opportunities in the state. The park is four miles of beautiful freshwater streams and clear, shallow saltwater flats that are home to a plethora of fish species, including redfish, trout, and flounder, this park has it all. What truly sets this park apart, however, is its commitment to conservation. The park's fishing regulations emphasize sustainable practices, ensuring that the natural environment remains healthy for generations to come. By practicing catch and release, you can help preserve the park's delicate ecosystem while still enjoying the thrill of the catch.
The park also offers plenty of amenities for visitors to enhance their experience, including a full-service campground for tents and RVs, picnic areas, and a playground for children. Visitors can hike or bike on the nature trail and enjoy the serenity of the woods. Visitors can also take a refreshing swim in the park's crystal-clear waterways, rent a kayak or paddleboard and explore the park's inland waterways while experiencing the park's magnificent birdlife.
7. Bahia Honda State Park
Big Pine Key, FL
Bahia Honda State Park, where adventure and relaxation meet in the heart of Florida's glorious Keys! This stunning park has some of the best fly fishing in the world, with crystal-clear waters swarming with an abundance of tarpon, bonefish, redfish, snook, permit, and sea trout.
But fishing is just the beginning – this park offers a range of camping options to suit all needs and budgets, from RV sites with full hook-ups to rustic tent camping with a view. Wake up to the sound of gentle waves lapping the shore, and step out into a sunny paradise of swaying palms and unspoiled wilds.
As for amenities, Bahia Honda has everything you need to make your stay as comfortable and convenient as possible. Take a refreshing dip in our sparkling swimming area, grab a bite to eat at our beachside café, or rent some kayaks or bikes and explore the park's opulent trails and lagoons. And of course, our showers and restrooms are kept spotlessly clean and well-maintained at all times.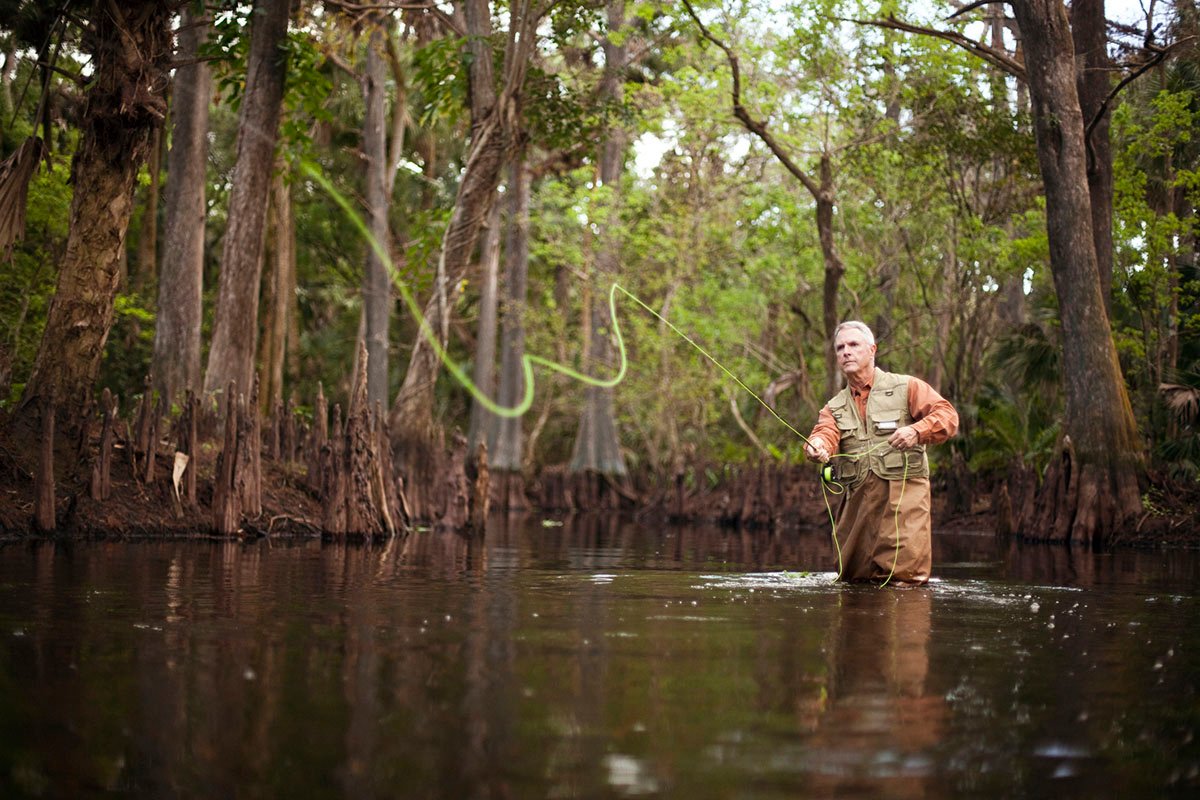 8. Paynes Prairie Preserve State Park
Micanopy, FL
If you are looking for a unique and exhilarating experience, then look no further than the fly fishing opportunities at Paynes Prairie. There is a large variety of fish which provides endless opportunities for fishermen of all skill levels. Whether you prefer the quiet solitude of fishing in a secluded stream or enjoy the excitement of catching largemouth bass and panfish in a bustling lake, you can find it here.
And there's no need to worry about accommodations because the campgrounds at Paynes Prairie are first-rate. With an array of options to choose from including basic primitive tents, RV sites, and cabins – you are sure to find the perfect spot to suit your needs. Wake up to nature and begin your day's adventure.
The activities at the park are truly impressive, featuring everything from hiking and biking trails to horseback riding and kayaking. You can spend your days exploring the park's 20 miles of trails, watching wildlife on one of the observation decks, or catching a glimpse of alligators and bison in their natural habitat.
And let's not forget about the stunning sunrises and sunsets that are sure to take your breath away. From flying fishing to camping, hiking to kayaking – this park has everything you need to make an ordinary experience extraordinary.
Paynes Prairie Preserve State Park
9. Amelia Island State Park
Jacksonville, FL
Amelia Island State Park has miles of pure white sandy beaches, crystal-clear waters, and abundant fishing that awaits you. This secret spot in Florida is an outdoor paradise, offering endless opportunities for fishing, camping and relaxation.
Fly fishing is the name of the game at this park. No matter your experience level, you'll find plenty of fish species to catch, including redfish, trout, flounder, and snook. Wade into the shallow waters of the Amelia River or take your boat out to the deeper waters of the Atlantic, where the big game fish roam. This park offers guided fishing tours, so even if you've never cast a fly rod before, you'll have expert help to teach you the ropes.
After a long day of fishing, set up camp at one of the park's spacious campsites, complete with fire pits, grills, and picnic tables. The camping options include basic tent, RV sites, and full-equipped cabins that can accommodate up to six people.
As for amenities, the park has everything you need to make your camping experience comfortable and enjoyable. There are restrooms and hot showers, a full-stocked camp store, and even a playground for the little ones. If you don't feel like cooking over a campfire, head to one of the many local restaurants in downtown Fernandina Beach, just a short drive away.
10. Lake Louisa State Park
Clermont, FL
Lake Louisa State Park, where adventure and relaxation come together in perfect harmony. With exquisite fly fishing, comfortable campgrounds, and a wide range of amenities, this park has so much to offer and for everyone to enjoy.
This park has some of the finest fly fishing in Florida. This stunning natural habitat is home to species such as bluegill, bass, and catfish, all of which put up a good fight when hooked. Fly fishing on this lake is a treat because the waters are very clear, making it much easier to spot the fish. No matter your skill level, there is no denying that the fly fishing experience at Lake Louisa is unparalleled.
From basic camping tents to modern RV sites, as well as cabin rentals, Lake Louisa can accommodate visitors with different preferences. The campsites are well maintained and include amenities such as grills, restrooms, and picnic tables. The cabins are cozy and comfortably furnished, with all the necessary essentials, making your camping experience a comfortable one.
The park offers a few added amenities/activities to make your experience even more enjoyable. When you are taking a break from fly fishing you can check out the playgrounds, hiking trails, picnic areas, boating and swimming. With breathtaking scenery, award winning fishing, and enjoyable camping amenities, there is no shortage of exciting things to do at Lake Louisa.
11. Sebastian Inlet State Park
Melbourne Beach, FL
This exquisite park is nestled in the heart of Florida's coastline and known for its excellent saltwater fishing. The park is perfect for any flying fanatic, with some of the best fly fishing in the area. Sebastian Inlet is surrounded by beautiful views that are simply awe-inspiring. From snook and redfish to tarpon and trout, this state park is swarming with a large variety of fish that can put the most seasoned fly fisherman to the test.
But that's not all – as you explore the park, you will discover a whole new world of activities and amenities. Whether you are looking to set up camp under the stars, or prefer a more luxurious stay, Sebastian Inlet state park has you covered. With modern campgrounds that offer everything from basic amenities to full hookups, you can rest assured that your stay will be cozy and convenient.
In addition, the park has many more amenities/activities for the whole family to enjoy. One of the most popular activities is surfing, as the park is renowned for its consistent waves. On the sandy beaches, visitors can also relax in the sun, build sand castles, and splash in the turquoise waters of the Atlantic Ocean. Additionally, hiking, birding, and wildlife photography are popular activities, where visitors can spot ospreys, dolphins, manatees, and even alligators. This park offers numerous options for recreation, education, and relaxation all while lounging in the stunning natural beauty.
Melbourne Beach, FL 32951
12. Ocala National Forest
Silver Springs, FL
Get ready to cast your fly in some of the Sunshine State's most stunning wilderness at Ocala National Forest. With over 600 lakes, rivers, and streams there's no shortage of opportunities for fly fishing. This expansive park has endless crystal-clear waterways with an array of freshwater fish including bass, crappie, and bluegill, with so many locations and spots to fish, you will be entertained for hours on end.
After a long day of fishing or exploring, take advantage of the available showers and restrooms, or head to one of the many picnic areas for a meal with a view. But it's not just the fishing that makes this place a must-visit, the campgrounds and amenities speak for themselves. With nine unique campgrounds from basic campsites deep in the forest to RV hookups with running water and electricity, there's a spot for every type of camper to relax and rejuvenate your mind, body and soul.
After a restful sleep, make sure you experience the activities of the forest, with its numerous natural springs and clear rivers, this national forest is perfect for kayaking, tubing, and swimming. If you rather stay on land, explore the stunning trails on horseback, or rev up your ATV and blaze a path through the forest, even enjoy a game of disc golf.
FL-40
Silver Springs, FL 34488
+34 per night plus tax
Source: https://outdoors.com/florida-campgrounds-for-fly-fishing/