10 Highest Rated Campgrounds Near Pigeon Forge

When it comes to outdoor adventures, very few places compare to the stunning beauty of Pigeon Forge, Tennessee.
Tucked away in the heart of the Great Smoky Mountains, this charming town exudes breathtaking vistas, picturesque hiking trails, and an abundance of natural wonders that will leave you spellbound. And what better way to experience all the natural splendor than by camping? Whether you're a seasoned camper or a novice looking to try something new, Pigeon Forge offers the perfect setting for an unforgettable camping adventure of a lifetime! Below are the 10 highest rated campgrounds in and around Pigeon Forge.
Riverside RV Resort and Campground is one of the most outstanding campgrounds in the country, and with good reason. This RV Resort is spread over twenty acres of lush, wooded terrain along the banks of the Little Pigeon River, offering a wealth of amenities and outdoor activities that are sure to please visitors of all ages.
This campground provides a wide range of camping options that cater to a variety of preferences and budgets. From tent sites and RV spaces to rental cabins and cottages, visitors can choose the type of accommodation that suits their needs in order to make their stay enjoyable. Each site is equipped with full hookups, picnic tables, and fire rings, while the cabins and cottages feature amenities such as fully equipped kitchens, air conditioning, and private baths.
In addition to the accommodations, the RV Resort has outstanding recreational activities that will keep campers entertained throughout their stay. An inviting swimming pool, playground, and basketball court provide ample opportunities for outdoor fun, while the Little Pigeon River offers excellent fishing and wading spots. There are hiking and biking trails that wind through the surrounding woods, providing the perfect landscape for a leisurely stroll or a heart-pumping workout.
Location: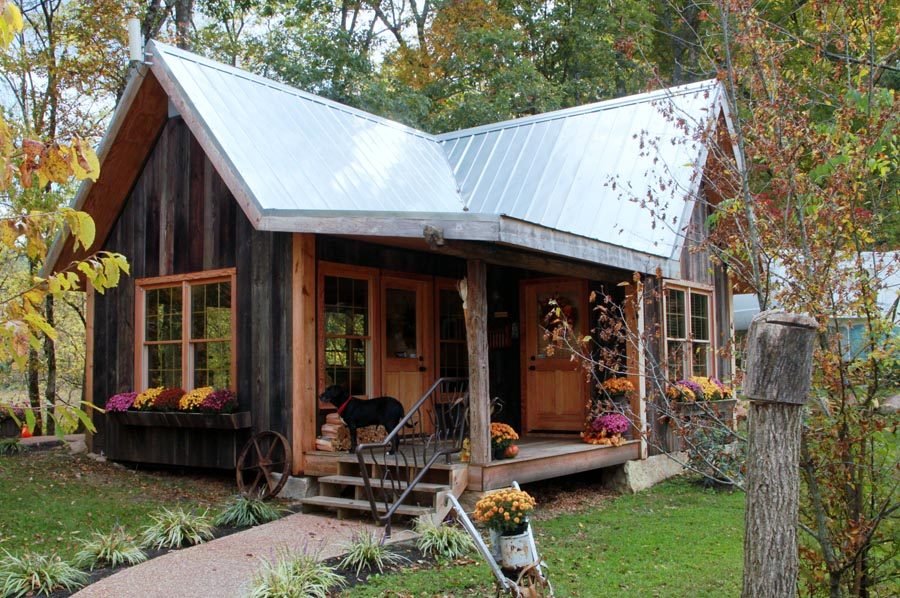 Situated in the heart of Pigeon Forge lies a little slice of heaven that all RV aficionados must experience. This campground provides the perfect scenery for your next adventure, with creekside tent sites and roomy RV pads. Up the Creek RV Camp has a plethora of amenities, including a swimming pool, laundry facilities, playground, and well-maintained bathhouses.
Unwind and disconnect from the hustle and bustle of life, while indulging in Pigeon Forge's beauty. Up the Creek RV camp offers close proximity to popular attractions such as Dollywood, Great Smoky Mountains National Park, and Gatlinburg. The charming town of Pigeon Forge also offers a range of adventurous activities alongside dining and shopping options.
Whether you are seeking a family vacation or a solo escape, Up the Creek RV Camp has the perfect blend of nature and relaxation.
Location:
Twin Creek RV Resort is one of the top campgrounds that leaves a lasting impression in the mind of every traveler. The resort is easily accessible, thanks to its convenient location just a stone's throw away from major attractions and local restaurants that cater to different tastes.
However, what sets Twin Creek apart is its impeccable environment, well-appointed facilities, and friendly staff that makes every visit memorable. The resort has spacious, clean campsites with full hookups, meticulously maintained grounds, and a swimming pool that's perfect for cooling off on hot days.
The resort also offers excellent amenities, such as free WiFi, cable TV, a propane station, and a well-stocked General Store, making it easy to access anything you need during your stay. Besides, the resort's proximity to the Great Smoky Mountains is perfect for hiking and exploring its unmatched beauty, which makes it the perfect getaway for the entire family.
Location: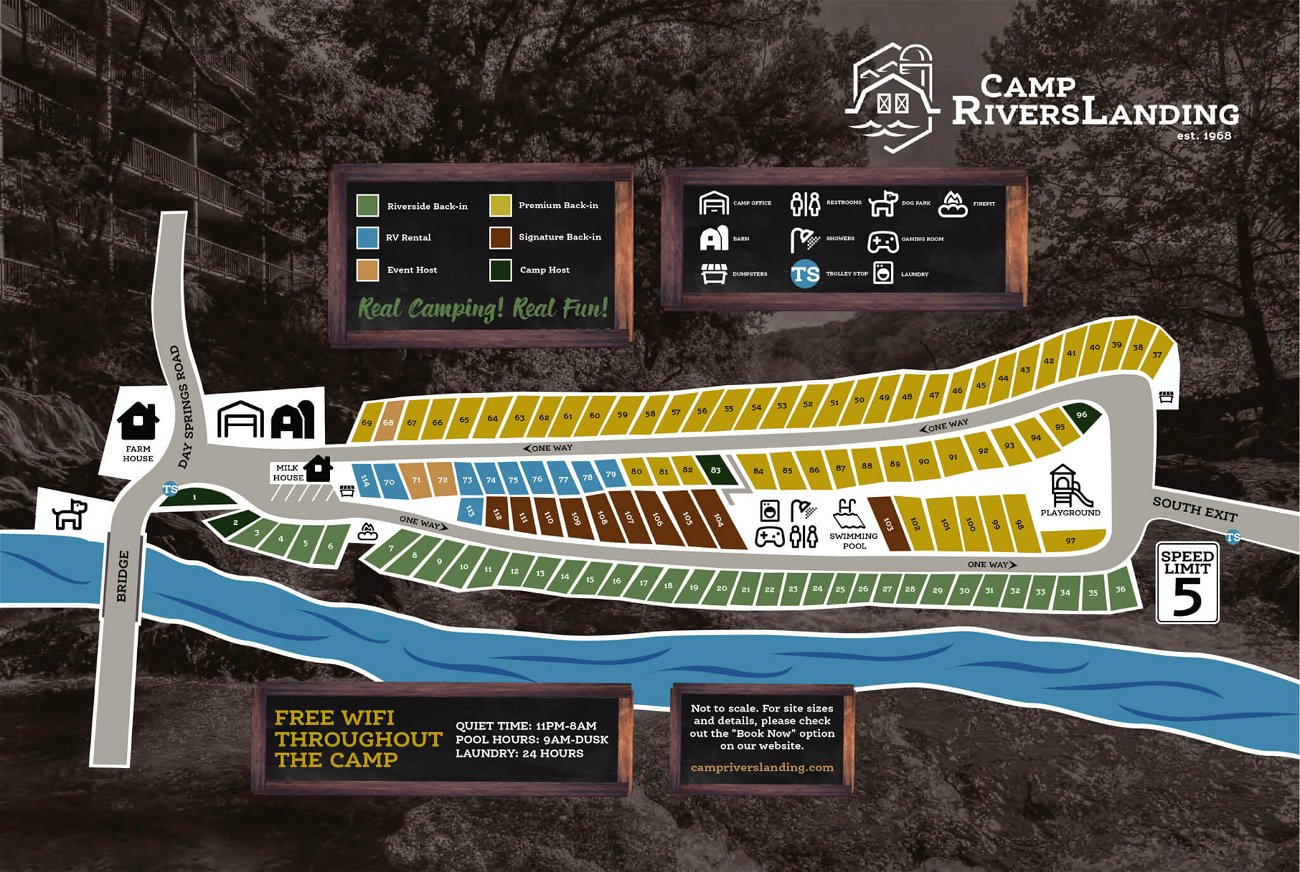 Located in the Smoky Mountains lies Camp Riverslanding, this destination is not just a campground, it's an immersive experience. An oasis for every nature lover seeking an escape from the urban jungle. This campground is surrounded by the vibrant wildlife of the area, which includes birds, deer, and even bears if you're lucky to spot one.
With its amazing scenic views, outstanding amenities, and a wide range of activities, Camp Riverslanding is one of the top-rated campgrounds of the Pigeon Forge area. Embark on a hiking adventure, cool off in the sparkling swimming pool, relax in a hot tub, cruise down the lazy river, or challenge your family and friends to an exciting game of mini-golf. Regardless of your preferences, Camp Riverslanding has something for everyone to enjoy.
Most importantly, the staff at Camp Riverslanding is dedicated to making your stay as smooth and memorable as possible. From making your reservation to greeting you when you arrive, they go above and beyond to ensure every aspect of your trip is flawless.
Location: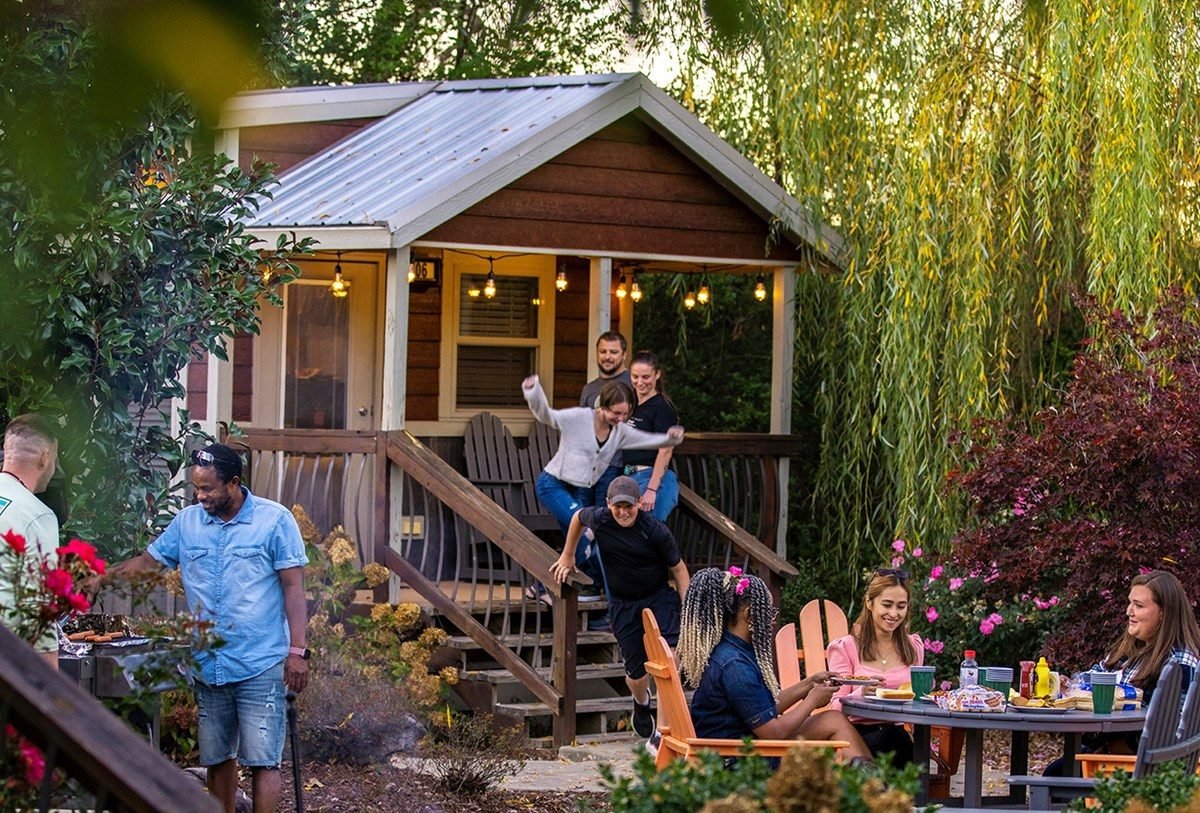 Located in the foothills of the Smoky Mountains this KOA destination is a first-class campground recognized for its beauty and endless adventure. This nature retreat offers the ultimate camping experience, featuring sizable campsites and cabins that combine modern amenities and a tranquil environment.
With its exceptional location, the campground offers an array of recreational activities from hiking and biking to fishing, white-water rafting, and zip-lining. The KOA also serves as a gateway to explore the surrounding attractions, including Dollywood, Ripley's Aquarium of the Smokies, and Great Smoky Mountains National Park.
You'll revel in the comfort of the well-kept facilities, including a refreshing pool, hot tub, and waterslide, as well as the convenience of the completely stocked general store, laundry services, and WiFi. There are a number of events and activities available to keep you entertained, from pancake breakfasts and ice cream socials to movie nights and live music performances.
You will fall in love with the topography no matter if you are relaxing by a campfire, star gazing or enjoying the camaraderie of the fellow campers.
Location: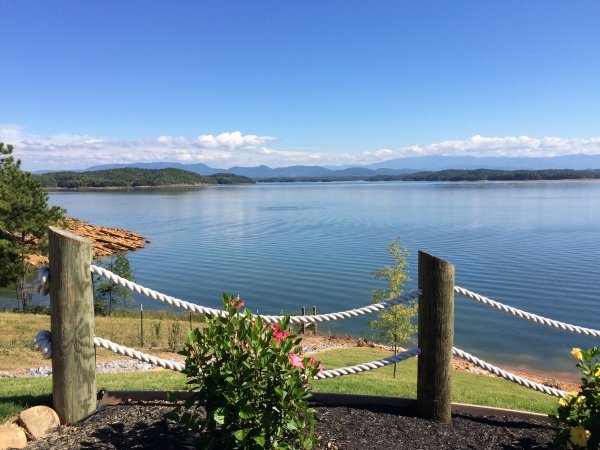 As you drive through the stunning surroundings, you'll immediately abandon your worries and discover the beauty that awaits you. Anchor Down, you'll find your ultimate escape of everyday life. From the moment you enter the resort, the staff and fellow campers welcome you with open arms. All your needs are exceeded, whether it's a campsite with full hook-ups, pristine shower facilities, or access to WiFi to stay connected with the world.
Anchor Down offers a wide range of fun activities for all ages. You can spend your days fishing, kayaking, and paddleboarding on beautiful Douglas Lake, or lounge by the heated pool. Take a break from all the action with an ice cream cone or relax by the fire pit roasting marshmallows and sharing stories with fellow campers.
This resort has breathtaking panoramic views of the Smoky Mountains and Douglas Lake.
Location: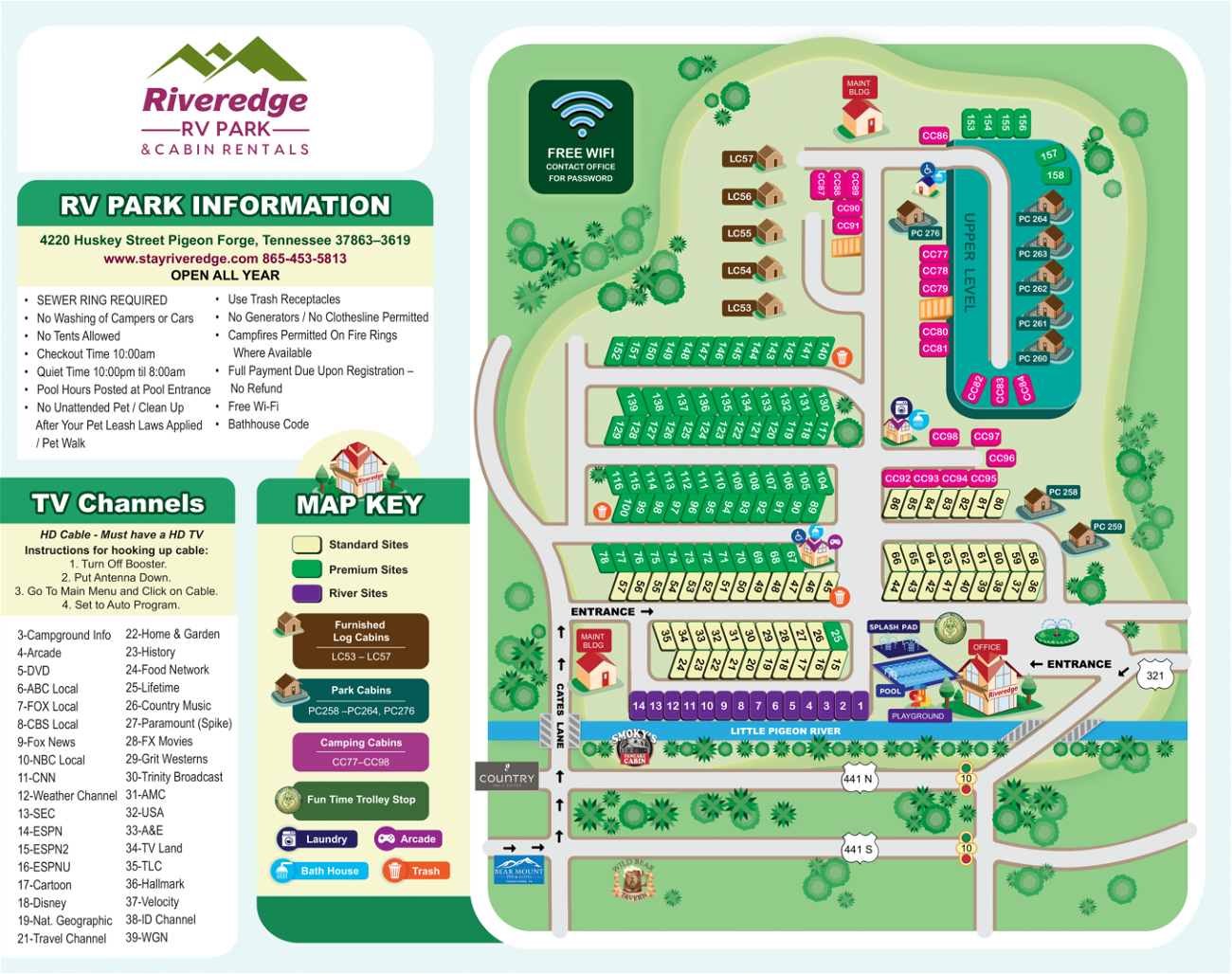 Riveredge is located in the center of Pigeon Forge, on the banks of the Little Pigeon River, tucked away from the city life. The river is not only beautiful but also provides an excellent spot for fishing and kayaking. Visitors will find a serene site to park their recreational vehicle and enjoy the fabulous amenities and nearby attractions.
There are various amenities that will make your visitors feel right at home. The campsites have plenty of space with full hookups, electric, picnic areas, fire pits, there is also a mini-golf course, playground, and a heated swimming pool.
Additionally, Riveredge has impeccable customer service, the friendly, professional and always ready to go the extra mile staff is readily available to assist guests with any queries or needs they may have.
Beyond the park, Pigeon Forge is an attraction in itself. The town is lively and filled with many activities perfect for all visitors. The park is a short drive from popular tourist destinations such as The Great Smoky Mountains National Park, and Gatlinburg.
Location: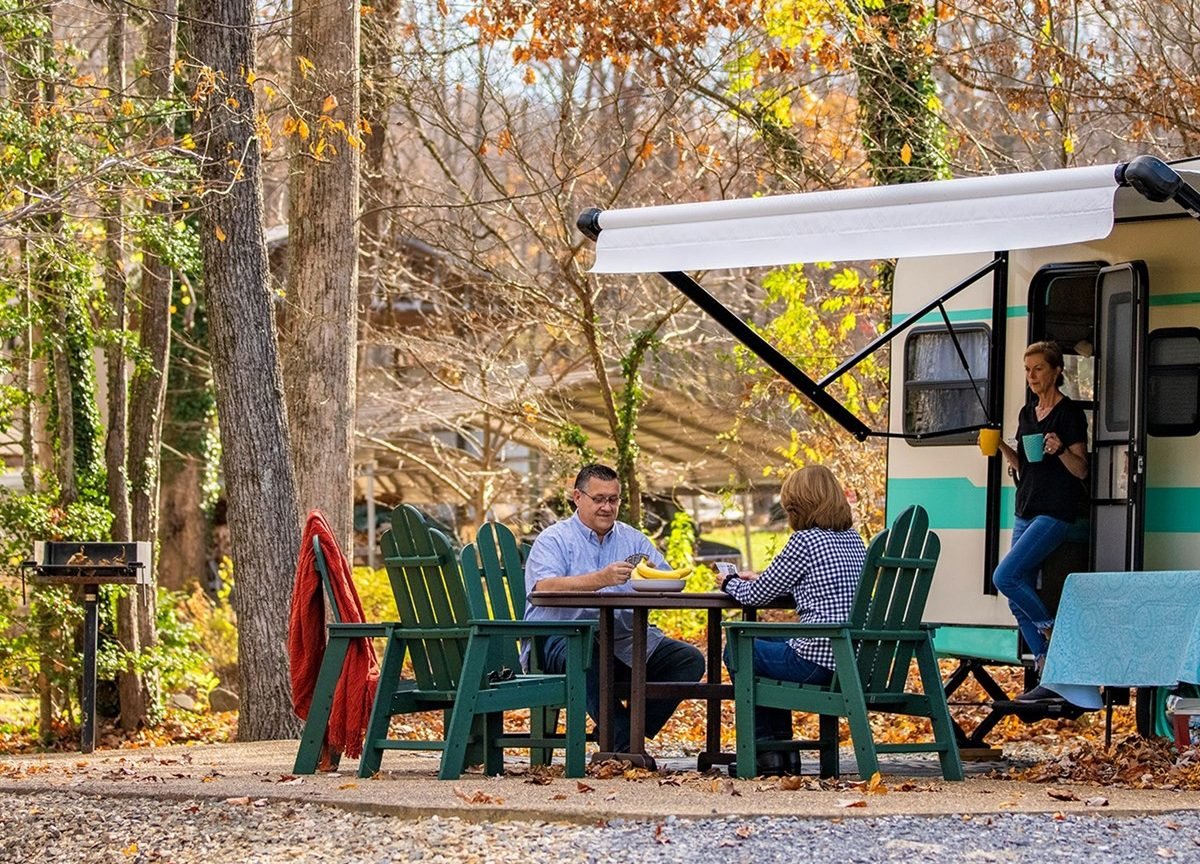 Nestled in the pure splendor of the Great Smoky Mountains, this campground is undoubtedly one of the best destinations for families and friends to have an incredible camping experience.
From the moment you arrive, you'll feel warm hospitality from the staff, giving you the feeling of home away from home. The campsite features 320 spacious RV and tent campsites, each equipped with water and electricity hookups. The campground also offers 75 cabins, ranging from rustic to deluxe, to accommodate the masses.
The KOA campsite has a perfect combination of amenities for both adults and children. From the heated swimming pool, hot tub, state-of-the-art fitness center to the mini-golf course, and the playground, there is never a dull moment. There's even a pavilion where families can gather, have picnics or barbecues.
For the outdoor lovers, the campsite has a convenient access to the Great Smoky National Park, where you can experience hiking, fishing, biking, and other outdoor activities.
Location:
If you're planning a trip to Pigeon Forge, TN and are looking for a place to stay, Creekside RV Park just might be what you are looking for. With its stunning setting, fantastic amenities, and prime location, Creekside is a perfect place for your next getaway.
Located on the banks of Walden Creek, this park is surrounded by leafy trees, clear water, and peaceful wildlife. Enjoy fishing, hiking, boating, and wildlife viewing with a picturesque backdrop.
The park's amenities are second to none. With full hookups, clean restrooms, and a laundry facility, you'll have everything you need for a comfortable stay. Additionally the park's pool, hot tub, and playground are perfect for families and children. And for those who love to barbecue, Creekside provides an outdoor grilling area where you can cook up a delicious meal while enjoying the allure of the creek.
Just minutes from the attractions of Pigeon Forge and Gatlinburg, you'll have easy access to some of the best shopping, dining, and entertainment in the area. From sight-seeing exploration to a night on the town, you'll find everything you need just a short drive away.
Location:
2475 Henderson Springs Rd.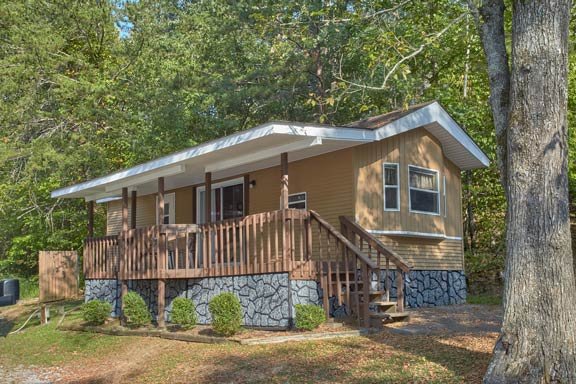 Clabough's Campground and RV Park is a wonderful getaway destination for those looking for a fun-filled and action packed vacation. With a wide number of activities and amenities, this 35-acre family-oriented campground has something for everyone.
The park has an outdoor swimming pool with waterslides, a lazy river, hot tub, a kiddie pool, and a splash pad. The on-site fishing pond is an excellent spot to catch trout, and children enjoy the pedal cart rides and gem mine.
The campground offers a range of RV and tent sites, as well as cabins with amenities, including air conditioning, heating, and cable television. There are also clean restrooms, showers, a laundry room, and a convenience store. Guests can enjoy outdoor activities such as volleyball, basketball, horseshoes, and tetherball.
Location:
Source: https://outdoors.com/highest-rated-campgrounds-near-pigeon-forge/