Zion Is Stunning, But Go to Snow Canyon State Park Instead—Here's My Experience with Both
I first experienced Zion National Park by car, admiring the jaw-dropping scenery as it whizzed by. Sad that we were just passing through, I made a mental note to return for a proper visit. Last year, I finally checked Zion off my list. As awesome as it was, a hidden gem just 50 miles away from Zion—Snow Canyon State Park—ended up stealing my heart.
Videos by Outdoors
Located in the southwestern corner of Utah, these two parks offer distinct outdoor experiences. No matter which park you choose, scenic views and epic hikes await. Zion National Park attracts those seeking a robust adventure surrounded by extraordinary scenery. Snow Canyon provides a quieter escape into nature with spectacular landscapes—and fewer people.
What to Expect at Zion National Park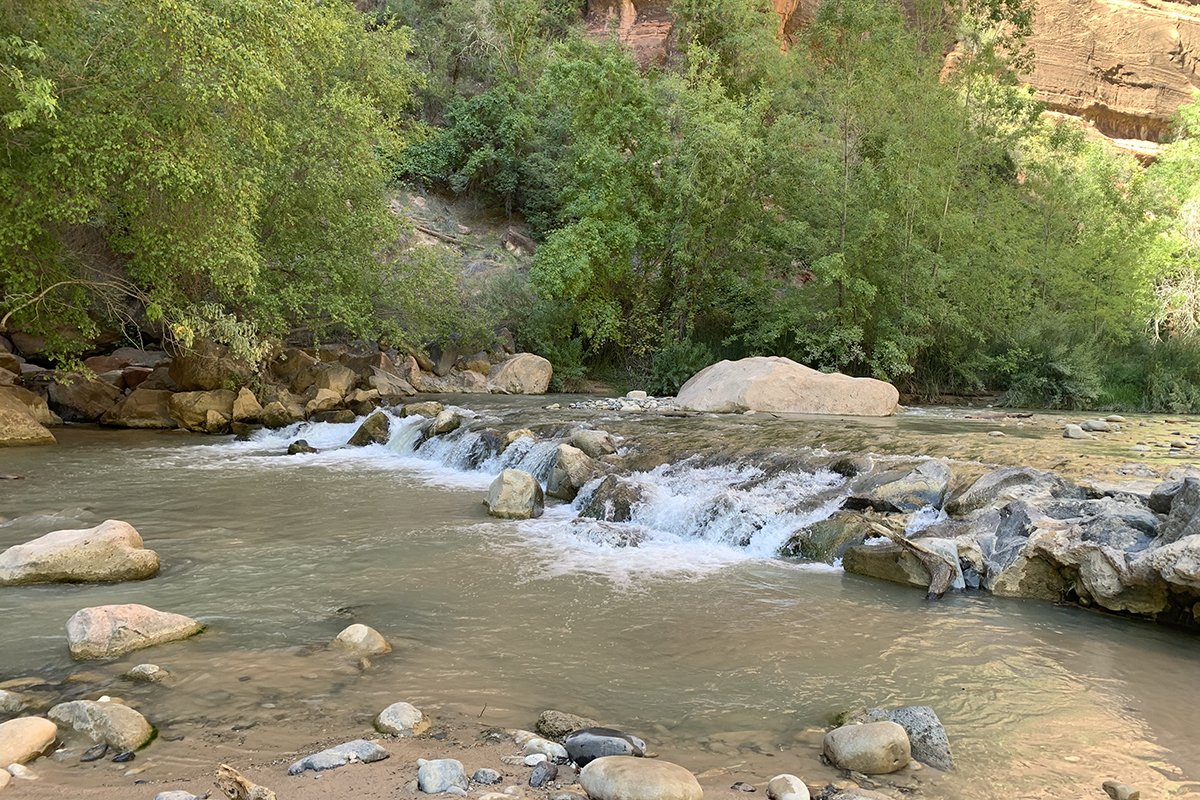 According to the National Park Service, Zion National Park is among a handful of national parks exceeding 5 million annual visits. Since 2010, crowds have increased by about 90%.
I knew enough about Zion to expect crowds, but I thought late September would be less crowded since school had already started. I thought wrong. I pulled my son out of school for the week, as did many other families.
For most of the year, Zion National Park uses a shuttle system to limit traffic within the main part of the park, Zion Canyon Scenic Drive.
Unless you're driving through Zion-Mt. Carmel Highway, the Zion-Mt. Carmel Tunnel, Kolob Terrace Road, or Kolob Canyons Scenic Drive, you'll need to park somewhere. The only parking lots inside the park are located at the Zion Canyon Visitor Center and Zion Nature Center, both with limited spaces.
Most visitors park in the gateway town of Springdale, Utah. From there, you'll hop on a free shuttle to the park (or walk, if you park close enough to the entrance), pay your entrance fees, and then hop on another shuttle to one of Zion's main attractions.
Springdale's parking system has three zones: A, B, and C.
• Zone A is closest to the park, with the highest daily parking rate of $20.
• Zone C is also close but off the main boulevard. If you need oversized parking for an RV or vehicle with a trailer, this is where you'll park. Rates for regular vehicles are $12 per day. For oversized vehicles, you'll pay $24 per day.
• Zone B is further from the entrance but offers the most metered street parking ($15 per day). It also has one parking lot.
Springdale's parking rates are 50% off from December 1st through March 1st.
I like certainty, so I scoped out parking in advance, hoping to snag a reservation. Unfortunately, I couldn't find any reserved parking lots. Bit and Spur's lot ($15 per day) at the end of Zone B caught my eye. At 1.5 miles from the park entrance, we could walk if necessary.
I entered Bit and Spur's address into GPS and arrived around 10 a.m. It's a small lot, but we found a spot and walked across the street to the shuttle stop at the Hampton Inn.
My biggest regret was not factoring in how much time everything took. It took an hour and a half to get to Springdale from Mesquite and about 30 minutes to get to the park entrance. Using the restroom and getting tickets takes another 20 minutes or so.
We planned to hike in the Temple of Sinawava area at the end of Zion Canyon Scenic Drive (Stop 9). That's a 45-minute shuttle ride from the park entrance.
Hungry and cranky, we got off at Stop 5, Zion Lodge, for a picnic at the Grotto Trail picnic area. It was scenic enough, despite its proximity to the shuttle stop. Plus, we had the area mostly to ourselves—the only few moments of the day without other tourists nearby.
We finally made it to Temple of Sinawava's Riverside Walk. It's a flat, 2.2-mile roundtrip trail that follows the Virgin River through a red sandstone canyon. This trail ends where the Narrows trail begins. I craved a more rigorous hike, but my husband and teenage son enjoyed Riverside Walk's leisurely pace.
Unfortunately, that was it for our day in Zion. We faced another 45-minute shuttle ride to the park entrance, a long wait for the Springdale shuttle, and a 90-minute drive back to our condo.
What to Expect at Snow Canyon State Park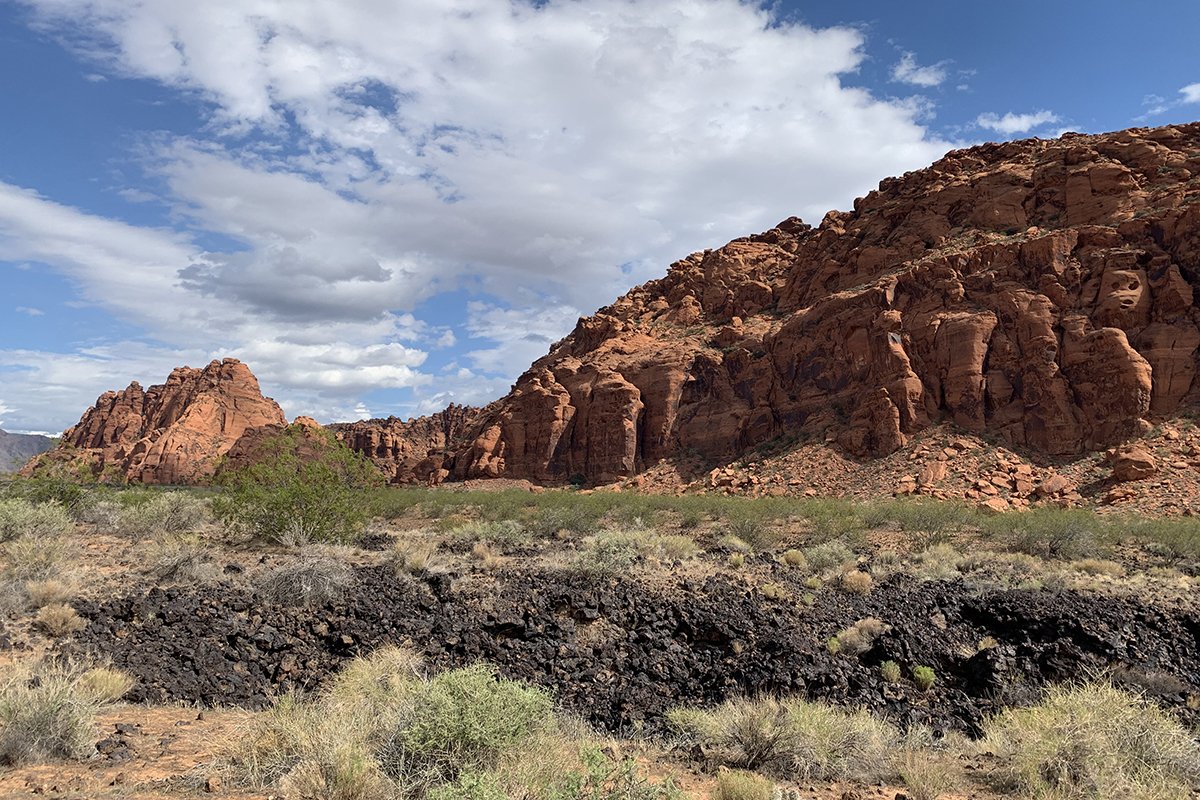 Located just outside St. George, Snow Canyon State Park has more than 38 miles of hiking trails, a paved 3-mile bike trail, and 15+ miles of equestrian trails. It has something for everyone.
Everyone, that is, except for my dad. Fortunately, The Ledges Golf Course is on the other side of Highway 18, so it was the perfect day trip for my family. He had an early tee time, so we dropped him off at the golf course, and my husband, teenage son, mother, and I spent the morning exploring Snow Canyon.
We entered through the north entrance, paid the non-resident day-use fee ($15/vehicle), and barely saw another soul.
First, we tackled the Petrified Dunes Trail. I'm a longtime desert rat who's scrambled up many sand dunes, but this was a first. Parking was a breeze, as was climbing the dune—even for my 85-year-old mom. The payoff can't be beaten when you reach the top: a 360-degree view of the canyon, colors ablaze.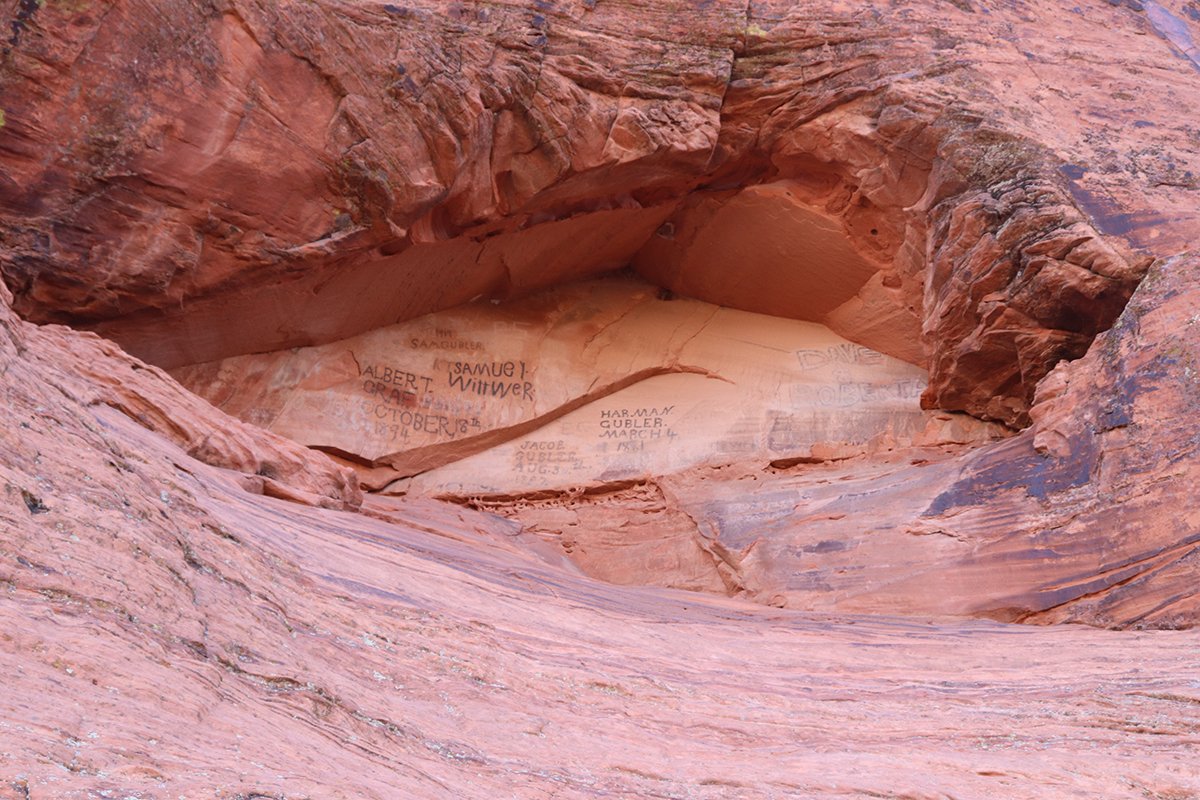 We also hiked Johnson's Canyon, Jenny's Canyon Trail, Pioneer Names Trail, and Hidden Pinyon Trail. My mom opted out of hiking Hidden Pinyon Trail, and let's just say that was the right call for her.
Snow Canyon has plenty of scenic picnic areas scattered throughout its 7,400 acres. Any of them would have been lovely for a picnic lunch, but we had my dad to consider. As we neared the end of our last hike, my mom's phone rang. He had just finished nine holes of golf. Mission accomplished and perfect timing.
After a draining, transportation-heavy day at Zion National Park, Snow Canyon State Park was a welcome respite. We stretched our legs and enjoyed Utah's hidden jewel in relative solitude. We covered much more ground than we did in Zion, experiencing everything from petrified sand dunes and lava flows to slot canyons and open spaces.
There's a reason tourists swarm to Zion—it's stunning. However, Snow Canyon will serve you well if you want to find some solitude after Zion.