Washington's Silver Cove RV Resort is an Off-Season Dream Destination

The Pacific Northwest is beautiful any time of year. But when summer crowds fizzle, the beauty at Silver Cove RV Resort is just getting started. Located near Portland and Seattle in the quaint town of Silverlake, it sits at the base of Mount St. Helens and RVers are always impressed with what they find when they arrive.
"A bit pricey but we felt like we had the place to ourselves and there was tons of nature," says RV LIFE Campgrounds member Justin M. As we report below, his experience of this urban getaway are spot on. Let's take a look.
Silverlake is about six miles east of Castle Rock in southwestern Washington. Stay for a day or a week, and you are close enough to Portland (50 miles) and Seattle (110 miles) to make either city a day trip. When you've had enough, return to your quiet RV retreat to enjoy the resort's tranquility and surrounding natural areas.
This campground is a destination in itself. We enjoyed watching the Canada goose and their goslings. There is a lot of goose poop but easy to avoid. The lake and waterways look perfect for fishing. The great blue herons and osprey would agree.

@djferg85, RV LIFE Campgrounds
RV Sites
Silver Cove is designed for nature buffs who travel by RV. All sites are handicap-accessible, pet-friendly, and include electric, water, and sewer hook-ups. Your cable connection and WiFi signal are also included. Choose from five different types of RV sites, from back-ins for small campers up to 25 feet, to premium campsites that can accommodate RV combinations up to 50 feet long. All have fire pits and picnic tables to enjoy the natural beauty.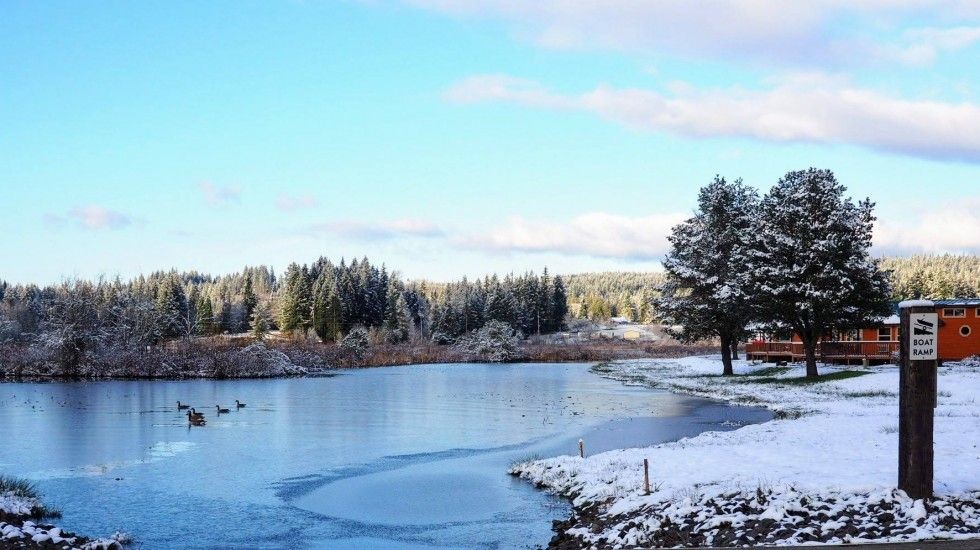 Amenities
On-site guest amenities at this lakeside resort include a well-stocked general store with firewood (and delivery, too), boat launch as well as kayak and boat rentals.
Need clean bathrooms? They have those too! Guests enjoy heated, sparkling-clean restrooms and showers in addition to a laundry facility. Spend a leisurely day on the water fishing and then enjoy a game of horseshoes when you're back on dry land.
A Great Resort for Friends and Family Gatherings
Want to gather with friends or family who haven't made the leap into RV living yet? Meet them here. The resort has a number of cottages and cabins. These quarters can accommodate between 2 and 6 people, and feature residential-sized kitchen appliances, entertainment areas, outdoor grills, decks, and a prime location for enjoying the property. There is also a group lodge and pavilion you can book for your reunion.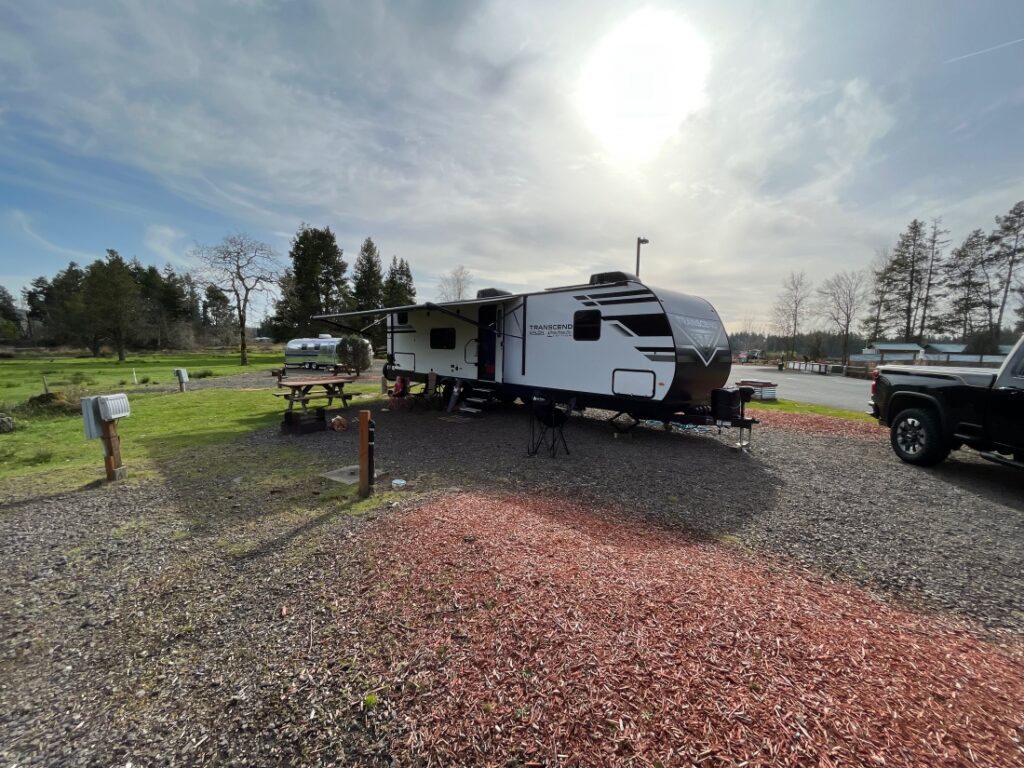 As other reviewers have mentioned, the overnight price is a bit steep. However, this meant we were able to stay there for 3 weeks kind of last minute (which isn't easy to do normally). And it also meant that especially during the weekdays that the park was sparsely populated — which was amazing.Our site was right on the water at 104, and it was enormous. For a while, we were the only campers on our street. So that alone made it worth the hefty price for us.We saw SO MUCH wildlife too. Osprey, lots of deer (who came close), many bunnies. It was fantastic.The employees were very friendly and accommodating as well.

@Justin M., RV LIFE Campgrounds
Things to Do Near Silver Lake, Washington
This destination is an angler's dream. Silver Lake is known as one of the state's best spots to catch Largemouth Bass. Black Crappie, Bluegill, White Crappie and Yellow Perch are also frequently caught in the almost 105-acre lake.
Of course, you should get venture out and explore the surrounding area. Silver Lake has plenty of activities to enjoy any time of year, especially Mount St. Helens.
Be sure to visit Seaquest State Park, where you can go canoeing, rock climbing, fishing, swimming, hiking and/or bird watching. A pedestrian tunnel connects the state park to the Silver Lake Mount St. Helens Visitors Center. You can attend an informative talk by a Ranger or watch a documentary about the famous volcano.
Get to know Mount St Helens from four different access points:
The West: Accessed from Interstate 5, you will see the heart of the blast zone and breathtaking crater views. There is a visitors' center, picnic area and plenty of hiking trails.
The East: In the summer and fall season, you can hike to enjoy spectacular views of the crater and Spirit Lake.
The South: This area has waterfalls, caves, lava flows and thick forested areas.
Mount Margaret Backcountry: The hiking trails are rugged and steep, but the payoff is stunning landscapes.
There is so much to do, you might need to extend your vacation to explore all the nearby activities. Regardless of which one you choose, you can't make a bad choice. The Pacific Northwest is known for its natural beauty, and the Silver Lake area is an ideal choice to get a taste of it. 
Find More Pacific Northwest RV parks
There are plenty of other areas of Washington and Oregon just waiting to be explored. The RV LIFE Campgrounds community can guide you to some of the best.
No matter where you decide to travel, or the roads you choose to get there, RV LIFE Campgrounds and RV LIFE Trip Wizard helps you plan the perfect Pacific Northwest itinerary. Built by trusted reviews from RVers like you, it's the best way to find RV-safe routes customized to your rig and travel preferences.
Explore More of the Pacific Northwest By RV
Top 6 Campgrounds in Washington, Oregon, and Idaho for Pacific Northwest Adventures
The 10 Best Places to Go Sea Kayaking on the West Coast
The post Washington's Silver Cove RV Resort is an Off-Season Dream Destination appeared first on RV LIFE.