Try These RV Cooking Ideas For Thanksgiving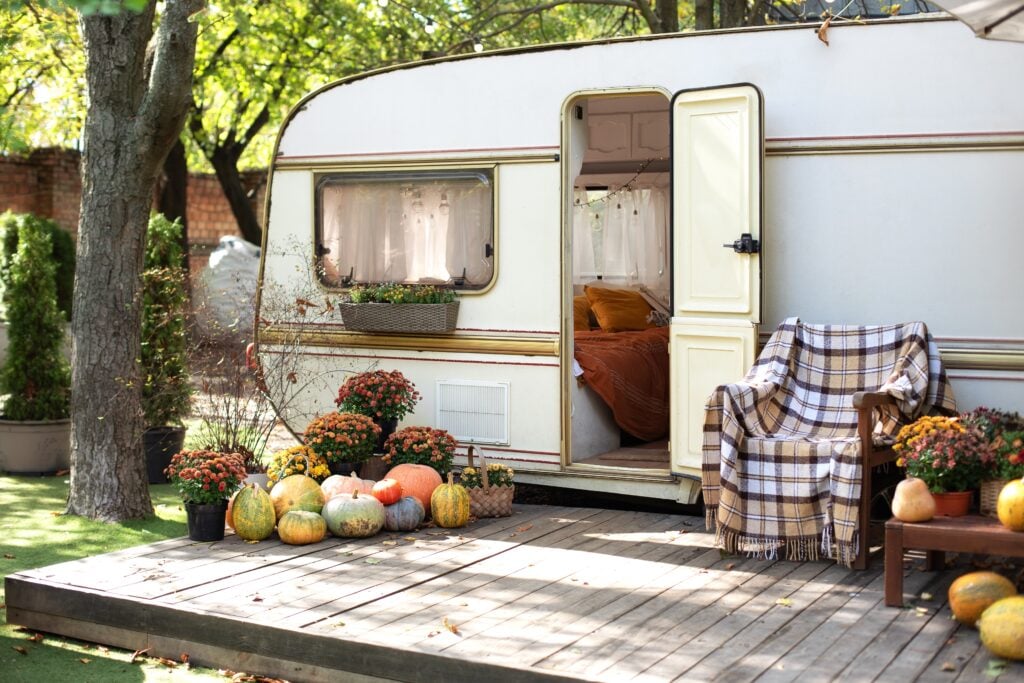 Thanksgiving In An RV: Cooking Tips & Recipe Ideas
Thanksgiving is a wonderful holiday for friends, family, and (of course) food! Everyone has a different favorite dish during this season, but sometimes it can be hard to prepare these classics when you're spending the holiday in an RV. Luckily, there are plenty of RV cooking ideas that anyone can try out this upcoming season.
RVs are notorious for having small kitchens and limited workspace. If you have a camper that will let you prepare an entire feast on the road, you're a rare and lucky person! But these limitations don't mean that your Thanksgiving has to be any less special. Check out our guide below for cooking tips and some delicious holiday recipes you can enjoy during your next RV holiday.
Cook at home, eat on the road
One of the best ways to enjoy a Thanksgiving meal away from home is to do some cooking prep before you leave. RV kitchens are often lacking when it comes to counter space and storage. It would be quite difficult to whip up a full feast on the road, especially if you try to do it all in one day!
If you space out the cooking over a week or two, things will be much easier, and you'll be able to relax and enjoy the season more fully. So consider making a few dishes and desserts before you head out on the road! Pies, mashed potatoes, casseroles, and other desserts and sides are perfect to make and store in a refrigerator or freezer.
For those of you who live in an RV year-round, this tip might not be applicable, but for those with home kitchens, this can be a great way to prepare your favorite foods without worrying. No matter what your situation is, it is always a good idea to make some dishes before the holiday arrives!
Utilize campsite facilities
Sometimes the best RV cooking ideas are the ones that take you outside the vehicle itself. Many RVs are outfitted with outdoor kitchens and cooking amenities, so if it's warm enough, you can expand your operation outdoors.
Dutch oven cooking
Dutch ovens are a camping staple, and you can use them to make delicious Thanksgiving meals as well. These simple devices are perfect for making delicious cobblers, crisps, monkey bread, and other fantastic desserts. You could also make a delicious casserole with the help of one of these ovens.
Tin foil cooking
Many people might view tin foil dinners as cheap, but you can use them to enhance your holiday meals. These are a quick and simple way to make desserts and cooked sides. Just place them in a fire pit, let them sit, and prepare to enjoy a tasty result. Baked apples and loaded waffle cones are delicious campfire treats to consider.
Expand your prep and dining space
Going along with using your surroundings, this also comes in handy when you need to expand your workspace and dining setup. RVs aren't known for their spacious dining rooms (although some can accommodate larger groups). If you want to host a large gathering or serve a lot of food, you'll be hard-pressed to find enough room inside your RV. The best RV cooking ideas won't be very helpful unless you have the space to carry them out.
You can take measures to expand your workspace by adding folding tables and using dinettes for extra counter space. But if you need even more room, try to find a good campsite that has picnic tables, a pavilion, or even a community center! If nothing else, you can always spread out some blankets and enjoy your Thanksgiving dinner picnic-style.
Use kitchen appliance substitutes
Many Thanksgiving staples rely on the idea that chefs will have access to a full kitchen, complete with a large oven and multiple stovetop burners. This isn't usually the case when you're cooking on the road, but there are plenty of RV cooking ideas that enable passengers to use substitute devices for a similar effect.
Crockpot / Instant Pot
One of the most popular kitchen aids is the Crock-Pot or Instant Pot. These versatile units enable you to prep food in advance and let the flavors really sink in. If your oven or stove is too small to get the job done, make a few dishes in the Crock-Pot!
Air Fryer
Air fryers are rapidly gaining popularity due to their compact size and versatile uses. They are almost like miniature ovens, and you can use them to make a variety of Thanksgiving favorites.
Meal ideas for Thanksgiving
Now you know a few methods to take your Thanksgiving feast on the road, but now let's talk about some delicious meal ideas to consider. These are all suitable for RV cooking and will enable you to have a wonderful holiday with less stress. These RV cooking ideas are low effort and can be made under almost any circumstances.
Smaller turkey
One of the biggest parts of any Thanksgiving dinner is the turkey! Many people like to buy massive birds that can serve huge groups and provide leftovers for days. However, most RV ovens aren't big enough to fit a whole bird. To solve this problem, you can buy cuts of turkey instead of a whole one. These are easy to cook in an oven, Crock-Pot, or BBQ. You can also buy a smaller bird and cook it whole, but just make sure you measure it before you bring it home!
Crock-Pot sides
As mentioned earlier, Crock-Pots are practical appliances for your Thanksgiving meal. They are ideal for preparing liquid dishes such as soup, chili, or cider. Additionally, you can employ them for other side dishes too! Here are some delicious side ideas:
Roasted or mashed potatoes
Stuffing
Ham
Green bean casserole
Sweet potatoes
Creamed corn
Cranberry sauce
Baked apples
It's easy to customize traditional recipes and make them in a Crock-Pot. Plus, it's low effort, and you won't have to constantly check on them. Just throw in the ingredients and spices, set the temperature, and move on to the next task!
Miniaturized classics
Finally, you can take some holiday favorites and shrink them down for easy snacking and storage. We already mentioned using a smaller version of turkey, but this tactic can apply to lots of other dishes as well. For instance, instead of making an entire pie (which can be hard if you're lacking workspace), you can instead make a series of miniature pies in cupcake molds! Fill them with your preferred filling, top with whipped cream, and enjoy a small and tasty snack.
This method applies to lots of baked goods and can save you space in the kitchen and refrigerator. Consider making individual portions of cornbread, casserole bites, etc.
Hopefully, these RV cooking ideas were helpful as you begin to plan your upcoming feast. As long as your Thanksgiving plan makes you happy, it's perfect.
---
Get tips from other RVers
One of the best parts about RVing is engaging with the community of traveling enthusiasts. iRV2 forums allow folks to chat with other RVers online, and get other perspectives on everything RVing, including products, destinations, RV mods, and more.
Related articles:
The post Try These RV Cooking Ideas For Thanksgiving appeared first on RV LIFE.