Towing and RV Essentials

NEW PRODUCTS
Towing and RV Essentials
A selection of items suggested by our friends at NTP-Stag
The following products are available at your local RV dealership.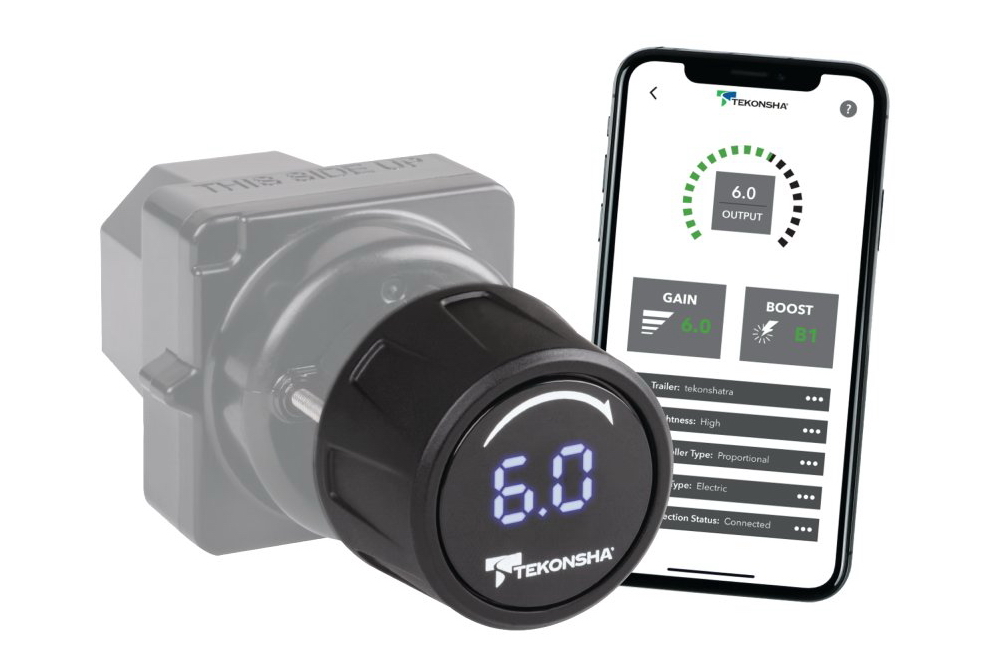 Tekonsha Prodigy iD Brake Controller
The Tekonsha Prodigy iD trailer brake controller for trailers with 1 to 4 axles gives you dynamic braking power when you need it most. As a true proportional braking system, the iD provides a smooth braking response in any stopping situation. With a sleek, OEM style design, this advanced electric brake controller has a soft-touch rotary-style knob that controls settings and trailer braking activity while the highly visible forward-facing push button colour LED display provides easy-to-read real time diagnostics and alerts.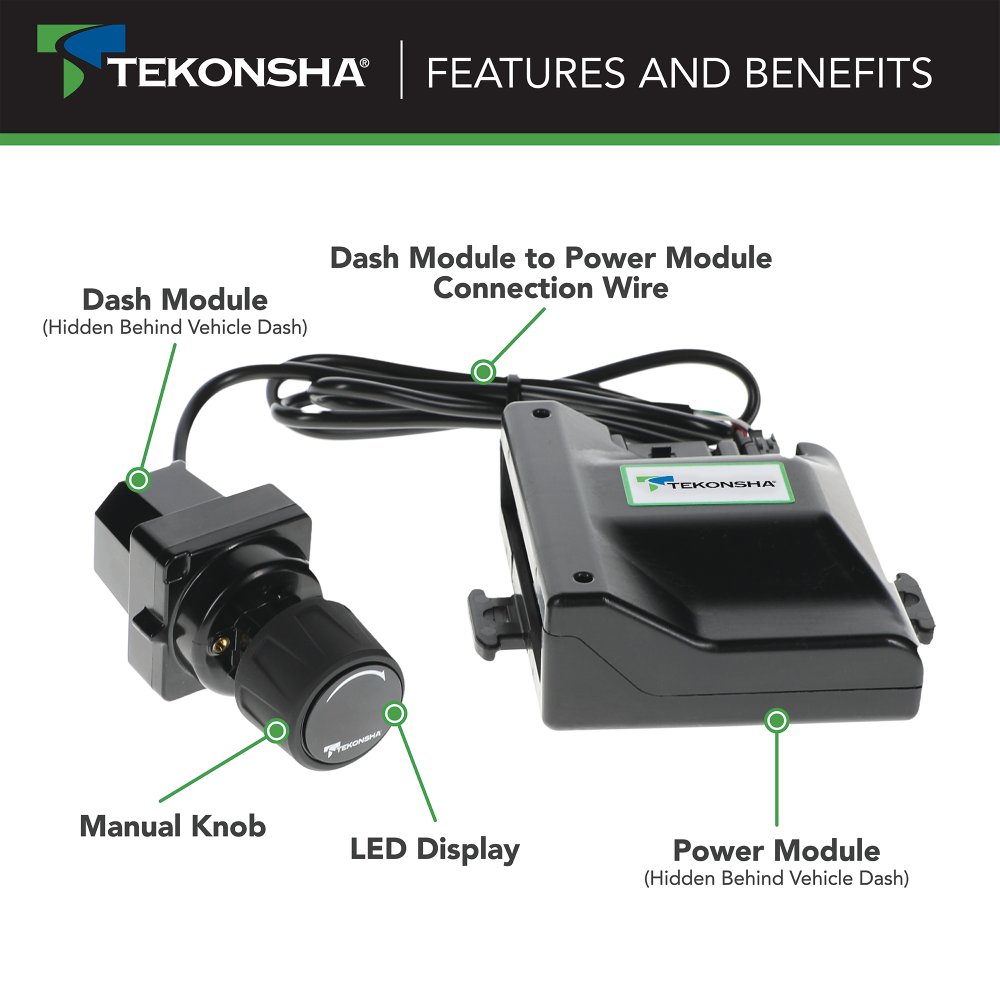 The Prodigy iD allows you to easily set power output and boost, choose and switch between proportional and timed braking, electric or electric over hydraulic braking, and more. Fingertip control of the rotary-style knob makes engaging manual override quick and easy. The seamlessly integrated in-dash appearance keeps your dashboard clean while the power module is secured safely behind the dash, out of sight and safe from outside elements.
The Prodigy iD trailer brake controller features the latest innovations, utilizing Bluetooth wireless technology to connect to any mobile device, putting complete control in the palm of your hand! Simply download the Tekonsha EDGE mobile app onto your smartphone or tablet through the app store or Google Play. Wirelessly connect your installed Prodigy iD to the EDGE app and you're ready to tow. The Tekonsha EDGE app allows you to create and store multiple trailer settings and driver preferences and make adjustments to any and all settings as needed. The app also offers built-in support from Tekonsha's knowledgeable technical support team, along with a log of notifications and alerts so you can easily reference them as needed. The Prodigy iD works with 2, 4, 6, and 8 brake (1-4 axles) trailer brake applications, comes with all necessary mounting hardware, and is backed by a limited lifetime warranty.
The Prodigy iD electric brake controller compatible with a wide range of vehicles including Ford, GM, Chevy, Dodge, RAM, Toyota, Jeep, and more with 2, 4, 6, and 8 brakes (1-4 axles) Vehicle-specific Tekonsha Plug & Play brake controller wiring harness sold separately.
For more information, please see your RV dealer, or visit https://www.tekonsha.com/product/90920_trailer-brake-control-proportional
---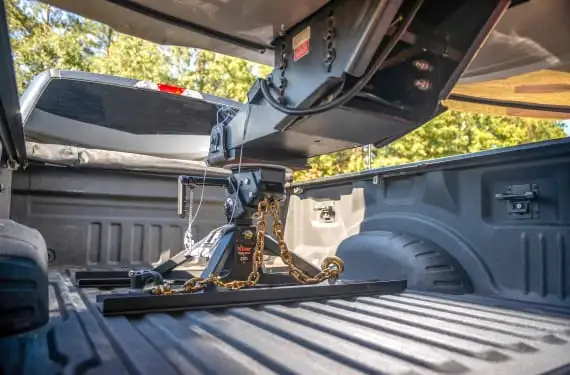 Curt Fifth Wheel Hitches
CURT offers a range of 5th wheel hitches designed to provide reliable and secure connections between your truck and trailer. The models are divided into three distinct series: the CURT articulating A-series

with an easy-to-operate handle, the quiet Q-series

for a smooth ride and the economic E-series

for a budget-friendly option.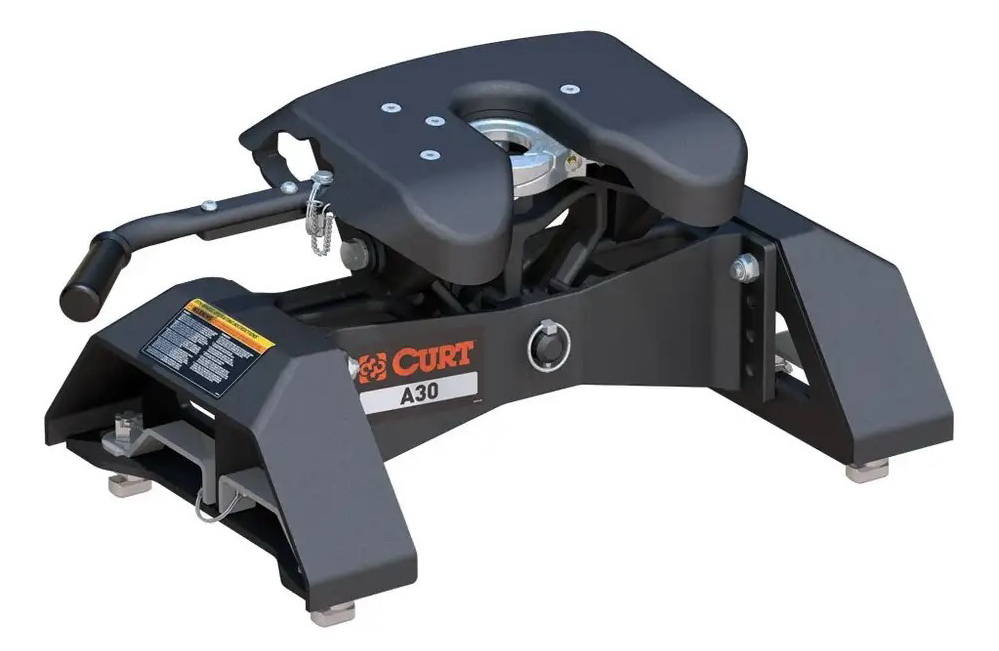 The CURT A-Series 5th wheel hitch is engineered for maximum strength and stability. It features a dual-jaw design that completely wraps around the kingpin, providing secure coupling and preventing rattling and chucking. Its head can be easily removed for full truck bed access and it can be adjusted to fit different trailer heights.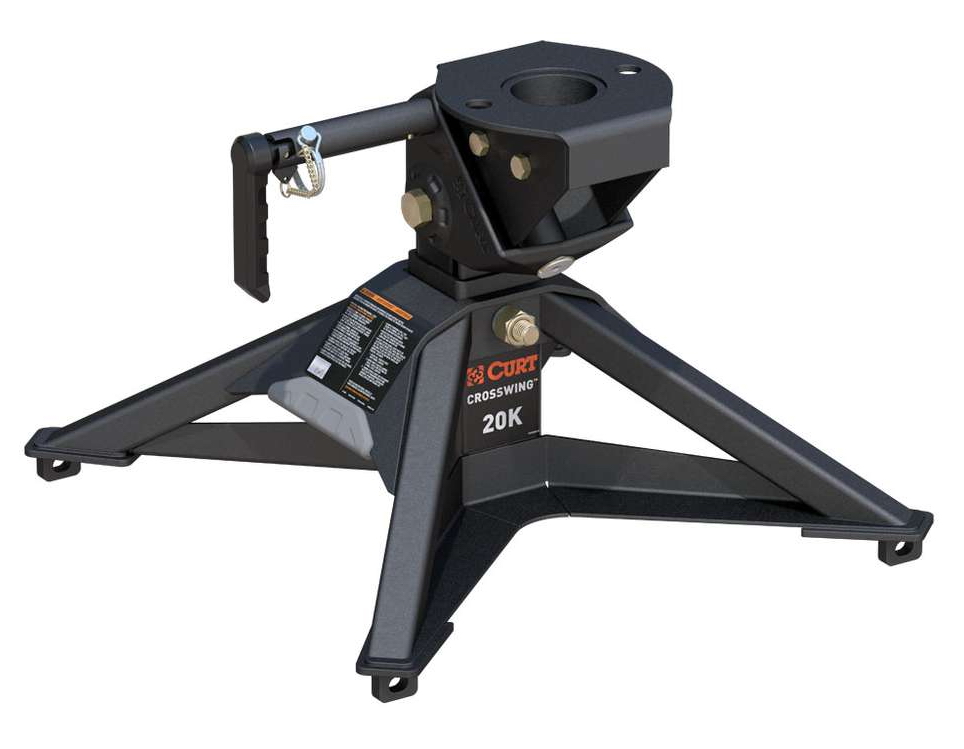 The CrossWing 5th wheel hitch is designed with a unique 4-way pivot system that allows for maximum movement and flexibility. It is built to reduce stress on the trailer and truck by absorbing shock and preventing jerking and jarring. The CrossWing hitch is also easy to install and remove thanks to its 3-piece design.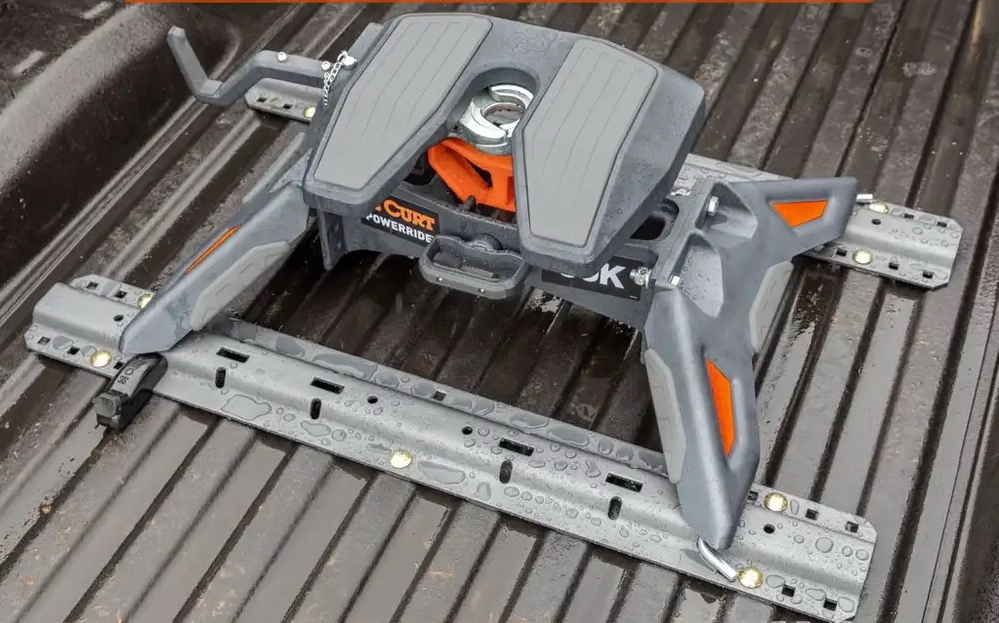 The PowerRide 5th wheel hitch is engineered for smooth and comfortable towing. It features a pivoting head that reduces stress on the trailer and truck, as well as a self-resetting handle for easy and secure coupling. Its adjustable height and 360-degree movement ensure maximum versatility and adaptability.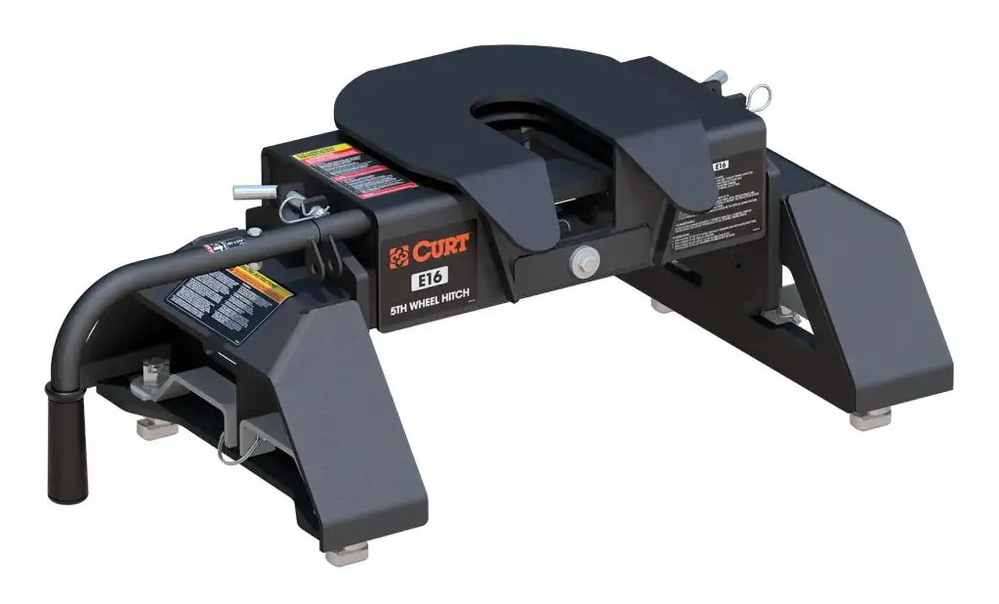 The E-Series 5th wheel hitch is built for durability and longevity. It features a cast steel construction that can handle heavy loads and rugged terrain. It also has an easy-to-use handle and head that allow for quick and easy coupling and uncoupling. 
The CURT A-Series, CrossWing, PowerRide and E-Series 5th wheel hitches are designed with features that suit different towing needs and preferences. From strength and stability to flexibility and comfort, there is a CURT 5th wheel hitch that can provide the reliable and secure connection you need for safe and enjoyable towing. 
For more information, please see your RV dealer, or visit https://www.curtmfg.com/5th-wheel/hitches
---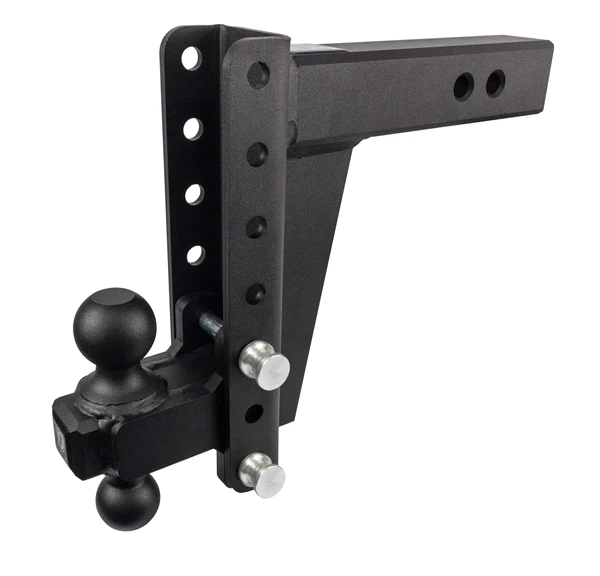 Ball Mounts from BulletProof Hitch
BulletProof Hitch

offers adjustable trailer hitches for every vehicle and a full line of towing accessories for all your towing needs.
New trucks are capable of towing 30,000+ pounds. This consistent increase in towing capability pushed the need for us to create a trailer hitch that could match and/or exceed the tow rating of new trucks in addition to providing the versatility necessary to tow multiple trailers at different ride heights. The Bulletproof Hitches solution to this ongoing issue was to create the ultimate trailer hitch to surpass anything the industry had seen before.
Ten requirements were put in place to create the "perfect hitch" –
Gross trailer weight rating of 36,000 pounds trailer weight and 6,000 pounds tongue weight.
Height adjustment in less than 20 seconds.
Ball size adjustment is less than 20 seconds.
The ability to utilize a wide variety of attachments allowing you to tow any trailer!

The highest achievable quality possible.
  Fully welded components that are free of any welding defects.
  Precision fit and finish for near-perfect receiver connection that is noise-free.
  It needed to look good. We wanted it to complement our vehicles, not be an eyesore.
  A no hassle lifetime construction warranty that is second to none, backed by an incredible support team to help with anything.
  A Solid Steel receiver shank that would fill the entire receiver.
BulletProof Hitch

designed a Heavy Duty Adjustable Trailer Hitch to exceed all of these requirements for years to come.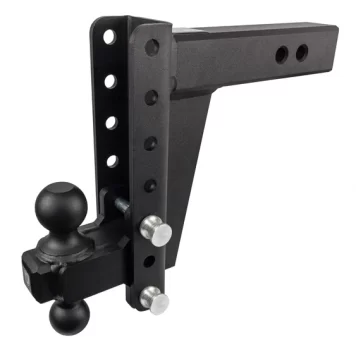 The BulletProof Hitch

allows any vehicle to tow any trailer at the correct level, increasing your stability and safety while maintaining even tire wear. The BulletProof Hitch

features high-quality steel construction. Adjustable channel holes are laser cut for extreme precision, ensuring that when you go to change your ball height, the pin does not get stuck. Behind that channel is a half-inch steel plate gusset to reinforce the hitch itself, similar to the plate used to armor military vehicles. The combination of these unique features allows our hitch to have a superior weight rating of up to 36,000lbs. The edges of the solid steel bar are CNC-chamfered for both looks and functionality, making it easy to install and remove the hitch from any receiver. The BulletProof Hitch

features a high-quality marine-grade powder-coat process that can take years of abuse.
BulletProof Hitch

 5/8″ Corrosion Resistant Pins are machined from high tensile steel, heat-treated for extreme external hardness, coated with high-quality zinc, and finally an electroless nickel undercoat for superior corrosion protection. With a large easy to grip handle, they are easy to remove even when wearing gloves.
The BulletProof Dual Ball is a combination of a 2″ ball rated to 12,000 lbs and a 2-5/16″ ball rated up-to 36,000 lbs., Allowing you to fully utilize the load capacity of your truck and trailer. The BulletProof Hitch

is also available with a wide range of attachments such as a pintle attachment, recovery shackles, clevis, and loops.
After they caught someone trying to steal their new product, BulletProof Hitches designed the ultimate Locking Pin to compliment the BulletProof Hitch

. With a complete stainless steel design and heavy-duty rubber cap, it is the strongest and best quality lock on the market.
Please see your local RV dealer or visit the Bulletproof Hitches Accessories Page for more information.
Watch the video here: https://www.bulletproofhitches.com/cdn/shop/t/14/assets/WebsiteBanner-updated.mp4?v=54296604065895327801593786724
---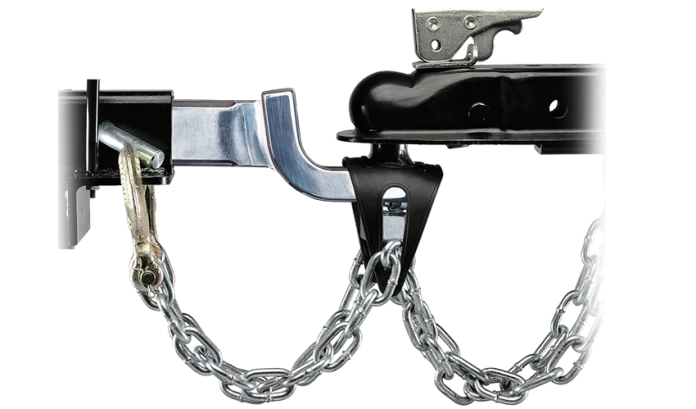 Fastway Trailer Products – Chain-Up
The Fastway CHAIN UP is the best way to eliminate the clanking, sparking or wear of dragging safety chains and ensures you'll never have to twist your chains again, keeping you and your trailer safer on the road.
Two different CHAIN UP models are available: one for use with a fixed ball mount or adjustable height ball mount, and the other for use with a multi-hitch ball mount, or weight distribution style hitch head.
For more information, please visit your RV dealer or surf to: https://www.fastwaytrailer.com/chain-up
---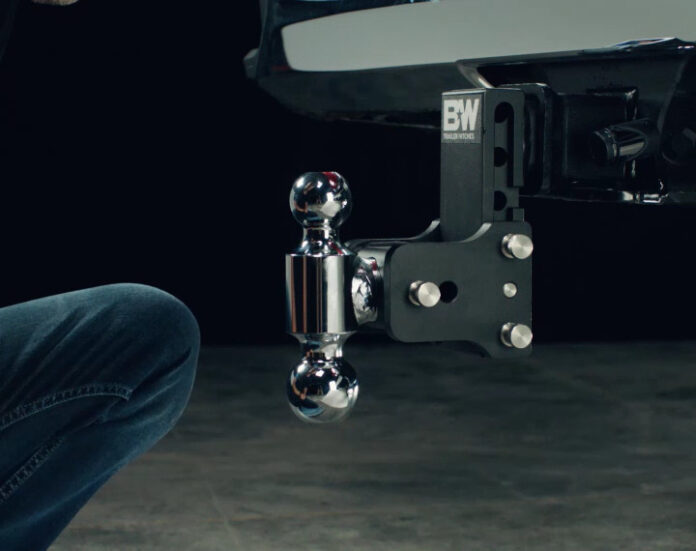 https://www.bwtrailerhitches.com/sites/default/files/video-files/tow%20stow%2017.mp4
B+W Tow & Stow
This ingenious ball mount is designed to stow behind the bumper of your truck when not in use.
https://www.bwtrailerhitches.com/sites/default/files/video-files/tow%20stow%2018.mp4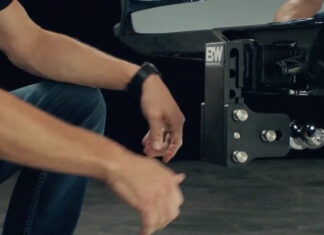 The American-made Tow & Stow adjustable ball mount offers multiple height options, and you can invert the Tow & Stow in the receiver for rise positions. The super durable, UV-resistant powder coat paint will keep your hitch looking good for a long time. The Stow & Stow has an anti-theft design – a slide pin keeps the swingarm and hitch balls secure even when the other pins are removed. You'll want to add a hitch lock to keep the shank completely secure.
Watch the product video here: https://www.bwtrailerhitches.com/sites/default/files/video-files/tow%20stow%2016.mp4
---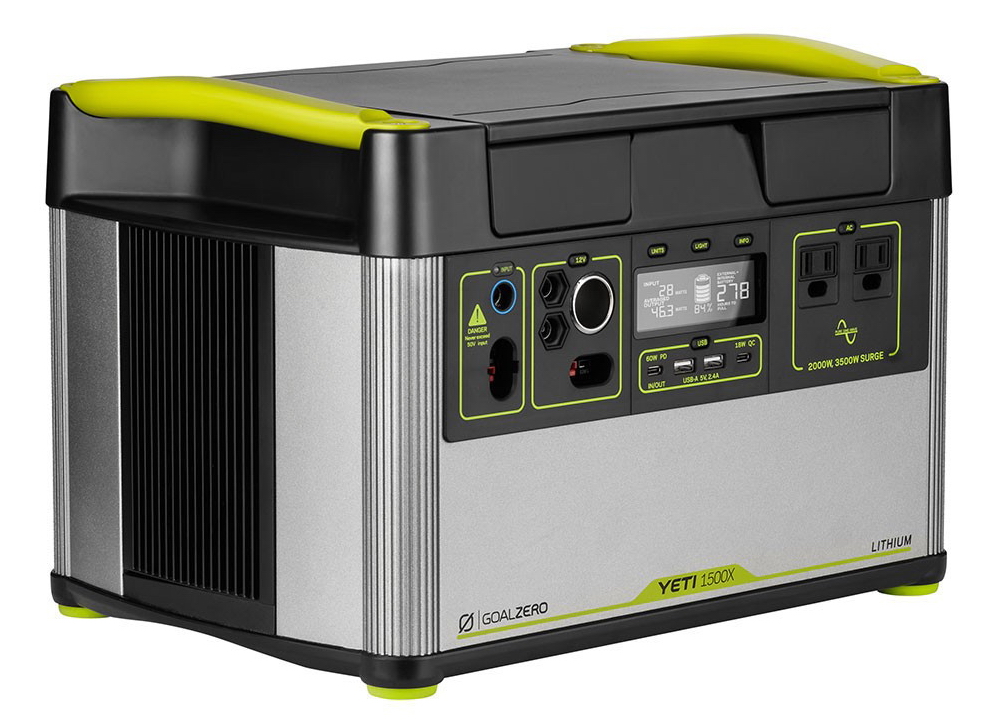 Goal Zero Mobile Power Solutions
Goal Zero helps you power your RV with an award-winning line of portable power stations. They give you the power you need, anytime you need it. Goal Zero mobile power stations are quiet, fumeless, and portable, so you can use them for anything and everything, including home backup in critical situations.
The Yeti1000 Lithium Portable Power Station shown here is just one of many models in the Goal Zero line. This unit offers Instant power at the push of a button. Silent and powerful 1045Wh, 96.8Ah (10.8V) lithium battery. You always know where you stand thanks to an informative display featuring a runtime/recharge time estimator, as well as a battery level monitor and an output/input meter.
What can you power with this portable energy solution?
The Yeti 1000 Lithium is great for all your larger sized power needs or multiple smaller devices. For example:
Smartphone: 50+ Recharges
POV Camera: 165+ Recharges
Headlamp: 165+ Recharges
Tablet: 37+ Recharges
Laptop: 17+ Recharges
Light-a-Life: 335+ Hours
Fridge: 17+ Hours
32 LCD TV: 10 hours
Recommended Solar Charging Panels
For light usage:  Boulder 50: Charges in 31-62 Hours
For standard usage:  Boulder 100 Briefcase: Charges in 15-30 Hours
For heavy usage:  Boulder 200 Briefcase: Charges in 8-16 Hours
Solar charge times vary and are dependent on many factors such as elevation, temperature, time of year, angle, and position to the sun.
Three ways to charge the Yeti 1000 Lithium…
Recharge from the sun by connecting a compatible solar panel. Charge time is dependent on the size of the solar panel. The Boulder 200 Briefcase will fully recharge the Yeti 1000 Lithium in about 10-20 hours.
Plug it into the wall. Fully recharges in 4 hours using the Yeti Fast Charge 25 Amp Power Supply or in 18 hours using included power supply.
The Goal Zero Yeti 1000 Lithium can be charged in 9 – 18 hours by plugging into your vehicle's 12V outlet using the Goal Zero Yeti Lithium 12V Car Charging Cable. NOTE: Do not attempt to charge your Yeti Lithium from a 12V source using any other cable. Doing so may cause damage to the unit.
What's in the box?
Yeti 1000 Lithium Power Station
Wall Charger
Tech Specs:
Cell Chemistry: Li-ion NMC
Peak Capacity: 1045Wh (10.8V, 96.8Ah)
Single Cell Equivalent Capacity: 290.44 Ah @ 3.6V
Lifecycles: 500 Cycles to 80% capacity (Discharge: 1C, Full charge/discharge, Temp 25C)
Shelf-life: Charge every 3-6 months
Management system: PWM charge controller, low battery protection
USB Port (output): 5V, up to 2.4A (12W max), regulated
6mm Port (output): 12V, up to 10A (120 W max)
12V car port (output): 12V, up to 10A (120W max)
12V High Power Port (output): 12V, up to 10A (120W max)
AC inverter (output, pure sine wave): 120VAC 60Hz, 12.5A (1500W, 3000W surge)
Charging port (input, 8mm): 14-22V, up to 10A (120W max)
High Power Charging port (input): 14-22V, up to 30A (360W max)
Expansion Module Port: Covered port under the lid. To be used with Goal Zero expansion modules only.
Weight: 40 lbs (18.1 kg)
Dimensions: 10.1 x 15.3 x 9.3 in (25.7 x 38.9 x 23.6 cm)
Operating Usage Temp: 32-104 F (0-40 C)
Warranty: 24 Months
For more information on this and other Goal Zero mobile power solutions, please visit your local RV dealer, or surf to: https://www.goalzero.com/pages/vehicle-integration
Source: https://www.rvlifemag.com/towing-essentials/?utm_source=rss&utm_medium=rss&utm_campaign=towing-essentials