Tonight's 'RVing in New England' Features Keystone RV

GOSHEN, Ind. — John DiPietro and Bob Zagami of the New England RV Dealers Association (NERVDA) will be bringing the RVing in New England to Keystone RV Company's Goshen, Ind., corporate headquarters at 7 p.m. EDT tonight. The duo will be doing the NERVDA Facebook live broadcast from the company's storied Innovation Lab where they'll be joined by President & CEO Jeff Runels and Cougar District Sales Manager Kevin Horoky.
The broadcast will cover updates from Keystone and Runels' perspective on the market. Viewers will get an inside look at Cougar's wild ride over the past year, bucking the downturn and continuing to deliver month over month growth. DiPietro and Zagami will be chatting with Marketing Director Christy Spencer to learn more about the company's Camp Better™ movement. CX Manager Kasey Findley and Retail Manager Sacha Reinas will be on-hand to discuss the success of the MyKeystone owner's app and the company's DIY program. R&D Engineer Levi Neuzerling will reveal the company's new extreme temperature testing capabilities. General Managers Colin Dechant & Jeff Wagner will talk travel trailer trends. Lastly, Montana Product Manager Nick Ebenroth will walk the team through the new Montana Front Office floorplan which has quickly become the darling of the internet.
This power-packed episode can be seen at 7 p.m., tonight on the New England RV Dealers Association Facebook page.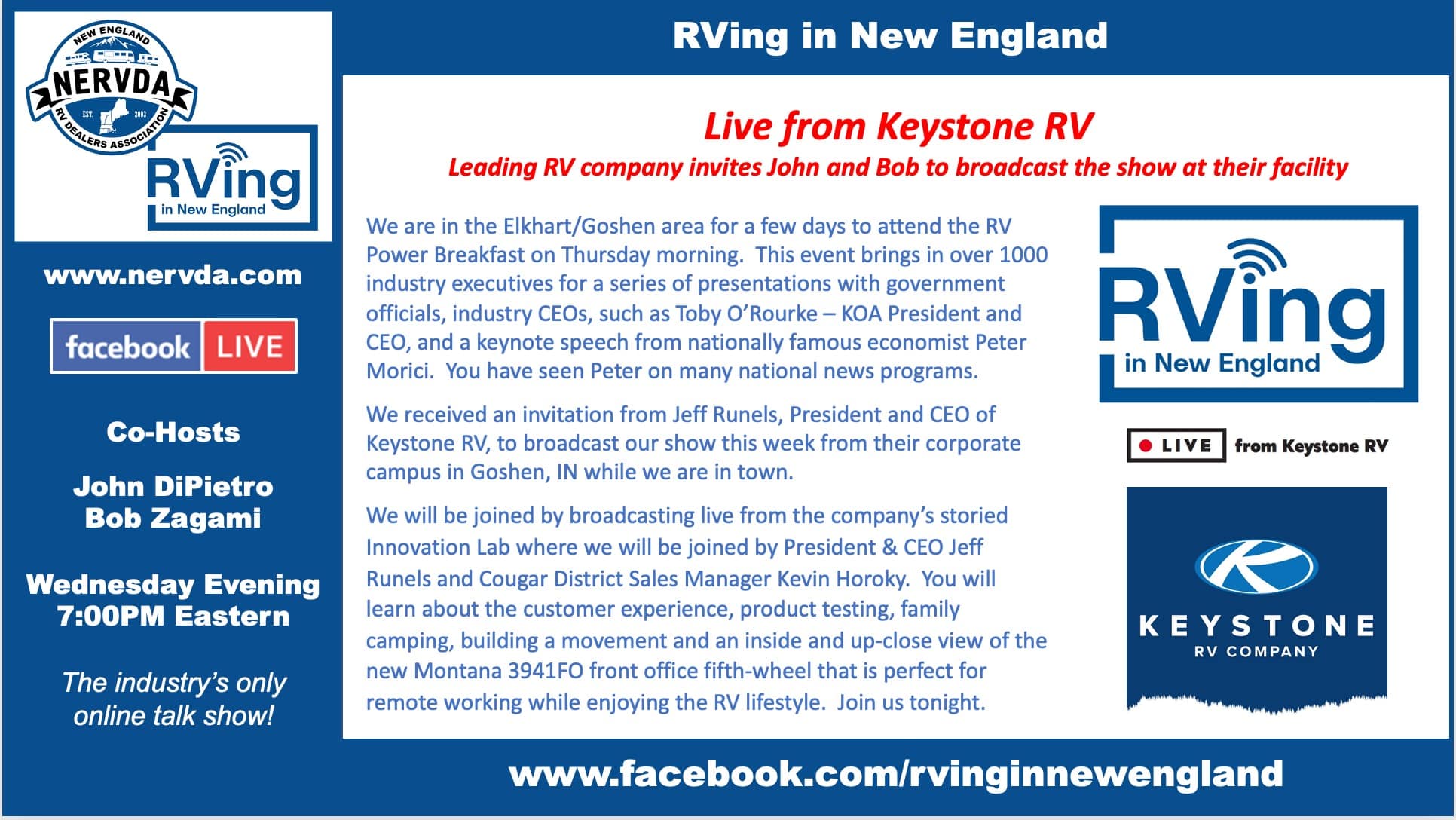 Source: https://rvbusiness.com/tonights-rving-in-new-england-features-keystone-rv/