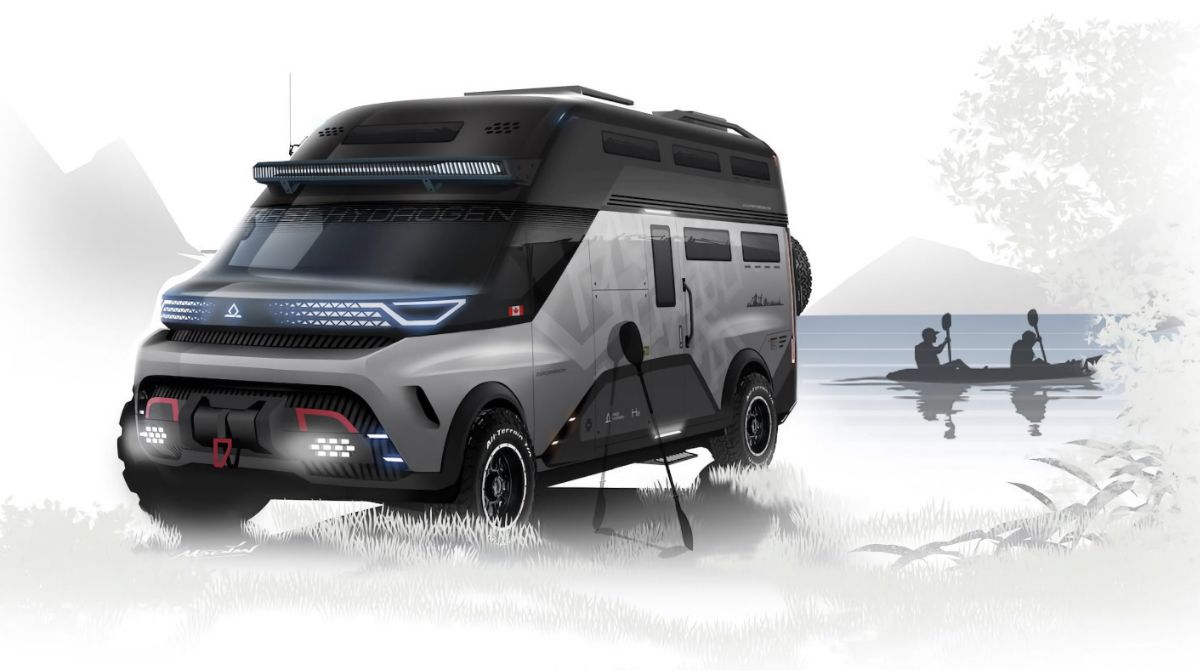 While some RV manufacturers explore the possibilities of an all-electric camper van or travel trailer, a Vancouver-based startup is proposing an alternative option. A company called First Hydrogen has shared its vision for a camper van that uses hydrogen fuel cells instead. And while this is just a very basic idea at the moment, it holds some promise for a zero-emissions future for recreational vehicles.
In a press release sharing a very early sneak peek at a concept camper van, First Hydrogen touts the benefits of using the alternative fuel over electricity. While both options produce no carbon emissions, a hydrogen-powered vehicle refuels much faster than an EV and would have a longer range. And since hydrogen is one of the most abundant elements in the universe, it is a clean, renewable resource with virtually unlimited supply.
The company says that hydrogen can also provide power to a vehicle in the same way that house batteries do currently. This would allow RV owners to run appliances like refrigerators, microwaves, TVs, laptops, and HVAC systems. Essentially, it is a fuel source for all of the components and gear that we take with us on a camping trip.
"The First Hydrogen camperv an is an example of how we see hydrogen fuel cell and other electric vehicle technologies having wider applications," says First Hydrogen CEO of Automotive Steve Gill. "Connecting with nature is incredibly important for recreational vehicle owners and this concept indicates how a hydrogen vehicle could help people preserve the environment while enjoying van life."
First Hydrogen and its partner, the EDAG Group, have launched a 12-18 month pilot program for a first-generation commercial hydrogen fuel-cell vehicle. If all goes well, the two companies hope that the test will prove the viability of their platform, allowing it to expand into other models, including a second-generation model and a camper van.
"The design for the camper shares similar design principles with the Generation II series; it is a clean, modern look that prioritizes function and acknowledges the van's green fuel technology," Bernat Costa, Design Director for EDAG Spain, says. "Ultimately, it incorporates features that are desirable for leisure vehicles, such as good vehicle lighting, which is especially useful for vehicle visibility when parked on the roadside or as a source of light when camped away from civilization."
Hydrogen fuel cells have held a lot of promise as a clean, alternative fuel source for years. But much like switching to electric, the technology faces significant hurdles, including building enough infrastructure to support refueling. While electric charging stations have become more common in recent years, hydrogen fuel depots remain extremely rare.
Still, if the technology can go mainstream, it is a potentially cleaner and more eco-friendly option than either gas or electric. It is just going to take some time and effort for that to happen.
For more information about First Hydrogen and its camper van concept, visit the company's website.
The post This Startup Thinks a Hydrogen-Powered RV is a Better Alternative to Electric appeared first on RV.com.
Source: https://www.rv.com/rv/trending-rvs/this-startup-thinks-a-hydrogen-powered-rv-is-a-better-alternative-to-electric/