The Most Powerful Air Rifles of 2023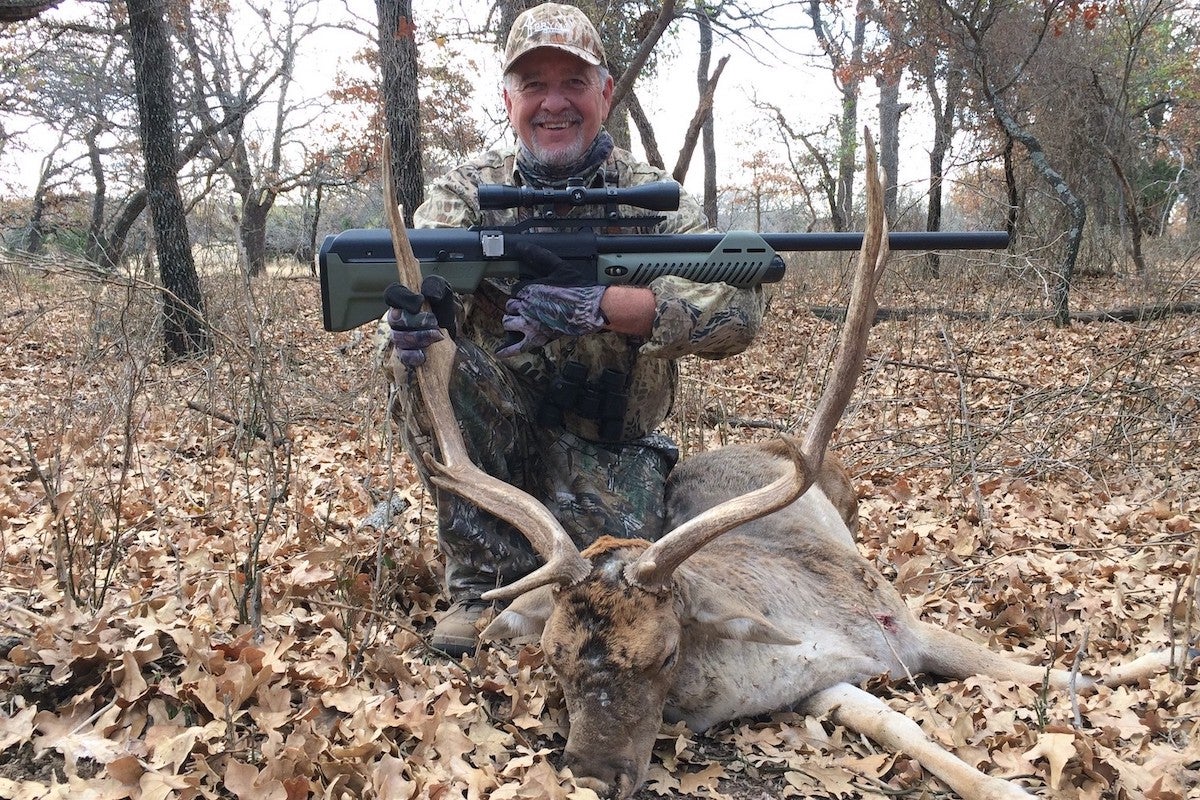 We may earn revenue from the products available on this page and participate in affiliate programs. Learn More ›
I started my big bore airgunning journey back in 2002 with a .308 semi-custom rifle built for me by the father of the modern big bore airgun, Dennis Quackenbush. Then, later that year, he built another rifle in .50 caliber for me to hunt hogs and exotics down in Texas. Over the years, Dennis produced another dozen rifles for me in a range of calibers—including the .457 caliber used on most of my airgun hunts in South Africa. At that time, if you wanted the most powerful airgun for hunting, Quakenbush was the only show in town. And even though this was a niche market, and arguably it still is, there was enough business to keep his order book filled with a long list of potential buyers just waiting to give him their money. The Quackenbush rifles were uncomplicated, solidly built, and extremely shootable hunting air rifles that were truly made for the field.
As the demand for guns grew, along with the waiting time for a Quackenbush rifle, other small-scale manufacturers came to market with rifles of varying quality. This situation persisted for a few years as the market continued to grow.
Then, a couple of important events occurred over a few short years. The American airgun manufacturing giant Crosman and later the smaller, more experienced PCP air rifle manufacturer AirForce Airguns, released true big-bore air rifles. Concurrent with this, other manufacturing companies started to gain traction, some small-scale startups such as Professional Big Bore Airguns (PBBA), and other large-scale manufacturers such as Hatsan Airguns, offered a large and evolving lineup of powerful big bore rifles.
The benchmark for the most powerful air rifles is power output, which makes sense, even though I firmly believe that accuracy trumps this and field handling is close on its heels. But all things considered, once you have achieved a level of accuracy and come up with a design that works for shooters, more power is usually better. So, with this in mind, I will present a few of the most powerful airguns available today. It's not possible to cover all the calibers and configurations, but I'll pluck out a few of my favorite hunting rifles.
Evaluating Air Rifle Power for Hunting
Every manufacturer wants to be known as having the most powerful air rifle in the world, and until recently, this was a fluid state between a couple of the companies. The "correct" answer of who made the most powerful rifle was a bit difficult to assess because shooters were modifying their guns to up the power. So, to provide context, I always look at peak power in an out-of-the-box configuration.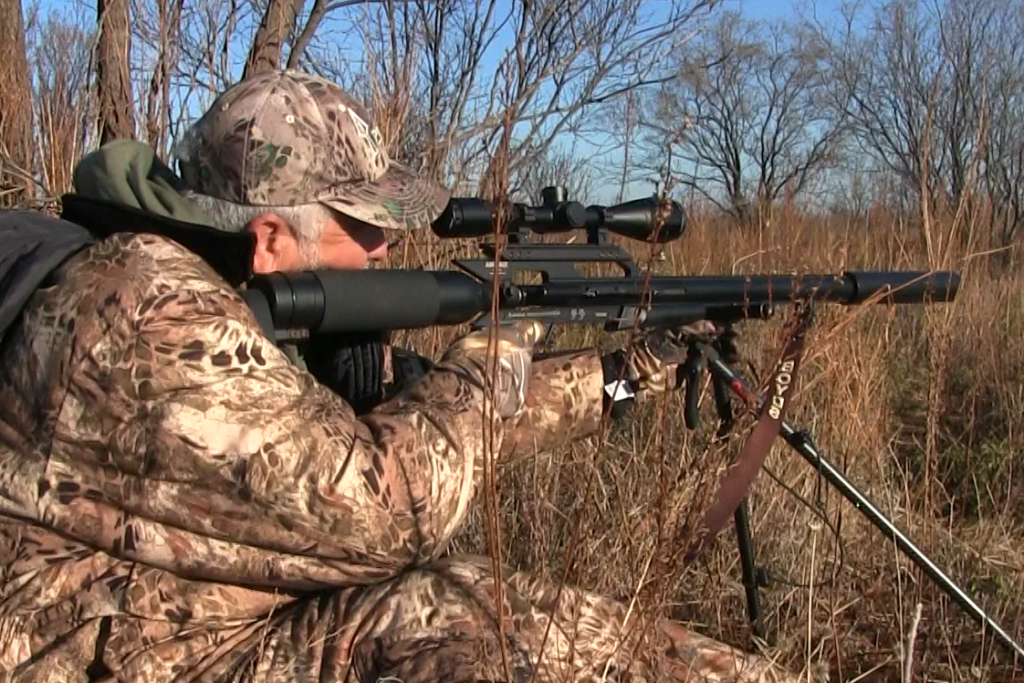 It is worth noting that in the world of airguns, ammunition (slugs, bullets) and calibers are decoupled from the power produced by the gun. As an example, two .457 rifles with 26-inch barrels of different designs using the same projectile, can deliver vastly different power outputs. I have two .50 caliber rifles from different manufacturers, one generates 220 ft-lbs and the other 700 ft-lbs using the same slug. The power output is a function of barrel length and the valve design and setup, the fill pressure, and the airflow through the transfer port. Of course, it is possible to get more power by going to a larger caliber, optimizing the valve, and driving it at higher pressures. Still, caliber alone is not the primary factor.
With that said, let's look at my list of the most powerful air rifles available today, which all have power in common, but they represent a mixed bag of features and styles.
Want to learn the basics of PCP airguns? Check out PCP Air Rifles 101 to learn more.
Most Powerful Air Rifles: Reviews and Recommendations
The Most Powerful Air Rifle: AEA Zeus
Key Features
Available in .58 and .72 caliber
Barrel Lengths: 16, 24, and 32 inches
Up to 1500 ft-lbs for .72 cal.
Weight: 12 pounds
Sidelever action
Hardwood sporter style stock
Threaded for DONNYFL moderator
Pros
Very powerful
Wide range of configurations (calibers and barrel lengths)
Compact in shorter barrel lengths
Purpose-designed moderator available
Cons
Heavy (very heavy in long barrel versions)
Loud (Unless suppressed)
For years the airgun companies have all claimed to manufacture the most powerful air rifle, and in fairness, this has been open to debate as they were close in performance. However, the AEA Zeus in .72 put that argument to rest, as it is clearly the most powerful. Do you need all that power? In most cases, probably not, but the intrinsic energy produced by this power plant allowed AEA to design short rifle and carbine versions of the .72 and add the .58 while maintaining a high-power output.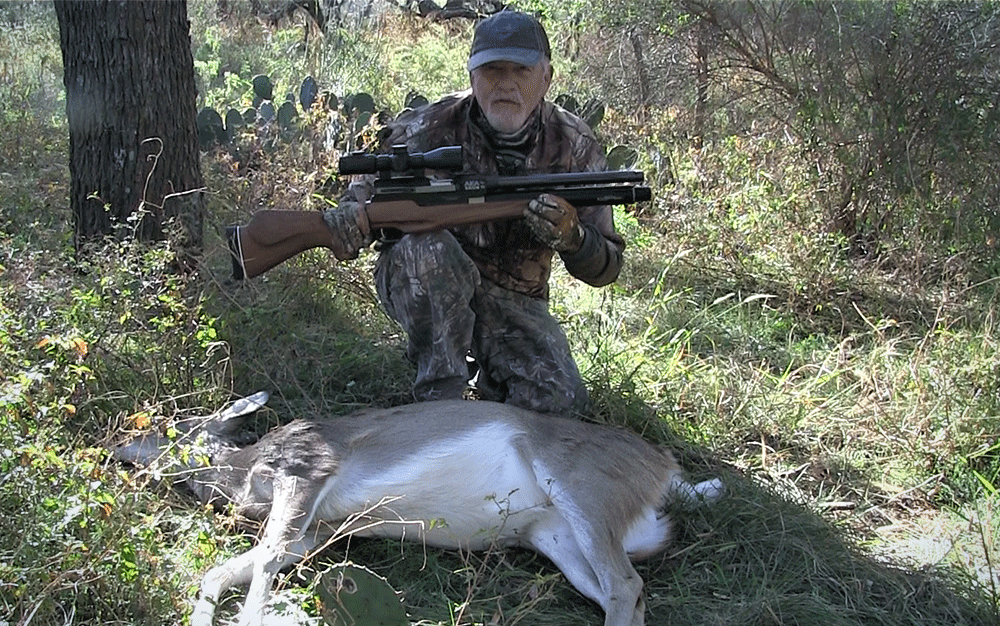 The AEA Zeus is a traditionally styled big-bore air rifle with a hardwood sporter-style stock. The wood and metal work on these rifles is solid to the point of being over engineered, not a bad thing in a gun generating power output up to 1500 ft-lbs. The added weight helps to dampen the recoil generated by a 500-grain slug traveling down the barrel at 1025 fps. I've used this gun to take a couple of massive Texan boar, and the terminal performance is outstanding. In my experience, the Zeus is a solid big game gun for the largest quarry.
Read our full AEA Zeus review to learn more.
Key Features
.50 caliber
Weight: 8.5 pounds
Delivers approximately 700 ft-lbs of energy
Up to 5 shots per fill
Incorporates a 2-shot shuttle magazine
Utilizes Umarex Lightspeed valve
Pros
Accurate
Shot-to-shot consistency for three full power shots
Lightweight and ergonomic
Cons
The barrel is longer than I prefer (Carbine version to be released soon)
Loud
I've hunted deer, hogs, and javelina with this rifle, and the overall performance has been impressive. This gun is fairly lightweight for a big-bore air rifle and carries well for long slogs through rough terrain. The accuracy is spot on in the 50 to 80-yard range I typically prefer, but it can reach out farther when called on to do so. The Hammer lives up to its name regarding terminal performance, and I've seen the proprietary Umarex 510 grain slug cleanly anchor some big hogs.
The Umarex Hammer is a .50 caliber rifle designed to accelerate a greater mass faster using proprietary technology from the company's Lightspeed valve. The design of this air management system, coupled with a .510 caliber, 550-grain lead slug, is capable of generating over 700 ft-lbs of energy at the muzzle. The cocking action of the Hammer is very light and requires about 2 pounds of effort to operate. This short, effortless action actuates a two-shot shuttle magazine for fast follow-up shots when required.
Best for Accuracy and Power: FX Impact M3
Key Features
Max Velocity: 850 fps
Weight 6.85 pounds
Muzzle Energy (65.5 grain): 128 ft-lbs
Shot Capacity: 21
Max Shots Per Fill: 85
Sideliver
Pros
Very accurate (Used to win RMAC many times)
Customizable
High shot count
Excellent for coyote and small game hunting
Cons
Not meant for big game hunting
My top pick for a crossover rifle that performs well for both small-game and predator hunting is the FX Impact air rifle. This bullpup design has a lot going for it, and the frame is rugged and lightweight, with an adjustable stock that accepts standard AR pistol grips. The air storage is a 480cc removable carbon fiber (other options available) tank that can be charged to 3600 psi, and the design allows extra bottles to be packed and changed in the field.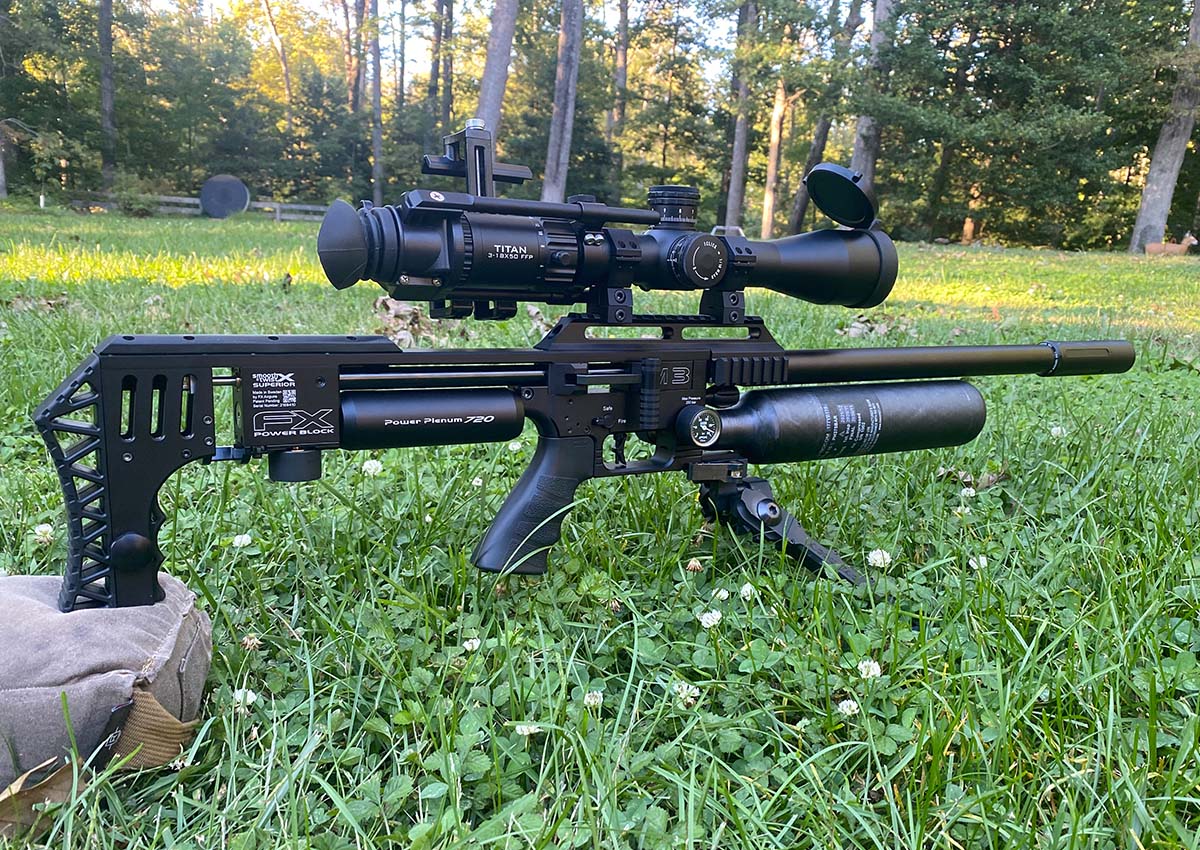 The sidelever action is one of the quickest, most tactile, and smoothest cycling that I have used, and reliably indexes the magazines every time. What really seals the deal for me though, is that the modular design lets the shooter swap out barrels, magazines, and probes to optimize the gun for different types of hunting. The hunter can use the .22 barrel for a rabbit hunt, then swap to a .25 barrel that has a liner optimized for slugs to do a long-range prairie dog shoot, then swap again for the .30 caliber barrel to hunt predators.
Key Features
Available in .457, .50, and .62 caliber
Adjustable synthetic thumbhole stock
Sidelever cocking action
Easy access loading port accepts longer projectiles
Several Picatinny rails for mounting accessories
Pros
Accurate and powerful
Rugged construction, reliable
Generates six full power shots per fill
Cons
Big and heavy
Single shot (though loads rapidly)
I've been shooting the Hatsan Piledriver in the .457 and .50 caliber versions for a few years now, and have used it to take several deer, hogs, javelina, and exotics. This year Hatsan added the .62 caliber version to the lineup, generating over 750 ft-lbs with a 650-grain hollow point slug. This gun is a great performer with respect to accuracy, power, and reliability.
The PileDriver .62 is a bullpup configuration, but it is still a big gun. However, the .62 caliber clipped 4 inches off the 33-inch standard barrel bringing the overall length to 42 inches, and reducing the weight to a tad over 9.5 pounds. The synthetic thumbhole stock has an adjustable length of pull and cheekpiece. It uses a 480 cc carbon fiber tank to deliver up to five shots. The single-action gun cycles with a smooth side lever action, and loads quickly through easy access to the loading port. It also has Hatsan's two-stage Quatro trigger, which is crisp, with a medium pull out of the box, and can be adjusted.
Read Next: The Best PCP Air Rifle Compressors of 2023
Honorable Mentions
The AirForce Texan big bore air rifles have become the most popular of the big bores over the last few years, and there are several reasons for this. The bottle for a buttstock design and inline valving are well proven in the field. The guns are adjustable and lend themselves to customization and personalization. They are also very well made and available in several calibers, including .257, .308, .357, .457, and .50. The performance of the Texan, with respect to both accuracy and power, is rock solid. I've used mine to take several species of North American big game. The most powerful version of this gun out of the box is the Texan LSS .50-CF, which is a .50 caliber gun generating over 800 ft-lb. The rifle features a 490 cc and 250 BAR tank that delivers three to four shots per fill. That's moving a 620-grain slug at 620 fps for about 805 ft-lb. I find that the Texan's excellent trigger helps wring the most accuracy out of the Lothar Walther barrel and the rifle as a whole.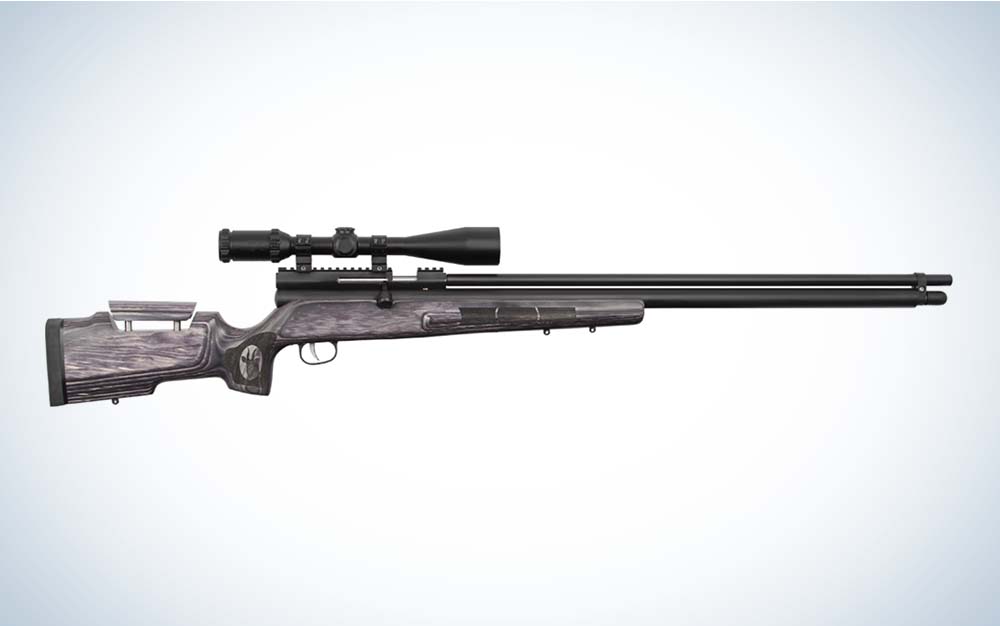 Airguns of Arizona is a major U.S. retailer that is especially well known as an importer of high-end European guns. But a few years ago, they began manufacturing a big bore rifle called the Bushbuck. To my eye, this is the best looking big bore rifle on the market. It is a bolt action sporter style rifle in .452 that is dressed in a laminate stock with stippling on the forestock and grip, with an adjustable cheekpiece. This rifle is solidly built and weighs in at 10.2 pounds with an overall length of 49.5 inches and a 30-inch barrel. My Bushbuck is the compact version. It is 43.5 inches long with a 22.5-inch barrel. After a point, I am usually willing to trade off some power for a more compact gun. The 285 cc air reservoir fills to 4500 psi using an unobtrusive under-barrel tube that helps maintain the rifle's sleek lines, while providing two to four shots per fill. The single-shot Bushbuck has two power settings and generates over 600 ft-lb in the high setting. I've carried and used this gun on both North American and South African hunts, and it is a capable rifle for any non-dangerous game.
FAQs
Q: Can a .177 pellet gun kill a deer?
A .177 pellet is not suitable for deer hunting. It is best used for small-game hunting and recreational shooting.
Q: What can a .22 air rifle kill?
As we discussed earlier, not all rifles of the same caliber produce the same amount of energy. In general, a .22 caliber air rifle is suitable for varmints and small game. 
Q: What is the highest caliber air rifle?
The AEA Zeus in .72 caliber is the most powerful commercially available air rifle, and it has the largest caliber widely available. However, there are rare .82 caliber rifles also available through custom makers. 
Final Thoughts on the Most Powerful Air Rifles
The most powerful air rifles are quite different, but there are similarities connecting them all. I would be happy using any one of them when out after deer or hogs, though my preference would change based on the specific situations and conditions. All of these rifles are accurate, generate more than sufficient power, and have an acceptable shot count for big game hunting. But air usage, number of shots, sound level, anticipated range, and size and weight of the gun are variables each hunter needs to assess based on their own needs and preferences.
Other factors to consider are, how will you keep the gun filled? Will you get a compressor or refill tanks at a local paintball or dive shop? Can, or will, the local shop in your area charge the tank up to over 4500 psi? It's a lot easier to keep a gun charged at 3600 psi than 4500. Can you reduce the power if hunting in an area where limited range is advantageous, or so as to reduce air usage? Is noise an issue, and do you need to have the lowest possible sound signature? Will most hunting be from a blind or a stand, or will you spend hours covering large tracts of land on foot?
Each shooter needs to weigh the importance of these variables to find what suits them best. I can honestly say that — my own personal preferences and biases aside — any of these rifles could be a perfect big game rifle depending on what you like and what's important for you and your intended uses.
The post The Most Powerful Air Rifles of 2023 appeared first on Outdoor Life.
Articles may contain affiliate links which enable us to share in the revenue of any purchases made.
Source: https://www.outdoorlife.com/gear/most-powerful-air-rifle/