The Best Rifle Scopes Under $500, Tested and Reviewed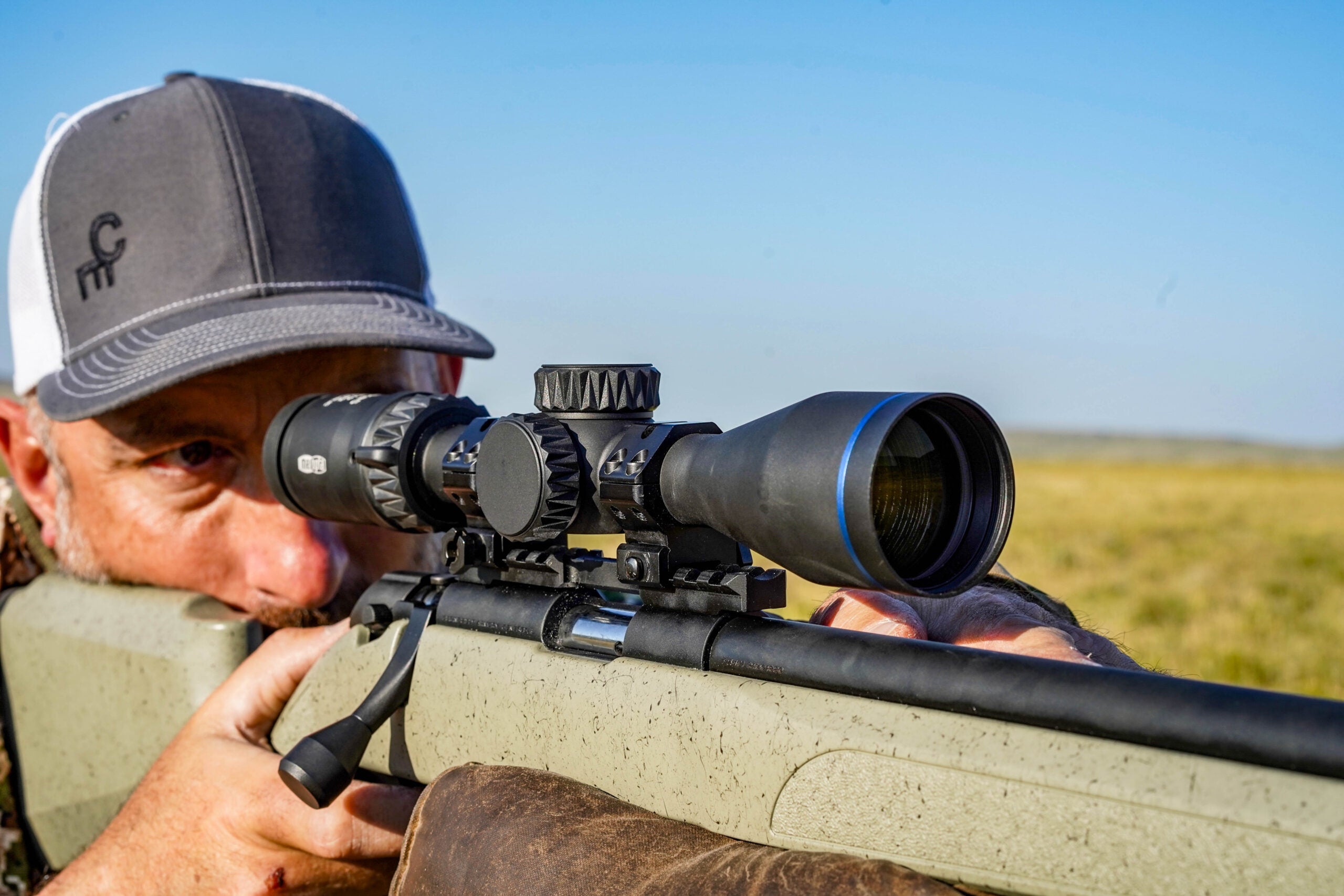 Scott Einsmann
We may earn revenue from the products available on this page and participate in affiliate programs. Learn More ›
Let's get this out of the way: $500 is a lot of money to spend on a rifle scope, and for some readers (and optics testers) it stretches the definition of a "budget" scope. That's a fair perspective, and one that I shared as a beginning hunter who sweated a little to spend $300 for a Leupold VX-3 back in 1990.
But we picked $500 as the cap for our budget rifle scope category for an intentional reason. That tends to be the break point between scopes that have crappy glass, underwhelming reticles, and mushy turrets and those that are more purposefully built for specific shooting situations. Under $500, you don't really know what you're buying. It could be junk, or it could be a lifetime scope that you trade around between favorite rifles because it simply works.
That's what our test is designed to find out: which rifle scopes under $500 are worth your money and which you should avoid.
How We Tested the Best Budget Rifle Scopes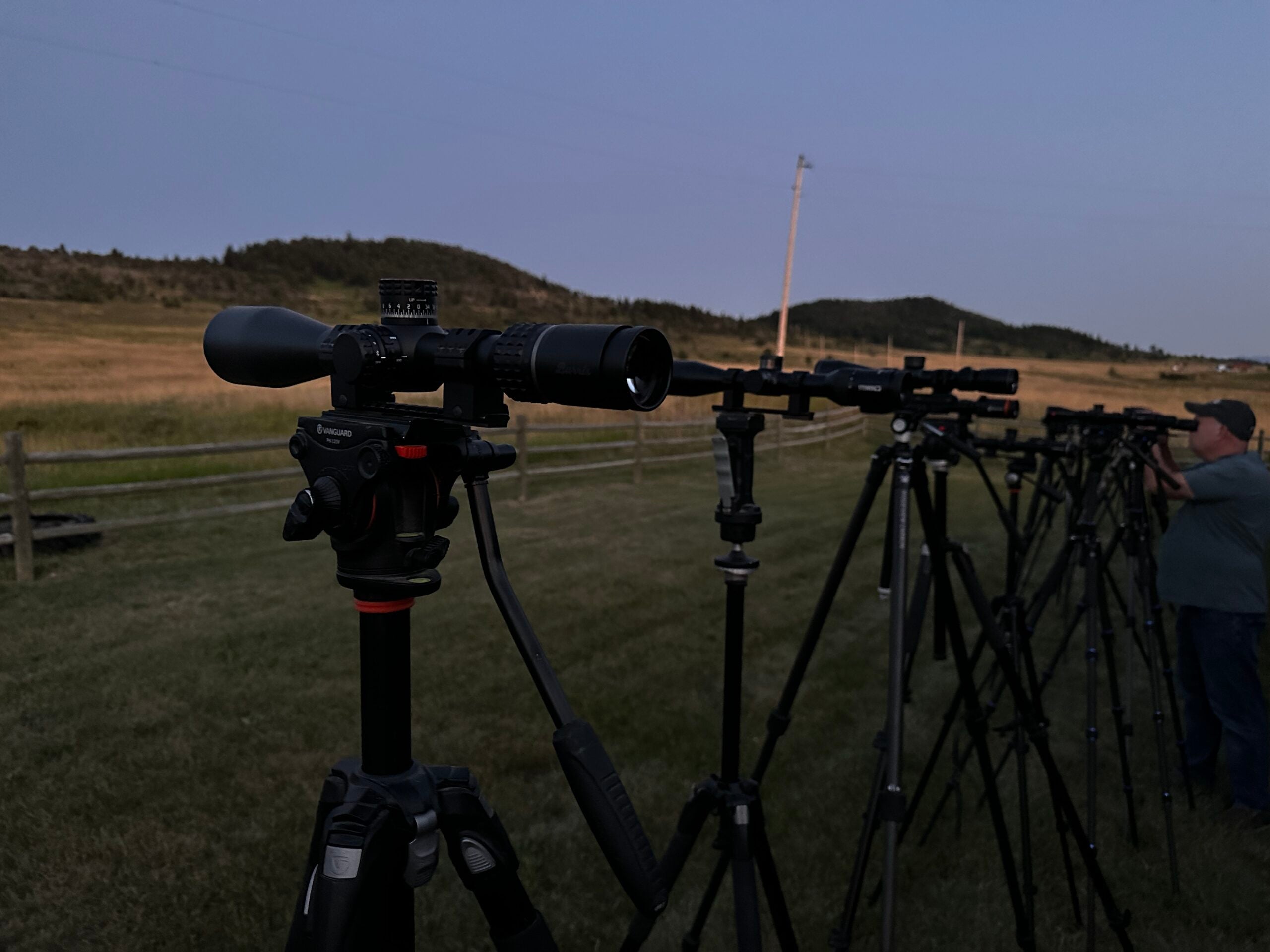 Because this is ultimately a test of value, we wanted to find out how much performance and reliability could be packed into a rifle scope.
More on that value proposition in a bit. The bulk of our evaluation is no different than the regimen we use for precision scopes that cost on average $2,000. We want to determine how repeatably precise a scope is, how well it guides a projectile, how clearly it allows you to see the target (and the world around it), and how durable it is.
Because rifle scopes are essentially aiming devices, we evaluate them on a different basis than binoculars or spotting scopes, optical instruments that have broader utility. We're interested in the precision of a rifle scope, so our scoring criteria gives more weight to attributes that achieve that goal.
Tracking and Reticles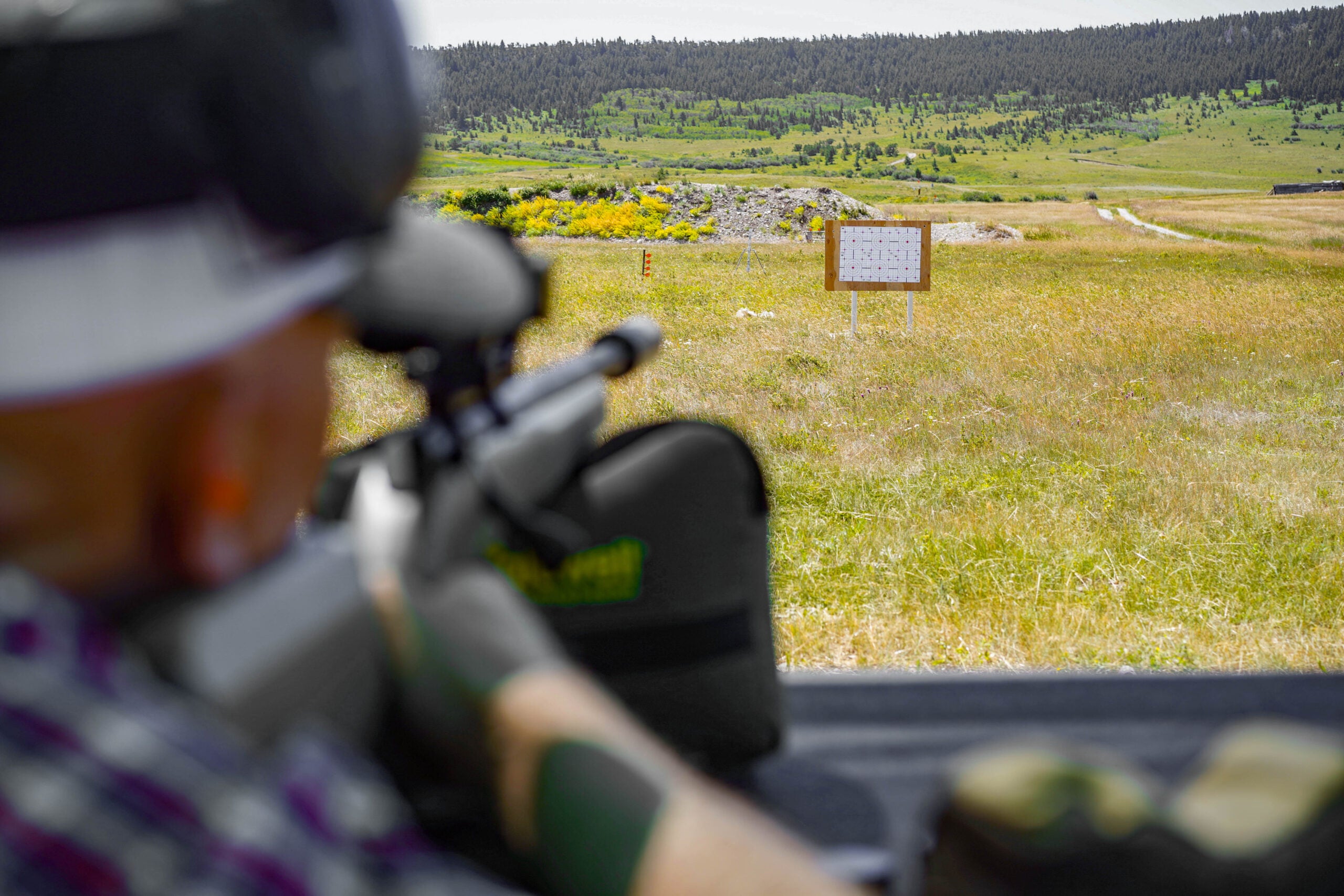 We test optical performance, same as we do spotters and binoculars. But we spend more time on four criteria that we think are the heart of a solid rifle scope. Our "interior aiming system" considerations are reticle style and utility, illumination, reticle references and visibility. Our "exterior aiming system" evaluation considers turret positivity and indexing, the scope's zero stop, parallax control, and total internal adjustment range, or how far shooters can stretch the turrets' elevation and windage clicks. We also test a range of attributes that we bundle under the heading "precision," which include turret tracking, return to zero, the trueness of the scope's magnification, parallax, and field of view. And then we ask testers to rate every scopes' "shootability," which considers eye relief, the ease of use at various magnifications, and the scope's versatility.
Benchmarks
We actually brought in two ringers as the basis for our evaluation. Remember that Leupold VX-3 that I bought over 30 years ago? We used that as the Platonic ideal of a budget rifle scope, along with an old Nikon Monarch that I pulled off a deer rifle. Both bring lots of talent to the show: reliability, decent reticles (the Leupold has a duplex, the Nikon the circle-based BDC), good glass, and adequate controls. We wanted to see how a modern class of budget scopes performs against the OGs of the category, and whether the definition of a "budget" scope has changed over the past 25 years. Happily, it really hasn't. The best modern scopes compared very favorably with these relative ancients, but test team members noted that they would happily strap either the Leupold or Nikon to just about any of their rifles.
Optical Performance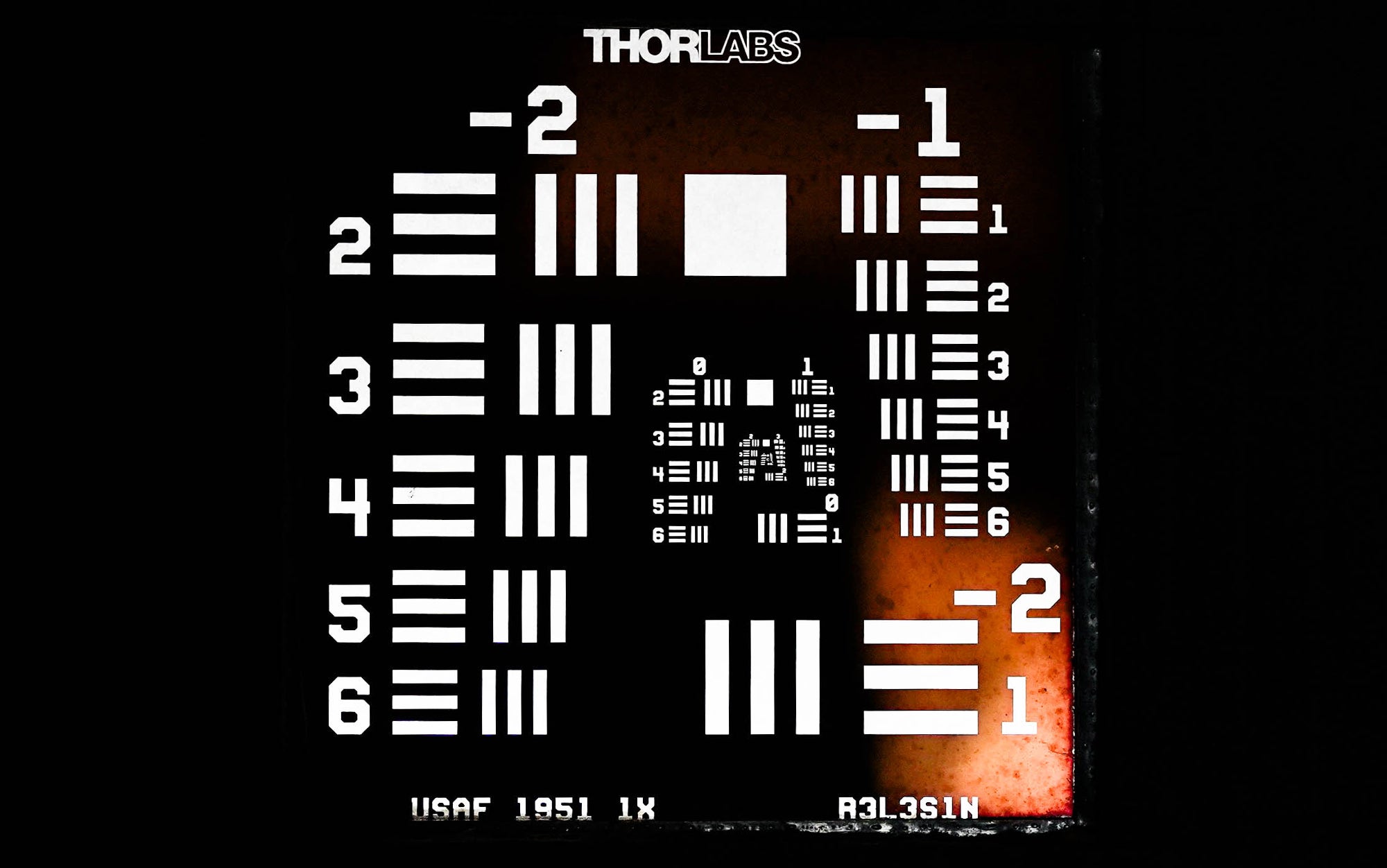 Back to our evaluation. Our criteria has been refined over the nearly 20 years of our optics test. First, we measure optical resolution, using the diminishing black-and-white lines of a 1951 Air Force Resolution Target to score the optical performance of each submission. We also measure the low-light performance of each budget scope by mounting them to tripods and focusing them as a group at 200 yards at a black-and-white resolution target at twilight, all in order to measure the brightness of the glass.
Scoring
We break our scoring into four general categories: optical performance (25 percent of total grade), aiming system (50 percent of total grade), design (10 percent), and value (15 percent). The average of these categories is the basis of our grades, detailed below.
Optical performance includes the resolution and low-light tests plus the more subjective assessments of image quality and brightness. Aiming-system performance assesses interior and exterior aiming system, precision, and shootability. Design considers the exterior finish, interior blacking, mounting dimensions, and durability.
And then our price/value score rates how much scope—along with warranty and amenities such as rings, extra turrets, and lens covers—you get for your money. This is maybe the biggest and most impactful category for testers interested in finding that gem in the ore: The scopes that are true bargains, not because of their price but because of their quality components, glass, robust construction, and warranty.
The budget rifle scope that gets the highest overall score wins our Editor's Choice award for the best in the category; the optic with the highest price/value score wins our Great Buy recognition, which in this category is possibly even more noteworthy than the Editor's Choice award. We awarded other "Bests" for various noteworthy attributes.
How We Grade Precision Riflescopes
Our 100-point evaluation adds up to a total numeric score, but we translate those to grades for each submission. Our optical performance grade combines the scores from resolution, low-light, and image quality. Our aiming system performance grade aggregates the interior/exterior aiming system, precision, and shootability scores. The design grade considers construction, innovation, versatility, and durability. And then the price/value grade is our value grade.
To earn an "excellent" grade, the average of that category must be 9 or higher, which is extremely hard to achieve. "Very good" is an average score of 7 to 9. A "good" grade is 5 to 7. Our "fair" grade is 3 to 25, and "poor" is anything under 3.
Best Budget Riflescopes: Reviews & Recommendations
Score Card
Optical Performance: Very Good
Aiming System: Very Good
Design: Good
Price/Value: Good
Key Features
Second-plane Z-Plex reticle
1-inch tube
Fixed 100-yard parallax
Rezeroable turrets tuned to .25 MOA click values
60 MOA of adjustment
Pros
At about $350, a fair price for quality glass
Plex reticle useful on variety of firearms and situations
Responsive turrets
A clean, honest, simple scope
Cons
The "tractor-tire" controls are too aggressive
Blurry inside 25 yards
Reticle could use some drop references
For about $350 you get a very serviceable scope that can perform well in any number of shooting situations. Let's first talk about what you don't get for that money with Meopta's Optika5, which has been on the market for a couple years. You don't get a side focus that allows you to fine-tune parallax, which is the perceived alignment of the reticle and target. You don't get a reticle with useful hold-over or hold-off references. And you don't get illumination.
But what you get in the Meopta is a better class of glass than most of the other scopes in this budget category, very responsive controls, and both durability and versatility. This is a scope that can transition from your mid-range deer rifle to a rimfire plinker, and could even serve on a turkey shotgun in a pinch.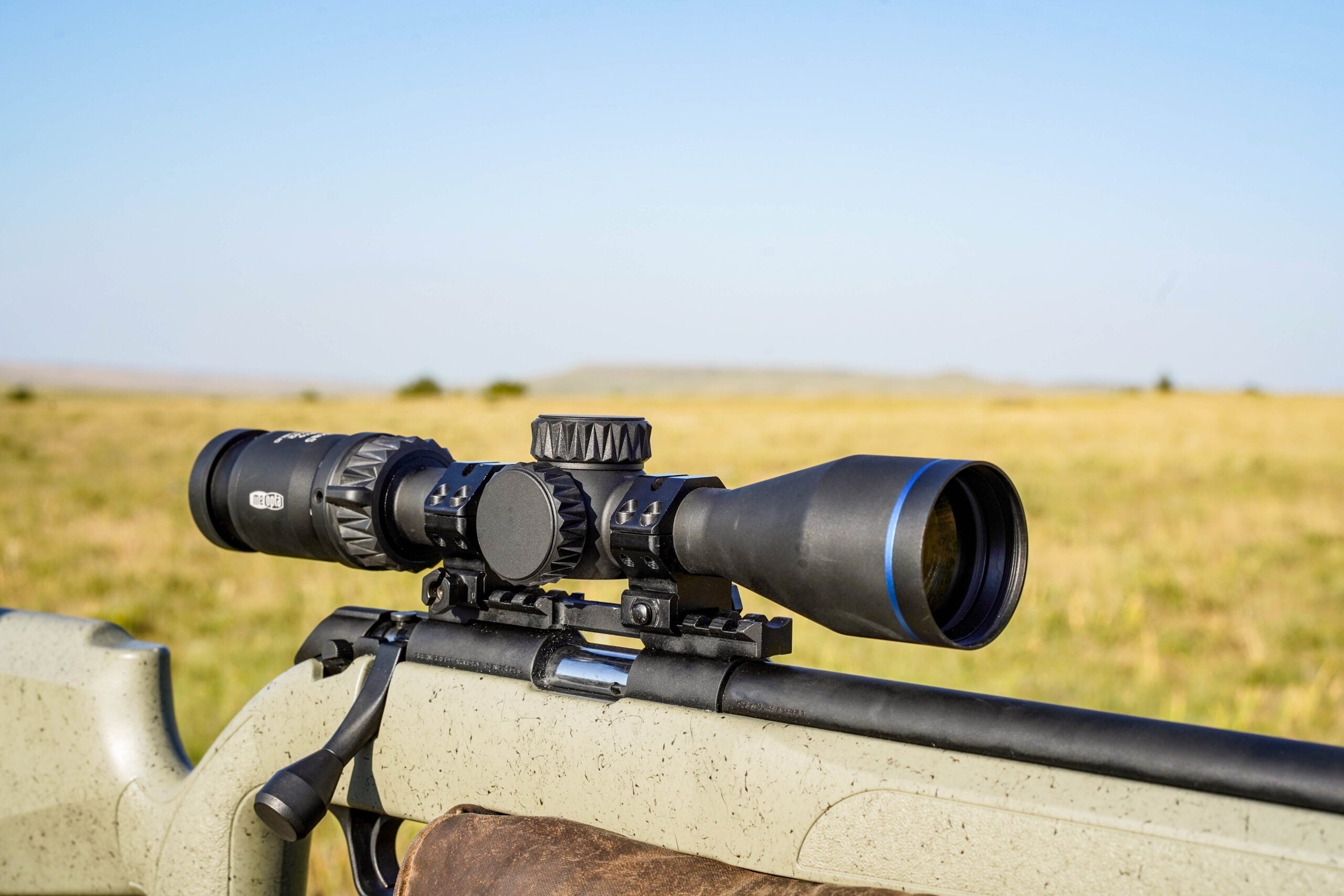 The Optika5 won our budget rifle scope category by being pretty good in every consideration without wowing us with any specific attribute. It scored near the top of our low-light and resolution tests, and its crisp, responsive turrets tracked with pleasing precision and tactile feedback. Similarly, the power-changing control was one of the smoothest and easiest-turning of our test, maybe owing to its oversized rubber grips. The scope's Z-Plex reticle—a fancy name for the standard duplex—is fast and versatile, but seems a little dated given the number and type of BDC-type reticles in the field. We can live without illumination, but it would be nice to have a side focus on this scope. Though you should note that the PA version of the Optika5 does offer side parallax adjustment for about $100 more than the basic Optika5.
"It's fun to shoot, easy to dial, clean and smooth operation with great clicks and no play," says tester Todd Netto of the Meopta. That's about the best description of this scope with European heritage as we can deliver, except to add that the glass and image are both on par with those responsive controls.
Score Card
Optical Performance: Good
Aiming System: Very Good
Design: Very Good
Price/Value: Good
Key Features
Second-plane "Impact BDC" reticle
1-inch tube
Capped turrets with .25 MOA adjustment
Tool-less rezeroable turrets
50 MOA of adjustment
15-yard-to-infinity parallax adjustment
Pros
Versatile bullet-drop compensating reticle
Bullet-drop references useful for both standard and magnum calibers
Excellent glass
Oversized eyebox
Very responsive controls (turrets, parallax, and power-changing dial)
Cons
At $499, the most expensive budget scope
"Morse-code" reticle can be confusing
Owing to its wide versatility, the Tract came close to winning our budget riflescope category. It's clearly configured for an Eastern deer hunter, but it would be equally at home on a mule deer rifle or target rimfire. The heart of the Tekoa HD is its "Impact BDC" reticle, which is designed to be zeroed at 100 yards for standard center-fire calibers (pushing bullets at about 2,800 fps) and 200 yards for magnum calibers, with 3,000 fps velocities). With that zero, the first drop should equate to 200 yards for standard calibers and 300 yards for magnums, and so on until the final drop reference, which is about 500 yards for standard calibers and 600 yards for magnums. Tract has a handy calculator that will give you more precise hold overs for your specific ammo, scope, and environmentals.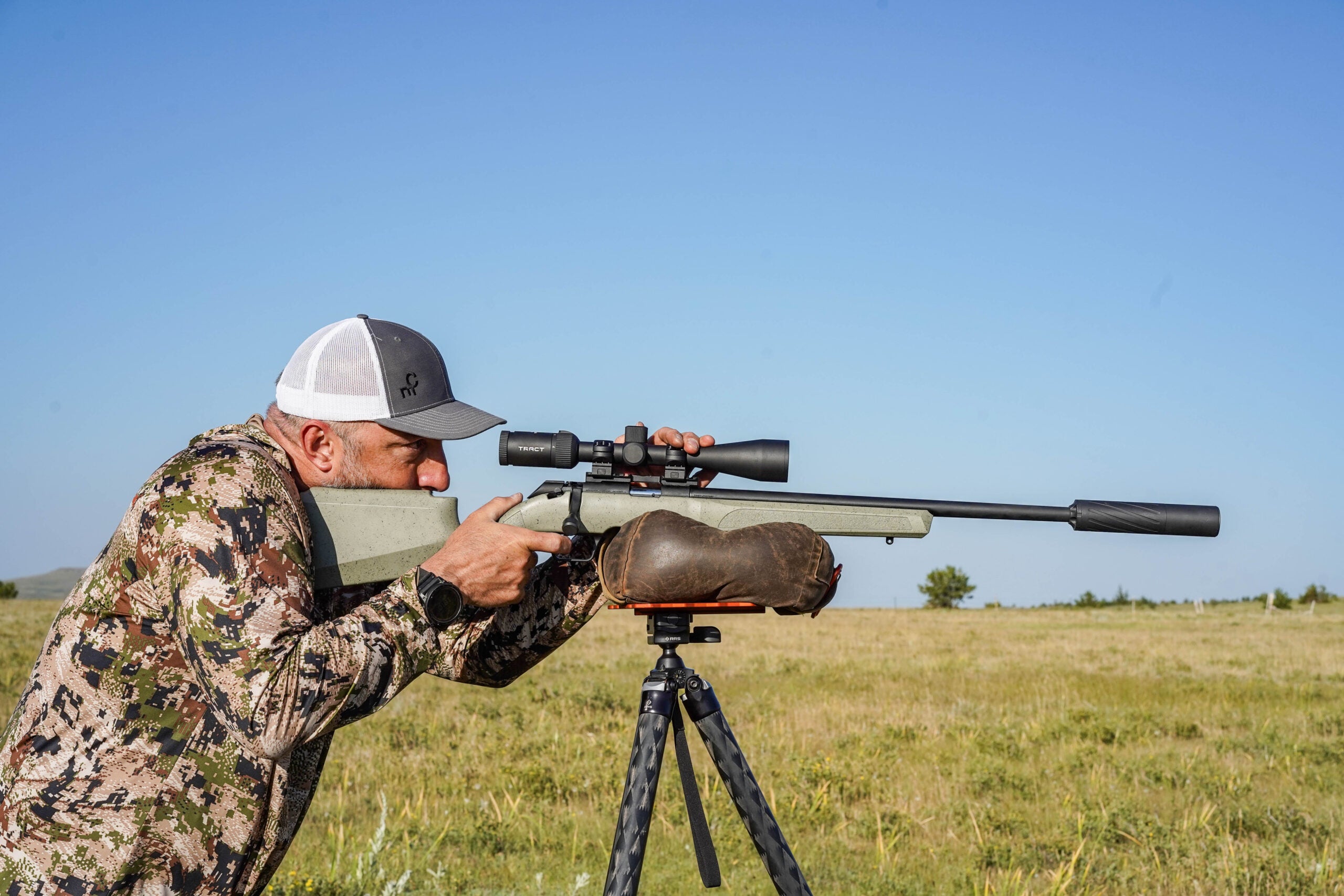 Want to stretch your range even farther? Use the top of the lower post on the duplex reticle to get out to 600 yards for standard loads and 700 yards for magnums. With windage references for both 5 and 10 mph right-angle winds, you have all the hold values you need for most hunting situations.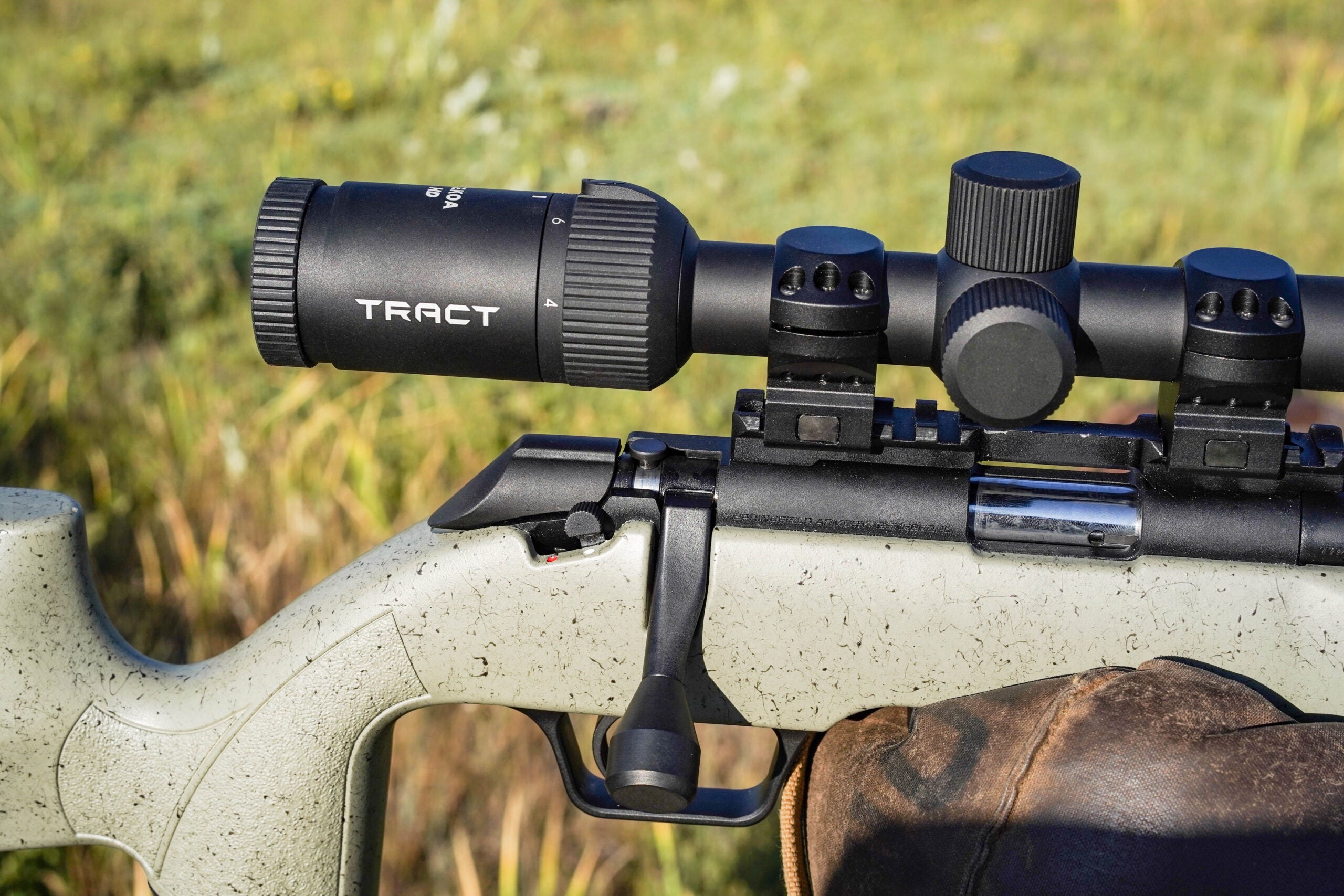 Beyond that versatile reticle, the 15-yard close focus is a great asset for rimfire plinkers, and the capped turrets move with assured precision. The other attribute of the Tract, and a consideration that's overlooked by a lot of scope-buyers, is the ample mounting dimensions both fore and aft of the turrets. This is a scope that's easy to mount on long-action receivers, on the quirky dovetail slots of older .22s, and on any rail. Also worth noting: the Tract's tool-less rezeroable turrets that require only the removal of a threaded cap to allow the indexed turret to be moved to a new zero. It's a simple, smart, and very useful design. Like the Meopta, the Tekoa HD has excellent glass.
The only consideration where the Tract lost ground to the category-winning Meopta: on our price/value assessment. The Tekoa HD retails for $499, at the very tippy-top of our under-$500 cap, and some testers thought that was a little rich. It's worth noting, however, that as a direct-to-consumer brand, Tract doesn't mark up its optics for retail distribution, an indication that even at $500, this is a lot of scope for the price.
Score Card
Optical Performance: Fair
Aiming System: Good
Design: Very Good
Price/Value: Very Good
Key Features
Second-plane E3 ballistic reticle
1-inch tube
Rezeroable locking turrets with .25 MOA adjustment
120 MOA of elevation and windage adjustment
Oversized eyebox
Pros
Reticle has drops out to 400 yards
Reticle has references for standard wind holds
At $400, good value for the price
Compact length
At just over 1 pound, very lightweight
Cons
No illumination
No parallax adjustment
Forgettable glass
Just about any scope in this category can capably serve a Midwest whitetail hunter, but the Burris Signature, which has been on the market since 2020, has a few attributes that allow users to reach out across the distances sometimes required for elk, mule deer, and pronghorns. The scope's excellent reticle and exposed locking turrets allow shooters to either hold or dial aiming solutions.
The Signature is available with four different reticles, both fine and bold plex designs, a BDC version with 6.5 Creedmoor holds, and the Ballistic E3 MOA, which is the version we tested. Tapered plex stadia bracket a fine center aiming cross, but what gives the E3 so much versatility are the three hash steps that allow shooters to hold out to 400 yards with a 100-yard zero. Cascading dots enable hold-offs for 10 mph right-angle winds out to distance, and 2 MOA hashes on the horizontal crosshair also inform wind holds. It's a simple, useful, and fast reticle, but because it's in the second focal plane, magnification will dictate subtensions.
The low-profile turrets pull to turn, and feature a handy rezeroable feature. Loosen a locking screw on the turret cap and you can reset the zero in the field, if necessary. Also in the plus column, a light 17.6-ounce build and a handy length of just 11.7 inches, making the Signature a good companion to a lightweight mountain rifle.
On the minus column, the glass. The Burris scored in the middle of the field in both optical resolution and low-light performance, and the lack of manual parallax created some focus problems for testers. But the team felt the price, around $400, is fair for the wide utility of this nimble, smart scope.
Score Card
Optical Performance: Fair
Aiming System: Very Good
Design: Very Good
Price/Value: Excellent
Key Features
Second-plane "Dead-Hold BDC" reticle
1-inch tube
Fixed 100-yard parallax
Capped rezeroable turrets tuned to .25 MOA
Pros
At 14.6 ounces, very lightweight
Liberal mounting dimensions
Excellent warranty and customer service
Excellent turret tracking
Cons
No illumination or parallax control
Some sticky turret movement
A very good all-around scope that smart shoppers will be able to buy for about $250, the Diamondback underwhelmed on our optics evaluation, but charmed our test team on our "shootability" assessment. It's a versatile workhorse that's home on rimfires to centerfire deer rifles.
We can't talk about the Diamondback without mentioning what I would call a fixable failure. Part of our test is assessing turret/reticle tracking. We shoot every submission at 25 yards at a Redfield Sight-In target, using the grids to measure precision as we dial up, right, down, and left, and then back to our original zero. It's a test that assesses precision and mechanical reliability. At some point, after wowing testers with exceptional precision, the Diamondback's elevation turret locked up. We took the turret apart, gave it a few sharp raps on the bench, and things straightened out. But it's the sort of performance problem that most shooters would use to activate Vortex's legendary warranty.
Outside of that hiccup, the Diamondback's mechanics are adequate. We noted some stickiness of the turrets and magnification ring, but the turret/reticle agreement are right-on. The "Dead-Hold BDC" reticle is similarly useful. We'd like to see a little more definition of the reticle, which gives shooters more than a suggestion of holdover and holdoff hashes, and which could be more distinctive and provide faster aiming references.
The Vortex performed well on our resolution test, but disappointed in low-light performance. But where the Diamondback shined was in our price/value assessment. There's a ton of value in this simple, honest, and versatile scope. And if it fails, it's important to know that Vortex and its fully transferable lifetime warranty has your back. All that optical talent, and all that back-end support, allowed the Vortex to be a very close runner-up for our Great Buy award.
Score Card
Optical Performance: Good
Aiming System: Very Good
Design: Good
Price/Value: Excellent
Key Features
Fixed 10-power scope
Second-plane MIL-based reticle
30mm tube
10-yards-to-infinity parallax adjustment
Tall, exposed, rezeroable turrets tuned to .1 MIL click values
Pros
10-power magnification nicely accords with MIL reticle
Useful turret indexing
Fixed-power magnification simplifies aiming
Excellent price for abundant versatility
Cons
10-power limits utility
Turret movement inconsistent
No scope in our budget category caused as much consternation and conversation as Athlon's throwback Talos BTR. Some thought that the fixed 10-power construction was too limiting, others countered that the 10x magnification is the perfect companion to a MIL-based reticle, which is based on a power-of-10 scale. It should be noted that the Talos BTR Gen 2 comes in three different configurations, ranging from a 1-4×24 version and a 4-14×44 version. Like the 10×42 scope, these other versions come in either MIL or MOA-based reticles.
Our 10×42 sample didn't wow us optically. Its low-light performance was near the bottom of the field, and its resolution was better, but not by much. Testers liked its vibrant and distortion-free image, and gave high marks to both its interior aiming system (which considers the reticle style, clarity, and utility) and exterior aiming system (turret positivity, turret indexing, and ability to return to zero after shooting a square grid). Testers reckoned that, with an excellent close-focus capability, this is an excellent rimfire scope that can step up into just about any mid-magnification center-fire task.
Are you going to mount the Talos BTR on a close-range turkey shotgun or a dangerous-game rifle? Probably not. But it would be a good choice for a long-range silhouette target scope or atop an elk rifle. The Talos BTR is built around a useful hash-style reticle that offers 10 MIL holdover references and 8 MIL windage references on either side of the .09 MIL center dot. Because the Athlon is built on a second-plane system, the reticle references don't change, so you get a second-plane scope that operates pretty much as a first-plane scope works, and the hashes are useful for everything from rimfire plinking to medium-range target work, though serious shooters will be disappointed not to have windage holds on either side of the vertical stadia.
Because of the simplicity of the design—no power-changing gears to strip or bind—we expect the Talos to be a long-wearing optic. But in case of malfunctions, Athlon's lifetime transferable warranty is a comforting consolation.
Our team's final conclusion is that the Athlon's wide versatility and extremely useful MIL-based reticle—along with its extremely appealing price—qualified the Talos BTR Gen 2 as our Great Buy in the Budget Riflescope category, which because it's competing against price-point peers, is a double bonus for a handy, smart, and useful scope.
Score Card
Optical Performance: Good
Aiming System: Good
Design: Good
Price/Value: Good
Key Features
Second-plane HDR2 ballistic reticle
30mm tube
Six-step center-dot illuminated reticle
Throw lever
Capped rezeroable turrets tuned to .25 MOA
90 MOA total internal elevation adjustment
Pros
15 yards to infinity side parallax adjustment
Oversized eyepiece
Clear and simple reticle references
At $400, an approachable price
Cons
Crappy low-light performance
Reticle could use bolder references
I hope you're picking up on one of the themes of this category: For every merit is a demerit, and for every asset is a liability. That dichotomy is on full display with Sightmark's solid and approachable Presidio.
Testers had a hard time determining the quality of its glass. It scored near the bottom of our low-light test—especially surprising because the Presidio boasts a big 50mm objective lens—but it posted decent resolution scores. Testers rated its optical quality near the middle of the pack of budget scopes.
The HDR2 reticle similarly received mixed reviews. Some found the reticle, which features a .2 MOA illuminated floating center dot and three elevation references that enable holdovers out to 20 MOA, to be a fast, simple, and relatively intuitive hunting reticle. Others wanted either more or fewer references inside the German 4 plex design.
Regardless, the Presidio brings features, namely parallax adjustment and reticle illumination, rarely found on price-point scopes. And for an MSRP of $400, Sightmark throws in decent lens caps and a throw lever, which further boosts its value proposition. The Presidio was one of a handful of rifle scopes that competed hard for our Great Buy award, and was held back mainly by its limited lifetime warranty that applies to the original purchaser with proof of purchase. Many of its peers offer fully transferrable lifetime warranties.
Overall, it's a useful scope that should get strong consideration as a rimfire optic that can do double duty on a deer rifle.
Score Card
Optical Performance: Fair
Aiming System: Fair
Design: Good
Price/Value: Very Good
Key Features
Second-plane L4A dot duplex reticle
Center-dot illumination in red and green
30mm tube
Capped turrets tuned to .25 MOA click values
Fixed 100-yard parallax
Pros
Liberal mounting dimensions
120 MOA internal elevation adjustment
Wide field of view
At 17.5 ounces, lightweight
Cons
Underwhelming glass
Turret indexing hard to read
With more varieties and configurations of rifle scopes than just about any brand around, Hawke has a scope for just about any platform, including airguns and crossbows. The Vantage 30 WA, which has been on the market for a few years, brings wide utility, rather than niche specialization, to shooters. The scope is built around a fairly pedestrian 4A duplex reticle, which benefits from both red and green illumination.
The center dot subtends 3.5 MOA at 4-power, with 5 MOA of drop to the top of the lower vertical stadia, and nearly 30 MOA of drop to the lower bold crosshair. But that level of precision will be lost on most shooters, who will correctly use this as a simple plinker and dead-hold hunting scope. Hawke makes a version of the Vantage 30 WA with its .223/.308 Marksman reticle that features illuminated drops out to 600 yards with standard bullets in those two popular calibers when the scope is set on 9-power.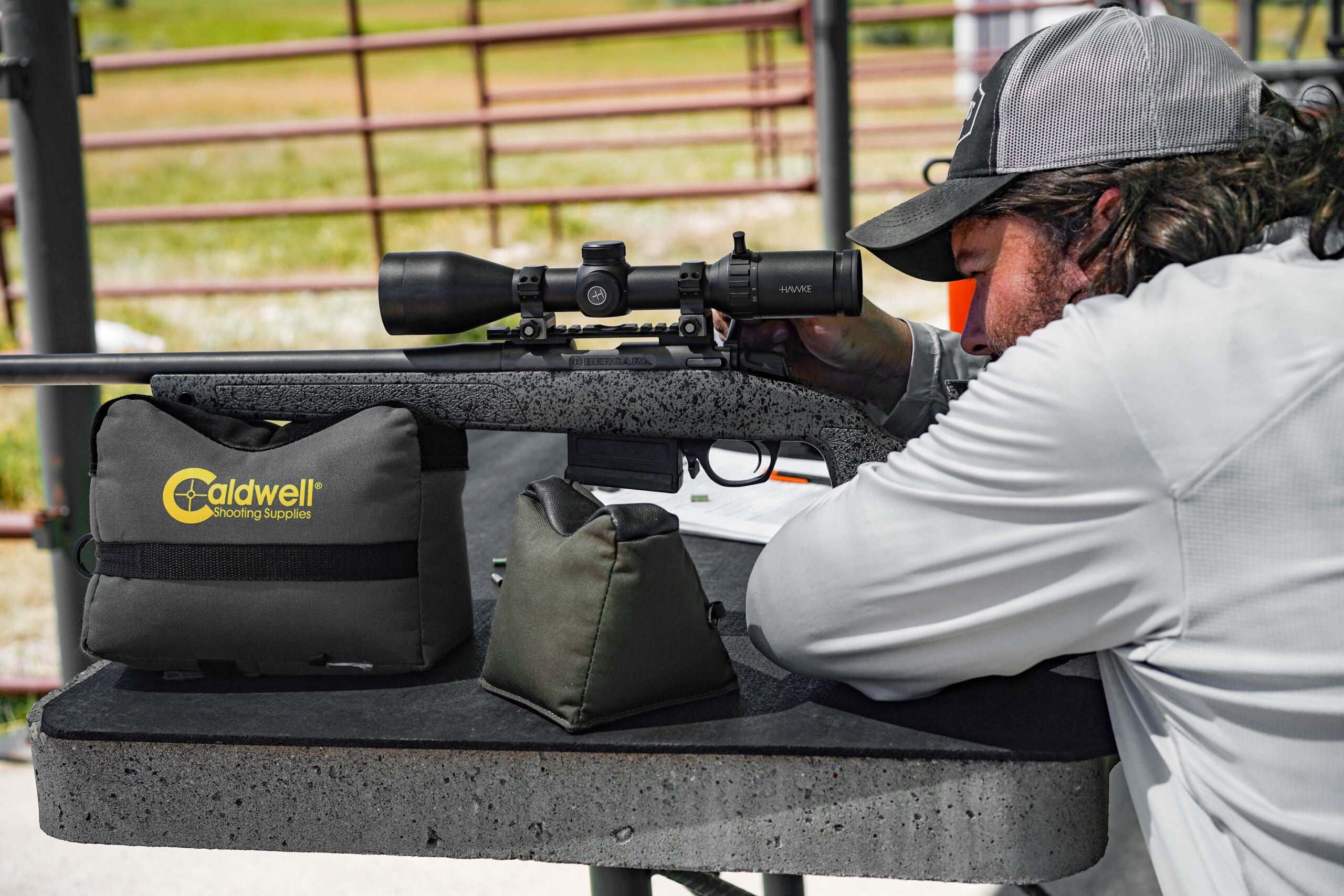 In both versions of the Vantage 30, the glass is fairly forgettable. The Hawke scored near the bottom on both our low-light and resolution evaluations, and testers detected some edge distortion. They also wished for focus control for shots inside about 30 yards. And testers rightly complained that the indexing on the small, low-profile turrets is hard to read.
But if you're looking for a dressed-up duplex reticle that can handle just about any shooting situation, brings a very light 17.5 ounces to the task, and does it for well under $300, the Hawke is worth a hard look.
Score Card
Optical Performance: Good
Aiming System: Fair
Design: Good
Price/Value: Good
Key Features
Second-plane CSHR wire reticle
1-inch tube
Parallax fixed at 100 yards
Capped turrets tuned to .25 MOA click values
Lightest scope in our test
Pros
At 14.2 ounces, very lightweight
50 MOA total internal elevation and windage adjustment
Ships with neoprene cover
Fast, simple hunting reticle
Cons
No illumination
Poor turret indexing
Fuzzy focus inside 75 yards
This was a case where our empirical testing disagreed with our subjective testing. On paper, Maven's whisper-light scope should have scored even lower. It posted the second-lowest low-light results and its resolution score was middling. But testers raved about the image, noting its brightness and clarity. The empirical scores are likely a result of the configuration; with a 40mm objective, the CRS.1 can't compete with 50mm scopes as light-gathering instruments. But the Maven is built around a better class of glass than many of its price-point peers, an ingredient that accounts for its $450 price.
On the rifle range, though, the Maven produced consistent results. Its reticle—it stands for Classic Simple Hold Reticle—is basically a dual duplex with decreasing weight that leads the eye to the center crosshair. It has three drop references that offer 80 MOA of drop at 3X, or 20 MOA at 12X. Practically speaking, a shooter can zero a standard caliber at 100, and have holds out to 400 yards. There aren't readily useful wind holds, though the duplex taper could serve as a reference in a pinch.
Testers recommended that these reticle references be more bold to enable quick shooting. As it is, you have to screw your eyes to pick up the fine elevation marks. But the faint reticle is nothing compared to the turret references. To a tester, we complained about the vanishingly small zero indexing, which made our exercise in dialing to aiming solutions slow and frustrating. If you intend to zero your rifle and then leave the turrets alone, it's no big deal, but if you spend any time trying to dial to distance, you'll beg for larger and cleaner indexing.
You'll also beg for a parallax adjustment if you do much shooting inside 75 yards. Targets were fuzzy in most rimfire range, though we had no problem with focus beyond about 75 yards.
Bottom line, it's an elegant, useful scope that was runner-up to the Leupold VX-3HD for our featherweight award. Each of us testers imagined the lightweight sheep rifle that would be the perfect match for the CRS.1.
Score Card
Optical Performance: Fair
Aiming System: Good
Design: Good
Price/Value: Fair
Key Features
Second-plane duplex non-illuminated reticle
1-inch tube
Fixed 150-yard parallax
Exposed elevation turret with push-to-turn "Zero Lock" feature
Turrets tuned to .25 MOA click values
55 MOA internal windage and elevation adjustment
Pros
Compatible with Leupold's Custom Dial System
Throw lever included
Good glass and coatings
Lightest scope in the class
Liberal mounting dimensions
Cons
Mushy turrets
Blurry inside about 50 yards
Windage turret needs zero index
Given our decades-long love affair with this scope, we were a little surprised that it didn't outright win our test. But a few details held it back. The first is its configuration. Just like the 40mm Maven, the VX-3HD isn't able to bring the optical horsepower of a 50mm scope. Even so, the Leupold was runner-up in our low-light test, though its resolution score was in the middle of the pack. Unlike the Maven, though, testers were generally unimpressed with the image's contrast and color.
The second reason the Leupold lagged is that we didn't include one of its main value propositions: a custom elevation dial that conforms to the specific bullet drop of our choosing. The reason: we strap scopes on so many different rifles during the course of our test that custom dials tend to be more trouble than they're worth. In the case of the Leupold, however, a CDS would have allowed us to rate its distance game. As is, we were left with the duplex reticle and standard .25 MOA clicks. I have several VX-3HDs with custom dials, and my experience is that dialing to a specific range is fast, easy, and fairly precise, though gnat's-ass precision is dependent on feeding the CDS system very specific data, including muzzle velocity, your bullet's BC, your elevation, and temperature.
While we're on the topic of turrets, testers complained that the windage knob has no zero index, the lack of which frustrated our tracking and return-to-zero exercise. And we noticed that images inside about 50 yards were very blurry, a function of the scope's fixed parallax at 150 yards. But the elevation turret, with its push-to-turn locking mechanism and crisp positivity, received rave reviews.
Overall testers felt that the price, $499 (hitting its head on our under-$500 demarcation) was a little rich for the configuration. "For that price, I'd like to see a 12-power," said one tester. But when you consider that the buyer of a VX-3HD is eligible to receive one free custom turret, which costs about $80, the price is in line with its lightweight, field-worthy peers.
The Leupold's light weight and overall handling, including liberal mounting dimensions on its 1-inch tube that makes mounting on long-action rifles a cinch, made this a consensus pick to pair with a lightweight mountain rifle.
Score Card
Optical Performance: Poor
Aiming System: Good
Design: Good
Price/Value: Fair
Key Features
First-plane "LRH" MRAD-based reticle
Full-reticle red illumination
30mm tube
10-yards-to-infinity parallax adjustment
Tall, exposed, rezeroable turrets tuned to .1 MIL click values
Pros
Zero stop
Ships with flip-up lens covers
Ships with multi-height, multi-position throw lever
Overbuilt erector system
Airgun rated
Cons
Disappointing glass
Heavy
Riton went back to the drafting table and redesigned their line of rifle scopes, beefing up the erector system and adding a better class of glass. The 3 Primal aims to fill that middle price point, but this scope is a true cross-over, a first-plane precision scope with hunting chops that sells for just ($1) under $500.
Because it's a different species from most of the other scopes in the budget category, some of our evaluation criteria cost the Riton some points. Testers weren't fans, for instance, of the tall exposed target turrets after handling so many low-profile capped dials. They also thought the LRH (Long Range Hunter) reticle had too few references for true precision target work and a few too many for fast hunting action.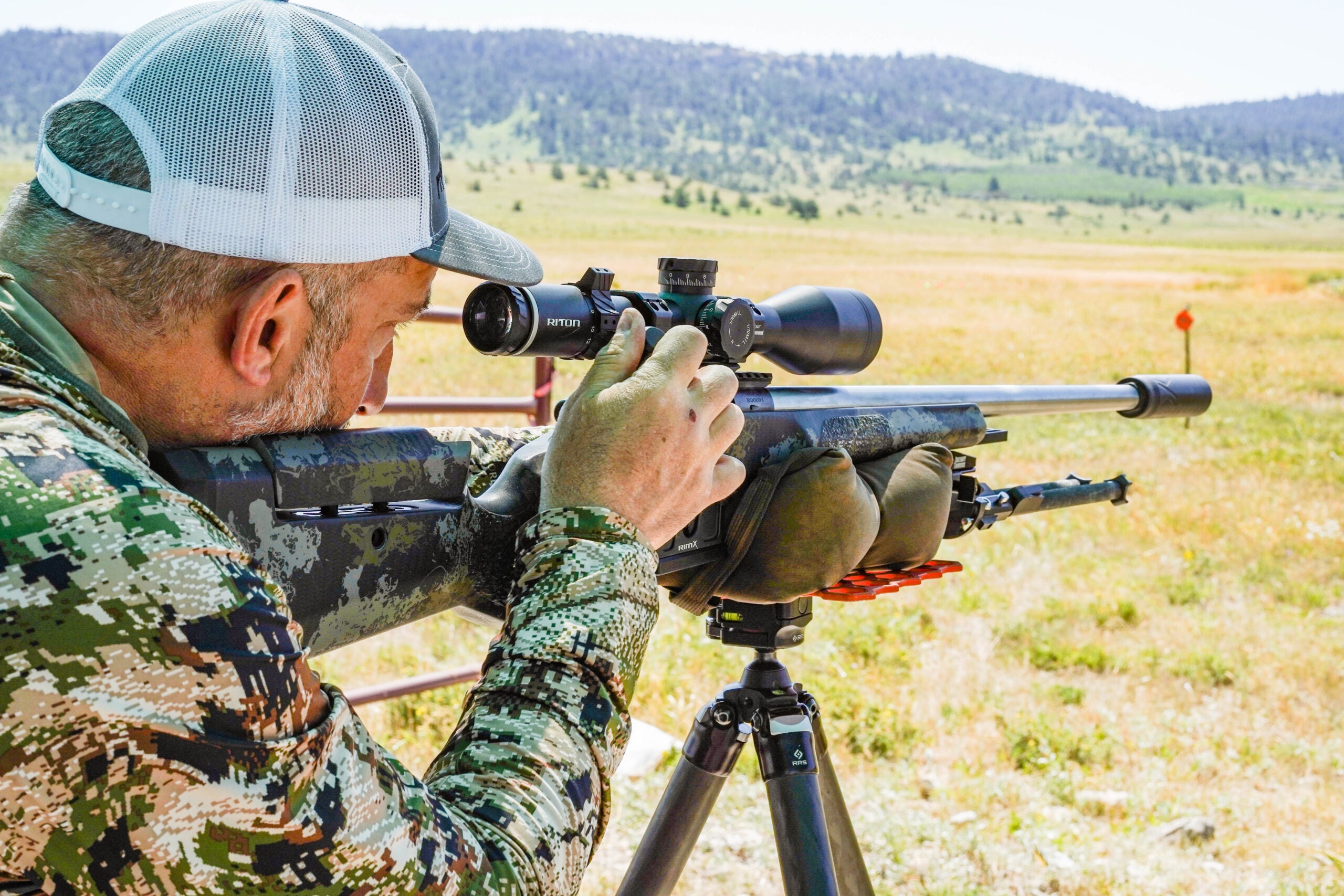 Most noticeably was the Riton's underperforming glass. The 3 Primal finished at the bottom of the low-light test and posted a middling resolution score. Testers noted some color fringing and peripheral distortion. But mechanically, the scope is an over-performer. The turrets turn with precision and fine feedback, and the reticle/turret agreement was one of the best in the test, though we had a hard time seeing the finer reticle references until about 8X.
"Love at first sight," wrote tester Luke Coccoli, who shorthanded his perspectives on the reticle to "Nay hunt, yay precision."
Other nice touches are the multi-position "Dual Throw Lever" system that allows users to adjust the placement and the height of the throw lever to their preference, the 10-yard parallax adjustment that makes this a fine choice for a rimfire competition scope, and the daylight-bright red illumination.
The 3 Primal is a fine choice for a scope that can run several different rifles, and in several different shooting scenarios. We'd like to see the next iteration with glass that equals the excellent controls.
How to Choose A Budget Rifle Scope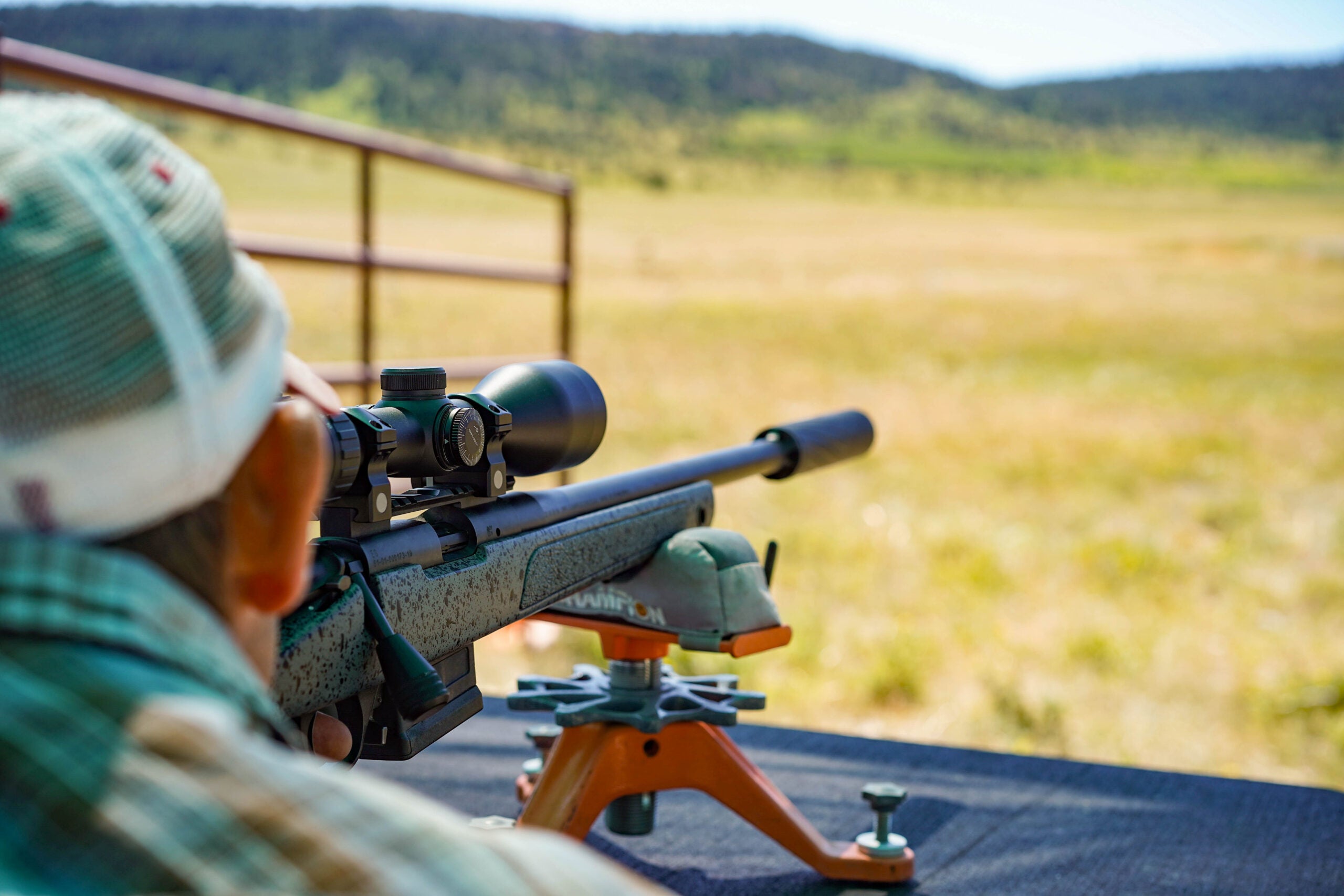 Given the organizing principle of this category, price is the biggest consideration for a budget scope. But be careful with that definition, because as your mother (or cynical uncle) probably told you, budget sometimes means cheap. When it comes to rifle-mounted optics, cheap fails. Instead, try to find that sweet spot between an accessible price, purposeful performance, and quality components and build. Sounds like a unicorn, but such products do exist.
First, check to see if the glass is actually described by the manufacturer. Most price-point scopes use cheaper generic glass, but if you see a brand that boasts of using ED (or extra-low-dispersion) glass, or HT (high-transmission) glass, give that product a second look. Often Japanese-made scopes have a slightly higher grade of glass than those sourced elsewhere in Asia. Check on-line reviews of the product. If you see a constant theme of returns or failures, move along, but if previous buyers are generally favorable and charitable to the product, look deeper.
Depending on whether you're looking for a scope to do a single job (ringing long-range steel, winning a rimfire competition, or killing a whitetail at modest distances) or whether you want a scope that can handle many situations, you're going to want to pay attention to the reticle, turrets, and parallax adjustment, as well as the magnification range.
Lastly, consider the warranty. Especially in this class, where malfunctions occur at a higher rate than on pricier scopes with high-quality components, you want to make sure manufacturers have your back. A fully transferable lifetime warranty—that will be honored regardless of whether you were the original purchaser or not—is worth a lot, and can mitigate some of the reluctance to buy scopes at the higher end of this "budget" category.
Final Thoughts on the Best Rifle Scopes Under $500
Back to that question we posed in the intro: what's a sensible definition of a "budget" rifle scope? It might be $50 for a 4-power you want for your squirrel gun. Or it might be $1,500 for a scope to pair with your $5,000 custom rifle. I think of it this way: I'm never uncomfortable spending half the price of a rifle on a scope. Back in 1990, when I bought my first VX-3 for $300, the new Remington 700 in 7mm Rem Mag I mounted it on cost about $600. Now that many production rifles cost $800 to $1,000, our $500 ceiling for a quality, versatile scope is right in the ballpark. And, as our test should show you, there's a lot of quality and choice in that ballpark.
The post The Best Rifle Scopes Under $500, Tested and Reviewed appeared first on Outdoor Life.
Articles may contain affiliate links which enable us to share in the revenue of any purchases made.
Source: https://www.outdoorlife.com/gear/best-rifle-scopes-under-500/