The Best Kids Sleeping Bags of 2023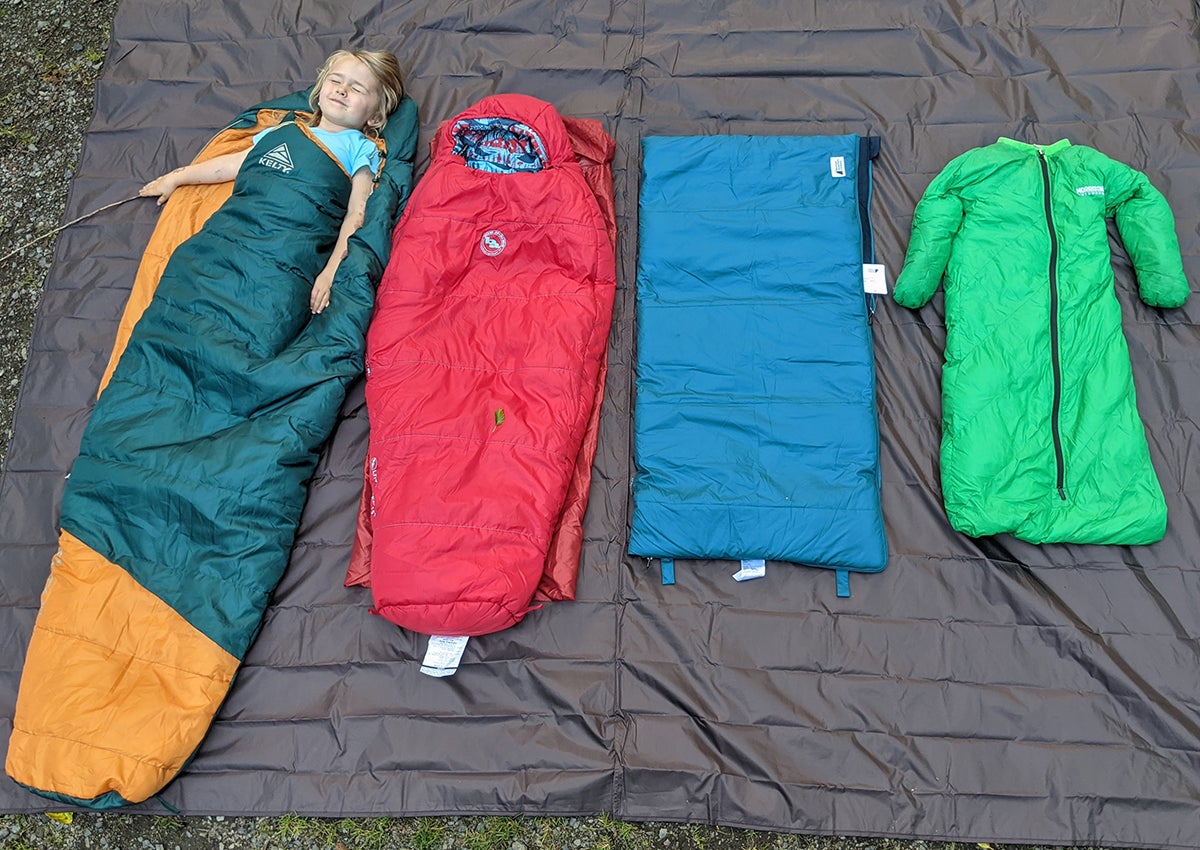 Laura Lancaster
We may earn revenue from the products available on this page and participate in affiliate programs. Learn More ›
You're not overthinking it: Getting the right sleeping bag for your kid is essential for a successful camping trip. From talking to parents of young children, concerns over how (and if) they'll sleep are top of mind when it comes to heading out on that first camping trip. And, after innumerable camping trips with my four-year-old since she was a baby, I've learned that some sleeping bags really do work better than others.
How I Tested the Best Sleeping Bags for Kids
My kid went on her first camping trip at two months old, and she now regularly helps me test everything from the best camping dishes to the best six-person tents. We've had our share of both idyllic nights in the woods, where everyone fell asleep easily and stayed that way all night, and midnight screaming episodes where I worried we'd wake the whole campground. There are a couple of things we've learned from this.
The first is that your kid is sometimes going to wake up in the middle of the night while camping and make a lot of noise. If I'm in the next campsite over, I promise that all I'm feeling is sympathy and empathy—even if the noise wakes up my kid too. It's hard for kids to adjust to sleeping in a tent the first night out, and families that go camping regularly all remember that. Resist the urge to pack up and bail after that first hard night—it's almost always better the second night.
The second thing I learned is that the sleeping bag you have for your kid really does matter. There are plenty of times where I think it's fine (even better) to go with the less expensive option for kids: see my take on the best hiking shoes for kids. This is not one of those times. The right sleeping bag can help your child sleep through the night and develop a love of tent camping and the outdoors. The wrong sleeping bag can leave everyone on the knife's edge the next morning, either packing up to bail early on a week-long planned trip or strongly considering it.
My kid is now 4 and in the ensuing years we've tried a range of sleeping bag styles: mummy, infant, quilt, classic rectangular, and a quilt-classic hybrid. Some of these worked great; some were unmitigated disasters. Here's what I've learned about the best sleeping bags for kids.
Best Sleeping Bags for Kids: Reviews & Recommendations
Key Features
Available Temperature Ratings: 20 degrees, 30 degrees, 40 degrees, 50 degrees (more temperature ranges available for down bags)
Appropriate for older children who typically sleep with blankets at home
Synthetic fill (down option available)
Choose XShort and Slim at checkout
Pros
Roomier interior that doesn't feel claustrophobic to kids
Packs up small
Attaches to the sleeping pad so it's virtually impossible to fall off
A huge range of colors available so your child can pick their favorites
Cons
Expensive
Not technically for kids
Long lead time
After trying out several different styles of sleeping bags with my kid, it's clear that quilts—not sleeping bags—make for a better, less interrupted sleep experience for everyone. If you're new to quilts, here's the rundown: Quilts are essentially puffy blankets that attach directly to a sleeping pad. That means your kid won't roll off the pad in the middle of the night. Because the edge of the sleeping bag is by the edge of the sleeping pad, this also means that there is more surface area for kids to roll around in, lessening the feeling of claustrophobia compared to more traditional sleeping bags. To kids, they feel a lot like sleeping under a regular blanket—but this one will actually stay on top of your kid all night long.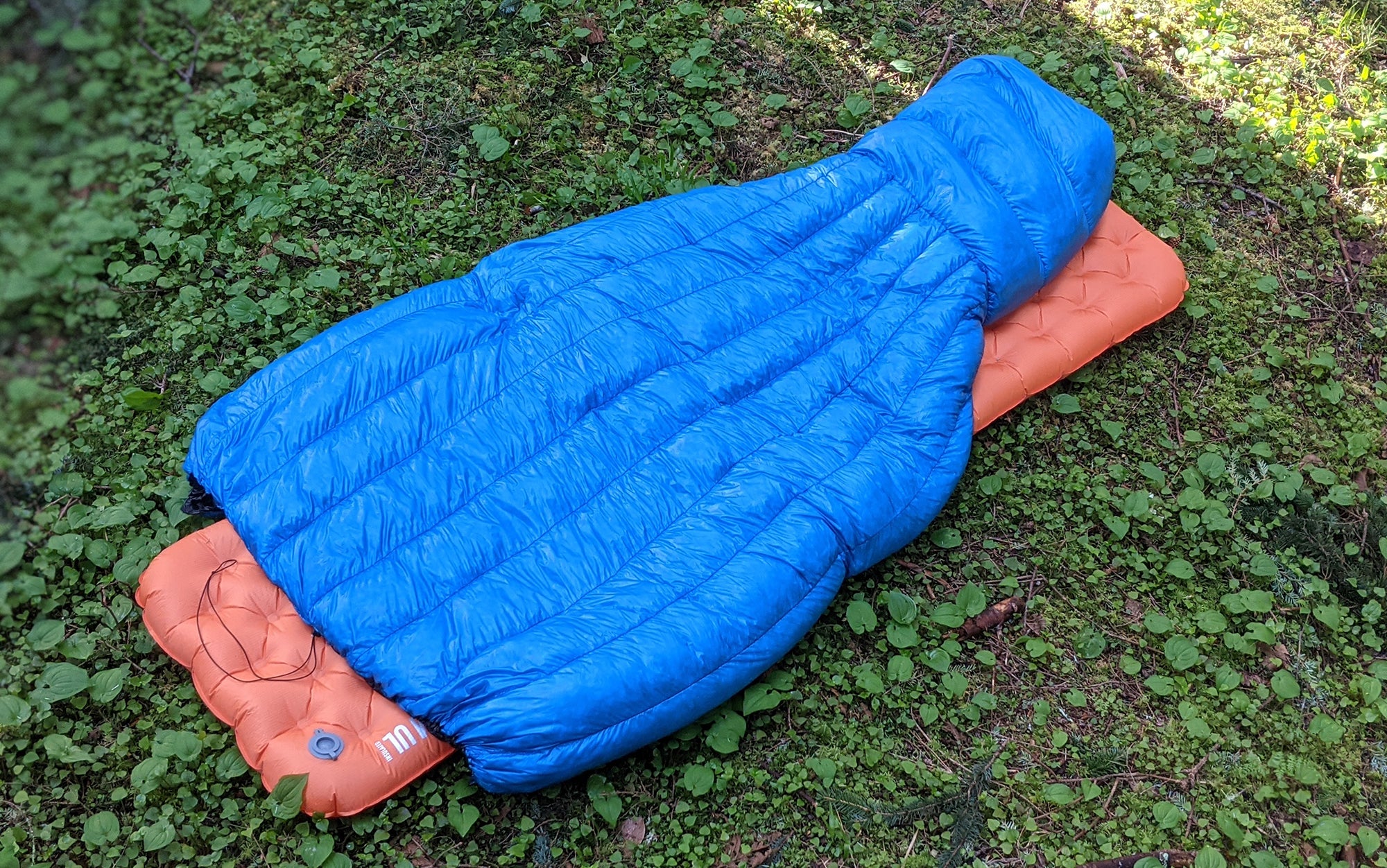 There are even a few bonuses for you. Quilts pack down smaller than sleeping bags, leaving more space in your car for other things. They also are less likely to get mussed in the event your small child has an accident. Something I love about the Enlightened Equipment quilts is that they offer a huge range of color options. Your kid can choose from over a dozen colors including bright pink, deep blue, or sunshine yellow or mix and match.
Read Next: The Best Backpacking Quilts
There are a couple of catches, though. First off, you must pair your kid's quilt with a proper inflatable mattress with an R value of at least 3 (higher if your kid runs cold or you will be camping in the shoulder season). Because, at least for now, quilts are made for backpacking rather than car camping, the straps they come with pair better with air-inflated backpacking sleeping pads then car camping sleeping pads.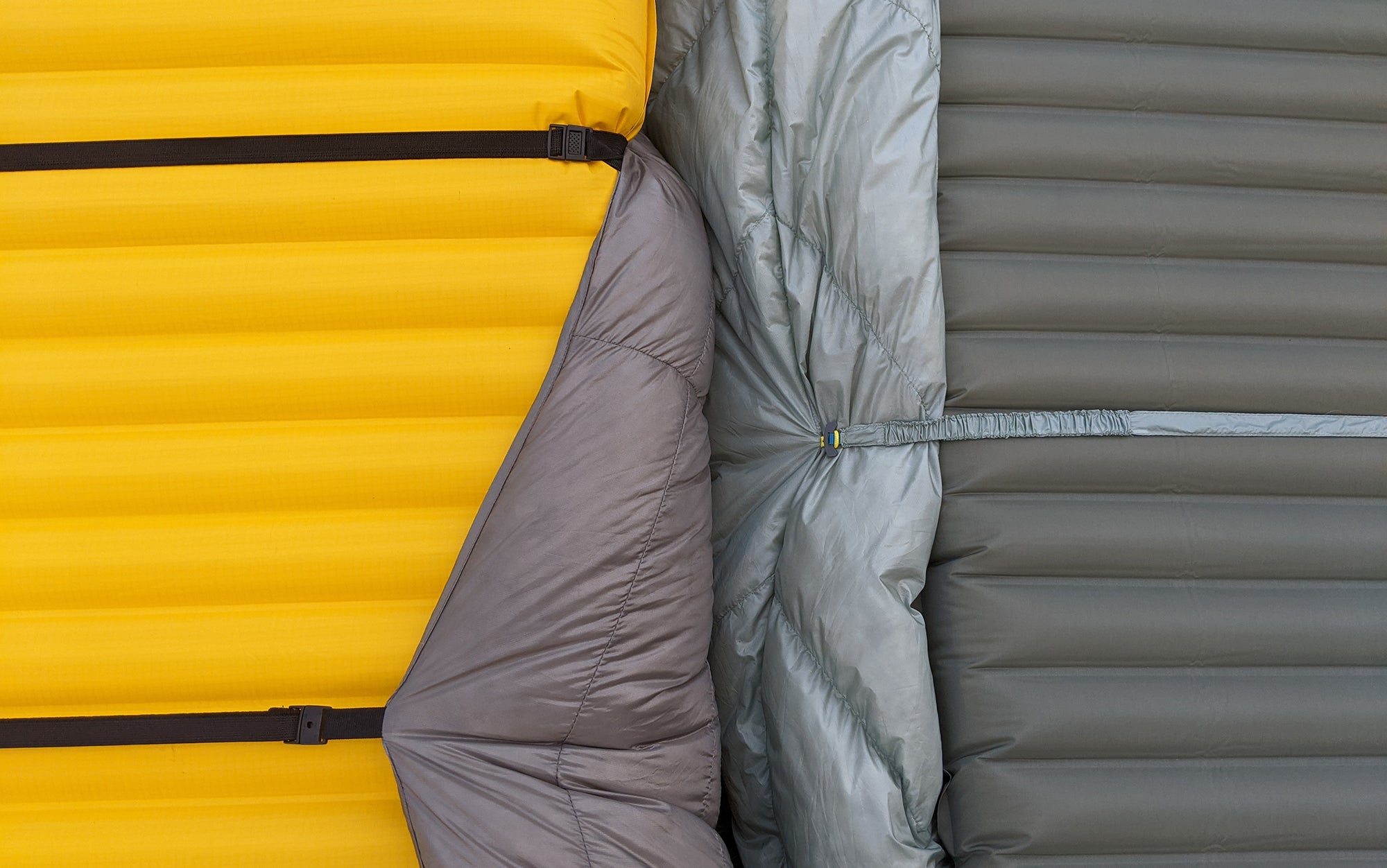 They are also comparatively expensive. I'm recommending the smallest version of Enlightened Equipment's synthetic quilt, and even that is going to run you about $200 (choose the short, and a rating about 10 degrees colder than you expect your lowest overnight temperature to be). The already-small market for kids' sleeping bags built for the outdoors, unfortunately, does not encompass quilts at this point in time.
But, if like me, you're tired of waking up in the middle of the night while camping to a child upset because their sleeping bag was too … something, then I promise you, quilts are worth every penny.
Key Features
Available Temperature Ratings: 20 degrees and 40 degrees
Appropriate for 6 months to 2 years (larger models available for older tots)
Down fill for the 20-degree bag, synthetic fill for the 40-degree bag
Pros
Designed with safe sleep practices in mind
Your child stays warm no matter where they throw themselves in the tent
Available in limited colors including red, green, blue, and purple
Cons
Before Morrison Outdoors came along, a lot of parents of babies and toddlers were stuck lugging the Pack & Play with them while they were camping. Unless you already co-sleep (and your first camping trip with the kid is not the time to start), there just weren't a lot of good options for ensuring your kid actually stayed warm through the night.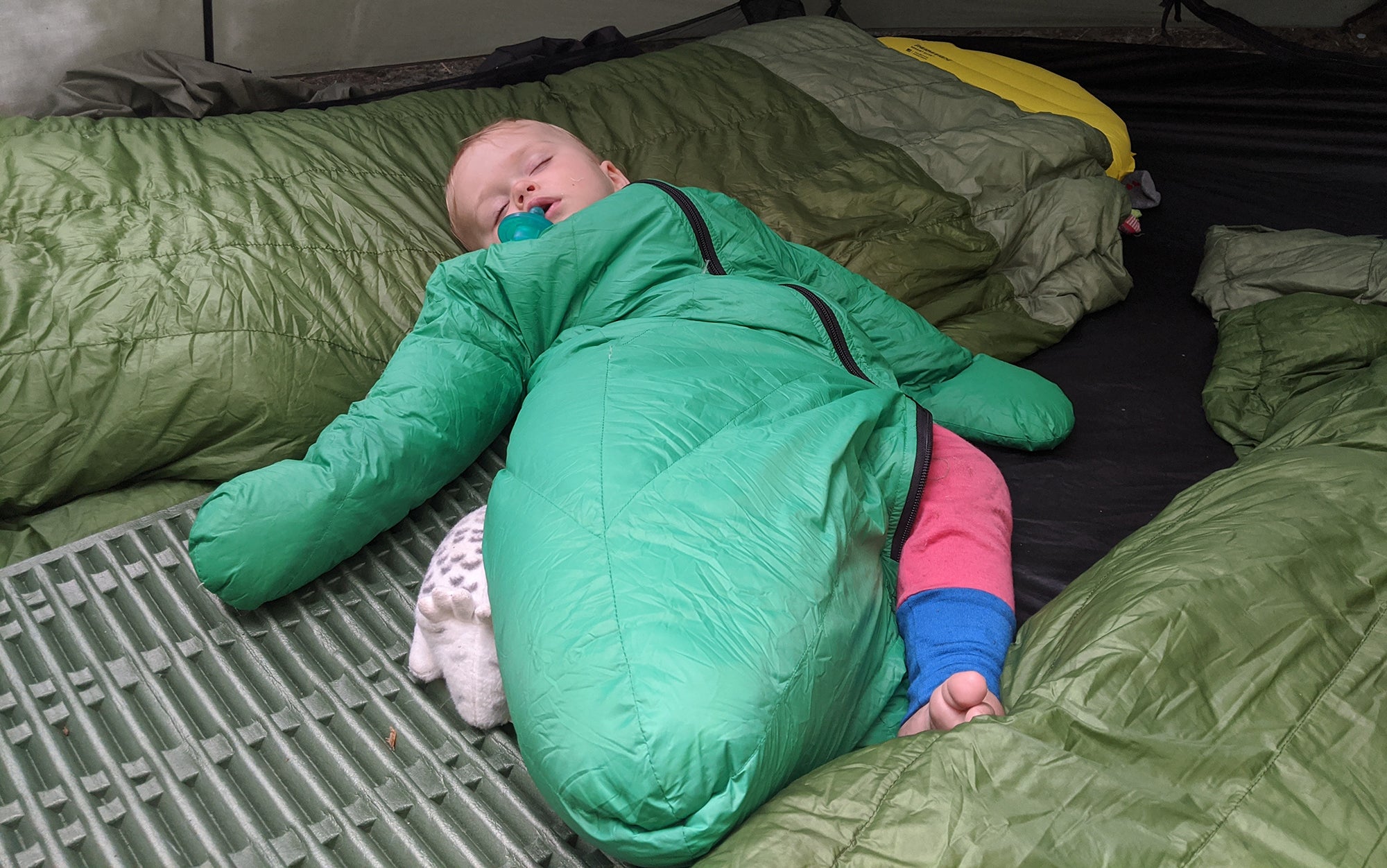 The Morrison Outdoors Little Mo changed that. The first time we used this while camping with our kid she slept straight through the night; I woke up to her throwing herself gleefully onto my chest at dawn with a wide smile on her face. She was delighted. I was delighted. We used that sleeping bag for the next two years, upgrading her to the Big Mo as we went along.
At one point, we even took her on a 30-mile trek in Mount Rainier National Park where she slept at elevation. The 20-degree version of this bag kept her plenty warm. When she finally outgrew hers (word to the wise: the arms can end up being too short before the actual length), we were all devastated. Fortunately, you don't have to be: Morrison Outdoors has since come out with an even larger size: the Mighty Mo. (And a parent bag to match, the Mega Mo.)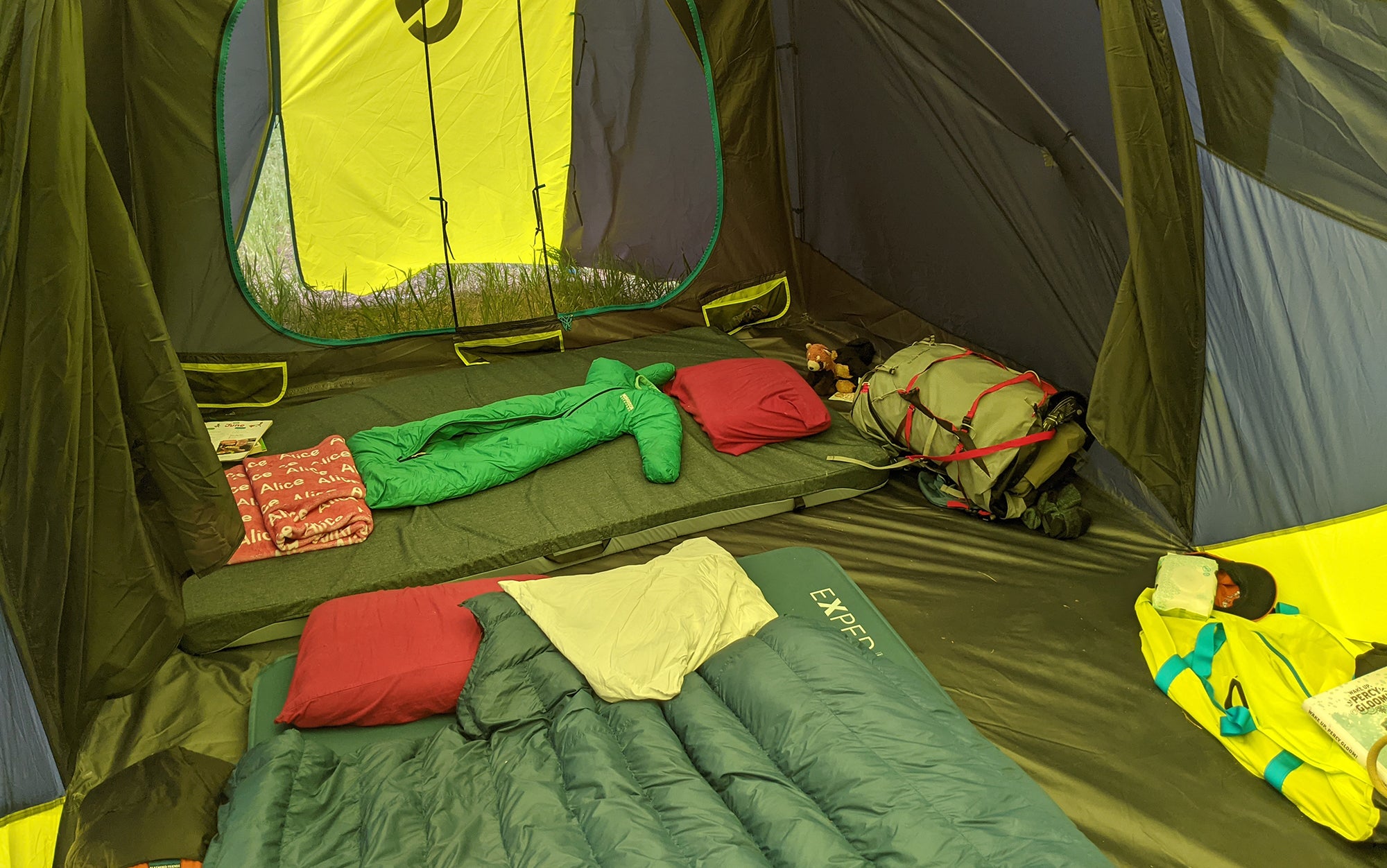 Of course, like our best overall pick, this is a pretty pricey piece of gear for something your kid will grow out of in a couple of years. While I could extoll the importance of safe sleep or the Morrison Outdoors trade-in program, the reality is that getting quality sleep while you're camping or backpacking is just worth it. You deserve it. Your kid deserves it. Get the Morrison Outdoors Little Mo or Big Mo before your next camping trip.
Mountain Equipment Company
Key Features
Available in 5-degree Celsius (40-degree Fahrenheit) temperature rating only
Small and regular sizes; small is appropriate for children up to 4 years old
Synthetic fill
Pros
Affordable
Classic rectangular shape is fun for older kids
Smallest size is a good fit for young preschoolers
Cons
Restrictive and may feel claustrophobic to kids new to sleeping bags
If you're attached to the classic sleeping bag aesthetic—and it's a classic for a reason—then you can't go wrong with the affordably priced Mountain Equipment Company Little Dipper. It's one of the lowest priced options we tried out, and it's clearly made with little bodies in mind, which was appealing to my kid.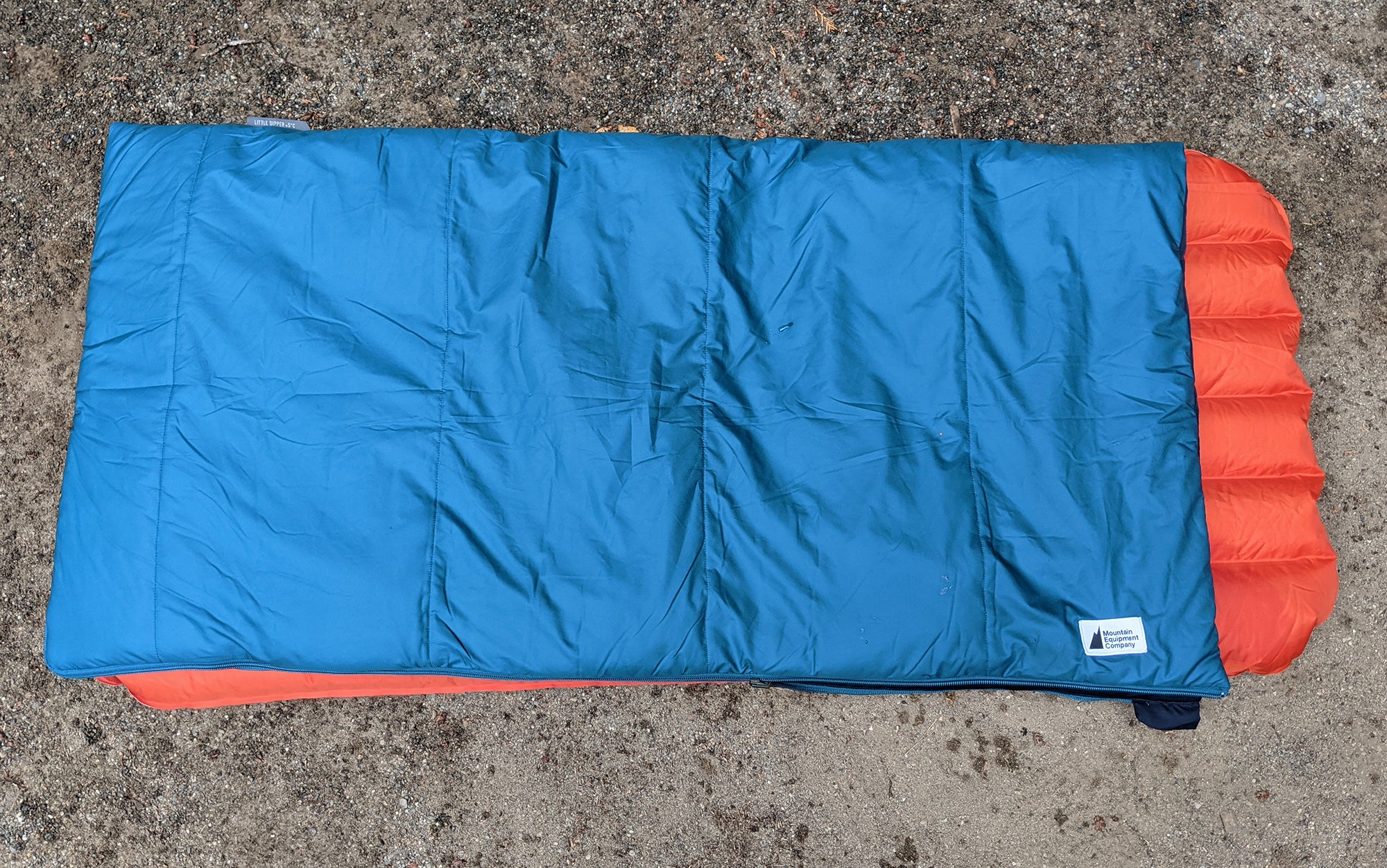 At least at first. She got in the Little Dipper happily at nighttime and snuggled down, pulling a second blanket on top of her for some extra warmth on our late-summer camping trip. But in the middle of the night, she woke up overheated and sweaty. Clearly, the extra blanket hadn't been necessary (you can trust the temperature rating on this one) but in her half-asleep state the enclosed feeling of the sleeping bag was overwhelming and she expressed that she needed to get out.
After I helped her out of it she fell back asleep almost instantly using the blanket, rather than the sleeping bag. A five minute blip in the middle of the night is par for the course for most kids at home, let alone while car camping, so my feeling is that this was still basically a success. If you don't have a spare blanket on hand to give your kid a different option for falling asleep, you can fully unzip the Little Dipper so that it is functionally a blanket.
The Rest of the Field
Big Agnes Wolverine
If you've never used a Big Agnes sleeping bag before, it's important to know that these are a bit of a quilt / sleeping bag hybrid. Instead of having insulation on the underside, there is a fabric sleeve that you insert your sleeping pad into. The idea at the inception of this sleeping bag is that by securing the sleeping bag to the sleeping pad, you won't be able to fall off of it. In many ways, the Big Agnes sleeping bags are more akin to the best backpacking quilts than they are sleeping bags.
While these sleeping bags may help adults to stay on their pads, they can, unfortunately, have the exact opposite effect with kids. The fabric sleeve is fairly tight, but loose enough that a wiggly kid (and they are all wiggly the first night) can easily shift the center of the sleeping bag off to the side. While you can shift it back again pretty easily, your kid will need to get out of the bag to do it. This can easily disrupt the sleep patterns of small children. On a testing trip with my then three-year-old, she fell out of this bag so many times that she ultimately refused to get back into it at all (at 2 in the morning, no less) and ended up crawling into my one-person quilt with me instead.
Kelty Mistral
While the Kelty Mistral is advertised as being for kids, it's really a sleeping bag for older children. Unlike other sleeping bags for kids I looked at, it's extremely long—almost as long as an adult sleeping bag. I'm five foot five inches and after climbing inside, I'm confident I could use this sleeping bag in a pinch. It's also a mummy-style sleeping bag. The unusual look and restrictive feel of these sleeping bags can be pretty tough for kids to get used to. (Mine refused to get into it on the designated testing trip.) If you have an easy-going kid that will roll with just about any sleeping situation, then this would be a great option that they will get many years of use out of. This could also potentially be a good sleeping bag for smaller adults.
How to Choose the Best Kids Sleeping Bag
Kids vs. Adult Options
Older children can often get away quite comfortably with a hand-me-down adult sleeping bag. As a kid, I slept in my dad's old down REI bag, and I still have it today. Don't feel obligated to purchase a separate sleeping bag for children eight years or older if you already have something on hand that's warm enough for them to use. Just remember that small bodies will have to do more work (at least at first) to warm up a larger sleeping bag: consider going up a temperature rating or two to account for this.
Temperature Rating
Most kids' sleeping bags are appropriate for summer conditions—i.e., temps that stay well above 50 degrees overnight. If it doesn't say what the temperature rating is, assume it will be on the cooler side. Plenty of kids run hot naturally and this won't be an issue. But if yours (like mine) is a little popsicle, then consider bringing along one of the best camping blankets to throw on top of them after they are asleep or look for a sleeping bag from a reputable manufacturer with an advertised temperature rating that goes at least 10 degrees colder than what you expect your coldest overnight temperature to be.
Sleeping Pad
There are two components to a sleeping pad: comfort and warmth. If you'll be camping in the mid to late summer, with warm overnight temperatures, and a flexible kid that can fall (and stay) asleep anywhere then you can get away with just about anything—even skipping the sleeping pad entirely. However, most of the time you will need to give them a little protection from the cold and hard ground.
For babies and the youngest toddlers, I recommend the Therm-a-Rest RidgeRest, which has one of the highest R ratings for closed-cell foam pads. Kids over 15 months can typically be switched to an inflatable pad. Many will have notes on them at point of purchase that indicate what age they are safe to use at, but if you are at all unsure, check with your pediatrician. For older kids, I like the Big Agnes Air Core Ultra in the short size, but anything with an R value above 3 will work great.
Read Next: What is R Value?
Down vs. Synthetic
You'd think that synthetic would be a no-brainer for kids, but the reality is that down is a great space-saving option that will keep kids miles warmer for the same weight. Choose synthetic if cost is your biggest consideration (or if you don't want to be hassled with a special down detergent). If warmth or packed size are your biggest priorities, choose down.
Read Next: Down versus Synthetic Sleeping Bags
Colors
Older kids love bright, bold colors for their gear—the exact opposite of the muted earth tones that so much of the best camping gear comes in. They also love choices. If possible, figure out what sleeping bag you'd like your kid to try on your next adventure and then invite them to help you choose the color or pattern. They'll feel more ownership over the bag that way, and be more likely to hop inside when the time comes.
FAQs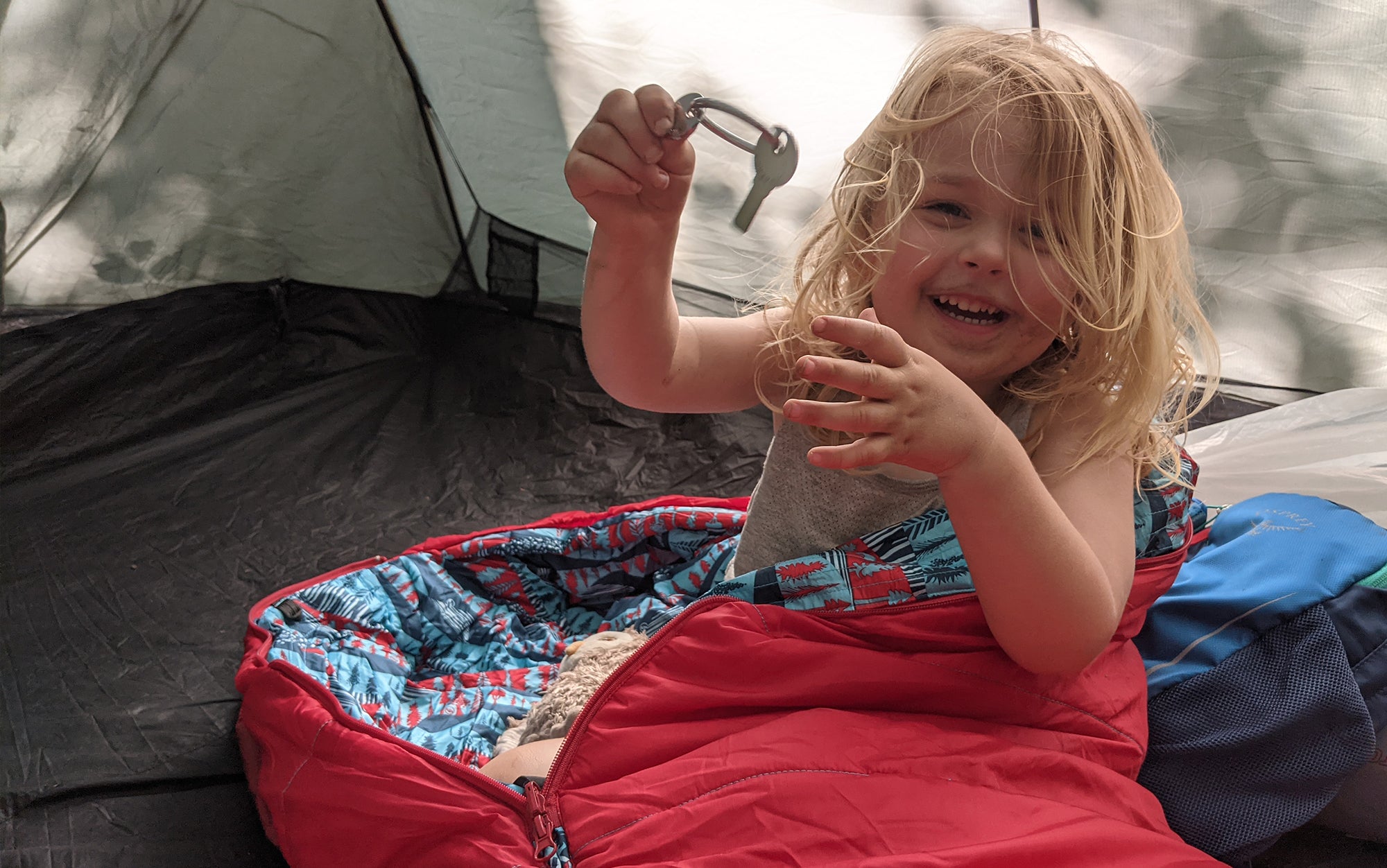 Q: Are expensive sleeping bags worth it?
In my experience, yes, the best kids sleeping bags are well over a hundred dollars and they are absolutely worth it. However, not all expensive kids sleeping bags are created equal. While expensive, our top two options here are worth the money. 
Q: How do I wash a sleeping bag?
Sleeping bags will typically include washing instructions on a tag on the bag or stuff sack, but if you've misplaced those, here's what you need to know. Wash your sleeping in a front loader or a top loader that doesn't have an agitator. Don't ignore this step: If all you have is a top loader with an agitator, go to a laundromat or hand wash your bag in a tub, as the agitator can damage your sleeping bag (ask me how I know). Next, if you are washing a down sleeping bag, it's best to use a down detergent. This will help to extend the life and performance of the down in the bag. 
You can get away with using a standard detergent for synthetic sleeping bags, but cleaners designed for synthetic fill are better. Wash on cold with the gentle cycle unless the instructions say otherwise. Dry on the lowest setting possible (air only if you have the time) and make sure the dryer is large enough to accommodate the sleeping bag as it starts to expand. Tossing in a couple of tennis balls with your down bag, while loud, can help keep the feathers separate. 
Q: Does my child need a blanket while using a sleeping bag?
Your child does not need a blanket while using a sleeping bag if they are on an insulated mat and the night is projected to be on the warm side (not dropping below 60 degrees). If the ground feels cold to the touch, consider putting a blanket underneath them to provide insulation from the ground. If the ground temperature is OK (or they are on a sleeping pad with an R value of 3 or greater) but the air temperature is projected to drop overnight, throwing a blanket on top of them can help boost the insulation of the sleeping bag itself. 
Why Trust Outdoor Life?
Since 1898, OL has been a leading authority in testing and reviewing hunting gear, fishing tackle, guns and shooting equipment, and much more. We have more than a century-long history of evaluating products, and we're now bringing that expertise to online reviews. Our editors are experienced outdoorsmen and women, and most importantly, we're trained journalists. We prioritize field testing and objective data when reviewing products. We conduct interviews with gear manufacturers and engineers as well as outdoor experts so that our readers have an understanding of how and why a product works—or doesn't.
Advertising does not influence our gear reviews and it never will. While we always focus our coverage on standout products—because we want our readers to be aware of the latest and greatest gear—we also cover the flaws and quirks of any given product.
Final Thoughts
Taking your kids camping for the first time is both exciting and stressful. While just about every kid will be thrilled to have the chance to run around and explore a campsite or campground, all of the newness can become a sticking point when it comes time to get ready for bed. Do what you can to keep your bedtime routine the same—whether that's having a snack while you read a story or singing your special song together, and this will help children to feel safe and calm. Do your research, too, on sleeping bags or quilts to see what option makes the most sense for your child.
The post The Best Kids Sleeping Bags of 2023 appeared first on Outdoor Life.
Articles may contain affiliate links which enable us to share in the revenue of any purchases made.
Source: https://www.outdoorlife.com/gear/best-kids-sleeping-bags/