The Best Hydration Packs of 2023, Tested and Reviewed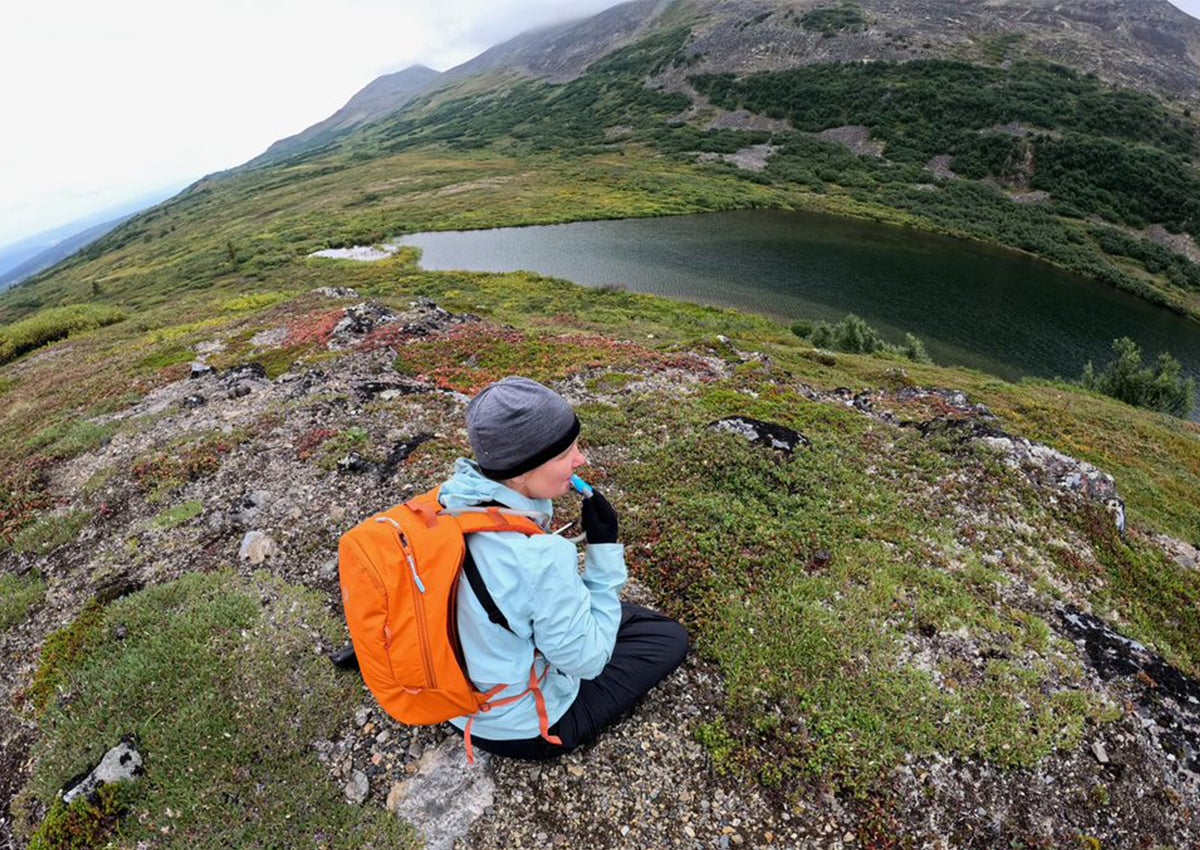 Patrice La Vigne
We may earn revenue from the products available on this page and participate in affiliate programs. Learn More ›
Seventy-five percent of Americans are chronically dehydrated. I'm a hiking guide in Alaska, and I'm constantly stopping on my hikes to encourage my guests to drink water. I always rely on a hydration pack for myself because I know I would never drink enough water while hiking and guiding otherwise. It's amazing to be able to sip as you hike, instead of stopping and chugging, and stopping and chugging. My team of testers checked out eight options in search of the best hydration packs for runners, hikers, bikers, and those with a budget.
How I Tested the Best Hydration Packs
There are countless day pack brands out there, and a good number that are compatible for hydration. However, only a handful of backpacks include a reservoir and/or make their own bladder. I picked out eight hydration backpacks from brands like CamelBak, HydroFlask, Osprey, and Gregory, and solicited six testers for the test. This included my husband and I, who are both out guiding day hikes through the summer. Two of the other testers were trail runners in Alaska, one was a weekend warrior in Washington, and one was a weekend warrior in Oregon. Collectively, the pack test accumulated 100+ miles over July and August.
Best Hydration Packs of 2023: Reviews & Recommendations
Key Features
Weight: 1 pound, 7 ounces
Gear Capacity: 14 liters
Reservoir Capacity: 2 liters
Pockets: Main body stretch overflow pockets, two mesh side pockets that fit 32-ounce bottles, angled smaller pocket on one side, two pockets on oversized shoulder straps
Unisex
Pros
Roll-top closure for pack and zipper closure for reservoir
Dual sternum straps and vest-style shoulder straps
Multiple pockets
Various points of reflectivity
Red poppy color good for hunting season
Cons
Heavy weight-to-capacity ratio
Small volume for gear
The CamelBak Octane 16 is best suited for trail running and summer hiking when there's not much of a consequence for carrying a lighter load. It delivers a lot of bells and whistles, especially for its price point.
There is a vest-like harness, oversized shoulder straps, and two sternum straps, but no hip belt, so our tester limited her load since the majority of the weight was on her shoulders. Still, she successfully carried up to 15 pounds by filling the 2-liter bladder with water. The rest of the internal compartment held a fleece and a rain shell, and she stashed snacks, a first aid kit, sunscreen, and a dog leash into the six remaining pockets. The roll-top closure allowed top access to the main compartment. A full-length vertical zipper allowed access to the bottom items.
Camelbak's new Fusion reservoirs are designed for ease. They have a rigid backplate to help with drying, a grip for single-handed filling at sinks, and a durable and secure zipper closure that is not fussy at all. The reservoir has a dedicated spot in the pack with a buckle attachment. The hose goes through a hole, then a bungee over the shoulder, and stays in place with a clip. The bite valve is designed to deliver more water for each sip.
The ridged foam of the pack molded to the tester's back with an overlay of mesh for airflow, but she noticed some sweat along the mesh front straps when temps rose to 90 degrees in Oregon.
Key Features
Weight: 1 pound, 2 ounces
Gear Capacity: 10 liters
Reservoir Capacity: 1.5 liters
Pockets: Three small mesh pockets (one zippered) inside the pack, one zippered pocket outside, plus side sleeves
Unisex
Pros
Fits multiple body types
Best bang for your buck
Cons
Heavier weight for a running pack
Must take bladder out to fill
The REI Co-Op Link, designed to be unisex, fit both members of our married couple tester team, one of whom weighs 40 pounds more than the other. The multiple points of adjustment on the waist and sternum straps hugged each person's body adequately to prevent the pack from flopping around or messing up their balance. According to our male tester, though, having a waist strap versus a hip belt resulted in more chafing when running.
The pack's design purposely positions the bladder at the lumber for weight distribution. The reservoir is basically the size of a piece of paper (8.7 x 10.2 inches) when flat and has a 1.5-liter capacity, which is a bit squatter than the more common taller and narrower reservoirs. It does need to be removed from the pack to fill, but the zipper to get into the interior chamber goes three-quarters around the outside, so there's easy access.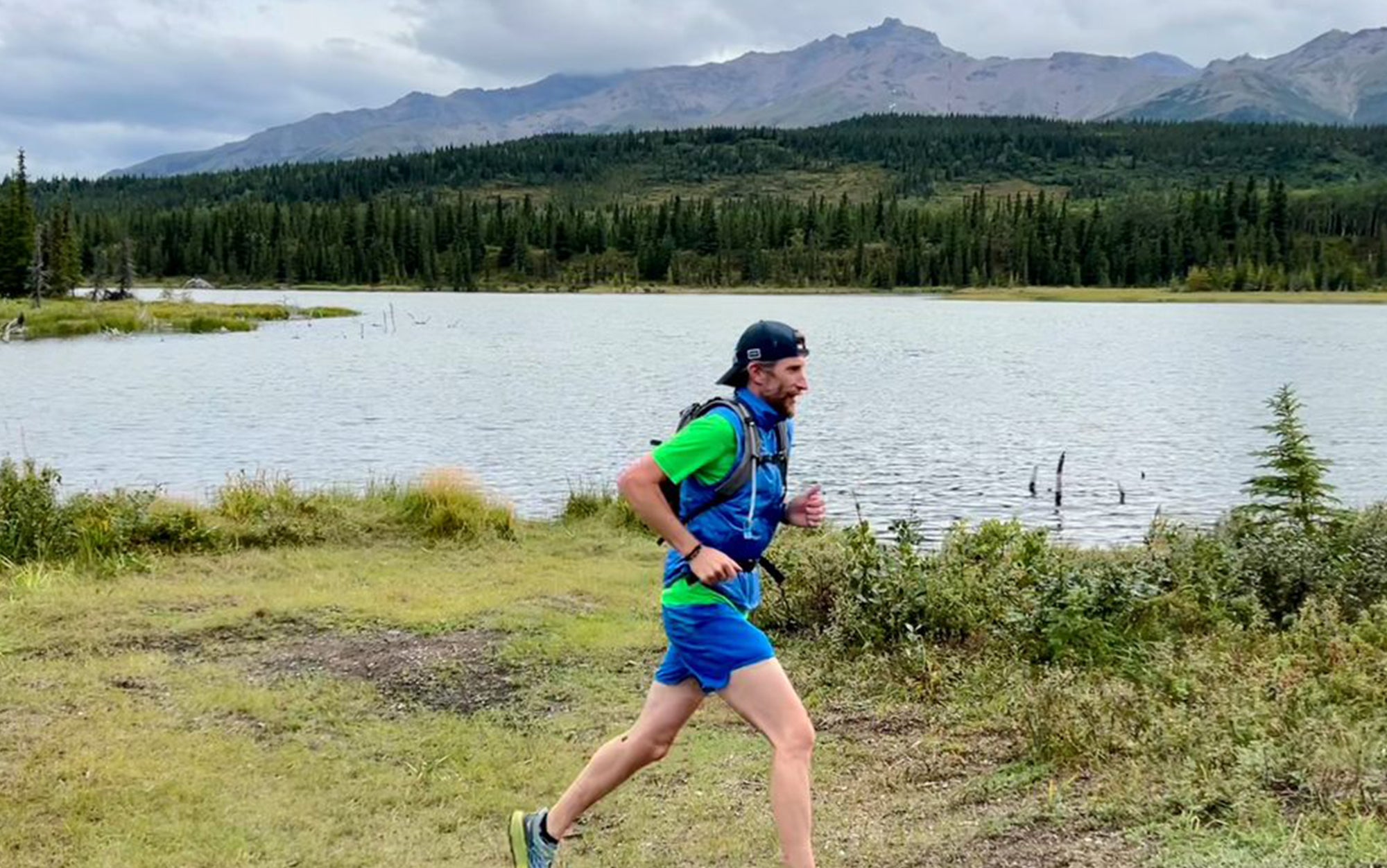 The bladder didn't leak on trail runs, which is likely due to the two-part zip and attached plastic slide closure. The puzzle does take a minute to figure out, but even beginners were able to decipher it. The tube and mouthpiece of the bladder not only clamped in place for runs, but was even accessible hands free.
Though the padded lumbar cushion was comfortable, our testers called it heavy duty, and predicted it would result in back sweat if temps rose above 60 degrees. Also, the weight of the REI Co-Op Link straddled the line between a hiking or biking hydration pack versus a running pack.
Key Features
Weight: 3 pounds, 4 ounces
Gear Capacity: 22 liters (women's) and 24 liters (men's)
Reservoir Capacity: 2.5 liters
Pockets: Dual zippered hipbelt pockets, front panel stretch, top zippered pocket, interior mesh zippered pocket
Male and female versions available
Pros
High-capacity volume
Lots of pockets
Includes rain cover
No back sweat thanks to breathable back panel
Cons
Heavy
Magnet for mouthpiece and sternum doesn't stay in place
This is an all-around comfortable pack to carry, even up to 30 pounds. For one, the springboard mesh back panel keeps the weight off your back and allows for ventilation. While both the male and female versions of this pack are one size fits all, there is 4 inches of adjustability for the torso length. Lastly, the hipbelt and harness are both padded with EVA foam, but a mesh lining makes them breathable.
The 2.5-liter reservoir has a dedicated compartment and hangs on a clip. There is a clip on the shoulder harness for the tube, but the magnetic bite valve attachment on the chest strap never really stayed in place while wearing on the move.
Other highlights of the pack include five large internal and external pockets, an integrated rain cover, a whistle on the chest strap, trekking pole stowaway attachments, and an ice tool loop with a bungee tie-off.
Key Features
Weight: 2 pounds, 2.5 ounces
Gear Capacity: 30 liters
Reservoir Capacity: 3 liters
Pockets: Two zippered hipbelt, one interior mesh zippered, one top zippered, one front stretchy pocket, two side mesh
Women's (Citro is the men's counterpart to the Juno line)
Pros
Multiple pockets
Tailored to female anatomy
Extended length shoulder straps and hip belts
Cons
Magnet for mouthpiece and sternum doesn't stay in place
The numbers tell the story, as this pack fits 14 to 19 inches for torso length and 41 to 60 inches for hips, which is comparable to 2X to 6X in plus size apparel. Our tester was on the cusp of plus size according to most charts with her 43-inch hips and 5-foot-10 frame. She appreciated that there was ample room to expand while allowing the transfer of weight to her hips. Moreover, the shoulder straps were long, so she could really pull the pack inward and upward for a snug fit.
One of the key features of the 3-liter bladder is that it is a 3D design that stays open to completely dry out like a bottle, and even has an integrated handle to hang the bladder upside down. When filled, it clips into the pack with one hand and curves to your back, which minimizes the water splashing around.
With that being said, my testers had a gripe with the mouthpiece. There is a magnet on the bite valve and on the sternum buckle, which should connect. No matter how she positioned the tube, the magnets didn't seem strong enough to stay connected while moving.
Overall, between the fit and the abundance of pockets, our tester loved the pack. "It's like I had been driving a 20-year old Kia my whole life and someone gave me the keys to a Jaguar."
Key Features
Weight: 2 pounds, 3 ounces
Gear Capacity: 14 liters
Reservoir Capacity: 2 liters
Pockets: One outside zippered top pocket and one internal zippered mesh pocket
Pros
Bronze color good for hunting season
Keeps water ice cold
Chest strap has whistle
Cons
Internal bladder hard to open first time
Expensive for size
Small pockets
Small volume for gear
This is an updated pack, but I've used HydroFlask's insulated IsoBound reservoir in the past. On one trip, I camped overnight in Florida's Dry Tortugas National Park where there was no shade and daytime temps stayed in the high 80s. Even after 24 hours, my water was still cold, and that's when I was convinced this was unique.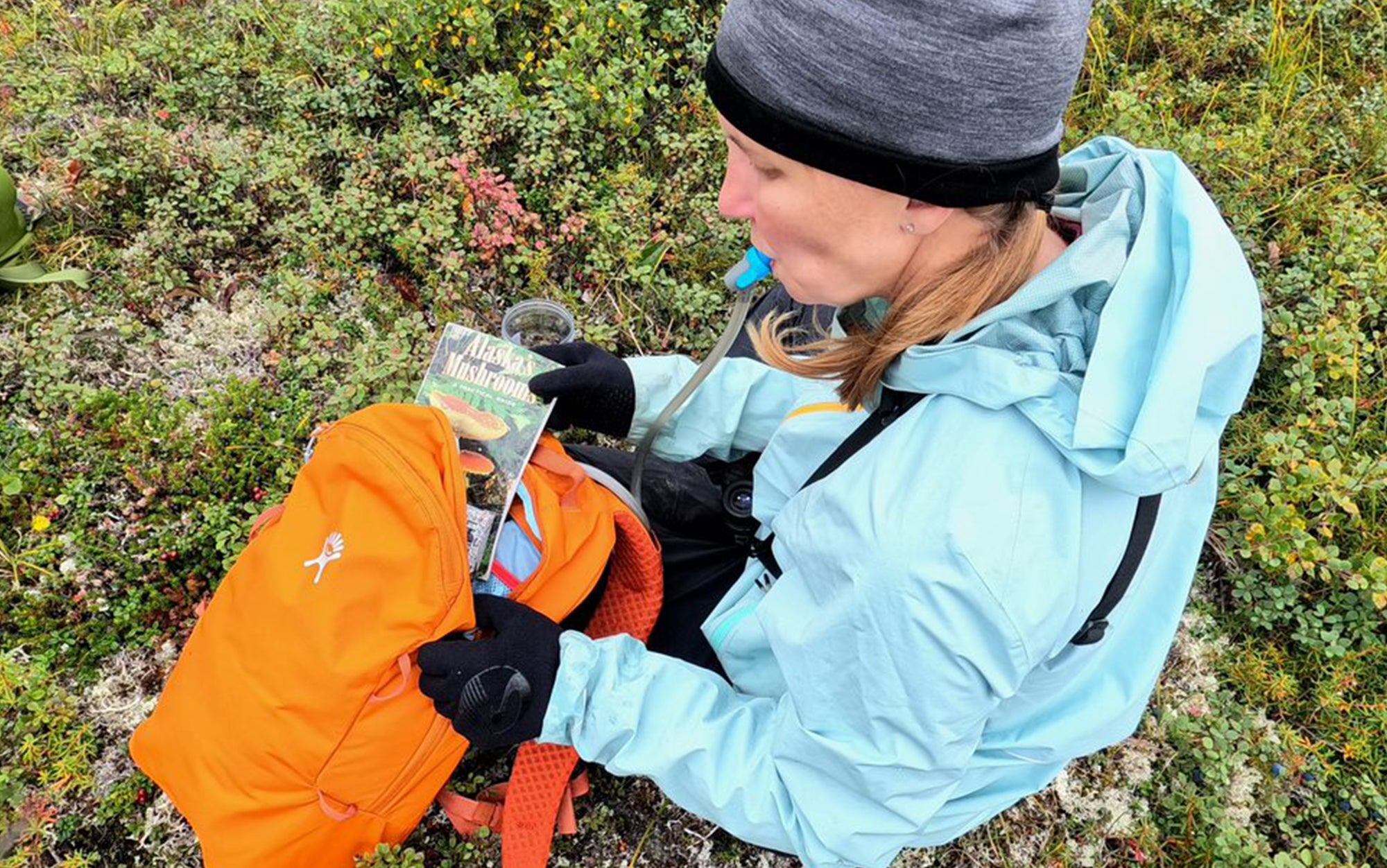 The 2-liter reservoir has its own Velcroed insulated area that sits low in the backpack, thus shifting the water weight down low, which worked well on my bike rides. For such a slim design, I was impressed by how robust the internal compartment felt; I could fit my rain layers, a puffy, and my first aid kit.
The pack itself is water resistant and made of abrasion-resistant materials, another bonus. But these things add up to dollar signs, and my one complaint is that it is an expensive pack for its size.
Key Features
Weight: 16.1 ounces (with bladder), 11.5 ounces (without bladder)
Gear Capacity: 15 liters
Reservoir Capacity: 1.5 liters
Pockets: Two zippered pockets on front straps, four narrow pockets inside, and two angled side sleeves
Unisex
Pros
Made with moisture-wicking materials
Bladder stays put
Angled side pockets
Cons
Complicated bladder closure
Complicated mouthpiece
Comes only in dark colors
This pack scored big points for being lightweight and extremely comfortable, as it molded itself to our tester's back. The bladder sits in its own compartment, and the pack is pear-shaped, helping minimize any sloshfest of the water. The tester also applauded the moisture-wicking stretchy fabric, which was intentionally designed to stave off sweat and chafing.
Other nice touches were the reflective markings that made it more visible, though the pack is only available in dark colors. The two side pockets are angled, making it easy to grab our gear out of them, and even had some Velcro to secure the items. And there was an exterior bungee cinch cord that could stash a jacket or a helmet.
However, our tester deemed Nathan's bladder closure over-engineered and not intuitive. It is a mix of folding and slide closures, presenting a struggle.
Things to Consider Before Buying the Best Hydration Pack
Bladder
I've been using hands-free hydration via a reservoir since I started hiking in 2001, so I can say with certainty that not all bladders are created equal. Some bladder closures require rolling, sliding, spinning a cap into its grooves perfectly, and/or suction. Some mouthpieces require biting, twisting, pulling, sucking, and turning. This test included a wide gamut of those combinations, and it really came down to personal preference. I personally favor a tube that clips in place and the self-sealing bite valves where I don't have to fumble with anything and can drink on the go, especially when I'm guiding clients on hikes.
Read Next: The Best Hydration Bladders of 2023, Tested and Reviewed
Gear Capacity
Another thing to consider with carrying your water in a reservoir is the gear capacity. Do you want a higher capacity pack that can fit a puffer jacket, rain shell, and extra layers? Or are you trying to carry minimum supplies other than hydration? I also covet multiple pockets for organization, another personal decision in how to pack for your adventure.
Fit
Fit and comfort of the backpack are, of course, important. Most packs only have chest and waist adjustment straps, but there are a few hydration packs in this test that have multiple adjustable points, which helps when tailoring to different body types.
FAQs
Q: What makes a good hydration backpack?
A reservoir is a whole other product outside of the backpack, and there are many things to consider when buying a backpack that comes with a hydration bladder. The number of liters for water is the first aspect, followed by how easy the reservoir is to fill, attach, and use. If a backpack is hydration-compatible, it will likely have a dedicated port for the tube, and maybe even a connection point on the shoulder or chest strap. 
Q: How do I keep my hydration pack from bouncing?
Having a separated reservoir compartment and some sort of clip to hold the bladder in place really helps the sloshing around of water and the reservoir. Some backpacks concentrate the water weight down lower in the pack, which also helps to balance the load. 
Q: Should I put my hydration pack in the freezer? 
I've had many bladders form mildew and/or a funky taste over the years because I can't quite get them emptied and cleaned in between uses. It was only recently that I discovered the hack of freezing my reservoir to prevent bacteria growth. Once the bladder dries out, I put my bladders in my freezer to store, and that helps maintain the life of the product.  
Why Trust Outdoor Life?
Since 1898, OL has been a leading authority in testing and reviewing hunting gear, fishing tackle, guns and shooting equipment, and much more. We have more than a century-long history of evaluating products, and we're now bringing that expertise to online reviews. Our editors are experienced outdoorsmen and women, and most importantly, we're trained journalists. We prioritize field testing and objective data when reviewing products. We conduct interviews with gear manufacturers and engineers as well as outdoor experts so that our readers have an understanding of how and why a product works—or doesn't.
Advertising does not influence our gear reviews and it never will. While we always focus our coverage on standout products—because we want our readers to be aware of the latest and greatest gear—we also cover the flaws and quirks of any given product.
Final Thoughts
As a dedicated water drinker, I only buy hydration backpacks. I could never return to the whole "stop and drink" habit while hiking, biking, or running. If you are like me, and want to drink on the go, a hydration backpack is the way to go.
The post The Best Hydration Packs of 2023, Tested and Reviewed appeared first on Outdoor Life.
Articles may contain affiliate links which enable us to share in the revenue of any purchases made.
Source: https://www.outdoorlife.com/gear/best-hydration-packs/