The Best Dog Training Collars of 2023, Tested and Reviewed
We may earn revenue from the products available on this page and participate in affiliate programs. Learn More ›
If you're a dog person then you know most things improve in the company of a good dog: walks, runs, drives, hikes, hunts, cold beers, and camping trips, just to name a few. By the same token, not much is more stressful than trying to wrangle a wild, leash-pulling, out-of-control canine that doesn't listen to a word you say. The good news is many, if not most, pups will change their behavior with consistent obedience training and a good dog training collar.
I'd bet a truckload of Milkbones that not a single dog ever became a Good Boy when left to his own devices. This applies to every pooch out there, from the scruffiest shelter mutt to the most blue-blooded show breed on the podium. To have a well-trained dog you must, well, train him. That's why choosing one of the best dog training collars can make your dog's quality of life—and your own—happier, healthier, and safer.
How We Chose the Best Dog Training Collars
For the simpler training collars, I enlisted the help of three adult dogs with varying degrees of leash training. Abilities ranged from walk-at-heel compliance to drag-you-down-the-sidewalk enthusiasm, including a high-energy, featherweight English setter and a 110-pound freight train of a Labrador retriever. Most of the time I enlisted my 65-pound Lab, Hatchet. He's a 2-year-old bird hunter, trail runner, and family dog who spends a lot of time off leash and is e-collar trained.
For the electronic collars I enlisted a human buddy to help me test the effective range of tone, vibration, and stimulation over varying distances and types of terrain. I submerged the e-collars in water for 30 minutes to test their waterproof ratings. And I field tested them while walking, trail running, and hunting. I also tested the battery life by turning the collars on and documenting when they required charging.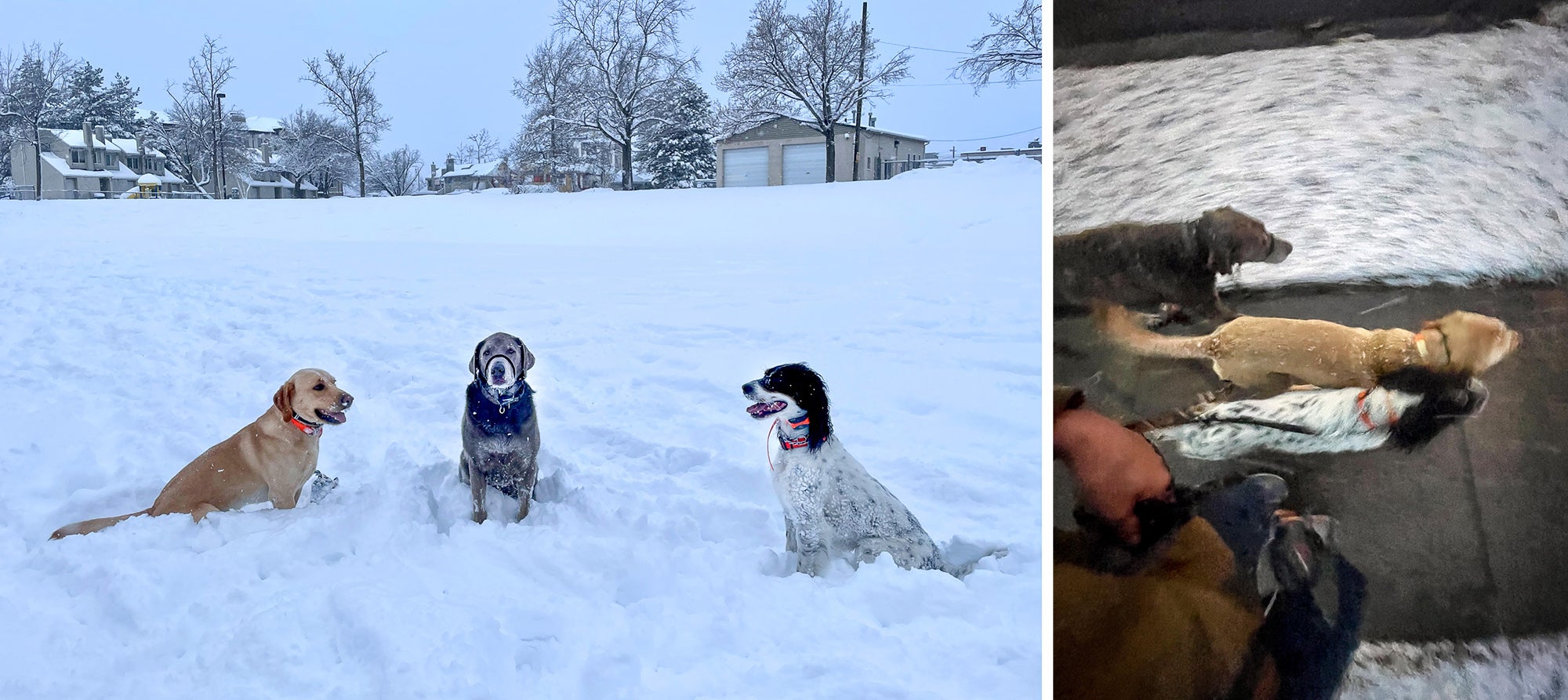 I've worked closely with three professional trainers in the last few years who have vastly different views on training collars. Opinions range from slip-lead-only training to responsible e-collar training. I also spoke to licensed small-animal veterinarian Dr. Angie Baumhover Rotenberger. In addition to seeing plenty of working dogs at the Northern Plains Animal Health veterinary clinic in Aberdeen, South Dakota, Rotenberger has decades of experience training her own dogs (including golden retrievers, Cavalier King Charles spaniels, and small munsterlanders) with every style of collar on this list. She has competed (and titled in) agility tests, hunt tests, and dock diving.
I did not choose a "best overall" collar for this roundup because every dog has different obedience and training needs. That means you should use this guide to help you choose the best dog training collar for you and your dog.
A Note on Bark Collars
Bark collars are effective training tools. SportDog, Garmin, and Dogtra all make reputable models that can quickly and humanely teach a vocal pup to pipe down. But my Lab rarely barks, which makes testing bark collars nigh impossible. Stay tuned for future input from OL testers.
A Note on E-Collars
Let's get this out of the way up front: E-collars can be an incredibly useful, humane way to train your dog when used correctly. The key point is that you must only use them to reinforce commands your dog already knows. You must also select the appropriate level of static stimulation for your dog. Just like people, some dogs are more sensitive and others are tougher.
"I totally believe in them. I think it can save a dog's life," says Rotenberger, who lives on an acre of land near a lake. "My dogs wear [their e-collars] from the time they come out of their crates in the morning until they go back in at night. I hardly ever shock them anymore, I just use tone and vibration."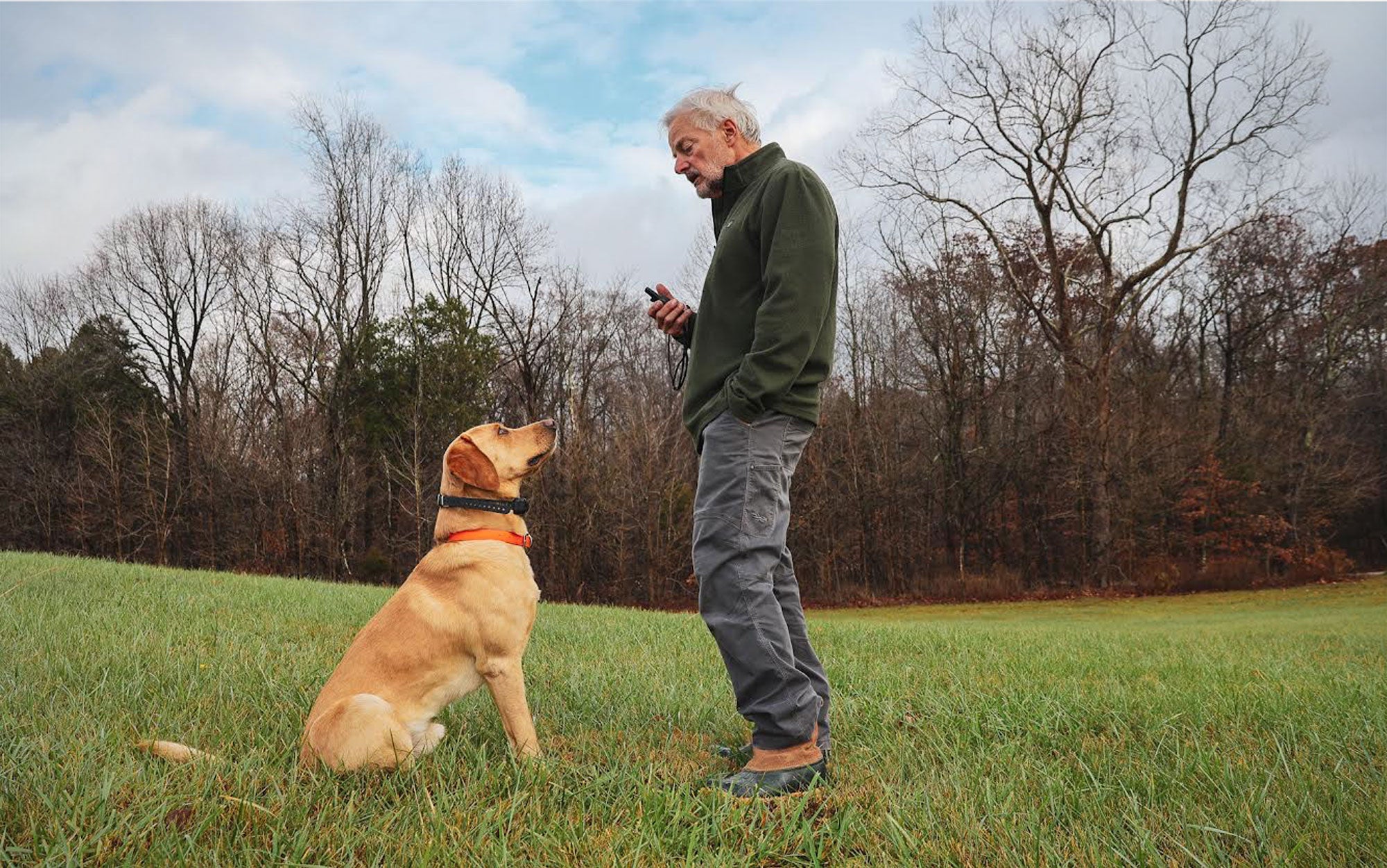 Rotenberger recalls one client's dog that ran into a road, where it was struck and killed instantly by a semi-truck. A shock from an e-collar, she says, could have turned that dog before it got to the road. But that's the worst-case scenario. I trained my Lab to return to me whenever he hears the tone command. It's incredibly handy to simply press a button—no whistling, no commands, no coaxing, no yelling across the dog park—and watch your dog come trotting back to your side.
If you want to learn how to responsibly and effectively train your dog with an e-collar, hire a dog trainer, or DIY with DVD instructions or a book like Tom Dokken's Retriever Training. (You don't need a retriever to benefit from the obedience training and e-collar reinforcement instructions in this book—Dokken has trained all kinds of breeds at his facility in Minnesota.)
The Best Dog Training Collars: Reviews & Recommendations
Best for Moderate Leash Pullers: Gentle Leader
Key Features
Weight: 1.4 ounces (Medium)
Sizes: Petite, Small, Medium, Large, Extra Large
Available in eight colors
Materials: Nylon, plastic, metal
Leash required? Yes
Pros
Doesn't apply pressure to the neck
Quick results in leash-pulling dogs
Affordable, tech-free
Cons
Muzzle-like appearance frightening or off-putting to some people
Even experienced dogs seemed to dislike it compared to other training collars
I'm usually strong enough to wrangle even the most energetic dogs, but walking a buddy's enthusiastic 110-pound Labrador retriever on the end of a normal ID collar proved too sporty for me. After getting dragged down the street on an evening walk, I learned he normally gets walked with his Gentle Leader: a halter-style collar that guides a dog's muzzle rather than applying pressure to its neck. As soon as his Gentle Leader was in place (albeit not without coaxing), that big, friendly Lab became a polite walking companion. When I tested this style on my dog, Hatchet, he accepted it and responded beautifully to walking at heel with me and other people. When he wasn't being actively walked on leash, however, he tried (unsuccessfully) to paw the strap off his muzzle.
This halter-style dog training collar is popular among folks who help train service dogs, and Rotenberger recommends it for moderate leash pullers. A lot of people think [Gentle Leaders] look like muzzles when they're on but it's like a horse halter," says Rotenberger, whose sister relied on this style of collar to train service dogs for the Puppy Jake Foundation.
If you have a younger dog or a chronic leash puller who's generally obedient but tiresome on walks, consider the Gentle Leader. It's a little confusing to put on the first few times, but it comes with clear, illustrated instructions and delivers almost instantaneous results. Just be aware that most dogs have sensitive snouts and you shouldn't yank your leash the way you may be accustomed to.
Key Features
Weight: 8.6 ounces (tester measured 22-inch)
Sizes: Dogs up to 19-inch neck
Material: Chrome-plated steel
Leash required? Yes
Removable links allow you to shorten or lengthen collar
Fastener: Slip-on or by removing/reattaching links
Swivel ring makes for easy leash control
Pros
Applies pressure evenly around the neck
Effective for most problem-leash pullers
Helps to both prevent and correct pulling
Slips on easily
Cons
Heavy, somewhat noisy
Not suited for all-day wear
Intimidating appearance to some people
This German-made pinch-style collar looks intimidating to many dog owners, who liken it it a medieval torture device. In truth, this style dog training collar is actually reasonably safe for your dog. Yes, pinch-style collars do have dull prongs that line your dog's neck, but this arrangement is preventative: it helps discourage leash-pulling almost as soon as it starts. The possibility of pinching, rather than actual pinching, is usually what helps keep leashed dogs in line. Prong-style training collars are also safer for your dog's neck and trachea than yanking or pulling constantly with a slip-style lead.
"A lot of people are really anti-prong collar because of the way they look, but they apply pressure more evenly around the neck," says Rotenberger. "If you have a dog that's not well trained, I've seen dogs that have their trachea damaged with a slip lead or choke chain. A prong collar prevents that."
My Lab accepted the Sprenger collar easily, which slipped over his muzzle without incident. I did find it harder to remove it by slipping it over his head, so I ended up unlinking it whenever I took it off. (Gently squeezing one link makes it easy to remove or replace links; Sprenger also makes a similar collar with a buckle, which may be easier if your dog is less inclined to sit still while you're adjusting his collar).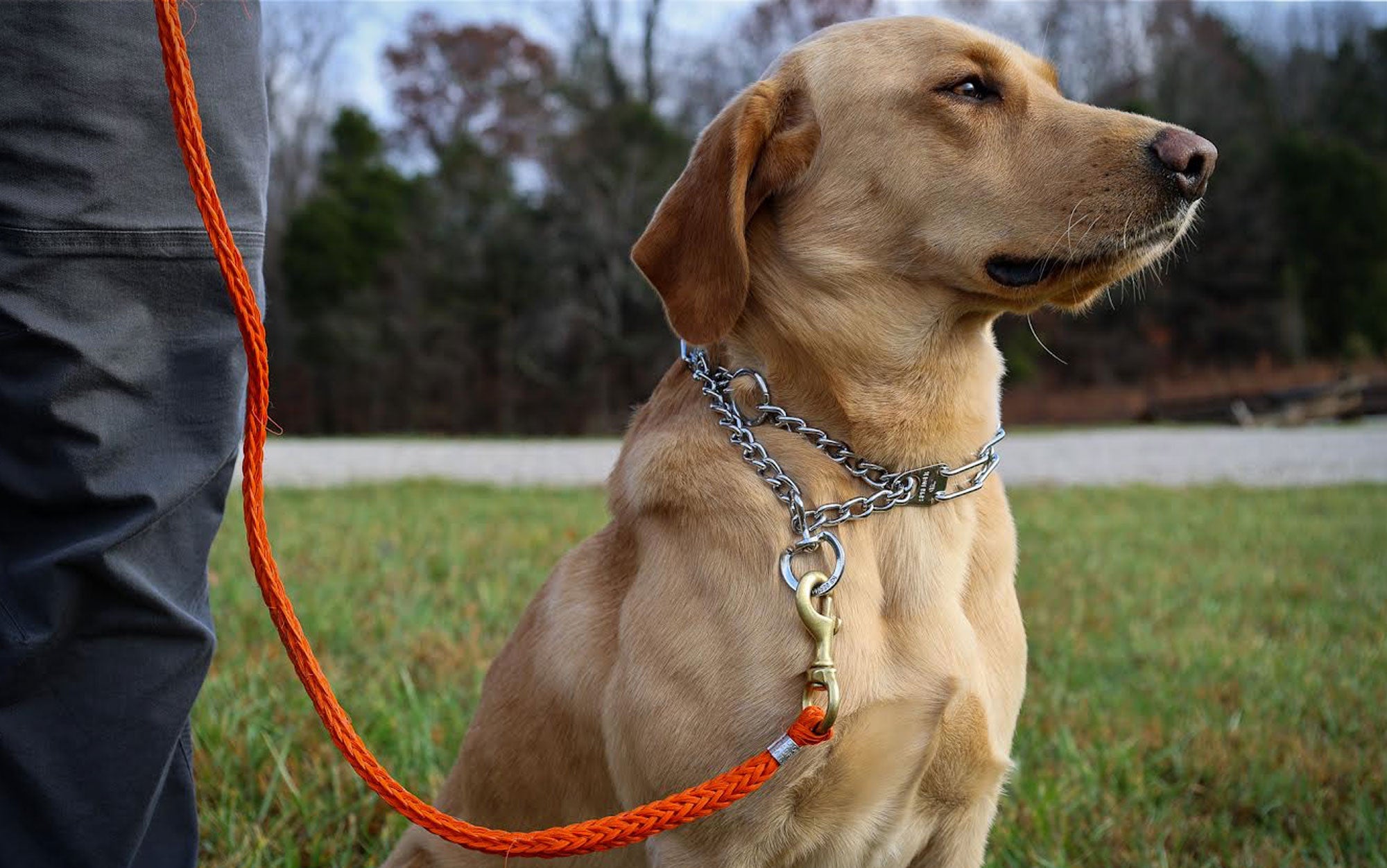 Out of the three dogs who helped me test these collars, the English setter needed the prong collar the most. Bred for ranging 10 to 15 miles a day in search of birds, he was so excited about an after-work walk that he needed the sturdiest training collar possible. The Sprenger didn't get caught in his long hair, it didn't choke him, and it didn't irritate his skin. In short, it did what it was supposed to do: It helped him heel on leash and made walking him a pleasure instead of a chore.
The only problems Rotenberger has noticed with prong collars are if an owner leaves the prong collar on around the clock, or if a dog is allergic to nickel. Sometimes Rotenberger's patients will come in with a dog that has burn-like marks on its neck from the prongs—that's usually an allergy, she says, not any kind of puncture wound. This Sprenger collar is chrome-plated stainless steel, which may contain nickel, but the company also makes a dedicated nickel-free collar.
Key Features
Fastener: Five training configurations including snap leash, slip lead, halter lead, dog waist halter, and handler waist loop for hands-free walking
Waterproof
Includes loop handle
Material: Braided nylon, metal, plastic
"Collar" weight: 3.9 ounces
Overall weight: 5.1 ounces
Length: 6 feet
Pros
Offers a range of zero to firm neck pressure for corrections
Can choose a configuration that best suits your dog
More subtle appearance than a Gentle Leader or prong collar
Waterproof, sturdy construction
Slide stop stays put, works as expected
Lightweight, no tech
Available in a lightweight version for puppies
Cons
Only suitable for close-range training
Can injure chronic or powerful leash pullers
Prone to cosmetic fraying with hard use
So this isn't technically a training collar but I would be remiss if I didn't include a good-quality slip-style lead in this roundup. I've used the Dokken Pro6 6-foot leash for nearly three years, along with a half-dozen other slip-style leads, and this is the one I always come back to for training and on-leash walks. It's also the training tool every dog trainer I know uses religiously in their obedience training.
Slip style leads are affiliated with the Brits, who generally pride themselves on not needing training collars for many breeds of working dogs, like retrievers. This is sort of cheating, however, as slip-style leashes circle your dog's neck—just like a training collar—and give you control over the amount of pressure you can apply using the leash in your hand.
My Lab walks at heel on a leash, which is why I use the slip-style configuration pictured above. It's suitable for dogs of all ages (except young puppies) and I used it to teach Hatchet walking at heel, place, recall, and more. Here's how it works: There's no tension or pressure on the lead unless my dog lags behind or veers off to investigate something.
If it's a small misstep, I can use a short, mild tug on the leash to contract the collar-like loop and apply pressure, which usually brings my dog back on track. If he were to lunge for a rabbit or off the sidewalk into the street, I could apply a correspondingly sharper tug to issue a correction or actually haul him back. (Simple clip-style leashes are less effective at applying pressure, and can actually yank a dog's collar off its neck.) When the slip lead goes slack, so does the slip lead around his neck.
The Dokken Pro6 is a perfect system for us: the lead looks like a regular leash but it provides additional control and opportunities for corrections when needed. Most people can't tell we're even training. It's also far lighter around my dog's neck compared to a prong or e-collar (and is lightweight enough that I can keep it tucked in my bird vest). The waterproof nylon doesn't absorb water or mud, so in turn your hands stay dry and the lead doesn't get heavy, and the plastic ball keeps the lead snug to Hatchet's neck.
After two years of regular use, some of the nylon strands are starting to fray from letting the leash drag or training in thick, snagging cover, but that's a cosmetic issue not a structural one, since the leash itself is securely braided.
Rotenberger also uses slip-lead style leashes for her dogs, too, and just cautions anyone who isn't teaching a compliant dog or is dealing with problem-pulling to consider a different style of dog training collar.
"The slip lead is what I use all the time because my dogs are trained," Rotenberger says. "If your dogs aren't trained, putting a lot of pressure on their neck can cause damage to the trachea."
Best E-Collar for Family Dogs: Garmin Delta SE
Key Features
10 levels of static stimulation, both momentary and continuous
Tone and vibration: Yes
Can train up to two dogs with one handheld (extra collar sold separately)
Fastener: Buckle
Leash required? No
Range: 880 yards (rated)
Dog size: Unspecified, likely for dogs 8 pounds or larger with neck sizes 5 to 22 inches
Collar weight: 3.9 ounces
Remote weight: 3.1 ounces
Waterproof: IPX7 (rated for immersion at 1 meter for 30 minutes)
Battery life: Remote rated for 70+ hours typical use; collar 60+ hours
Includes changeable and replaceable contact points
Pros
Simple, intuitive design for beginner trainers
Range works as advertised at distance and over varied terrain
Loud collar beep is suitable for harder-hearing dogs and trainers
Cons
Proprietary collar charger
Handheld buttons aren't ergonomically distinct
No clip, thin lanyard
If you've never tried using an electronic dog training collar, the Garmin Delta SE is a great place to start. The Delta SE is simpler than other e-collars out there. There are only three buttons—each clearly labeled with M (momentary), C (continuous) and T (tone)—and 10 static stimulation levels on the dial, which includes the "Vibrate" setting. My e-collar trained dog accepted the low-profile collar easily. He also responded as expected to the various settings at distances out to several hundred yards.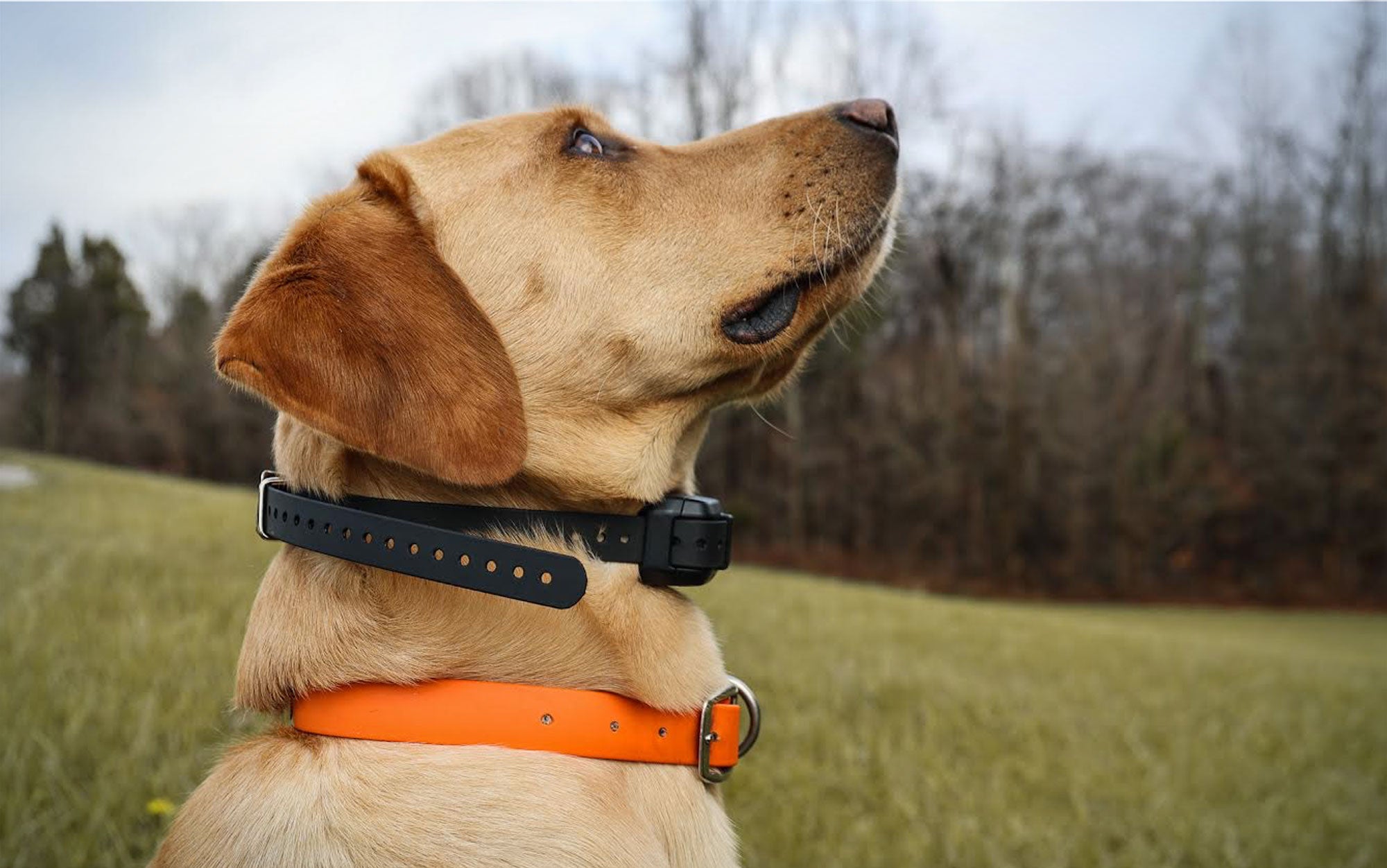 This is a small gripe, but the included lanyard is thin and uncomfortable around your neck. Consider purchasing something a little more heavy-duty. I also worry about the button labels wearing away with heavy use. But you could always use a silver permanent marker to relabel them, and you'll likely know the buttons by then. Overall though, these gripes don't impact the functionality of the collar.
Key Features
21 levels of static stimulation, both momentary and continuous
Tone and vibration: Yes
Can train up to three dogs on one remote (extra collars sold separately)
Fastener: Buckle
Leash required? No
Range: 880 yards (rated); tester tested
Collar weight: 3.4 ounces
Remote weight: 4.6 ounces
Waterproof: IPX7 (both collar and remote rated for incidental water exposure at 1 meter for 30 minutes)
Battery life: Rated for 50 to 70 hours per charge; 2 hours to charge
Includes changeable and replaceable contact points
Similar models offered at different ranges and price points
Pros
Customizable remote buttons
Range works as advertised at distance and over varied terrain
Remote works with up to three dogs
Includes clip for remote, light-up tester, basic training manual, replacement mud plugs for charging ports on remote, collar
Cons
Proprietary charging plug for both collar and remote
Antennae can come loose; renders collar useless if lost
Numbers on intensity dial fade with use
If you aspire to impeccable off-leash obedience and plan to spend a lot of time outdoors with your dog, you'd be hard-pressed to find a better combo of functionality and affordability than the SportDOG SportHunter 825X. I've run this collar on Hatchet for more than a year with excellent results (and previously we ran the SportDOG Field 425X, which has the same functionality but a shorter range).
The 825X is simple enough for beginners but sophisticated enough to customize, which means I get to set up my remote for the way I like to train and hunt. The included clip lets me snap the remote to my bird vest for easy operation while hunting, most of which consists of me tapping the "tone" button to recall my dog or, as I recently trained him, to switch directions with the "vibrate" button. On the rare occasions I have to use the static stimulus button, it's because he disobeyed his tone-recall command (maybe he's trailing a bird) or for his safety (maybe he's running full-tilt toward a road). The configuration and tactical feel of the buttons (side button, front button with a nub, and flat front button) means I don't have to look at my remote to be sure which button I'm pressing.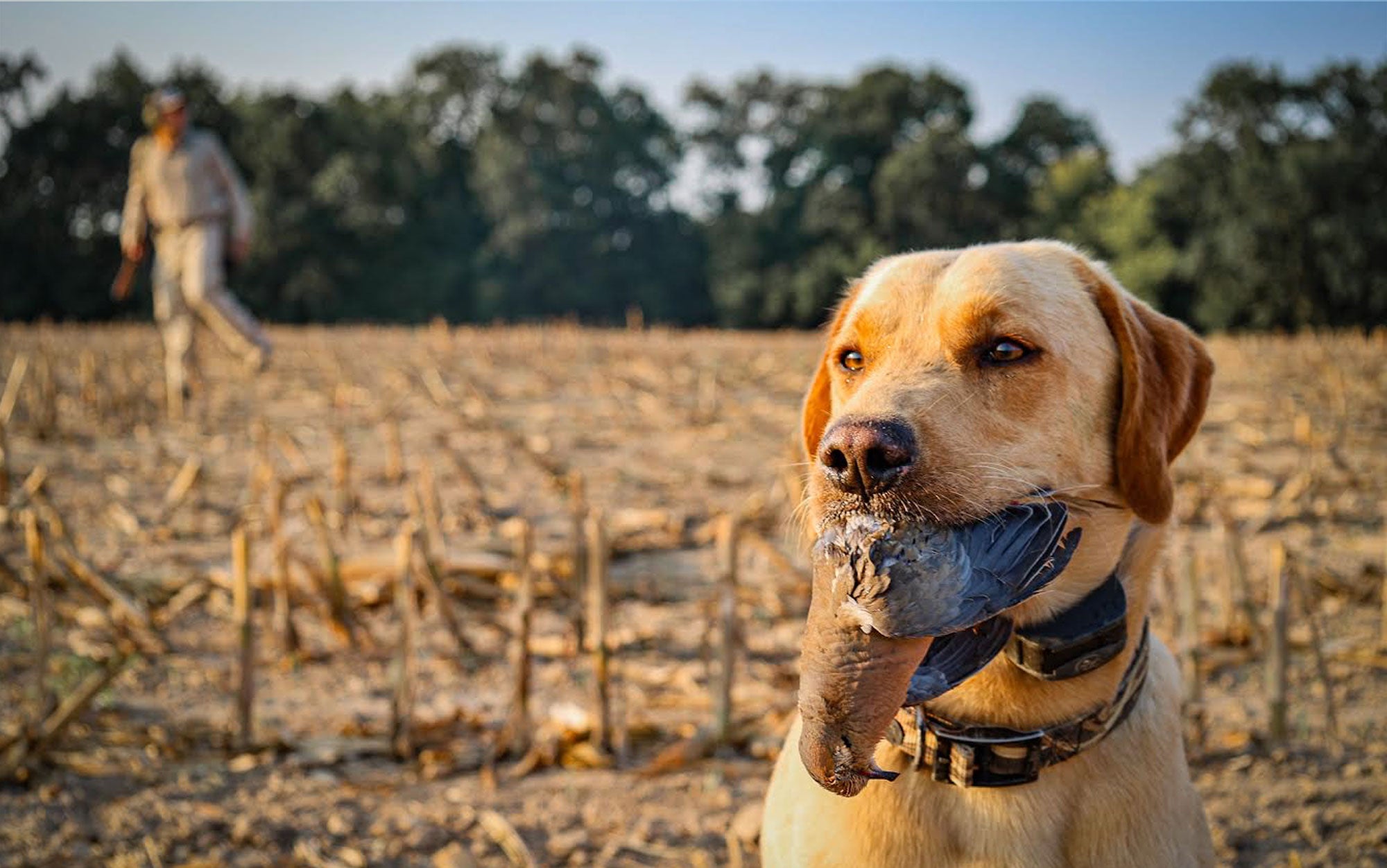 The half-mile range on this remote is more than plenty for most close-working bird dogs. The battery life is good, too. If I turn off the collar whenever we're not using it, I can go up to a month or more without charging. With hard use during hunting season where Hatchet wears his collar much of the day, every day, it's closer to a week. The collar always runs out of battery before the remote, and the indicator light flashes red to let you know when it needs a charge.
My gripes with the 825X are minimal: I've used a couple different handheld remotes (if you lose one, as I did, you can purchase these separately) and some remotes are more prone to losing the antenna than others. If you lose it, you've effectively lost the ability to communicate with your dog's collar. My current remote shows no sign of that, but I recommend using a wrench to tighten it to your remote or wrapping the antenna base with electric tape.
Additionally, the numbers on the intensity dial wear off over time, which makes it harder to determine what level of stimulation you're delivering to your dog. Even so, the SportDOG SportHunter 825X is one of the best dog training collars for the money. When used properly, it can help you and your dog live a safe, leash-free life.
Key Features
18 stimulation levels (continuous and momentary)
Tone and vibration
Light on collar
Range: 9 miles (advertised)
Fastener: Buckle
Battery life: Up to 80 hours (advertised)
Total collar weight: 10.3 ounces (tester measured)
Provides accurate GPS location of your dog
Handheld required: Not included
Compatible with Garmin watches
Waterproof rating: Up to 10 meters (1 ATM)
Pros
Packed with bells and whistle you could need
Top-notch e-collar training
Precise GPS tracking
Excellent choice for working hunting and tracking dogs
Cons
Unnecessary for most dog owners
Expensive, plus handheld sold separately
Bulkiest and heaviest collar
If you're looking for the absolute best dog training collar out there, you couldn't do much better than the Garmin TT15X. This beefy, purpose-built collar is designed to train and monitor working dogs like far-ranging bird dogs, blood tracking dogs, and hound dogs. The 9-mile range of the e-collar remote allows you to communicate with your dog or track him across terrain even when you can't see him. This is a specialized color that is perfect for a small subset of dog owners, but it's expensive overkill for most average dog trainers out there.
There are few downsides to this collar, which are side effects of its many superb functions: It's pricey (you must purchase an expensive handheld remote separately) and bulky. That means it's not attainable for most people and will be a little too big on some smaller dogs. But if you can get past those two downsides, this is the best collar out there to both track and train your dog.
Read Next: The Best GPS Dog Collars
How to Choose a Dog Training Collar
The best dog training collar for your dog depends on the behavior you're trying to train for and correct.
If you have a puppy or a new dog who is eager to learn but knows few, if any, commands, start with a slip-lead style leash for light guidance and corrections while treat-training commands. You can always add an additional training collar down the road.
If your dog can sit, stay, and recall inside the house but drags you down the street on your daily walks, consider purchasing a Gentle Leader or a prong collar.
If you're training an obedient dog who you plan to have off-leash during some or much of her life (think bird hunting, shed hunting, camping, etc.), consider choosing an e-collar, which will allow you to reinforce behavior at a distance. E-collars are best for dogs who already understand commands but need reinforcement.
Before You Start Training with a New Dog Collar
Recognize that no matter which of the best dog training collars you buy, it's only going to work if you:
Follow the instructions that come with the training collar
Give your dog an acclimation period to get used to the collar
Consistently reinforce behavior to reach your desired training goals
For instance, if you decide an e-collar is right for your dog, DO NOT slap the collar on your dog and hit her with a 10 the first time she does something she's not supposed to—she'll be confused at the very least and learn to fear the collar. Instead, you need to introduce whichever collar you choose with positive reinforcement (praise, treats) and associate it with fun activities.
"You can't expect the dog to know what to do if [you] don't work with them. You've got to have basic obedience. And especially with the prong collar or Gentle Leader, you have to get your dog used to them before you go on a walk with them," says Rotenberger. "Use positive reinforcement [such as treats and praise] when you put the training collar on. Get the dog used to wearing it for little bits of time so the dog will accept it."
If you choose to use an e-collar, it's important to put the collar on your dog (according to the instructions) and let her get used to it without pressing a single button on the remote. Put the collar on with plenty of praise, and then go do something fun, like swimming or a game of fetch. Your dog should learn to associate the e-collar with fun, because that's what it's for: allowing your dog to be off-leash in a safe and controlled way. Once your dog understands basic commands (without the collar) and is accustomed to wearing the e-collar, you can slowly introduce the remote according to the instructions.
Before You Buy a Dog Training Collar
Before you invest in the best dog training collar, you should measure your dog's neck and choose the correct collar size based on that measurement. This is important for training collars like the Gentle Leader and prong collars. Sizing your dog's neck is less important for e-collars because those collars come with a one-size-fits-all plastic strap you can fasten (and trim) accordingly.
If your dog has any health problems that affect her throat or neck, be sure to consult your vet before making any purchases. Finally, don't take advice from some dude at the dog park whose husky is a complete terror. Instead, ask dog owners who have well-behaved dogs what worked for them, and why. If your dog has substantial behavioral problems, consult a well-vetted dog trainer—or two trainers, since not every dog trainer's solution may work for your dog. Read training books and watch training materials from reputable sources.
FAQ
Do professional dog trainers use shock collars?
Yes, many professional dog trainers use shock collars, though most trainers don't call them shock collars (that term tends to upset people who think "shocking" a dog is cruel and ineffective). E-collars can produce a tone, vibration, or stimulation (a sensation like static electricity) that ranges from low (so low you can't feel it) to high intensity. There are also plenty of professional dog trainers who don't use e-collars or actively dislike them. The use of an e-collar to reinforce—never teach—commands is a choice that varies based on a trainer's style, an individual dog and its lifestyle, and the owner's preferences.
Do I need to change my dog's collar every now and then?
That depends on the type of collar your dog wears. Properly-fitted everyday identification collars can be worn indefinitely and only need to be replaced if they show signs of excessive wear or potential failure. Most e-collar manufacturers warn that e-collars should not be worn for more than 12 hours at a time—the snug fit and contact points can cause chafing and discomfort with round-the-clock wear. Prong collars should only be worn when used with a leash, otherwise they serve little training purpose and will irritate your dog's neck. If your dog's training collar starts to fail at its intended purpose, it's time to change it out.
How do I know that my dog does not need a training collar?
If your dog responds to every command 100 percent of the time, or your dog is so old she doesn't commit any egregious obedience sins and simply sleeps, eats, and enjoys pets, then your dog does not need a training collar. If your dog ignores your commands some or most of the time then you've got work to do, and a training collar will almost certainly help.
Is it better to train my dog with a harness or collar?
It's better to train your dog with a collar most of the time. If your dog has a medical condition like laryngeal paralysis or a collapsed trachea, a harness is a must, says Dr. Rotenberger. Harnesses are also appropriate if you're training a working dog for a specific task that requires a harness, like human and animal tracking, service work, or law enforcement. For most family and bird dogs, however, Rotenburger says harnesses usually encourage leash pulling instead of correcting it. Try using a dog training collar instead.
Why Trust Outdoor Life
Since 1898, OL has been a leading authority in testing and reviewing hunting gear, fishing tackle, guns and shooting equipment, and much more. We have more than a century-long history of evaluating products, and we're now bringing that expertise to online reviews. Our editors are experienced outdoorsmen and women, and most importantly, we're trained journalists. We prioritize field testing and objective data when reviewing products. We conduct interviews with gear manufacturers and engineers as well as outdoor experts so that our readers have an understanding of how and why a product works—or doesn't.
Advertising does not influence our gear reviews and it never will. While we always focus our coverage on standout products—because we want our readers to be aware of the latest and greatest gear—we also cover the flaws and quirks of any given product.
Final Thoughts on the Best Dog Training Collars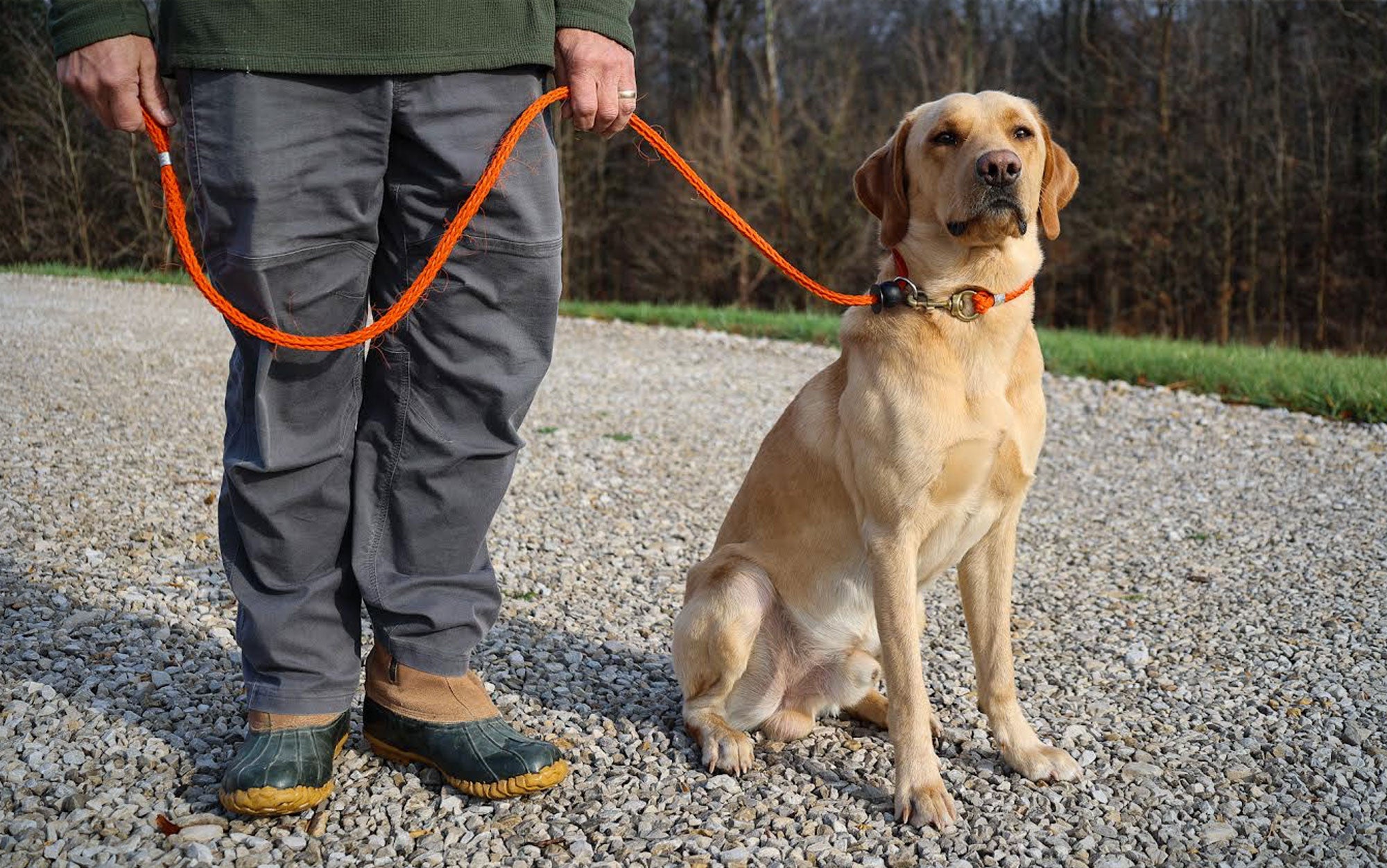 When it comes to obedience and advanced dog training, every dog has different needs. A heavy-duty training collar that may be suitable for a big, hard-charging leash puller probably isn't the same training collar you'll need to teach a docile golden retriever to sit and stay.
And remember: Even the best dog training collars can't help if you don't follow through on your training. If you teach and reinforce basic obedience with the aid of a good training collar, you won't have to sweat over your dog's manners and safety. Instead, you and your dog will get to go out in public often, travel more, range farther, hunt harder, and have more fun together.
The post The Best Dog Training Collars of 2023, Tested and Reviewed appeared first on Outdoor Life.
Articles may contain affiliate links which enable us to share in the revenue of any purchases made.
Source: https://www.outdoorlife.com/gear/best-dog-training-collars/