The Best Deer Attractants of 2023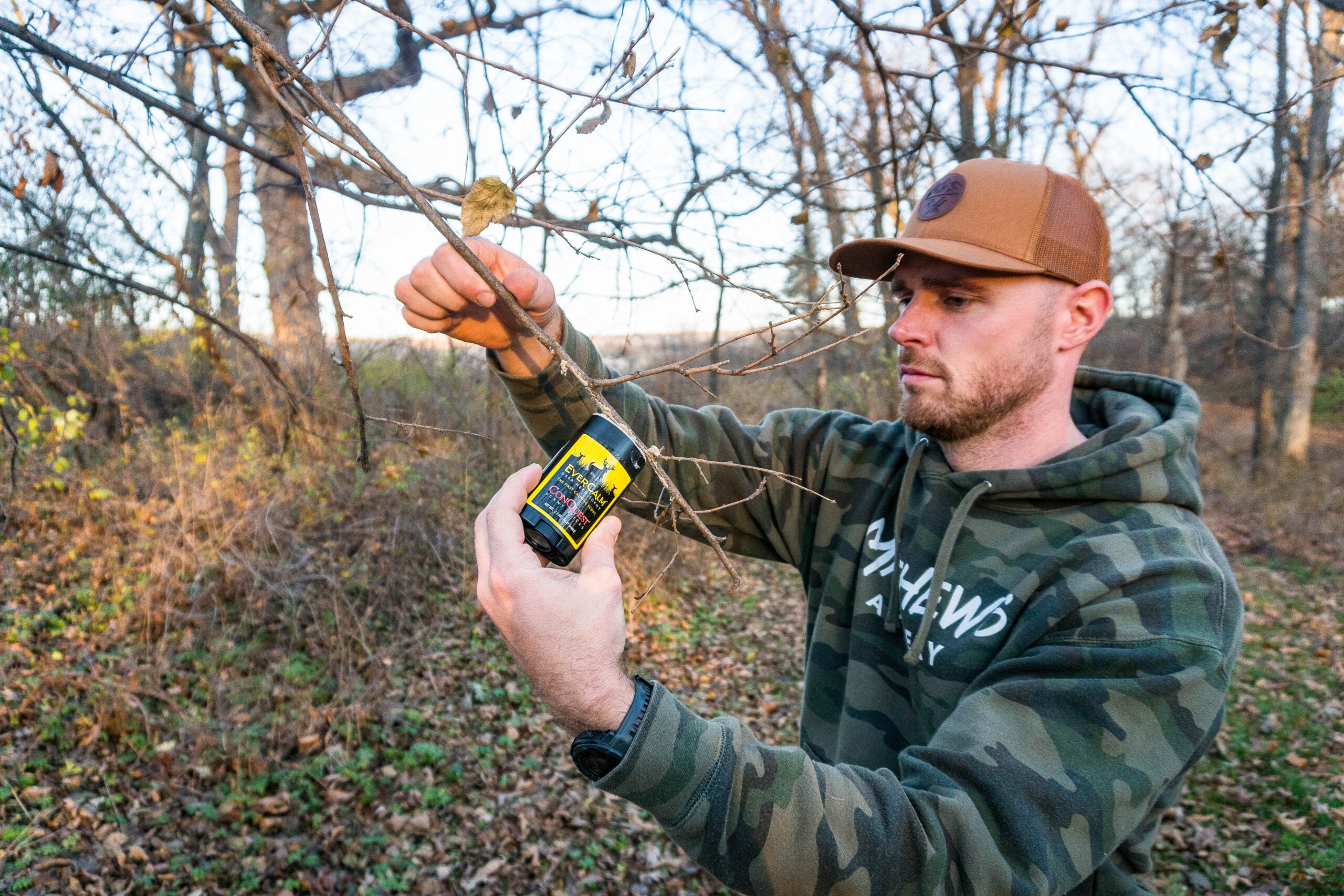 We may earn revenue from the products available on this page and participate in affiliate programs. Learn More ›
If you're like me, you're skeptical of any product or tactic the deer hunting industry deems as the latest answer to wrapping your tag around a buck's antler. Over the years, many types of deer attractants have come and gone. Yet, mineral supplements and artificial scents stand the test of time. Real-world experience is a common thread to sort empty fads from proven tactics, so I reached out to proven whitetail hunters Don Higgins and Brett Joy to do just that.
Here are our picks for the best deer attractants:
How We Chose the Best Deer Attractants
I interviewed two of the most consistent mature buck hunters in the country, Brett Joy and Don Higgins. Each comes from different regions of the country with drastically different hunting styles.
Don Higgins (Real World Wildlife Products)
Don Higgins started his career as an outdoor writer in 1996, authoring two books about hunting trophy whitetails. In 2008, he started Real World Wildlife Products, a company focused on providing the highest possible quality products to the whitetail land manager. In addition, Higgins owned a small herd of captive whitetails for almost 25 years, which allowed him to conduct research on deer nutrition and genetics. Today, Higgins hosts the popular Chasing Giants podcast and operates the online Whitetail Master Academy, in addition to his work as a whitetail consultant.
Brett Joy (Just Hunt Club)
Brett Joy is a big woods whitetail fanatic from New Hampshire. You can follow his hunting season on the Just Hunt Club YouTube channel. Each year, he travels to hunt several states throughout the Northeast, typically in areas where feeding and baiting deer is illegal. These areas can feature monotonous habitat, often with scattered, low deer densities, making it difficult to locate a mature buck. In these instances, Joy looks to mock scrapes to take inventory, using them to turn up impressive bucks on public land on an annual basis.
Erik Barber
My passion for hunting a variety of states and habitat types requires the use of different tactics throughout the season. For me, whitetail season starts as close to September 1 as possible and doesn't end until late January. Nearly all of my hunting is done on public land where baiting and feeding is prohibited. Balancing a full-time job and time-off requests for hunting trips means time is limited, so I rely on trail cameras positioned over scrapes sweetened with artificial scents to gather intel.
Best Deer Attractants: Reviews & Recommendations
Key Features
Price: $21 (2.5 ounces)
Scent Medium: Solid stick
Containment Method: Resealable storage bag
Advertised Use: All season
Pros
Easy to use, simply rub onto branches or trees
Solid stick eliminates messes
Resealable package eliminates contamination on clothes or backpack
Scent replicates bedding areas for versatility and use all season
Cons
Expensive
Easy to overuse
The EverCalm Deer Herd Scent Stick is a highly versatile artificial scent intended to replicate the smell of a bedding area. Unlike other scents purpose built for scrapes, dominant bucks, or estrous does, EverCalm mimics family groups of deer. Rub it on a tree or branches at any time of year to attract deer to your camera location or make them feel at ease after any disturbances caused while scouting.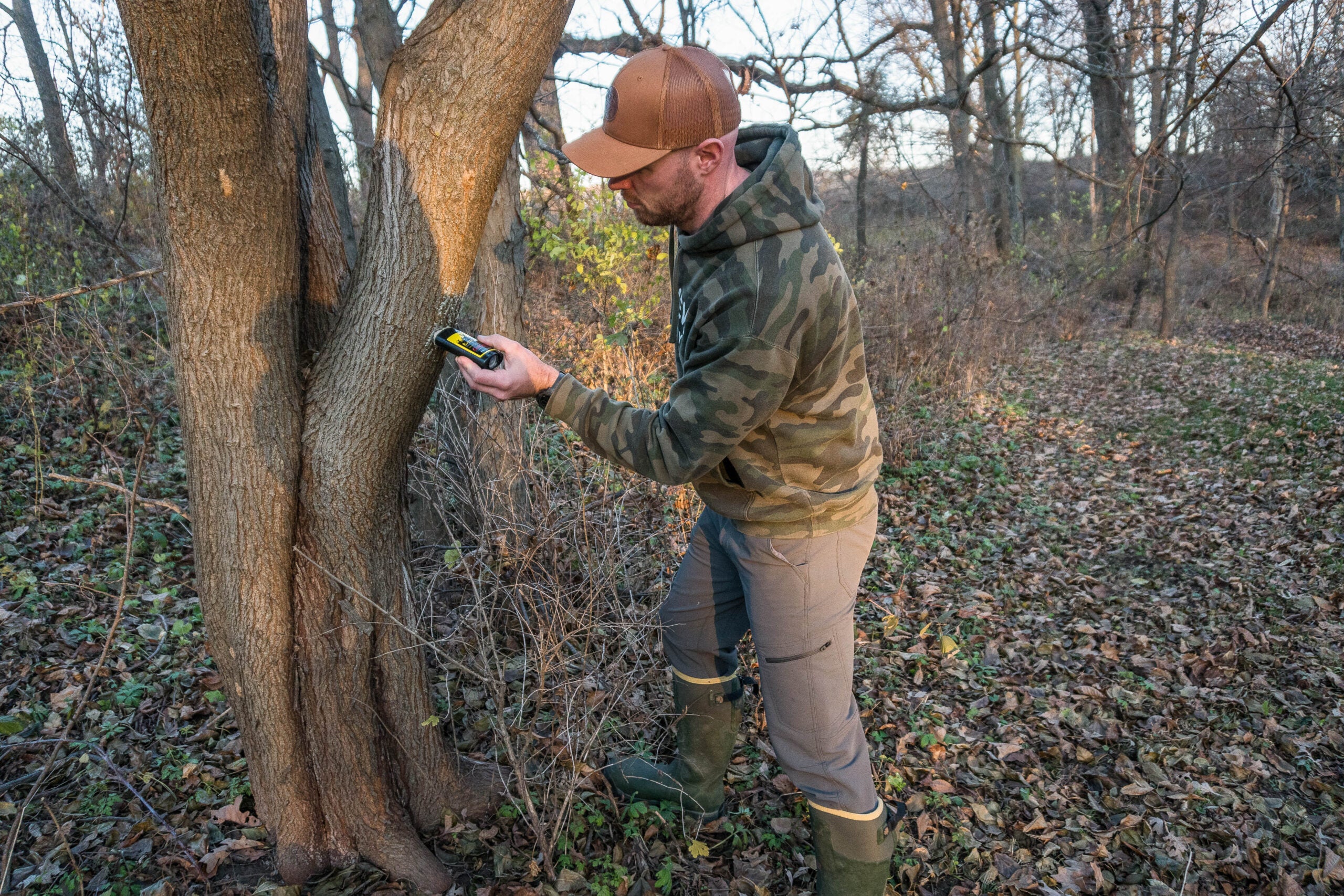 Above all, the resealable package and no-mess functionality associated with the stick design (just like a stick of deodorant) make EverCalm an easy addition to your pack. Over years of using artificial scents, I've realized I'm significantly less likely to bring the scent with me if I'm nervous of it spilling into my backpack or contaminating my hunting clothes. Just like your favorite deodorant, EverCalm is contained in a solid stick and comes with a resealable package for added protection. Simply rub the scent on foliage in your hunting area and monitor with a trail camera for best results. Be warned, though—less is more. A small amount goes a long way, and it's easy to apply too much. The $21 price point for a 2.5-ounce stick suggests you should be mindful of how much scent you're using at a given time.
Key Features
Price: $22 (8 ounces)
Scent Medium: Liquid
Containment Method: Spray bottle
Advertised Use: Pre/post rut
Pros
Easy to use, simply spray on licking branches or trees
Also works with scrape drippers
Never spoils
Resealable package eliminates contamination on clothes or backpack
Good value
Cons
Buck Fever Synthetics Scrape Deer Scent is designed to attract deer to mock scrapes. This is a great way to pattern deer when used in tandem with a trail camera. Joy uses Buck Fever Synthetics exclusively in all of his mock scrapes with great results. "I believe scents enhance scrapes, increase activity, and promote immediate adoption of mock scrapes," says Joy.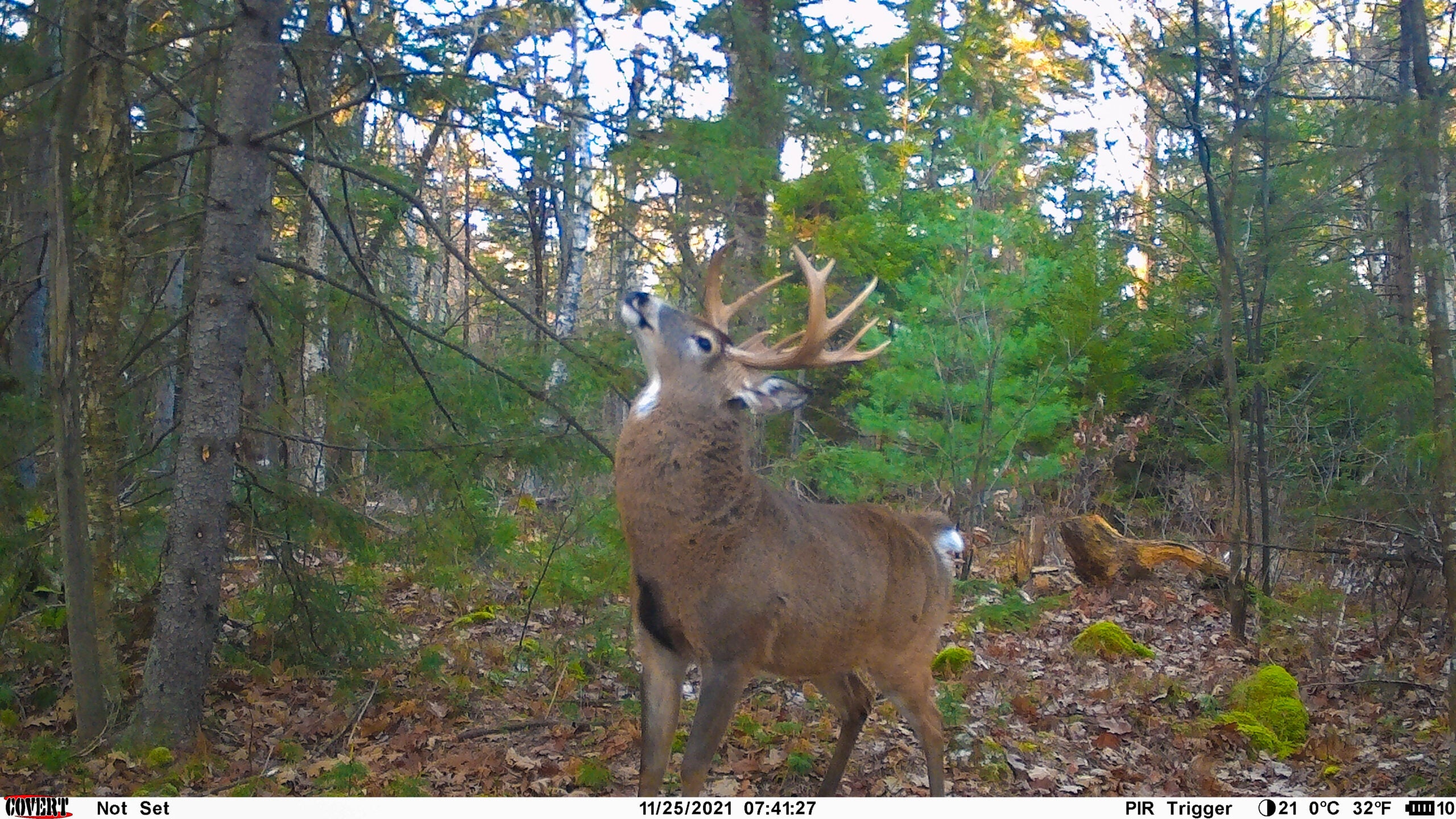 While the resealable package and spray bottle are convenient, he noted that he's experienced failure in the spray bottle, which requires him to dump the scent directly into the scrape or onto a licking branch.
Key Features
Price: $22.66 (4 ounces)
Scent Medium: Liquid
Containment Method: Plastic, capped bottle
Advertised Use: Pre-rut, rut
Pros
Small bottle easily stows in pack
Use with scent wicks (included)
Cons
Messy to apply, easily can get on gloves/hands
Can open in backpack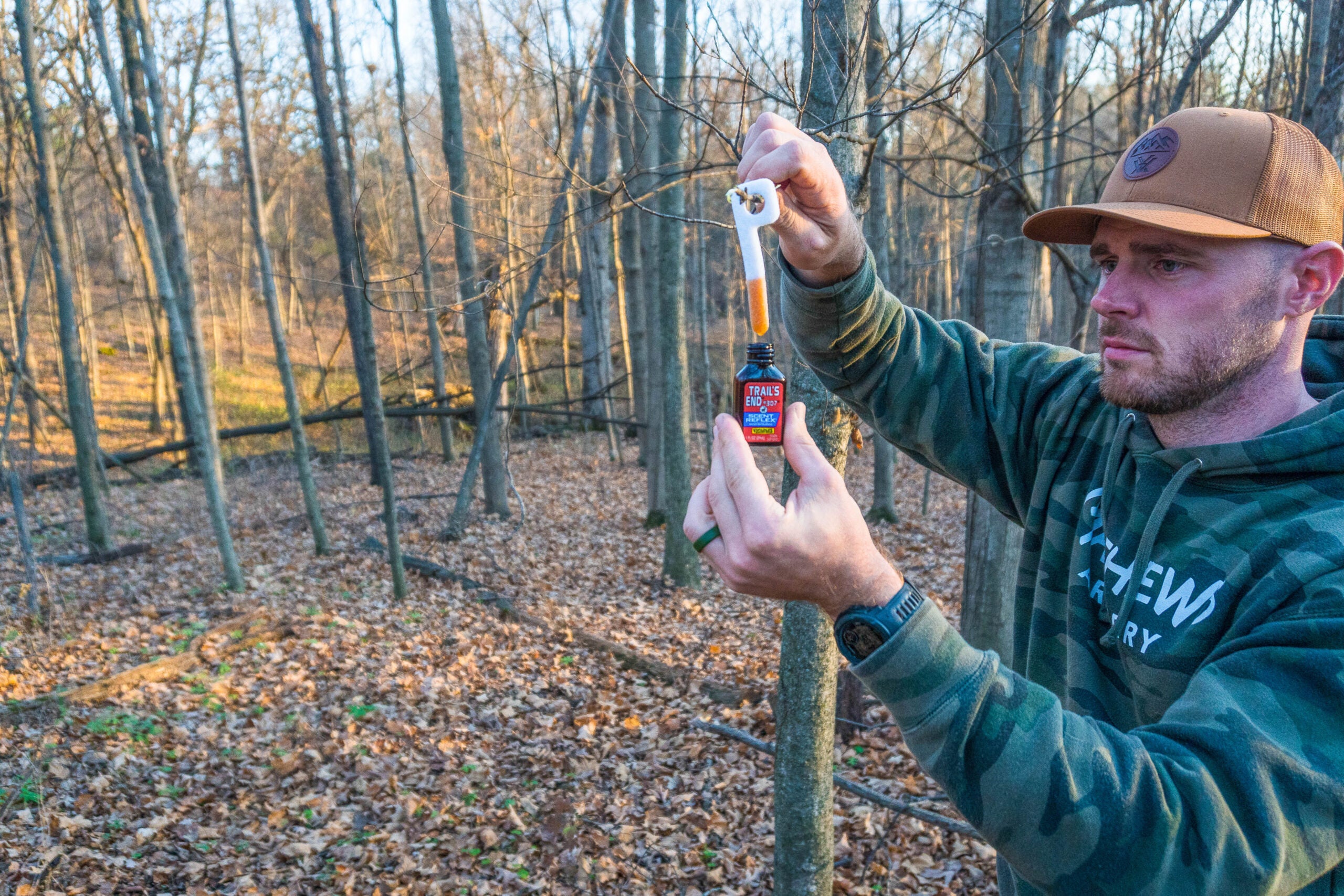 Trail's End #307 replicates a doe in estrous, intended to be used in the pre-rut and rut phases. Wildlife Research Center packages the scent with wicks included, making it easy to apply once in the field. However, the application process can be messy, especially if the scent gets on your hands or clothes. Unlike other scents that are sprayed or rolled, Trail's End #307 is a liquid. While the scent wicks are convenient, you'll notice only two are included in the package. Extra wicks can be purchased for an additional $4.19 (two-pack).
Real World Wildlife Products
Key Features
Price: $39.99 (40-pound bag)
Mineral Medium: Granular
Pros
Potent smell attracts deer from far away
Easily absorbed by soil
Full pallet shipping available
Cons
Can deteriorate fast (especially in rainy conditions)
Expensive
Real World Wildlife Products Maximizer Deer Mineral includes more than 20 minerals whitetails need. According to Higgins, who spent 25 years managing a captive whitetail herd, captive breeders do not use mineral rocks or high salt blends to grow giant racks. Instead, they use a scientifically formulated mineral blend to cultivate a healthy deer herd. Maximizer Deer Mineral comes in 40-pound bags and, where legal, can be applied directly to the soil. The smell is potent, designed to attract deer from far away. Over time, the mineral is absorbed by the soil, resulting in an established mineral location that deer will visit year after year. If there's a single knock on granular minerals, it's that they're absorbed faster into the soil, especially in damp soils or in areas that receive a lot of rain.
"Most minerals simply attract deer to a particular location, the same way an ice cream stand attracts people on a hot summer evening," says Higgins. "A quality mineral that's part of an overall nutritional program can have numerous benefits, including increased antler growth, better conception rates among does, higher weaning weights with fawns and better overall herd health, including the ability to fight off diseases. Maximizer Mineral is designed to do all of the above."
Key Features
Price: $13.99 (10-pound rock)
Mineral Medium: Solid rock
Pros
Affordable
Long-lasting, even in wet areas
All-natural mineral supplement
Mined in Utah, USA
Cons
Small surface area compared to granular minerals
Redmond Hunt's Trophy Rock is one of the most popular mineral supplements on the market. Weighing in around 10-pounds, Trophy Rock is a solid, hearty mineral mined from salt mines in Utah. Redmond Hunt's salt mines are open for tours so anyone curious about the mining process of these mineral can experience it first-hand for themselves.
Due to their size and solid makeup, Trophy Rock lasts longer than other granular mineral on the market, which keeps deer coming back longer. Simply place the Trophy Rock on a decomposed stump or directly onto cleared dirt and monitor with a trail camera for best results. After a mineral site is established, you'll notice a hole dug where the rock was once located. This is a result of the mineral being absorbed by the soil. Simply revisit the mineral site annually to freshen it in early spring when does are carrying fawns and bucks are growing antlers.
Read Next: Best Cellular Trail Cameras
How to Choose the Best Deer Attractant
Every state is different in regards to laws that restrict use of minerals and, in some cases, natural scent attractants. As CWD regulations become stricter in hopes of mitigating disease spread, it's important to be aware of how your state manages the disease. Some states prohibit baiting and feeding altogether, making mineral supplements illegal. In addition, it's often illegal to use natural scent attractants bottled from live deer, leaving hunters to synthetic scents as the only viable option. Check with the fish and wildlife agency in the state you hunt in before purchasing an attractant.
How to Use Artificial Scents and Mock Scrapes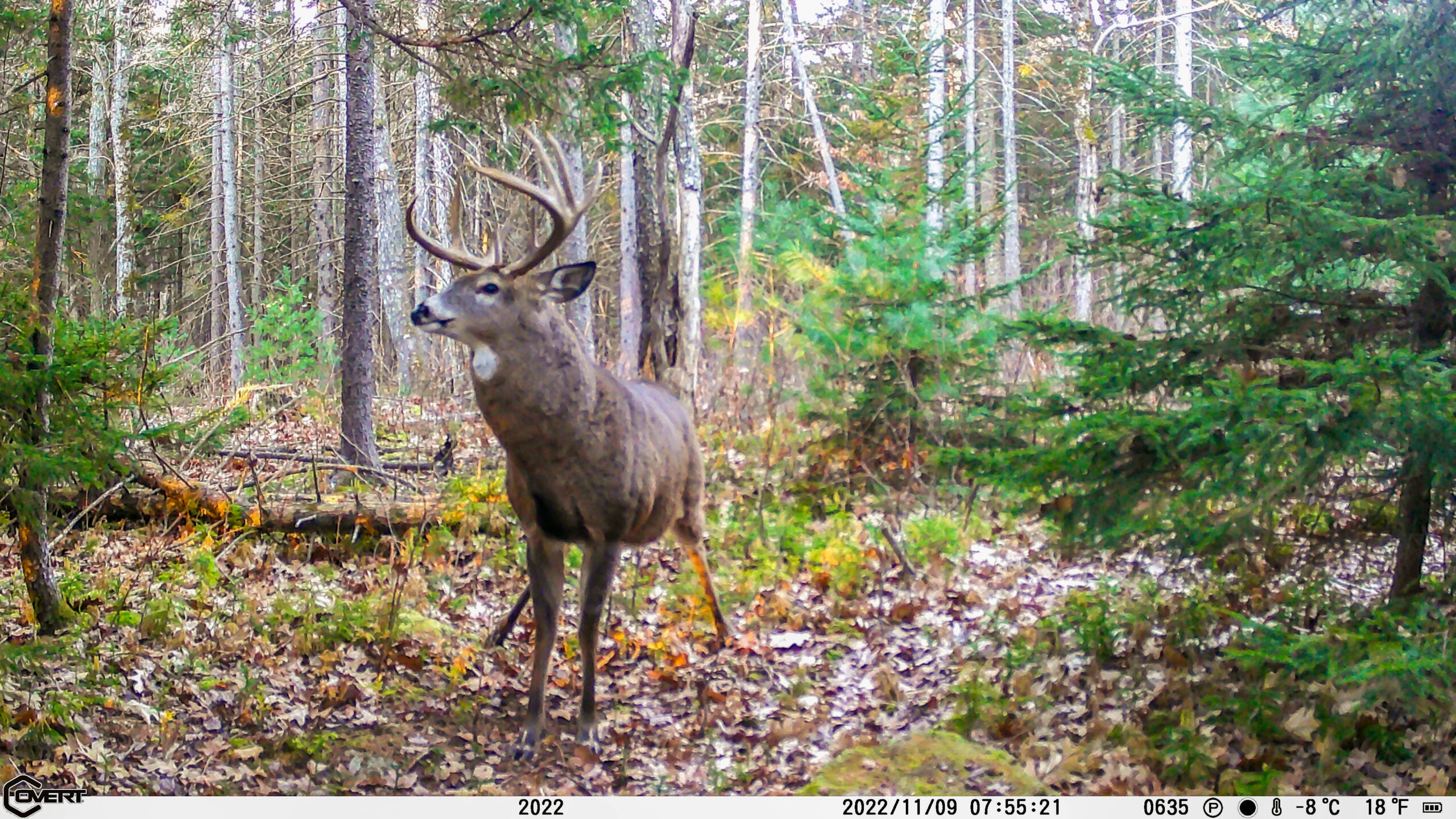 In states where baiting and feeding is illegal, the most effective way to take herd inventory is by pairing artificial scents with a mock scrape. According to Joy, the most effective scrapes serve as a communication hub in areas with existing focal points of deer activity. Generally speaking, these are staging areas where cover and topography pinch deer movement between a bedding and feeding area. Look for existing scrapes on flat, level ground and in semi-open pockets where cover and a diverse mix of trees form an edge. If an existing scrape isn't in the area, don't be afraid to create your own.
"Deer seem to prefer to work scrapes if the area immediately around the scrape is flat and free of obstructions," says Joy. "Excessive vegetation, rocks, and blowdowns are all obstacles that prevent a mock scrape from attracting deer. The goal is to position your scrape in an area that's naturally discoverable by deer passing through. A mock scrape won't draw deer for miles, but they will serve as a social hub for resident deer in the immediate area and funnel deer activity to a very specific area."
It's important to identify desirable tree species with overhanging licking branches to increase the odds your mock scrape is used by deer in the area. The best licking branches are overhanging into an open area, about 3-5 feet high, broken, and hanging perpendicular to the ground. According to Joy, there isn't a one-size-fits-all answer to identifying the best tree species for scraping activity.
How to Establish a Mineral Site
To establish a mineral site, simply place minerals directly on the ground in an area deer frequent. While determining how often the site should be refreshed largely depends on the number of deer using the site, Higgins recommends starting with a 40-pound bag and replenishing three times per year—February, early May when fawns are being born, and early July when bucks are at their peak stage of antler growth and development. Higgins noted that minerals will have a quicker and more significant impact in regions with poor soils. Once a mineral site is established, it can take 7 to 10 years for a quality mineral program to maximize its impact on a deer herd.
Why Trust Outdoor Life?
Since 1898, OL has been a leading authority in testing and reviewing hunting gear, fishing tackle, guns and shooting equipment, and much more. We have more than a century-long history of evaluating products, and we're now bringing that expertise to online reviews. Our editors are experienced outdoorsmen and women, and most importantly, we're trained journalists. We prioritize field testing and objective data when reviewing products. We conduct interviews with gear manufacturers and engineers as well as outdoor experts so that our readers have an understanding of how and why a product works—or doesn't.
Advertising does not influence our gear reviews and it never will. While we always focus our coverage on standout products—because we want our readers to be aware of the latest and greatest gear—we also cover the flaws and quirks of any given product.
Final Thoughts on the Best Deer Attractants
There isn't a magic formula to lure a buck to top pin distance. Nearly all of the products offered at your favorite sporting goods store can help tip the odds in your favor, but they require a significant amount of woodsmanship to do so. When you experiment with different attractants and hunting tactics, you'll open yourself to learning more and growing as a whitetail hunter.
The post The Best Deer Attractants of 2023 appeared first on Outdoor Life.
Articles may contain affiliate links which enable us to share in the revenue of any purchases made.
Source: https://www.outdoorlife.com/gear/best-deer-attractants/