The Best Backpacking Sleeping Pads of 2023, Tested and Reviewed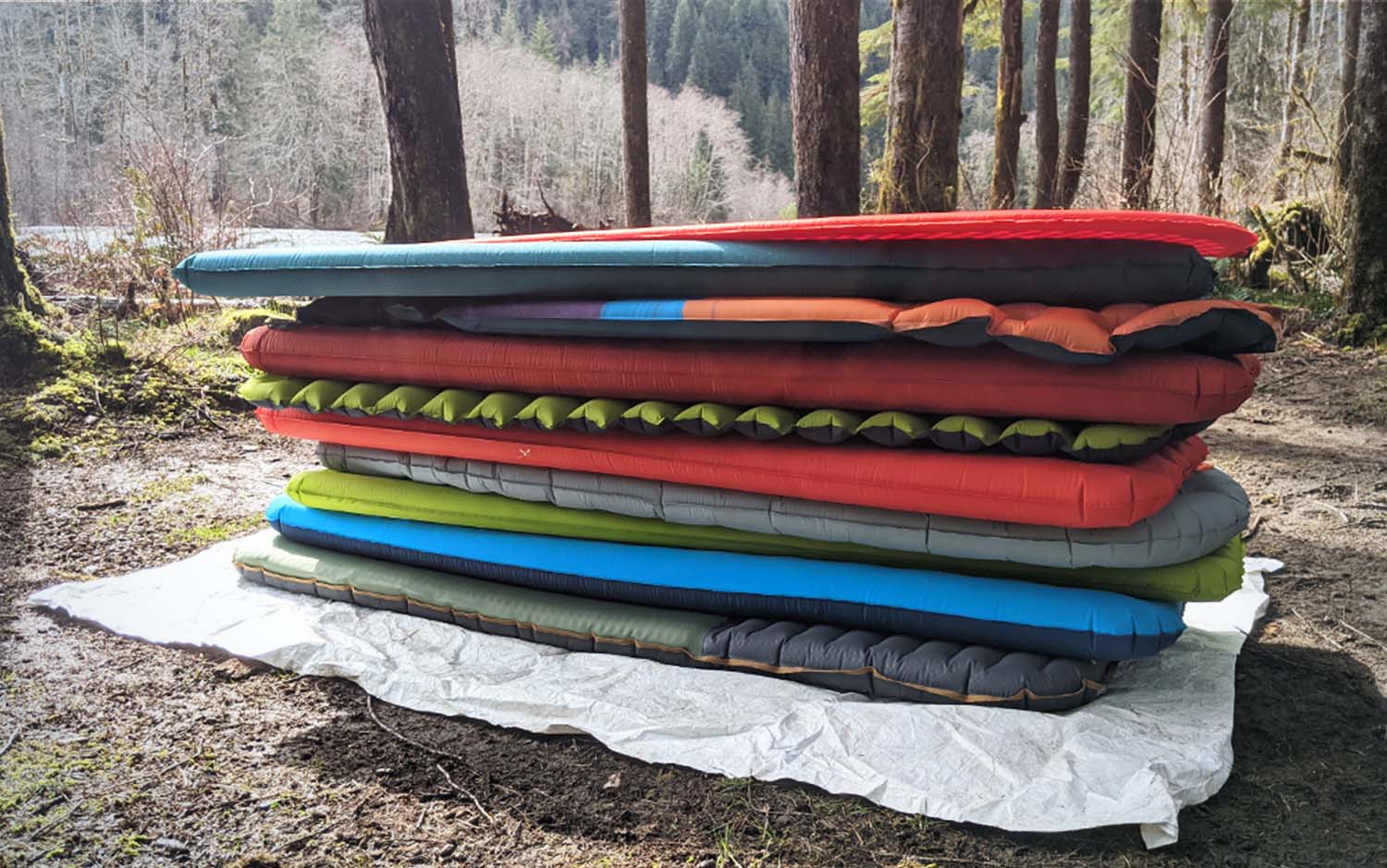 We may earn revenue from the products available on this page and participate in affiliate programs. Learn More ›
| | | | | | |
| --- | --- | --- | --- | --- | --- |
| Honorable Mention | | Sea to Summit Ether Light XT Insulated Air Sleeping Mat | SEE IT | LEARN MORE | Easy to inflate, warm enough for alpine adventures, and comfortable enough for a full night's sleep. |
| Best Overall | | Therm-a-Rest NeoAir Xlite NXT | SEE IT | LEARN MORE | The warmest pad for its weight on the market |
| Best Budget | | Big Agnes Insulated AirCore Ultra | SEE IT | LEARN MORE | An affordable option that can keep you warm during shoulder-season adventures. |
It only takes one fitful night of sleep after a long day of hiking—hips bruised, lower back throbbing, cricked neck—to realize the importance of a great backpacking sleeping pad. But adding a quality pad also adds significant weight and cost to your kit, so it's essential to get the right pad the first time. After testing dozens of different backpacking sleeping pads from seven different manufacturers, these are our top picks for the best backpacking sleeping pads for every adventure.
Inflatable Backpacking Sleeping Pads
Closed-Cell Foam Sleeping Pads
How We Tested the Best Sleeping Pads
Laura has trekked thousands of miles (sleeping hundreds of nights in the backcountry) and used that experience to evaluate these sleeping pads on the factors that are the most important to backpackers: comfort, ease of inflation/deflation, packed size, and an important vector she's going to call stay-on-ness—i.e., how easy was it to wiggle off the side while tossing and turning in a standard sleeping bag.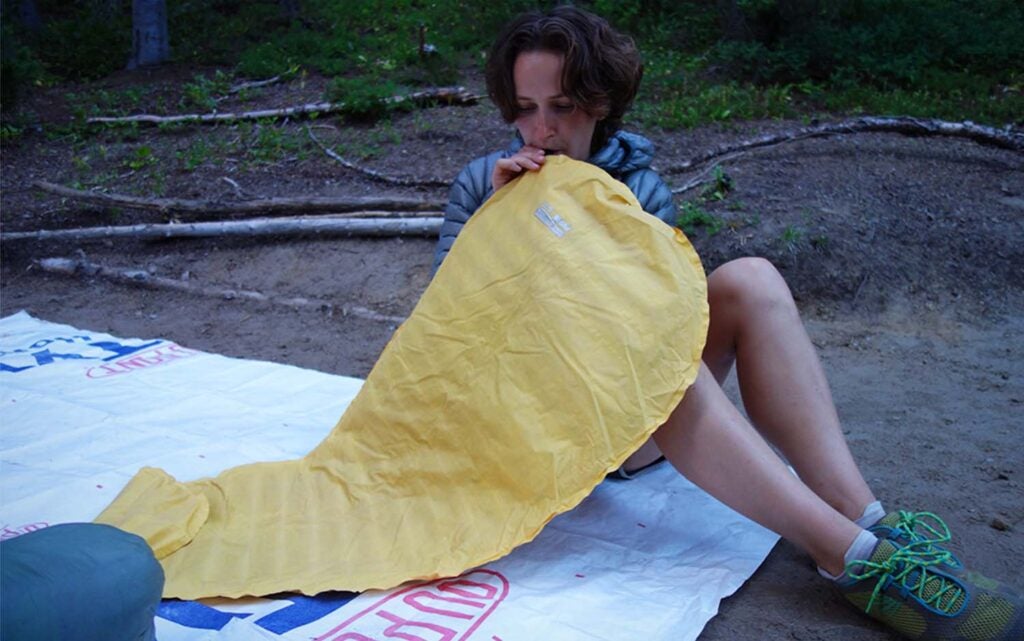 Weight and stack height were checked against manufacturer specifications, and the stack height and weight figures published in this review were taken from our own measurements. Stack height measurements were taken in the middle of the pad, and based on the maximum inflation she was able to achieve using the accompanying pump sack (or blowing into the pad itself if one wasn't provided). As such, some measurements may vary from the manufacturer websites. One measurement that is standard is R value, as this is based on third-party testing.
Read Next: What Is R Value? It's Why Your Sleeping Bag Doesn't Keep You Warm
Ashley tested closed-cell foam pads while camping and backpacking over the summer in her home state of Utah. Temperatures were still reasonable on alpine trips, appropriate for closed-cell foam pads. She evaluated how each pad felt tend as she rotated in her sleep, eliminating from consideration any that .
I also noted how they faired strapped to the outside of my pack and using them to sit on the ground, for durability.
Best Inflatable Backpacking Sleeping Pads: Reviews & Recommendations
Key Features
Size Range: S (20 inches x 47 inches) to RW (25 inches x 77 inches)
Weight: 12.5 ounces for a regular (8.3 ounces for a small)
Height: 2.5 inches
R Rating: 4.5
Fabric: 30D ripstop HT nylon
Pros
Comfortable enough to cushion hips on even rocky terrain
Very lightweight compared to other pads with a similar R value
Surprisingly durable for its fabric thickness
Cons
Confusing valve, no included pump sack
The latest iteration of the NeoAir Xlite—the NXT—finally fixes the longstanding noise issue that had kept this backpacking sleeping pad from being our best overall pick in the past. In my review of this best-in-class sleeping pad, I found that while it wasn't perfectly silent, its crinkle level has been reduced to the point that all but the very lightest sleepers are unlikely to be disturbed.
I've successfully used the NeoAir Xlite NXT for hundreds of miles on multiple thru-hikes. It's the perfect combination of lightweight and comfort, with an R rating that will see you through alpine adventures and shoulder-season excursions alike.
Despite the relatively thin material, the only mishap I've experienced with the NeoAir XLite was when I inadvertently slept on top of an especially pointy rock (the 2.5-inch stack height ensured I didn't even notice it was there), which resulted in a deflated mattress by morning. Fortunately, I was able to patch the pad with the repair kit the next day.
The only downside to the NeoAir Xlite NXT is the less-than-intuitive valve and a pump sack that takes about three times as long to use as other models out there. But these are small considerations next to the pros of this pad: It will keep you warm and comfortable on the chilliest nights and add a negligible amount of weight to your pack. —Laura Lancaster
Key Features
Size Range: S (21.5 inches x 66 inches) to L (25 inches x 79 inches)
Weight: 19.2 ounces for a regular mummy (includes air bag stuff sack)
Height: 4 inches
R rating: 3.2
Fabric: 30D/40D nylon
Pros
Comfortable in a wide range of sleeping positions
Easy to inflate and deflate
Good balance of durability with weight and R value
Cons
Slightly heavier than other pads in our test
Lower R rating than our best overall pick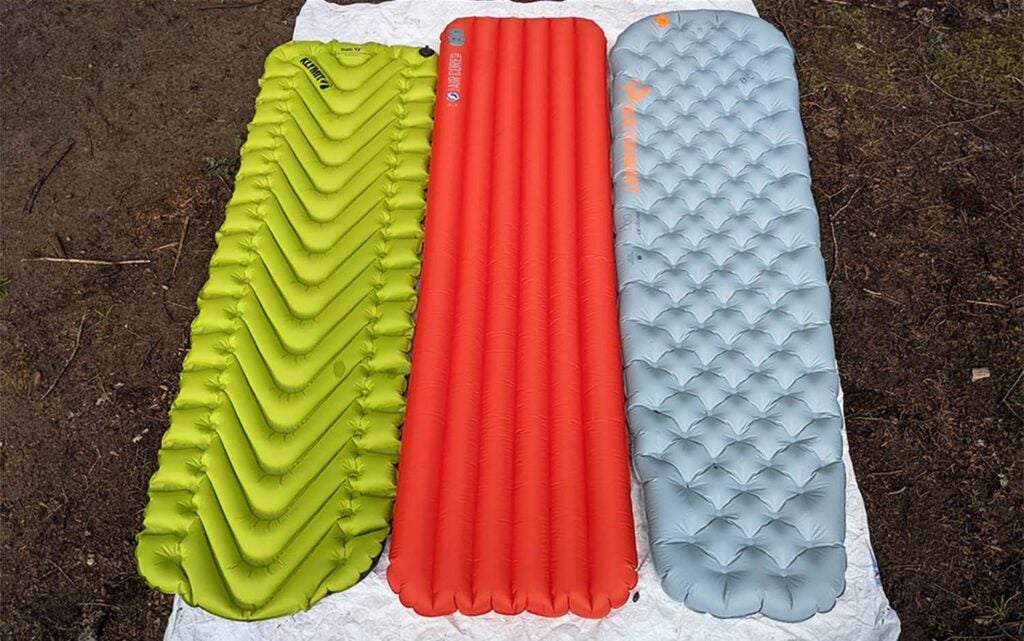 This was the easiest pad to inflate of all I tested. It uses a pump sack that's integrated into the stuff sack for the sleeping pad, a thoughtful touch that worked exceptionally well. After connecting the nozzle to the inflate plug, you hold the bag about a foot from your face and blow air at it to inflate the bag, then you squeeze the air from the bag into the pad. It only took six rounds with the pump sack to inflate the Ether Light XT on my first try—less than a minute. I also like that the inflate plug and the deflate plug use the same opening, as this reduces the number of fail points for the pad.
The dimpled structure of the baffling on the Ether Light XT made it easier to find a comfortable position than pads that had vertical, horizontal, or honeycomb baffling, and the 4-inch height meant my hips were well protected from the ground when sleeping on my side.
While not quite as warm or quite as light as our best overall pick, the 3.2 R rating of the Ether Light XT will work well for backpackers looking to start their trips in late spring and make their last trip of the year before the leaves fall. 30D and 40D nylon strands are woven together to make this pad more robust than our lightweight picks, although backpackers should still be sure to protect it from the ground with a lightweight tarp if they aren't using a tent.—Laura Lancaster
Key Features
Size Range: R (20 inches x 72 inches) to L (25 inches x 77 inches)
Weight: 17 ounces
Height: 2.5 inches
R Rating: 7.3
Fabric: 30D ripstop nylon
Pros
High R rating is appropriate for all-season use
Lightweight for its performance
Cons
Expensive
No double-wide option available
During our test of the best backpacking quilts, something became clear: If you are a cold sleeper, you are going to need a heck of a lot more than an rating of 4 to stay warm in colder temps. Three of our testers on that trip, where temps along the Oregon Coast dipped into the low 40s, self-identified as cold sleepers, and for them, there was only one sleeping pad that was getting the job done: the Therm-a-Rest Xtherm.
The Therm-a-Rest NeoAir Xtherm takes the lightweight insulation of the NeoAir Xlite and ratchets it up a notch. Rather than using three layers of the metallic insulation, the Xtherm boasts six, which brings it up to an R rating of 7.3 while still clocking in at only 17 ounces.
While the valve and pump bag on the Xtherm have the same issues as the Xlite, the R value and weight of this pad make it a must-have for cold sleepers looking to cut weight on their alpine and shoulder season camping kit.—Laura Lancaster
Key Features
Size Range: S (20 inches x 47 inches) to L (25 inches x 77 inches)
Weight: 8.8 ounces
Height: 2.5 inches
R Rating: 2.3
Fabric: 15D nylon
Pros
Extremely lightweight
Comfortable
Cons
Expensive
Lower R rating is not suitable for shoulder season or alpine adventures
More fragile than heavier sleeping pads
This backpacking sleeping pad is so light and so tiny, you'll barely notice it's in your pack during the day. But at night, it's just as comfortable as the standard Xlite. There are two catches here—the first is that this has about half the R rating of the Xlite, similar to top-performing closed-cell foam pads. It's suitable for summer camping (and early fall if you run hot), but you'll be compromising the performance of the rest of your sleep system if you take it into colder conditions than that.
The second is that this sleeping pad is fundamentally more fragile than the Xlite. Instead of a 30D ripstop nylon, it only uses 15D nylon for the shell. If you're used to getting away with only a cursory kick of the largest rocks before throwing your sleeping pad on the ground, you're going to need to take more care with this pad(some kind of groundsheet beneath it is a must).—Laura Lancaster
Key Features
Size Range: R (72 inches x 23 inches) to XL (78 inches x 29 inches) and a double (78 inches x 53 inches)
Weight: 2 pounds, 4.5 ounces
Height: 2.5 inches (the XL and the double are 5 inches)
R Rating: 2.1
Fabric: 75D polyester
Pros
Extremely comfortable
Surprisingly small packed size for a pad with a foam topper
Cons
If you want one pad for car camping and low-key backpacking trips, look no further. The Klymaloft has a foam topper above the inflatable air chambers, which makes it feel closer to an actual mattress than anything we tried—including traditional car camping pads. You could almost forget you weren't at home in your own bed.
One thing I noticed during testing was that the construction of the valve is different from standard backpacking sleeping pads—some of our testers thought at first that it needed a pump to inflate—but it works the same as a regular air valve once you get the hang of it. Two tie-down straps make this one more of a chore to pack down than other backpacking pads, but once I had it cinched in, its packed volume was surprisingly close to other pads in the test.
While the Klymaloft is unacceptably heavy by lightweight backpacking standards, the extra weight is worth the good night's sleep, at least on low-mileage trips.—Laura Lancaster
Key Features
Size Range: M (72 inches x 41.3 inches) to LW (77.6 inches x 51.2 inches)
Weight: 29.3 ounces
Height: 3 inches
R Rating: 2.9
Fabric: 20D ripstop polyester
Pros
Great pump sack
Lightweight for its size
Cons
Lower R rating than other double-wide pads available
Whether you are looking to share a pad with a significant other, or just want the extra space for your own comfort, the Ultra 3R Duo is a great choice. Its simple vertical baffles were comfortable to lie on in multiple positions—back, side, stomach—and the tapered foot design mirrors the shape of a number of backpacking tents on the market.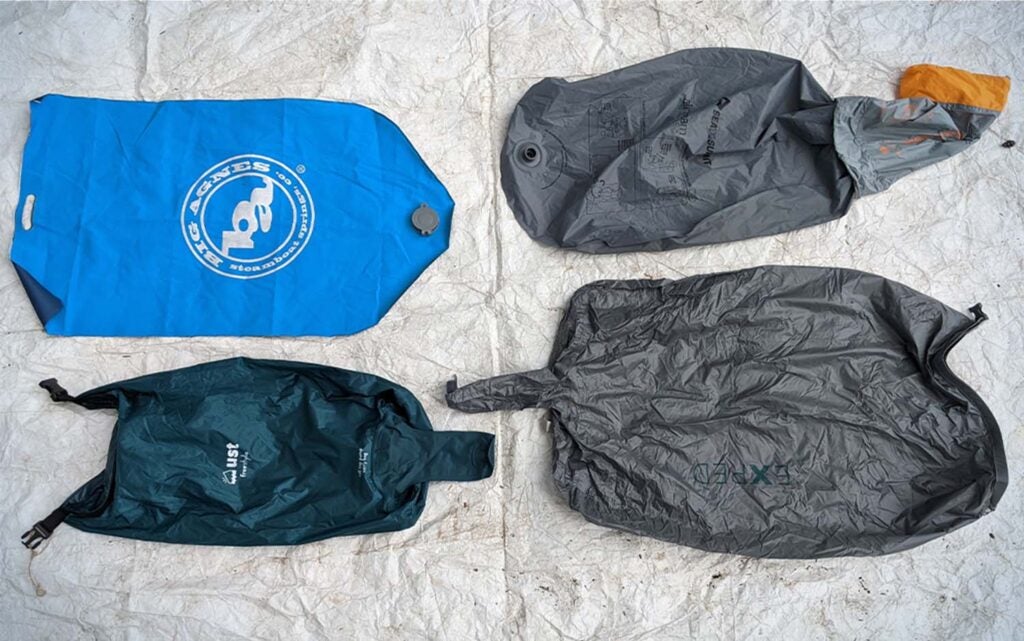 Couples will like that the baffles for each side of the mat are inflated separately, which reduces the likelihood that your partner will wake you up in the middle of the night, while individuals using the Ultra 3R Duo will appreciate that they roll through seamlessly, avoiding an uncomfortable spot in the middle of the mat.
During testing, I found that the large pump sack captured a surprising amount of air (I was able to inflate the entire air mattress in four rounds), but I had to watch the neck of the pump sack to make sure it didn't get twisted. While not as intuitive to use as the Sea to Summit pump sack, the roll-top design made this one more efficient with practice.—Laura Lancaster
Key Features
Size Range: S (20 inches x 48 inches) to XL (25 inches x 78 inches) and a double-wide (50 inches x 78 inches)
Weight: 22 ounces
Height: 3.25 inches
R Rating: 4.5
Fabric: 40D ripstop nylon
Pros
Comparatively low price
Thick enough for side sleepers to sleep comfortably
High R value for the price point
Cons
Wide baffles make for a bumpier sleeping surface
Difficult to put back into its small stuff sack
Heaviest pump sack I tested was also the hardest to use (but still better than blowing into the valve myself)
After you've shelled out major dollars for a backpack, a tent, and a sleeping bag, there isn't always a lot leftover for a sleeping pad. But the Big Agnes Insulated Air Core Ultra is an affordable option that is warm enough to take you up into the alpine and into the shoulder seasons while staying comfortable enough to ensure you're actually glad to be out there.
The Air Core Ultra uses vertical baffles that are substantially wider than others on the market. For the 20 inches x 72 inches size, the Big Agnes had six baffles, while the Exped Ultra 3R had eight. This meant that when I was resting on my back, I could feel the individual baffles underneath me. It's not uncomfortable, per say, but it is distracting. That said, side sleepers will find the thickness of this mattress quite cushy.
At 3.9 ounces, the pump sack for the Air Core Ultra was easily the heaviest we weighed (although props to Big Agnes for making it out of upcycled pad material) and took noticeably longer to use than the versions from Exped, Sea to Summit, Nemo, or UST.—Laura Lancaster
Best Closed-Cell Foam Backpacking Sleeping Pads: Reviews & Recommendations
Key Features
Size Range: S (20 x 51 inches) and R (20 x 72 inches)
Weight: 14.5 ounces for a regular
R Rating: 2
Insulation: Low-emissivity film
Pros
Comfortable
Lightweight
Insulated coating
Packs down to 5 inches
Cons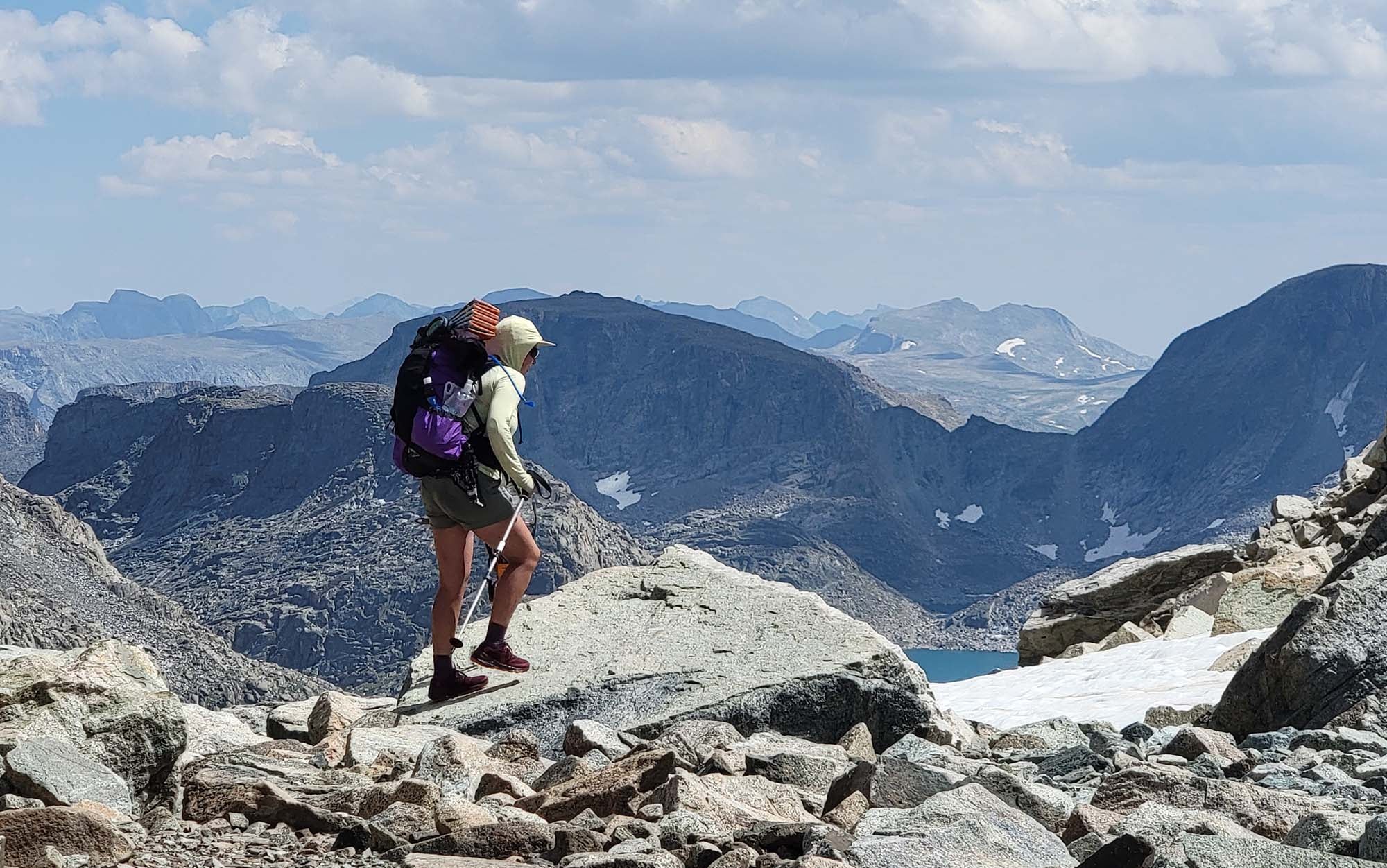 I have used the short version of this pad for eight months now, so I was excited to see how it measured up to its competitors. The hexagonal node pattern is part of what makes this pad the most comfortable in all sleeping positions. Instead of a traditional egg carton pattern, the nodes are more spread out, taking away the pokey feeling other pads have. This unique design is also what makes the Switchback pack down compactly and stay so warm. I recently slept like a baby in the low 40s using this pad alone. I supplement it with a backpacking pillow and add an inflatable pad for winter excursions.
However, if you're guilty of thrashing your gear (like I am), then this pad could be quick to show signs of wear. While the dual-density foam offers a cushy top layer and supportive bottom layer for improved comfort, that supple top layer can be easily shredded by branches and rocks. Unlike the Therm-a-Rest Z Lite, however, the insulated coating is protected by the accordion fold. This pad is meant to be slept on silver side down, because the orange foam layer acts as a heat trap, catching the warmth of your body that's being reflected back to you via the low-emissivity film.—Ashley Thess
Key Features
Size Range: S (20 inches x 47 inches) and R (20 inches x 72 inches)
Weight: 14 ounces for a regular
R Rating: 2
Insulation: Reflective ThermaCapture coating
Pros
Lightweight
Insulated coating
Cons
Packs down to 6 inches thick
Doesn't include a box for storage
Therm-a-Rest advises Z Lite sleepers to keep the shiny silver side of the mat up to reflect body heat. However, this means that the insulation is exposed when the pad is folded. Any closed-cell foam sleeping pad is at risk of being thrashed a bit while bushwhacking or dropping your pack because they are strapped to the outside of your backpack. I would rather the insulation fold inward so that it isn't being compromised by abrasive sticks and rocks.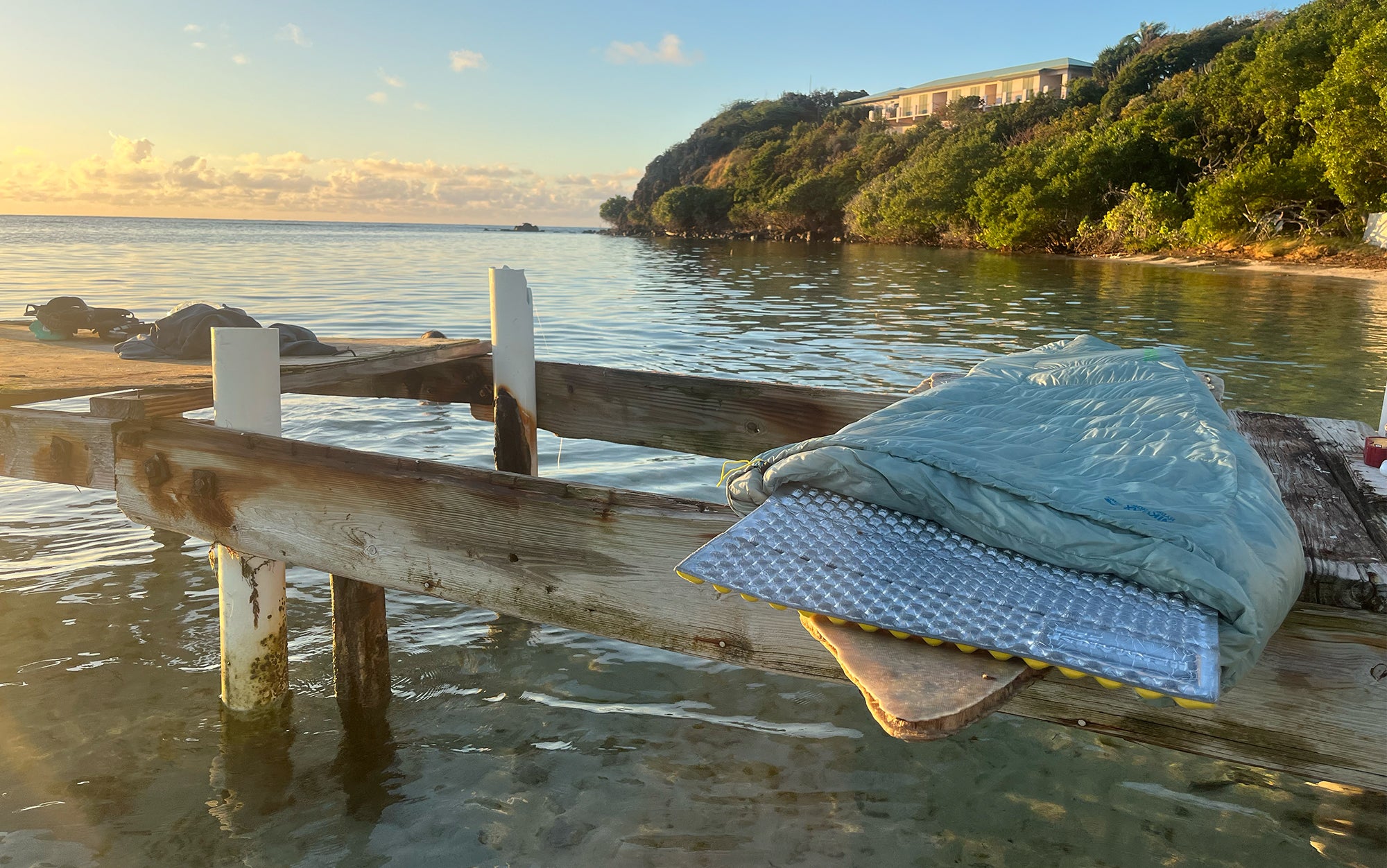 The reflective coating still gives the SOL an edge on the FlexMats. What makes this pad great is the weight and R value, but the inefficient accordion fold makes this pad pack down rather large for its .75 inch thickness. While not as comfortable as the FlexMat Plus or the Switchback, it is more comfortable than the FlexMat. This middle-of-the-road pad is best for layering but can effectively be used on its own.—Ashley Thess
Key Features
Size Range: S (20.5 inches x 47.2 inches) to LW (25.6 inches x 77.6 inches)
Weight: 16.9 ounces for a medium
R Rating: 2.2
Thickness: 1.5 inches
Pros
Cons
Packs down to 7 inches thick
Not good for stomach sleepers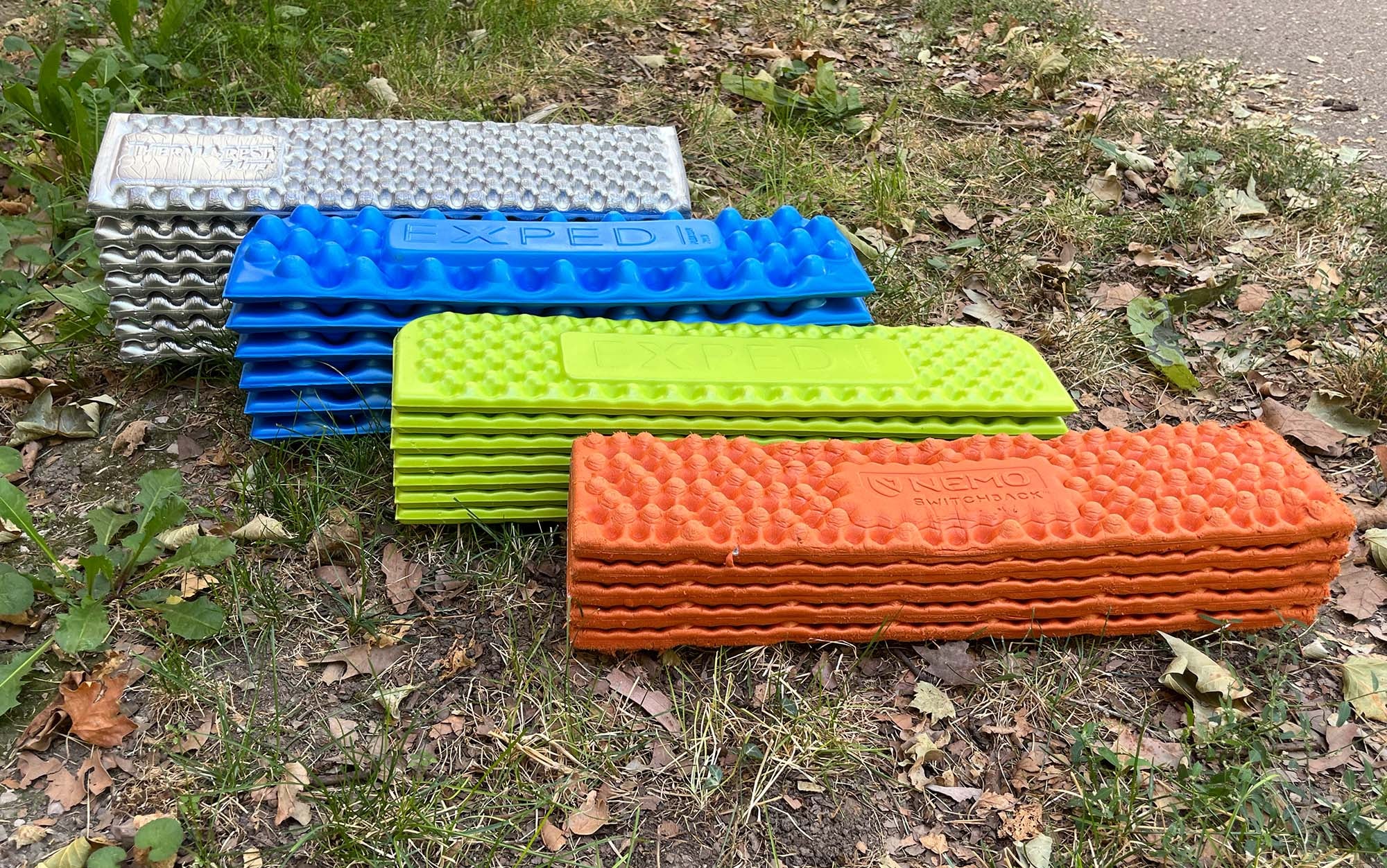 If you're a slide sleeper that wants to give closed-cell foam sleeping pads a chance, this is the best backpacking sleeping pad for you. The FlexMat Plus is comfortable on its own for summer trips and adds a significant 2.2 bump in R value to an inflatable pad for colder temperatures. This allows you to spend less on an inflatable pad, because you won't need to shell out for a higher R value. This system also allows you to skip the extra ounces of an additional pad when the weather is warm while staying comfortable. However, if you're a stomach sleeper, this might not be the pad for you. I found the extreme egg carton pattern to be uncomfortable when turned onto my stomach. However, when lying on my back or side, this pad was plush.—Ashley Thess
The Rest of the Field
The above backpacking sleeping pads are the ones we've tried that we recommend, but they are far from the only sleeping pads that we have tried over the years, or as part of our testing for Outdoor Life.
One sleeping pad that I have seen people have numerous problems with over the years is the Therm-a-Rest ProLite. While the shelf appeal of this pad is clear—that it is self-inflating and has foam as part of its insulation—the reality of this pad typically leaves much to be desired. While it is partially self-inflating, you will still need to inflate some of it (as much as half) manually. Further, the new pump bags that come with some of the best backpacking sleeping pads have made manual inflation light years easier than it was previously. Next is the foam: The layer of foam in the ProLite is so thin, and the air in the pad so insignificant, that side sleepers will be able to feel the ground underneath their body regardless. Finally, this pad has a fairly low R rating.
While we tested sleeping pads from UST and the Static line from Klymit, and are impressed by their low prices, we ultimately feel that their lack of comfort and low R value make them poor choices for most backcountry adventures. Your backpacking sleeping pad is an important component to your overall sleep system, majorly affecting both comfort and warmth. If your budget is limited, go with a closed-cell foam pad until you can afford to spend more.
Ashley tested the Exped FlexMat as part of her test of the best closed-cell foam pads, but ultimately felt that the thin profile made it feel like she was sleeping on the ground.
We were excited to test the Big Agnes Zoom sleeping pad, as it represented another option for individuals dissatisfied with current lightweight options. Unfortunately, despite appreciating the honeycomb baffles, this sleeping pad developed a leak after only a handful of uses. While the tester at that time (Ashley) was able to repair it, we're hesitant to recommend it at this time.
The NEMO Tensor series has impressed with its lightweight, excellent pump sack, and the option to ditch the carrying bag for the pad and use a velcro strap instead. Ultimately, however, it's a smidge heavier than the Therm-a-Rest NeoAir series, keeping it from that top spot. However, if you are frustrated by some of the features (or noise) of the Therm-a-Rest NeoAir and are looking for another option, this is a great one to consider.
How to Choose a Backpacking Sleeping Pad
Your Sleep System
Your backpacking sleeping pad is the foundation of your sleep system, so it's important to consider how it integrates with either the best sleeping bag or the best backpacking quilt. Keep in mind that the temperature ratings of sleeping bags assume you are using a sleeping pad with a minimum R rating of 4.8.
Noise
While most inflatable backpacking sleeping pads aren't exactly silent, they are quiet enough. The exception used to be the Therm-a-Rest NeoAir series. The reason for this is not, as you might at first think, the material on the outside of the sleeping pad: It's what's inside. The metalized film in the insulation—the secret sauce of its best in class weight to R rating ratio—is what's making that loud crinkly sound. However, those that decided the noise was a deal-breaker, despite the premium weight to R value ratio, can rejoice at Therm-a-Rest's newest update to the NeoAir: the Xlite NXT, our best overall pick.
Thickness
Too-thin backpacking sleeping pads can become uncomfortable over the course of the night, especially for individuals who are sensitive to feeling the hardness of the ground against their backs or hips. In my experience, thickness is more important than the inclusion of foam in an inflatable sleeping pad (a major reason why I don't recommend so-called self inflating mattresses for backpacking).
Comfort
This is a subjective measurement, more so as there isn't any backpacking sleeping pad which is truly comfortable—don't expect to be as comfortable as you are at home. Far and away the most important factor impacting your comfort is if it's thick enough to protect you from the hardness of the ground. Next up is the inclusion of foam (although this typically comes with a major weight penalty). Finally, there is the baffle design. In my personal experience, the waffle design of backpacking sleeping pads like the Sea to Summit Ether Light XT Insulated Air Sleeping Mat are the most comfortable, but others prefer the horizontal baffle style of the Therm-a-Rest NeoAir or the the more unusual design of the Klymit Static V2. The only way to determine what your preference is is to try a few different types out camping.
Things to Consider Before Buying the Best Backpacking Sleeping Pad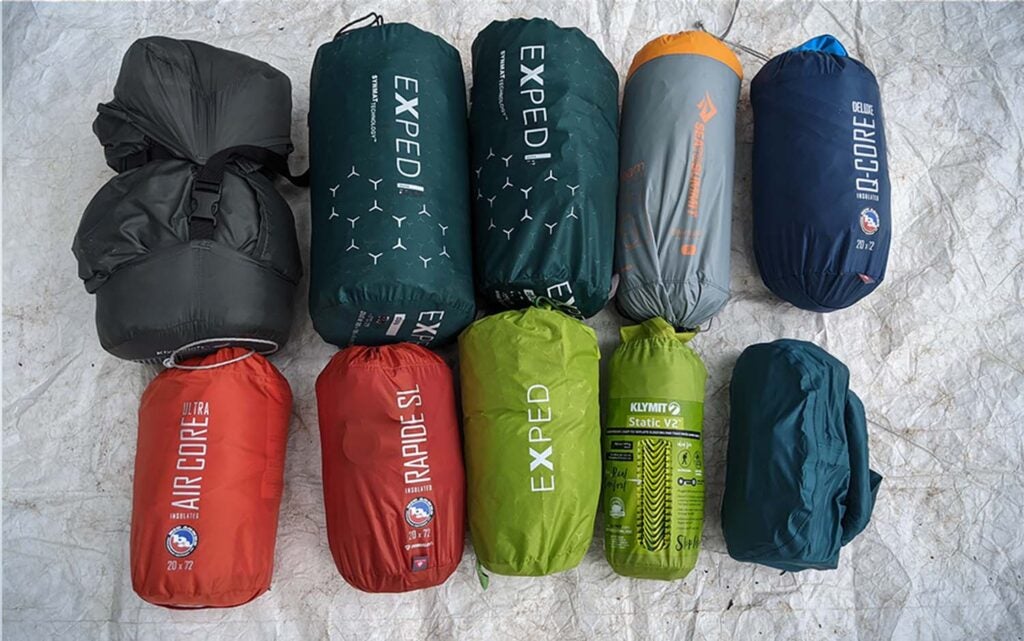 Inflatable vs. Closed-Cell Foam
The choice between an inflatable sleeping pad versus closed-cell foam is one of performance versus reliability. Inflatable pads are warmer, lighter, fit easily into your pack, and are almost always more comfortable. However, closed-cell foam pads never unexpectedly deflate overnight, don't take up room inside your pack, and double as a butt pad for breaks. (Learn more from our guide to inflatable vs. cell-foam sleeping pads.)
Material
The exterior of inflatable backpacking sleeping pads is usually constructed from either polyester or nylon at varying thicknesses, which is measured in denier (D). Most backpacking sleeping pads are between 20D, the thinnest material, typically used for ultralight pads, to 75D in thickness, which approaches the thickness typically seen on car camping pads. Nylon is generally a stronger material than polyester, but laminates (which can make a pad more airtight) apply better to polyester than to nylon.
Closed-cell foam pads are obviously made of closed-cell foam which is an insulating and water resistant material that can keep hikers happy on warm nights and supplement an inflatable pad in the cold. The best backpacking sleeping pads made of closed-cell foam sometimes include a metallic lining for an increased R rating.
Weight
Most of the best backpacking sleeping pads weigh between 1 and 2 pounds, with the heavier end of the spectrum providing greater comfort and the lighter end of the spectrum typically running quite narrow. It's hard to put a value on a great night of sleep when you're facing ten plus miles of hiking in the morning, so we recommend erring on the side of caution. One way to save weight, for some backpackers, is to choose a short sleeping pad, and then tuck your backpack under your feet at night. This way, your hips and shoulders get the benefit for a fraction of the ounces.
Size
There are two sizes that you should be concerned with—the size of the pad packed into your backpack or strapped to the outside, and the size of the pad when it's inflated. Most pads today come in sizes ranging from short to tall, regular to wide; however, in our experience even the "wide" size—typically 25 inches—is not all that wide. Two exceptions to this are the Klymit, which has a wide size of 29 inches, and the Big Agnes Q Core Deluxe, which goes out to 30 inches. Couples looking to share a pad can look for a double-wide pad or one of the best camping mattresses for couples.
Shape
Most sleeping pads are one of two shapes: rectangular or mummy. The idea behind the mummy-shaped pads is simple—your body isn't rectangular, so why should your pad be? This design also shaves off a few ounces. But plenty of backpackers, especially side sleepers, find that the mummy-shaped pads are easier to roll off of, and prefer a rectangular pad for that reason.
R Rating
As anyone who has been backpacking during a shoulder season knows, the cold from the ground will suck out your body heat faster than cold air, leaving you shivering inside of your 20-degree bag. The R value measures how well the pad insulates (or "resists," hence the R) the cold, with 1 being the lowest rating (suitable for lowland backpacking at the height of summer) all the way up to 10 (typically only needed in extreme conditions). Sleeping pad manufacturers once conducted their own testing (or in some cases simply guessed), but as of 2020 R ratings are standardized by the American Society for Testing and Materials (ASTM).
FAQs
Q: How much do backpacking sleeping pads cost?
A quality backpacking sleeping pad typically runs $100 to $200, with those suitable for winter camping upwards of $250. Closed cell-foam sleeping pads are closer to $50 with the budget pick only costing $35.
Q: Do I need a sleeping pad for backpacking?
If you're young and only planning to summer backpack for a night or two in a forest with a cushioned, pine-needle floor (I'm looking at you, Oregon), then maybe—maybe—you can get away without a sleeping pad. But we wouldn't recommend it. For shoulder season or winter travel, or any travel at altitude, the warmth provided by a backpacking sleeping pad is essential, not only to your comfort, but also to your safety. 
Q: What R value should I look for on a camping sleeping pad?
Like with sleeping bags, the question of what R value you'll need for your camping sleeping pad depends on your natural core temperature. For summer adventures through the foothills, you can disregard this number, as almost any R value will do. For shoulder season backpacking, or if you plan to spend significant time in the alpine, an R value of 3 to 5 is best. Anyone planning on a backpacking trip where subzero temperatures are a possibility needs to have a pad rated to at least 6. Adjust as needed if you sleep cold or run hot. Backpackers who use quilts, as opposed to traditional sleeping bags, should choose a pad with an R value that is slightly higher than they think they need. 
Q: Are self inflating sleeping pads a good choice for backpacking?
No, self inflating sleeping pads are not a good choice for backpacking. There are three main reasons to avoid them. First, the hassle and muscle power required to force the pad back into its stuff sack the next morning outweighs the convenience. Next, these pads are typically much thinner for the same weight, which means you are more likely to feel the hard ground underneath your back or hips. Finally, the pump sacks provided by (or even integrated into) a number of the above picks completely eliminates the light-headedness that you might remember from blowing up sleeping pads in the past. Only a few light breaths (less than you would use to blow out a candle) are needed to inflate these sacks. 
Q: How thick should a sleeping pad be?
Look for sleeping pads that are a minimum of 2.5 inches thick to ensure that you're protected from the hardness of the ground. After that, it's not especially important how thick a sleeping pad is, although some individuals report that they struggle with slipping off of those that are 4 inches or higher.
Q: Does stacking sleeping pads increase R-value?
Yes, stacking sleeping pads (usually done with a closed-cell foam and an inflatable air mattress) results in an increased R value. While a good rule of thumb is that you can add two R values together, it's worth keeping in mind that this has not been assessed by ASTM.
Q: How long do sleeping pads last on average?
Backpacking sleeping pads can last for years, or even decades, depending on how you care for them—most top manufacturers offer limited lifetime warranties as a result. The most important step is to always take care to ensure that there are no sharp objects on the ground below your backpacking sleeping pad when setting up for the night. (Although if you do end up with a hole in the pad, they are easy enough to repair it, as long as it isn't along one of the seams.) At home, give your backpacking sleeping pad some time to air dry after each trip before storing it away for the season to help reduce the potential of mold accumulation.
Q: Do I need to clean or wash my sleeping pads? 
You do not need to clean or wash your backpacking sleeping pad, but you may want to if it gets excessively dirty, greasy, or sandy. The first step is to close the valve—you do not want water sneaking into your backpacking sleeping pad as that can harm the interior insulation and/or collect mold. Next, grab some warm water and hand wash the exterior of the sleeping pad in a bathtub or similar. Your last step is dry off the sleeping pad—I like to hang it over a shower rod or off the back of a chair.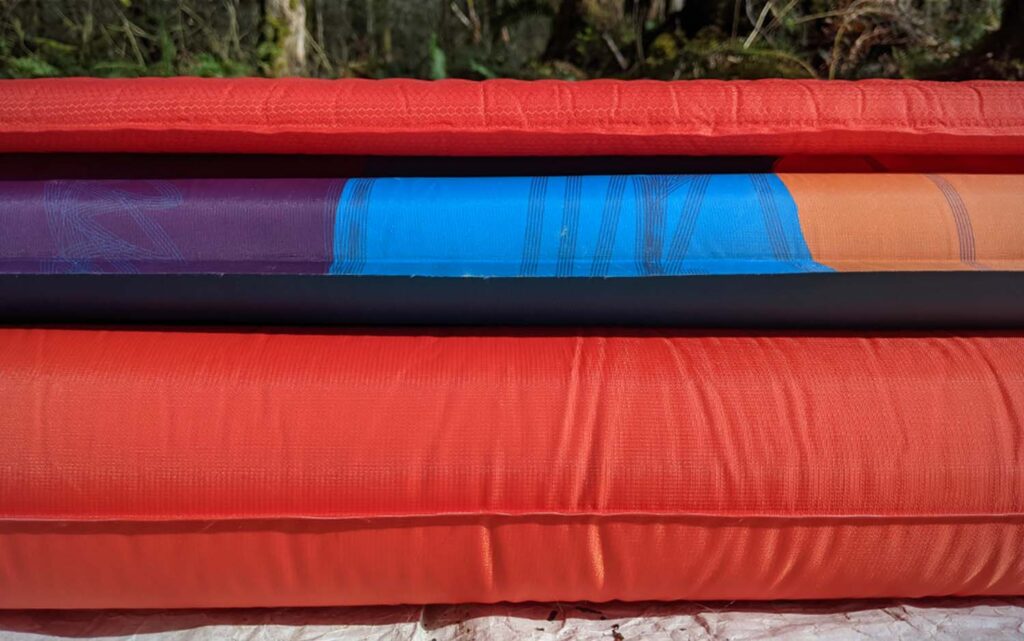 Why Trust Outdoor Life?
Since 1898, OL has been a leading authority in testing and reviewing hunting gear, fishing tackle, guns and shooting equipment, and much more. We have more than a century-long history of evaluating products, and we're now bringing that expertise to online reviews. Our editors are experienced outdoorsmen and women, and most importantly, we're trained journalists. We prioritize field testing and objective data when reviewing products. We conduct interviews with gear manufacturers and engineers as well as outdoor experts so that our readers have an understanding of how and why a product works—or doesn't.
Advertising does not influence our gear reviews and it never will. While we always focus our coverage on standout products—because we want our readers to be aware of the latest and greatest gear—we also cover the flaws and quirks of any given product.
Final Thoughts on the Best Backpacking Sleeping Pads
Though not considered one of the "Big 3," choosing the best backpacking sleeping pad for your sleep style and the temperatures you plan to trek out into is essential for avoiding the dreaded Type III fun. I sometimes skimped on pads when I was younger. But with more experience, I learned that a good sleeping pad makes it a lot easier to get a good night's sleep, and that in turn makes the next day's adventure all the more fun. I recommend thinking about your sleeping pad, sleeping bag or quilt, and, ideally, a pillow, as a complete system and budget your funds and ounces accordingly.
The post The Best Backpacking Sleeping Pads of 2023, Tested and Reviewed appeared first on Outdoor Life.
Articles may contain affiliate links which enable us to share in the revenue of any purchases made.
Source: https://www.outdoorlife.com/gear/best-backpacking-sleeping-pads/