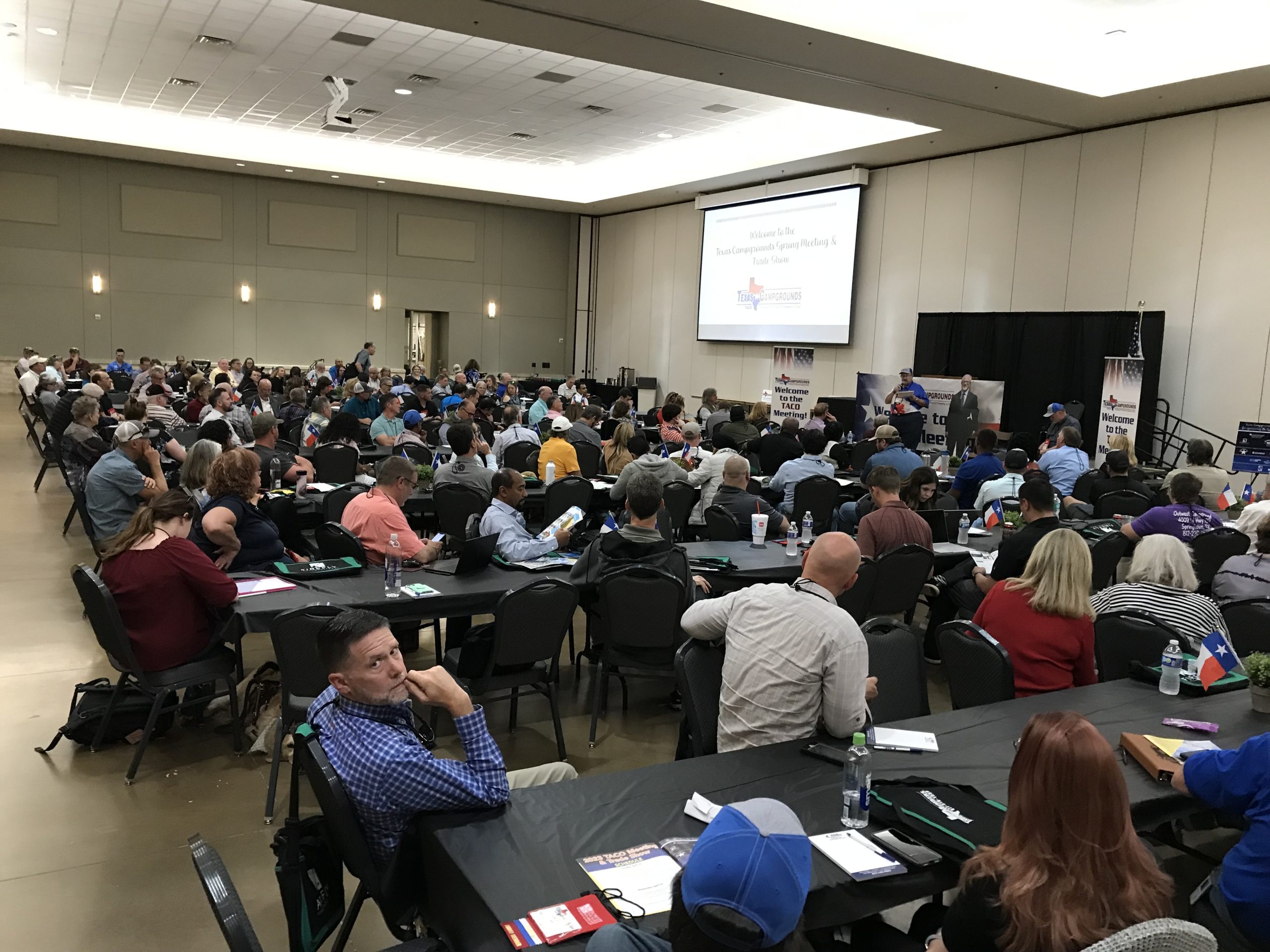 A campground or RV park operator's selection of a reservation software system has a profound effect on the park's bottom line, according to Kathleen Walsh, CEO and founder of Advanced Outdoor Solutions.
"The foundation of your company is your reservation management system," said Walsh, whose Cape Coral, Fla.-based company manages over 60 RV parks and resorts. "That sets the tone for what you are going to be able to do in your business."
Speaking to over 300 park operators Tuesday (April 25) on the first day of the Texas Association of Campground Owners' annual Spring Meeting and Trade Show, Walsh said a good reservation system not only gives park operators the ability to manage their reservations, but the ability to increase their revenue and reduce their labor costs.
Today's reservation management programs have the capability to do revenue management, raising and lowering rates based on the supply and demand for campsites and rental accommodations at distinct moments in time. But the most sophisticated reservation management systems also have realtime, two-way connectivity to Online Travel Agencies or OTAs, such as Booking.com and Airbnb.com, which can direct business to a park operator's website.
While some park operators may be hesitant to turn over some of their inventory to OTAs, Walsh countered that "85% of something is better than $0 any day of the week" and that OTAs "put money into marketing that you're never going to be able to afford."
Walsh added that OTAs only charge a fee if they book a site or rental unit.
"If you have cabins and you are not on Airbnb you are losing money," she said, adding that Advanced Outdoor Solutions uses 10 different OTAs, including BookOutdoors, TheDyrt, Spot2Nite, Hipcamp and GlampingHub as well as an OTA based in the United Kingdom called Pitchup.
Park operators should also look for reservation software programs that offer robust revenue management tools that are fast and easy to use and offer great customer support, Walsh said. She said she doesn't want to use a system that requires the park operator to fill out an online request form for customer service and wait days for a response every time there is a problem or a change needs to be made to the reservation system.
Walsh also said park operators must ensure they use a reservation management system that gives them the freedom to choose their own credit card processor for a variety of reasons.
"If you can't choose your own credit card processor," she said, "I can guarantee you, you are overpaying."
Walsh added that companies that require parks to use certain credit card processors may also create potential conflicts with the park's lender if the lender is a different company. Oftentimes, lenders want to receive deposits and income from park reservations.
For her part, Jayne Cohen, of Campground Consulting Group, told TACO Spring Meeting attendees that park operators should consider upgrading at least a few of their RV sites to high-end RV sites with 10- by 20-foot patios and outdoor kitchens with propane barbecues, which command much higher prices than standard RV sites.
"They always make money," Cohen said, adding that, in her experience, the most expensive RV sites with the most amenities always sell out first.
"Don't be afraid to try extras," she said, noting that Margaritaville RV Resort in Auburndale, Fla., even has different levels of outdoor kitchens at its RV sites.
Cohen also recommended that park operators set guidelines or "site appearance rules" for extended-stay guests while showing photos of RVers with messy campsites to emphasize her point. Cohen also suggested that park operators themselves offer to install decks around their extended stay RVers, if they desire such add ons, to help maintain better park appearances. This also gives the park operator a chance to make money by providing such services.
"Give them choices," she said.
And when it comes to park models, Cohen said, be sure to install skirting around the base of each park model or at least have nice landscaping.
Cohen also encouraged park operators to consider tent campers, noting that tent sites should be priced as high as RV sites because of the amenities that many of today's tent campers require, such as electrical connections, Wi-Fi and places to wash dishes. She noted that some KOA tent sites have outdoor kitchens.
"If you look at the data, you will find it's a lot of families that camp," she said. "You'll find their income level is higher and, because they are in a tent, they need to buy a lot of (items) from your store."
Today's Spring Meeting sessions include seminars titled "Building and Expanding Your Park" by Jayne Cohen and Terry Munoz, vice president of the recreational properties division at Signorelli Company in The Woodlands; "Is Selling Propane Giving You Gas?" by April Richardson and David Vire of The Railroad Commission of Texas; and "Developing an RV Destination for Tomorrow's Guest," by Ed O. Bridgman, of EOB Consulting.
Ron Hinkle, TACO's legislative consultant, will also join TACO Executive Director and CEO Brian Schaeffer and TACO President Randall Dally in providing a legislative update and information on industry best practices and TACO's updated Legal Handbook.
The largest trade show in TACO's 51-year history will also continue today.
TACO also presented its annual awards for top parks as well as the association's Supplier of the Year.
"This group of winners is as good as we have ever seen," said Brian Schaeffer, TACO's executive director and CEO. "The awards process is extensive, from the submissions the parks and vendors have to submit all the way through to the TACO awards committee that utilizes a thorough set of criteria for judging. Congratulations to one and all."
Awards were presented in the following categories:
Large Park of the Year: This award was presented to The Retreat RV & Camping Resort in Huffman, a luxury campground bordering Lake Houston that offers everything from RV and tent sites to luxury cottages, glamping wagons and safari tents. Amenities include a resort-style pool and hot tub, a clubhouse with a business center and market, numerous outdoor games, and 320 feet of boardwalk along Lake Houston.
Small/Medium Park of the Year: This award was presented to Lakeland RV Ranch in Farmersville, which features RV sites with 30-, 50- and 100-amp service as well as park model rentals. Amenities include a community clubhouse with a pool table and big screen TVs, a performance stage, a community fire pit, a workout area, a dog park, a pet washing station and a catch-and-release fishing pond with a fishing pier.
Large Accommodations of the Year: This award was presented to Mystic Quarry in Canyon Lake, a modern RV resort with a variety of glamping accommodations near the Guadalupe River and Canyon Lake in the heart of the Texas Hill Country. Accommodations include everything from furnished cabins to luxuriously appointed glamping lodges to tiny homes, glamping tents and tipis.
Small/Medium Accommodations of the Year: This award was presented to The Pines RV & Cabin Resort in Mt. Vernon, which features six different styles of cabins, from rustic to modern and everything in between.
Supplier of the Year: This award was presented to Firefly Reservations, a TACO-preferred vendor whose cloud-based reservation software program includes online reservations, automated payment processing and an integrated point-of-sale system to simplify transactions at the campground store. The program also includes a self-service portal that enables guests to manage their reservations, payments and requests without having to contact the front desk.
Source: https://rvbusiness.com/taco-welcomes-record-crowd-to-2023-conference/