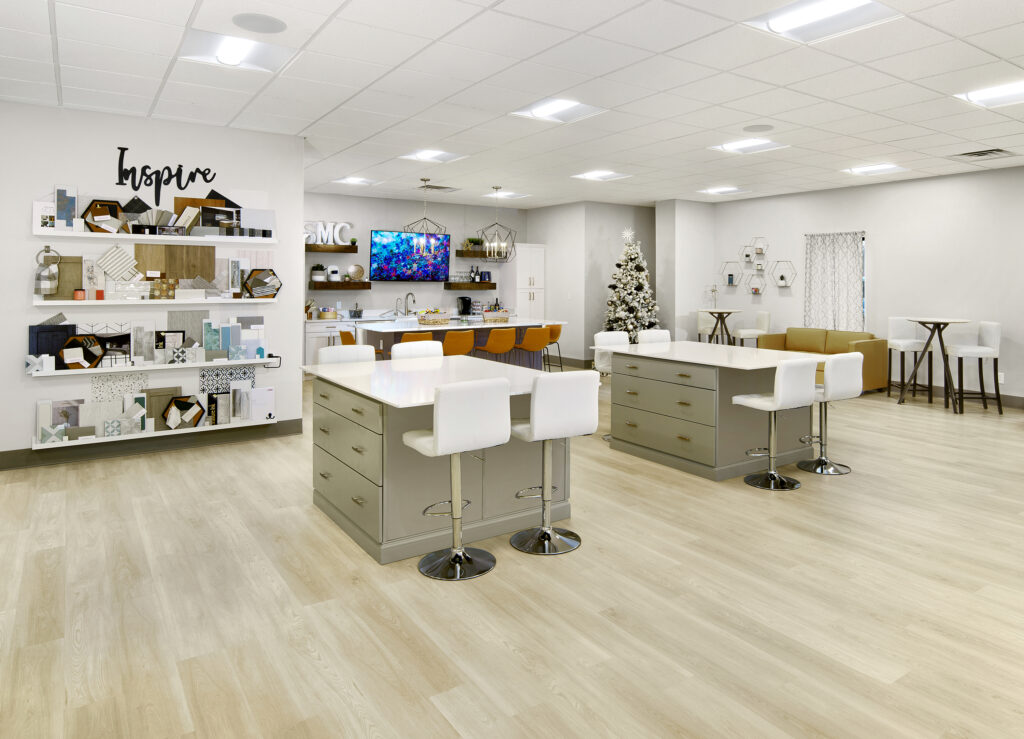 Swavelle Group is a three-generation family owned textile manufacturer and supplier that have been in business for 50 years — 40 years in Elkhart at the same location at 4505 Wyland Drive, Suite 300. They renovated their showroom space a couple of years ago in the middle of the pandemic and want to spread the word that customers who are looking for inspiration are welcome to come and enjoy the bright, inviting space and have Michelle Coleman and Betsy Killilea show them samples while they relax.
Before the renovation, Account Executive Michelle Coleman said the space was walled off into offices and dark with a small section set aside for a showroom. Now it's an interactive, creativity inspiring space with plenty of lighting where they can collaborate with designers.
"We even have our own wall of inspiration," Coleman said.
They used the same footprint and gutted the space, raised the ceiling and tore down walls allowing natural light to come in.
"Customers are loving it," said RV Sales & Design Betsy Killilea, "We get great feedback."
Michelle and Betsy are happy to visit clients but when they come to the showroom they may see something the women didn't have with them. They said there are tons of designs in the market now so the showroom is a space for them to look at a variety of options.
Joe Kenney, director of RV Division said one of several things that sets Swavelle apart is they've also been in the residential market from the start and have a wide range of residential fabrics they can show customers. While some may not work in the RV market, it allows them to show their design and technical skills. It also enables Swavelle to see what is attractive to the RV clients so they can incorporate those residential styles and color trends priced for the RV market.
"We can show them a design and if they like it maybe there'll be something similar in their price point they will like," Michelle said."Or I reach out to Joe and they try to find a way to make it happen."
Kenney said Swavelle's vinyls are high hydrolysis, are flame retardant, fade resistant and come in a variety of styles and patterns with a supple finish and leather like appearance.
"We can do almost anything they want and they're almost indestructible," Coleman said.
"Vinyls are a big part of our business," Kenney said.
Their woven fabrics come in a variety of textures including embroidery and Sherpa and have heightened performance. Performance fabrics set the standard for durability; they're water repellant, stain-resistant and are ideal for any application.
"Performance products are made for many years of use and are super easy to clean. They're flame-retardant to FMVSS302 standards," Kenney said.
Swavelle's innovative designers also set them apart. "We rely on our designers to help anticipate colors and style trends," Kenney said.
Betsy said they also have a wide variety of colors on the retail side for high end motorized and fifth-wheels.
Kenney said Michelle and Betsy recently attended a kitchen trade show with customers to see what they liked. Michelle said they saw "a lot of greens, warm colors, navy blue, natural leather and deep russets."
They want to make sure their vinyl fabrics work with the RV cabinetry. Swavelle's has high end pillows and fabrics for the outdoor and marine market, too. Their products are sustainable, using recycled materials made in the US that meet higher than the professional standards call for. They are PFAS free and meet elevated energy standards.
Kenney said their CEO Greg Thomases sits on some of these councils so they can be on the forefront of changes. Since Swavelle also manufactures and weaves their own fabrics it gives them a wide range of knowledge for the industry.
Betsy said they hold open houses at the showroom in the winter and spring but they're considering holding more regular open houses.
"We want them to come in and collaborate on a more regular basis," Michelle said.
"RV trends are always changing so much—we'd like them to come here to our inviting showroom all the time," Betsy said.
Clients are welcome to visit during regular business hours 8-5 Monday through Friday but by appointment is best so that the women are present to help them.
Call Swavelle at 574-523-2552 or visit their website at www.swavelle.com
Source: https://rvbusiness.com/swavelle-group-welcomes-clients-to-renovated-showroom/