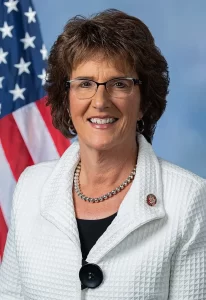 ELKHART, Ind. – The Elkhart County Community Foundation is seeking to spread the word about new scholarships being offered in the name of the late Congressman Jackie Walorski.
The Jackie Walorski Memorial Scholarship and Jackie Walorski Memorial Ministry Scholarship honor the life and work of the late congresswoman from northern Indiana.
During her time in Congress, Walorski was a strong supporter of the RV industry. She met regularly with industry insiders in her district to understand ways to better advocate for RV-related causes.
Walorski died in a tragic car accident on August 3, 2022 at the age of 58. At the time of her death, she was representing the Second Congressional District of Indiana. She was a lifelong resident of the South Bend-Elkhart area and dedicated her life to serving others.
She served as State Representative for District 21 from 2005 to 2010 and was elected to the U.S. Congress in 2012. She represented Indiana's 2nd District, holding that position until her passing. Jackie split her time between Washington D.C. and District 2, always eager to meet constituents, business owners and veterans.
Jackie's passion for her district and the United States of America was evident to all who met her and her energy and determination will be greatly missed. Jackie always viewed her position in Congress as an opportunity to serve God and people in the love of the Lord Jesus Christ, according to her family.
Jackie's family, including Dean and her mother Martha, are establishing these memorial scholarships for high school students who are residents of the Second District. The scholarships will be given to those pursuing a four-year degree as full-time college students. The Memorial Scholarship will be given to students in programs related to public affairs, politics or journalism. The Memorial Ministry Scholarship will be for those in ministry- or mission-related fields.
The first scholarships will be offered in the 2024-25 school year. The application process will be open to all graduating students within the Second District.
Contributions are welcome to honor her legacy as a public servant.
Source: https://rvbusiness.com/scholarship-to-honor-life-of-late-u-s-rep-walorski/