Safety Devices That Every RV Owner Should Have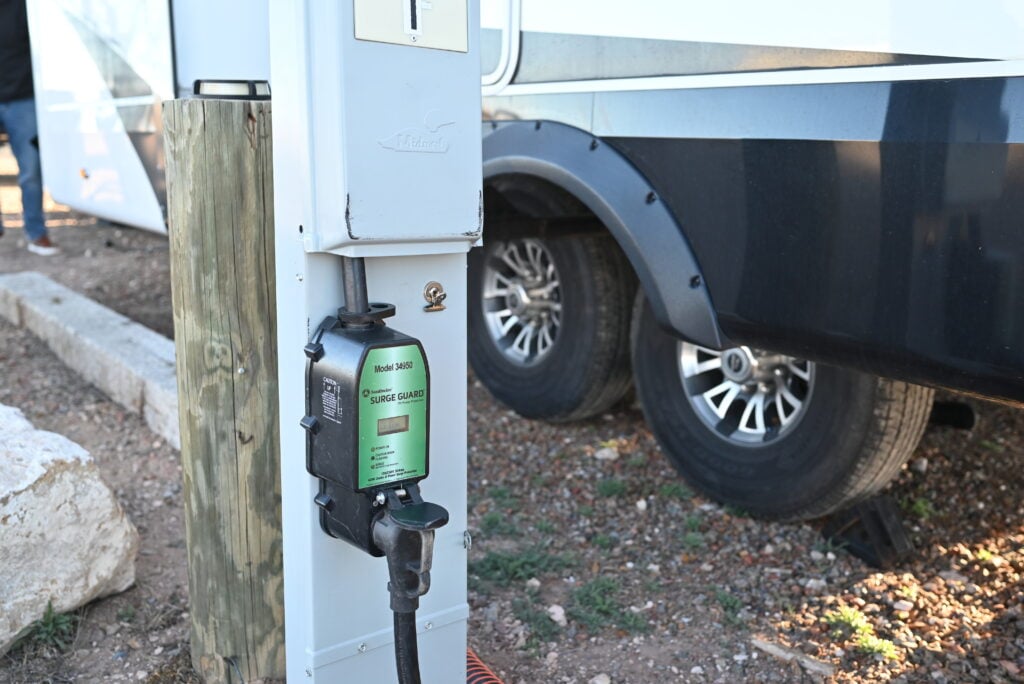 Do You Have These Important Safety Devices In Your RV?
When you travel in an RV, you can explore every part of the country. But all this adventuring comes with an inherent risk. No matter how careful you are, something could always go wrong. That's why it's so important to travel with a collection of safety devices and emergency equipment.
You need to be ready for anything when you travel, including propane leaks, faulty brakes, thieves, or a dead battery. Some of these issues can be solved by preventive measures, while others need to be dealt with once something actually breaks. Fortunately, RVs are made to be fixable so you can deal with most problems easily (as long as you have the right tools).
There are all kinds of gadgets and gizmos on the market, but not all of them are actually necessary. There are a few essentials you should definitely bring along for the ride, though! That's why we've compiled the following list of safety devices that every RV owner should have.
Carbon monoxide detectors and smoke alarms
Fumes are some of the biggest dangers for RVers. Because you're living in a small, enclosed space, you need to ensure that you have a clean air supply.
Carbon monoxide can build up without you even realizing it, so you need safety devices that can tell you if there's a leak. Smoke is easier to smell, but you may not notice it if you're asleep. That's why carbon monoxide detectors and smoke alarms are absolutely essential. They can alert you to a growing danger and give you time to fix the problem or get out of the vehicle.
Fire extinguisher
Being aware of a fire is one thing, but putting it out is something else entirely! A smoke detector can give you a warning, but you need to be ready to act. A fire extinguisher is an absolute necessity for every traveler. These can help you put out a spark before it becomes a blaze. Some quick action on your part can save thousands of dollars in repairs.
Inspect your extinguisher regularly to ensure that it's operational and up to code. As a general rule of thumb, you should replace these items every 12 years or so.
Tire pressure monitoring system
It's never fun to get a flat tire while you're traveling. But if your trailer has a bad tire, you might not notice until the damage is too severe to fix. Big rigs are hard to monitor while you travel, so a tire pressure monitoring system is an important addition.
These systems can monitor each individual tire (both for trailers and tow vehicles). If there's a loss of pressure or a blowout, you'll know instantly. The sooner you can pull over and address the damage, the better off you'll be!
Propane gas stop
Most RVs have some propane-powered systems and appliances. It's a great fuel source, but it also comes with an element of risk. Propane is highly flammable, and gas leaks can make you sick if you inhale the fumes. That's why a propane gas stop is one of the top safety devices that you need to get.
Some tanks and hookups have these pre-installed, so check your vehicle specifications to see if you need to add one. A gas stop cuts off the flow of gas if it detects a leak. This nips the problem in the bud and keeps you and your vehicle safe.
Surge protector
RV electrical hookups are one of the greatest inventions of the modern era! You can connect your RV to power and enjoy a highly modern lifestyle anywhere you camp. But there's also a risk here. If there's a sudden surge of electricity, your wiring could be completely fried.
A surge protector is designed to control and limit the flow of energy to your devices. It prevents sudden surges or drops in electricity and helps you maintain a regular lifestyle. Nobody wants to deal with a ruined computer system or burnt wires.
Trailer brake controller
Brakes are one of the most important elements of your rig. You need to ensure that you can stop as quickly as possible, so you can avoid wrecks and unexpected emergencies. But the constant friction puts a lot of strain on your brakes. That's where a trailer brake controller comes into play!
These brakes give you extra control over your rig and can help you slow down faster when you need to. You may not need to use them every day, but a good controller will help your brakes last longer and be more effective.
Security system
Your RV is your home away from home, so you need to protect it as well as possible. Most systems come with a collection of cameras, lights, and alarms. You can set these up around the entrances of your vehicle and use the recorded videos for insurance claims. Motion-activated exterior lights can also scare away a lot of threats, so try to look for a system that has these.
Backup cameras
Speaking of cameras, you should get a good backup camera to help you with parking. Most modern RVs have these systems pre-installed, but you could also switch to a better model if there's one that you prefer. Backup cameras can help you see hidden obstacles, people, and vehicles that might be in your path as you reverse.
It's a good idea to get someone outside to help you as well, but a backup camera can help you avoid lots of hazards (and lawsuits!). These safety devices are necessary for any type of rig.
Tow straps and chains
You should always drive safely when you operate an RV, but sometimes accidents happen. You might sink into wet sand or slide into a snowdrift. In these situations, you need a way to pull your vehicle out of the mess. Towing equipment can be as simple as some sturdy straps and chains! If you have these items on hand, you can get out of a tight spot much faster than if you had to wait for help to arrive.
Battery monitor
It's always nice to have battery power as a backup when you're dry camping somewhere. But at the same time, you don't want to drain your power too much and get stranded!
A good battery monitor can help you check your energy levels at any given time. That way, you can change your electricity usage accordingly. These monitors also show other important details about how well your battery holds a charge and if it needs to be topped off or replaced.
Roadside safety kit
If something goes wrong while you're driving, you might need to pull over to make emergency repairs or wait for help to arrive. It can be dangerous to leave your vehicle on the side of the road, though, so you should always carry a roadside safety kit.
These kits have a variety of elements, but they usually include things like reflectors, high-visibility clothing, flares, and emergency repair supplies.
Satellite phone
If you're stranded in an area where you can't call for help, a satellite phone is one of the most crucial safety devices in the world. These have a strong signal that can broadcast much farther than a standard phone. When you need help but can't use other methods, these devices can be real lifesavers.
Emergency RV supplies
Finally, it's always a good idea to travel with a collection of tools and emergency equipment. Every RVer can decide which specific items they want to bring, but the following items will give you a nice safety net when you travel:
Jumper cables
Portable tool kit
RV-grade care jacks
72-hour kit
First aid kit
Get tips from other RVers
One of the best parts about RVing is engaging with the community of traveling enthusiasts. iRV2 forums allow folks to chat with other RVers online, and get other perspectives on everything RVing, including products, destinations, RV mods, and more.
Related articles:
The post Safety Devices That Every RV Owner Should Have appeared first on RV LIFE.