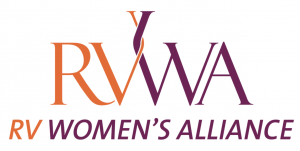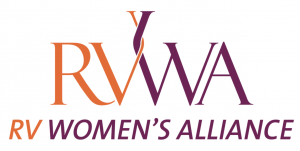 EDITOR'S NOTE: Several times a month RVBusiness will post an "RVWA Spotlight," which will highlight a member of the RV Women's Alliance (RVWA) in each instance. Provided by RVWA, the member spotlight series interviews many of the women who make up the RV industry, highlighting how they got into the industry, what they currently do, and advice for other women. The series also dives deeper to better understand these women and what drives them.
Ali Rasmussen – True professionals give campers, RVers a place to go on their outings.
When Ali Rasmussen and her husband-to-be Eric were in grad school, they knew they had visions of creating a future business together, but they couldn't quite wrap their heads around the right model.
Ali's specialty is creativity and marketing and Eric has a background in real estate/development.
"In the spring of 2020 we bought a pandemic camper and hit the road with our three kids; we camped at every type of campground you could think of, and while sitting around our campfire at a KOA somewhere it hit us," she said. "Starting Spacious Skies was the perfect combination of our skillsets, our passion for camping, and the personal insight we had into our customer."
Spacious Skies Campgrounds has become a collection of campgrounds from Maine southward into the Carolinas and has national aspirations, according to Rasmussen.
The locations offer a mix of RV camping, cabins/lodgings and glamping units such as yurts and retro RV rentals.
Ali handles brand/marketing duties and operations and Erie focuses on acquisitions.
It's hard to pick a favorite part of the lifestyle, but Ali said it is probably the variety of workplaces on any given day.
"One day I'll be in the office on back-to-back calls, the next day I'll be at an industry show networking with all our super-interesting peers, the next I'll be onsite working the front desk or taking apart a pool filter, the next has me collaborating with my team on the next unique experience we can provide our guests, and on and on," she said. "And of course, RVing in general attracts the most interesting people; us camping folks can be quite entertaining!"
The opportunity for growth helps keep every day new for Rasmussen. She said the innovation and expanding customer demographics are part of why she was so eager to get into the industry.
She said campgrounds are no longer simply a matter of clearing off a site and telling people where to park.
"I am energized by the quest for the professionalization of many elements, especially the creative ways many of our industry colleagues are maintaining the authenticity of camping and the sincere appreciation and attention on nature itself while polishing the presentation," she said.
Rasmussen encourages anyone interested in a career in the industry to jump in because of the variety of opportunities.
"This is a time in this industry where you cannot let yourself be stagnant because things are moving so fast, so read everything, talk to everyone, say yes to all opportunities," she said. "Be ready to hustle, and have fun doing it! I know at Spacious Skies we have lots of onsite roles available, and my advice to all our team members is that even though the elements of the job may be as challenging as that same role in any other industry, remember you are working in the outdoor industry: go outside, take a breath of fresh air, look at your beautiful natural surroundings, and know what a special perk that is!"
She also said it is inspiring to see so many women having meaningful roles in the industry.
"I am so proud to work with a 55-60% majority female leadership/headquarter level team, and am proud to report that our general managers are 50% female as well," she said.
Rasmussen is especially fond of Sarah Smith, founder of The Dyrt.
"I have been tracking her since I was an early user of The Dyrt pre-my own start-up and I believe we share similar motivations; to bring more awareness to the awesome lifestyle that is camping and RVing, to keep a pulse on her operation by not being afraid to jump right in and get her hands dirty, and to build a community that starts with dedicated team members and works its way out to the consumer," Ramussen said. "Her media prowess is also something to be admired!"
Source: https://rvbusiness.com/rvwa-spotlight-meet-ali-rasmussen-of-spacious-skies/