RV Products: September 2023
Gear, Gadgets, And Gifts
Practical accessories and assorted goods designed to make life easier and more enjoyable for RVers.
By Linneah Deighton, Associate Editor
400 Lumen Headlamp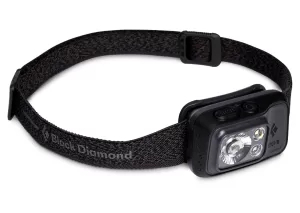 Headlamps can be quite useful, especially if you're working on your RV, hiking at night, or doing anything where you need both hands and a light source at the same time. Black Diamond's Spot 400 Headlamp provides 400 lumens of bright light and improved optical efficiency to save battery. Brightness memory remembers your last chosen setting. There are also different light modes to choose from, including dimming, strobing, and red night vision. Digital lock mode safeguards against accidentally turning on the light. The headlamp comes in seven different colors. Price is $49.95.
Black Diamond Equipment
(800) 775-5552
www.blackdiamondequipment.com
---
Govee Wi-Fi Thermo-Hygrometer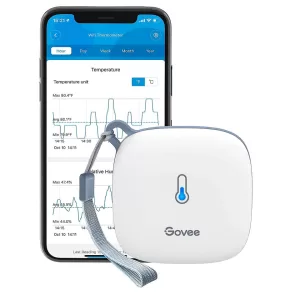 Too much humidity and high temperatures can ruin the interior of your RV, and even hurt pets or plants inside. Govee's tiny Wi-Fi Thermo-Hygrometer measures temperature and humidity and sends real-time data to a mobile app. You can set up and customize mobile alerts to notify you of environmental changes, track data over time, and even export the data for free. The device is powered by AA batteries and uses Wi-Fi to communicate with your mobile device. Price is $39.99.
Govee
(855) 925-3570
us.govee.com
---
Fireproof Document Bag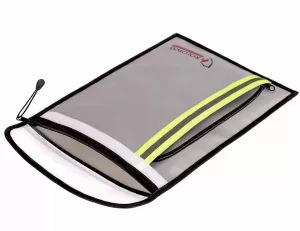 The Roloway Fireproof Document Bag offers fire protec-tion with its dual layer of fiberglass material engineered to withstand temperatures as high as 2000 degrees Fahrenheit for a certain period of time. The silicone-coated layer and water-resistant zipper of the 15-inch-by-11-inch bag with two pockets provide water protection. The big pocket accommodates legal-size documents, laptops, and other essentials. The smaller front pocket is suitable for organizing items such as passports and cash. Price is $15.35.
Roloway Safe
(917) 722-0504
www.rolowaysafe.com
---
RV Waste Management Device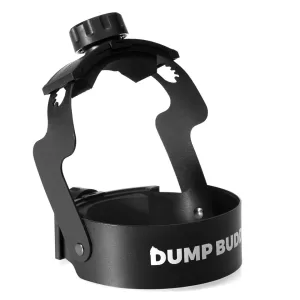 Accidental spills during sewage dumping can easily ruin your day. Dump Buddy was created by RVers who sought to alleviate this problem. The device fastens to the sewage pipe in the ground and then connects it to your sewer hose. Tighten the knob around the sewer pipe, flip up the second collar and tighten it around the sewer hose, and the rubber material keeps everything in place. The Dump Buddy is made of plastic, so it's easy to clean. It comes with a mesh pouch and a nylon carry case with a strap. Price is $39.95.
Foresee
(484) 653-0779
dumpbuddy.com
---
Color-Changing Fireplace Pinecones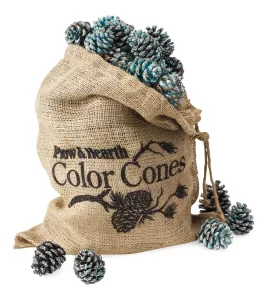 Have you ever wondered why fireworks have fun colors, or why fire may appear to have varied colors with different materials being burned? The answer is chemistry! An easy way to add a splash of color to your campfire is with Plow & Hearth's Fireplace Color Cones. These pinecones create dazzling blue and green flames that will last about 10 minutes each. Great for camping and a fun way to change the color of flames, each 5-pound bag of pinecones contains hours of color-changing enjoyment. Price is $39.95.
Plow & Hearth
(800) 494-7544
www.plowandhearth.com
---
RV Backup Camera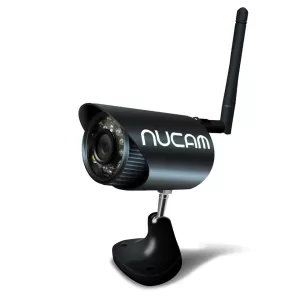 Nuvending's NuCam WR is an RV backup camera that's compatible with mobile devices. Its rechargeable battery can provide over 7 hours of continuous operation, so you likely won't have to charge it often. Backing up your RV at night will be easier thanks to the device's night-vision capability, too. Its portable magnetic base will stick to any ferromagnetic metal surface. The casing is rated for all weather and heavy-duty use in freezing temperatures and blazing heat. It also can connect to home Wi-Fi and work as a surveillance camera when you're not RVing. Price is $199.99.
Nuvending
nuvending.com
RV Products Submissions
To have a product considered for this column, please send information and a high-resolution photograph to rvproducts@fmca.com
The post RV Products: September 2023 appeared first on Family RVing Magazine.
Source: https://familyrvingmag.com/2023/09/01/rv-products-september-2023-2/