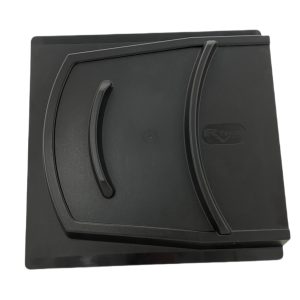 WHEELING, Ill. – RV Designer (RVD) is introducing a new Screen Door Slider design for use in its Replacement Hardware assortment. This new range replaces original equipment sliders on the majority of fifth-wheel and travel trailer screen doors.
These sliders install in seconds, are available in both white and black, and feature ergonomic Grip Ridges for easy sliding, according to a release.
"Our new Screen Door Sliders not only work well, but are part of our space-saving racking system. Included with each PlanoGram is a merchandising rack that allows RV retailers to effectively display the product, and not take up precious retail shelf space," said RVD President John Tinghitella.
"We pride ourselves on helping dealers turn space-hungry categories into efficient POS units by utilizing the depth dimension of normal gondola sections. The product will be packaged in our special bulk-wrap format with descriptive labels…which allows the retailer to easily "slot in" the units for efficient demo at Point of Sale," he continued.
The products are neatly packaged with easy visual access, simple explanation and RVD's exclusive Lifetime Commitment. RVD will display the range in a tight 25.13" W x 17" H rack for use in RV Dealer Parts & Accessory departments. Product is available now through your preferred RV Distributor.
For more information contact Dealer Sales Manager, Nick Gomez at (909) 256-9270, or nickg@rvdesigner.com
Source: https://rvbusiness.com/rv-designer-brings-new-screen-door-sliders-to-market/